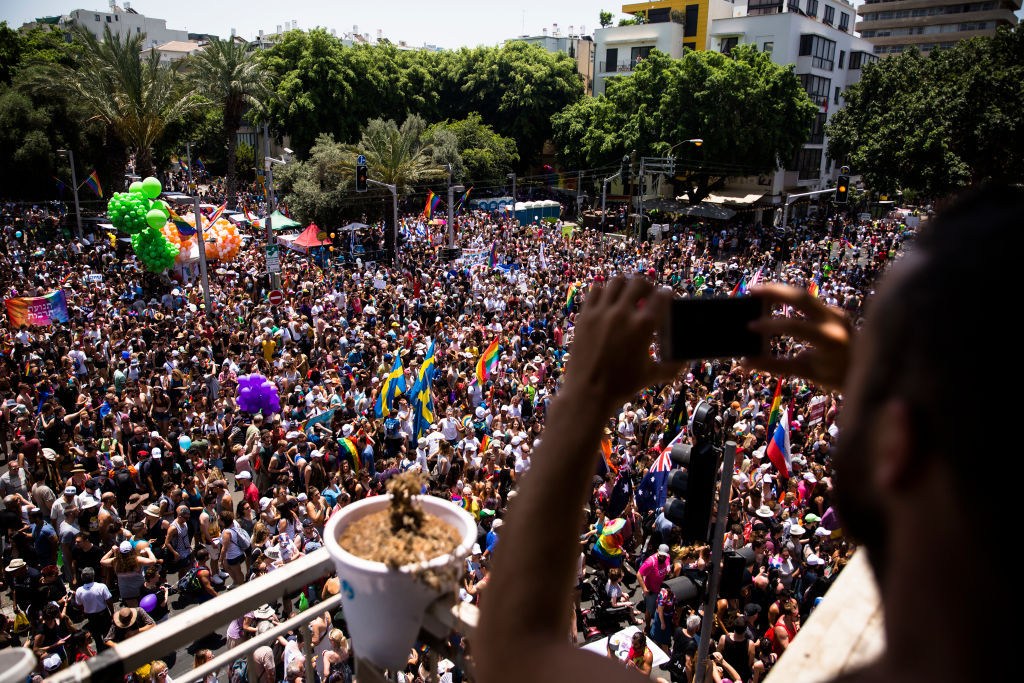 In 2015, Israel ranked number 7 on the first Gay Happiness Index, a survey that measured public opinion, public behaviour, and life satisfaction for gay men in 127 countries. Pictured: The annual LGBT pride march in Tel Aviv, Israel, on June 8, 2018. (Photo by Amir Levy/Getty Images)
Early in April, the British gay newspaper Pink News ran a headline: "LGBT performers to boycott Eurovision in Israel with online broadcast". The broadcast, known as Globalvision, will be part of the international Boycott, Divestment and Sanctions (BDS) movement, which tries hard to delegitimize Israel economically and politically.
Referring to a letter which activists had written to the pop star Madonna, Pink News reported:
"We feel we must write to you to express our deep concern at the political use of the Eurovision that is being made by Israel this year, and to highlight in particular the issue of 'Pinkwashing,'" the letter said.

The letter said that 'pinkwashing' is a "PR tactic used by Israel which cynically exploits support for LGBTQIA people to whitewash its oppression of the Palestinian people."

The open letter argues that Israel is attempting to ingratiate itself with LGBT+ people in an attempt to distract from its "colonial and apartheid reality."
Before commenting on the situation of Israel, it might help to turn our attention to the conditions of LGBT people in countries that are sworn enemies of Israel, but which no-one swears to boycott, divest from, or sanction.
It is hard to know where to start when it comes to the mistreatment of LGBTQ people, especially male homosexuals, across the Muslim world. It is a scandal that has been little exposed in the mainstream media, although even there it has begun to attract unfavorable comment.
The Iranian case is the worst. According to a Wikileaks report published by Britain's Telegraph newspaper:
"Human rights activists and opponents of the Iranian regime claim between 4,000 and 6,000 gay men and lesbians have been executed in Iran for crimes related to their sexual preference since 1979."
That report was published in 2011, a full eight years ago. On April 12, 2018, Radio Farda wrote about an Amnesty International report released the same day:
Amnesty International said "more than half (51%) of all recorded executions in 2017 were carried out in Iran."

Iran ranks second in the world after China in terms of executions and has "carried out 84% of the global total number of executions with Saudi Arabia, Iraq and Pakistan"...

Meanwhile, Mahmoud Amiri Moghaddam, head of the Iran Human Rights Organization in Norway, said in an interview with Radio Farda that some 70 to 80% of executions in Iran are not reported.
Within that overall context, it is impossible to guess just how many Iranian citizens with unorthodox sexual identities have suffered this fate over the 40 years the Islamic regime has governed the country -- ironically a country whose world-famous literature has repeatedly celebrated homoeroticism.
The death penalty for homosexual acts is in the penal codes in other Muslim countries: Afghanistan, Brunei, Mauritania, Nigeria (northern states), Pakistan, Qatar, Saudi Arabia, Somalia, Sudan, and Yemen. Not all actually carry out executions, but the same source indicates that in some regions, gays have been murdered by Islamist militias, such as Islamic State in parts of Iraq and Syria and the Houthi movement in Yemen.
At the beginning of April 2019, it was announced that the state of Brunei had called for homosexuals to be stoned to death. A storm of criticism from governments, international bodies, celebrities, and gay rights activists continued over the month, and on May 6, Sultan Hassanal Bolkiah placed a moratorium on the new legislation. But that legislation had been based on Islamic law, and not even the Sultan will find it easy to remove the basic decree as Brunei moves further in a hard-line direction, and there seems no way that gay sex will ever be considered legal in the country.
Also in April 2019, it was reported that Saudi Arabia had carried out beheading 37 men, five of whom were gay. Under Saudi law, homosexuality is punishable in several ways, from whipping to life imprisonment to execution. In other words, under the Saudi system LGBT people have no rights whatever.
At the western end of the Muslim world, the North African state of Tunisia underwent significant changes after its 2011 Jasmine Revolution. It shifted almost overnight from a single party regime to a multi-party democracy. Briefly ruled by a moderate Islamist party, Ennahda, in 2014 secular parties edged out the Islamists and all seemed set for further democratic reforms. Since then, however, reforms have slowed down. It might at one point have seemed that Tunisia might become the first Muslim country to backtrack on severe anti-homosexual attitudes and practices. Its government already had a number of organizations promoting human rights for gays and a thriving LGBT community.
Yet at the end of April, it emerged that the government, run by the secular Nidaa Tounes party, is now invoking shari'a law in order to shut down the country's leading gay rights activist organization, Association Shams. Shams has for some years called for the abolition of the dated French article 230 of its penal code. One spokesman for gay rights now says:
Although the LGBT activism scene marks 'a notable post-revolution achievement... we have seen no decrease in article 230 arrests and prosecutions, and there is little indication that parliament is willing to abrogate article 230 in the near future. As of now, article 230 continues to be widely implemented.'
A secular government that uses religious law to suppress human rights is a sign of how deeply ingrained homophobia is in Muslim countries, most of them much more conservative than Tunisia.
If one goes beyond the Islamic world:
72... countries and territories worldwide continue to criminalise same-sex relationships, including 45 in which sexual relationships between women are outlawed.

There are eight countries in which homosexuality can result in a death penalty, and dozens more in which homosexual acts can result in a prison sentence, according to an annual report by the International Lesbian, Gay, Bisexual, Trans and Intersex Association (ILGA).
Having said all this, it is time to take another look at the anti-Israel -- but of course no other country -- attempt to boycott the Eurovision Song Contest to be held in Tel Aviv between May 14 and 18. The problem is where to start....
Why not here? In 2015, Israel ranked number 7 on the first Gay Happiness Index, a survey that measured public opinion, public behaviour, and life satisfaction for gay men in 127 countries. The only countries that ranked above Israel were Iceland, Norway, Denmark, Sweden, Uruguay, and Canada. The Netherlands, another liberal state, came next at 8. The UK came in at 23, the US at 26, Russia at 87, Turkey at 82, Iran at 121, and many African and Muslim states in the 100 to 127 slots.
Before that, Tel Aviv stood out even more internationally. In January 2012, it was announced that:
Tel Aviv has been named the Best Gay City of 2011 in an international American Airlines competition selecting the most popular destinations among LGTB tourists.

The Israeli metropolis won 43% of the votes, leaving New York City behind in the second place with only 14% of the votes.
On February 23, 2016, Israel's parliament introduced the country's Gay Rights Day, making support for LGBT people official. That was really icing on the cake. As in other democracies, LGBT rights took time to develop, but in 1988, in a decision of Israel's Supreme Court, same-sex relations were decriminalized. This was a full 15 years before the US Supreme Court did the same in its 2003 Lawrence v. Texas ruling.
Much of the groundwork that went into making Israel one of the friendliest places for gays in the world was done by the country's National LGBT Task Force Ha-Aguda, founded in Tel Aviv in 1975 by eleven gay men and one lesbian. Aguda's work in the political and legal realms brought real changes at the highest levels. Its other initiatives cover several other fields, such as social services that provide LGBT people with therapy, social assistance, medicine, healthcare, a helpline, youth projects and support groups. Its pride and community department organizes gay pride events alongside communal gatherings that bring LGBT people into the core of Israeli life by dinners for Passover, Rosh Hashana, and Shabbat.
Aguda is not an afterthought. It is a serious and important part of Israel's diverse society, playing a key role in a small nation that ensures full rights to women, a wide range of Jewish communities and a startlingly broad spectrum of non-Jewish religious minorities. What is often overlooked is that none of those groups is given any rights in those countries that condemn Israel and threaten to wipe it off the face of the earth.
Let us look again at "pinkwashing", the charge that Israel uses its promotion of LGBT rights to cover up its ostensible "crimes" against the Palestinians in the West Bank and Gaza.
Accusations of "pinkwashing" come from all the usual suspects who seek -- or invent -- pretexts to defame Israel, such as, for instance, Columbia University's Joseph Massad, who has said, "The Jews are not a nation.... The Jewish state is a racist state that does not have a right to exist," and that Jews are responsible for anti-Semitism.
As a result, "pinkwashing" protests and campaigns have become a regular feature for anti-Israel activists, including many gay and lesbian groups. David Kaufman, writing in Time magazine in 2011, summarized the situation:
Although its foundations lie in decades of political struggle, the pink-washing movement has recently kicked into high gear. In June 2010, gay-pride parade organizers in Madrid banned a contingent of Israeli marchers in response to the deadly Gaza flotilla raid weeks earlier. That same month, activists protested the Israeli government's co-sponsorship of San Francisco's Frameline LGBT Film Festival. In March this year, the pro-Palestinian group Palestina protested a conference in Stockholm featuring Israeli LGBT cultural figures.
It is not hard to see how one-sided and perverse this sort of activism is. More than anything, it is rooted in a very real ignorance or acquiescence in the denial of LGBT rights in the Palestinian territories, a denial accompanied by beatings, torture, and killings. With reference to Palestinian treatment, one gay online site quotes Yossi Klein Halevi, writing for New Republic in August 2002:
[He] described the treatment of one gay youth: "He was beaten by his family, then warned by his father that he'd strangle (him) if it ever happened again." Later, "he was arrested ... and forced to stand in sewage water up to his neck, his head covered by a sack filled with feces, and then he was thrown into a dark cell infested with insects and other creatures he could feel but not see."
This is not by any means the worst. Halevi quoted the friend of another victim. "They put him in a pit. It was the fast of Ramadan, and they decided to make him fast the whole month but without any break at night. They denied him food and water until he died in that hole."
How is it, then, that LGBT people who claim to love the Palestinians and care about their lives, pinning all blame for whatever suffering they undergo on the state of Israel, never say a word about the excesses against gays -- and other extreme abuses -- by Hamas and the Palestinian Authority? Would that be rocking too many boats for comfort?
More perversely, why is nothing said about Aguda and the work it does to save and protect gay Palestinians? One of Aguda's many ventures is its Palestine Project:
The Palestinian Project of the Agudah has existed since 2000 in response to the great need of LGBT Arabs and Palestinians. This population is mainly closeted because of the Arab community's traditionally conservative stance on LGBT persons. LGBT Arabs have almost no personal freedom to come out. This means a higher suicide rate, drug abuse and alcoholism. Fear of violence and persecution from their peers, families and community is extraordinarily high.
Palestinian gay men often seek asylum in Israel. But for basic security reasons and the political demand not to favour anything that might trigger calls for a "right to return", it is not easy for the Israeli government to offer full asylum status. However:
That's where Aguda has stepped in by running its 12-year-old SOS project offering social and legal assistance to LGBT Palestinians residing illegally in Israel. Over the years, the organization has dealt with about 800 applications. About 60 began a process toward gaining political asylum abroad but only 17 chose to finish the process, Deutsch said.
More, I am sure, than anything else, the hypocrisy of the anti-Israel far left shows its true colors. The knowing fantasy about "pinkwashing" and Israel's perpetuation of suffering by a people who have clung to their often imaginary agonies sum up the hollowness of anti-Israel groups and their supporters, who demand of Israel behavior they evidently do not even begin to expect of any other country. It is time for a major rethink, not just about Eurovision, but of the moral balance between Israel and its two-faced enemies.
It is worth taking pause here to ask two simple questions. Why are no gay rights activists boycotting any of those lowest-ranking countries or protesting outside their embassies? Why do they choose instead to condemn and act against one of the world's most genuinely progressive and liberal states?
Denis MacEoin PhD has studied and written about the Middle East for some fifty years. Resident in the UK, he is a Distinguished Senior Fellow at New York's Gatestone Institute.