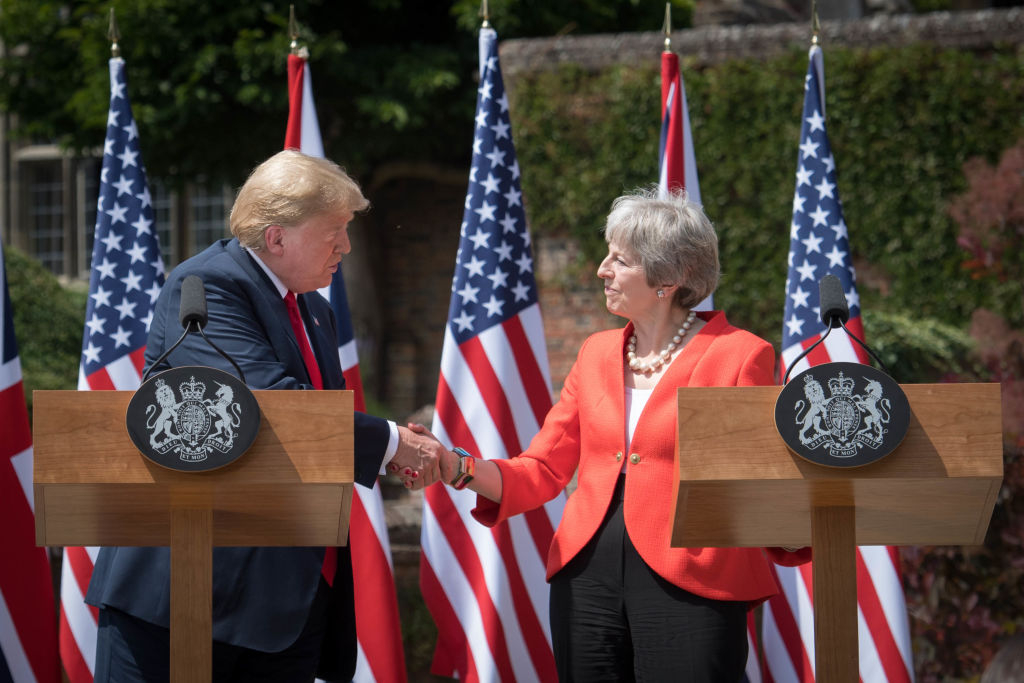 All people who are working to ensure that the free world remains free will welcome President Donald Trump's visit, which is presumably intended to cement even further the exceptional connection between the United Kingdom and the United States. Pictured: U.S. President Donald Trump and UK Prime Minister Theresa May at a press conference on July 13, 2018 in Aylesbury, England. (Photo by Stefan Rousseau-WPA Pool/Getty Images)
This week, U.S. President Donald J. Trump will visit the United Kingdom for a state visit and be welcomed by the Queen ahead of the commemorations of the 75th anniversary of the D-Day landings. Many commentators and politicians are not only apoplectic, they are organising various forms of protests. The mainstream media, notably the BBC, are giving continuous coverage to those elements wishing to facilitate, contribute to and participate in the anti-Trump frenzy.
The repeated howls of exasperation from these protagonists all center around their perception of Trump's values, which they describe as "racist."
Irrespective of his record -- in which Trump has reached out to China and North Korea, and initiated economic policies that resulted in record-low minority unemployment -- many, predominately on the political "left," remain critical.
Paradoxically, there were not such frenzied protests in the UK during the visits there of Xi Jinping of China, Robert Mugabe of Zimbabwe or Bashar Assad of Syria.
President Trump is coming over to commemorate the D-Day landings, when thousands of American troops were killed.
All people who are working to ensure that the free world remains free will welcome Trump's visit, which is presumably intended to cement even further the exceptional connection between the United Kingdom and the United States.
After the his visit to Britain, Trump is scheduled to travel for a two-day visit to the Republic of Ireland to meet with the Taoiseach (Prime Minister), Leo Varadkar and various other Irish parliamentarians.
Perhaps President Trump might ask his hosts about the issue of memorials to Nazi collaborators -- such as Frank Ryan, Charlie Kerins, Tom Barry, Sean MacBride and the memorial commemorating Sean Russell in Dublin's Fairview Park, which are still on display throughout Ireland.
Given that hundreds of thousands of American troops lost their lives freeing Europe from Nazism, how is it that Ireland finds the audacity to be so contemptuous of the leader of the country of those who paid the ultimate price so that the Irish population could be free to enjoy liberal democracy?
Many Irish consider their country as having been neutral during World War II; however, just a little research reveals their behaviour as having been questionable at best. Ireland was one of the first countries to accept the Nazi annexation of Austria during Ireland's sorry history before, during and after the war. Although that history seems to be something they tried to conceal, it has resurfaced once more under the guise of being anti-Israel.
Ireland is the only democracy currently authorizing legislation which would criminalise those who purchase or sell goods or services from areas within the only Jewish state in the world .
It took Ireland nearly 70 years to apologise for its pre-war antisemitism and for the way the country treated some of the approximately 70,000 citizens of Ireland who served in the British armed forces during WWII, only to be treated abhorrently after their return home by their fellow countrymen. Some "5,000 Irish soldiers who deserted their own neutral army to join the war" against the Nazis were, on their return home, denied pensions and not permitted to work for government offices, suppliers or contractors for seven years -- all because they fought against Nazism.
If further proof of Ireland's dalliance with WWII Nazism is necessary, it can be easily evidenced not only by the welcome Ireland gave to notorious Nazis but also by the help they gave to wanted Nazi war criminals to escape and the carefree attitude they apparently had toward other Nazis, in permitting them to live quite openly within Irish society.
Other facts have emerged which would shock those who thought Ireland was an irrelevance during the fight against Nazism. Jewish children from France were not permitted to come into Ireland in 1943. Oliver Flanagan -- who was promoted to become Minister of Defence in the 1970s' Charles Haughey government and was one of the longest-ever serving members of parliament -- seems to have been the MP mainly responsible for Irish Jew-hatred.
Immediately after Hitler's death, Taoiseach (Prime Minister) Éamon de Valera "called on [German] ambassador Eduard Hempel to express his condolences" on the death of Hitler.
In the course of time, such behaviour has been forgotten. President Trump -- as the representative of the American fallen, maimed, and the families of veterans, and of those currently serving to maintain Judeo-Christian values in Western democracies -- should be outraged at the ingratitude to such a guest, especially while memorials to Nazi collaborators are still on display throughout Ireland.
How would those American servicemen who lost their lives on Omaha Beach to free Europe, feel in the knowledge that one of the countries they fought for were mocking them with memorials to those collaborating with the enemies they fought?
Peter Baum, Vice Chair at New Fair reporting, is based in Great Britain.