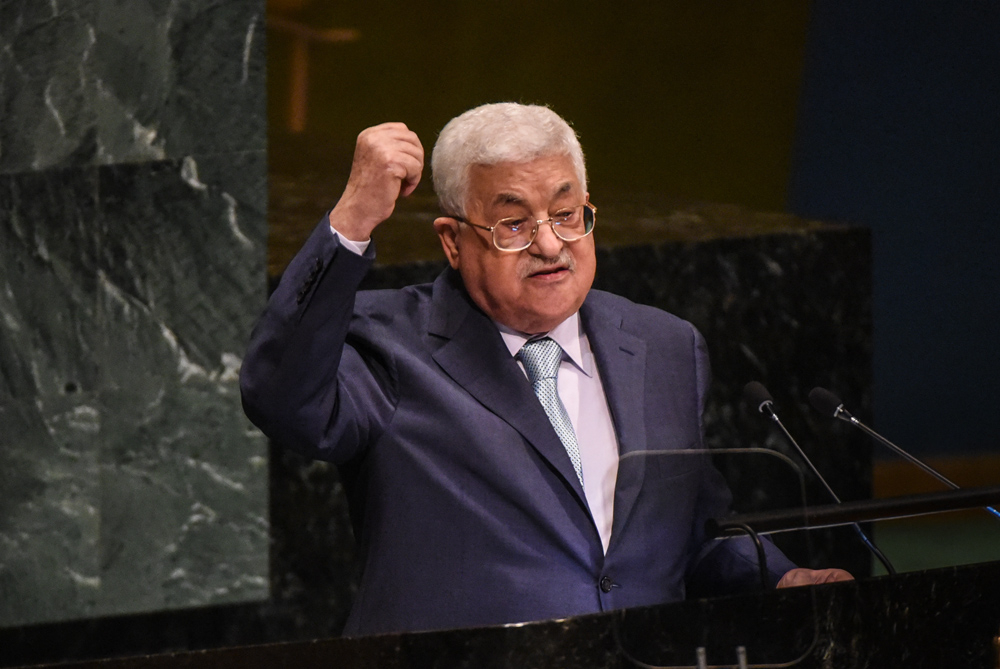 If the Palestinian leadership persists in its refusal to sit down and negotiate, they will only have themselves to blame for the lack of statehood. Pictured: Palestinian Authority President Mahmoud Abbas. (Photo by Stephanie Keith/Getty Images)
The great Israeli diplomat Abba Eban once presciently observed that the Palestinians "never miss an opportunity to miss an opportunity." Well, they are about to miss yet another opportunity by staying away from the June 2019 meetings in Bahrain during which the United States might unveil the economic aspects of its proposed Middle East peace plan.
The history of the Palestinian leadership is a history of missed opportunities for statehood and economic viability. Had the Palestinian leaders accepted the United Nations Partition Plan of 1947 -- two states for two peoples -- there would have been a Palestinian state side-by-side with Israel. Had they accepted the peace plan offered by President Clinton and Prime Minister Ehud Barak in 2000-2001 or the even the more generous plan offered by Prime Minister Ehud Olmert in 2008, there would now be a viable Palestinian state on 95 percent of the West Bank and Gaza. But no! Neither offer was accepted, much to the regret of many moderate Palestinians and Sunni Arabs in the region.
Now the United States is working on yet another peace plan which the Palestinian leadership has already rejected without even knowing its precise contents. It is enough for them to know that the plan is being proposed by the Trump administration, which recognized Jerusalem as Israel's capital and Israel's sovereignty over the Golan Heights (which was never claimed to be part of any Palestinian state).
But neither of these recognitions undercuts the possibility of a Palestinian state or even of a Palestinian capital in part of Jerusalem. They are yet another pretext for missing an opportunity for Palestinian leaders to sit down and negotiate a good deal for the Palestinian people.
Palestinian statehood is not off the table, although every deliberately missed opportunity makes it more difficult for the Palestinians to reasonably demand a state. Other groups such as the Kurds and the Tibetans have never turned down offers for their independence. The Palestinian rejections make their case for statehood weaker in comparison.
The Palestinians should send a delegation to Bahrain and participate in the meetings. They can make their demands and propose changes in the U.S. plan. There is no good reason for them not to participate. They can object to what President Trump has done and even demand that it be undone, but their objections will have no credibility if they continue to be no-shows.
One reality should be clear to the Palestinian leadership at this point if they want a state rather than a "cause" they will never get through any means other than direct negotiations with Israel. They will not get a state from the United Nations, from the European Union, from Russia, from Iran or even from the United States. Nor will they get it as a result of BDS or university protests. They will certainly not get it through military conquest or terrorism. Only by negotiating with Israel will they achieve statehood. And it won't be on the 1967 lines or without any other compromises, such as to the so-called right of return, despite dozens of meaningless one-sided resolutions, including the one engineered by outgoing President Barack Obama during his final days in office. Both sides will have to make painful compromises. Israel has already shown its willingness to do so by twice offering compromise plans. Prime Minister Netanyahu has recognized the need for Israel to make compromises. So must the Palestinian leadership.
Israel's current political deadlock, with new elections scheduled for September, will inevitably postpone any real progress toward peace. The Palestinian leadership should take advantage of this delay to attend the meeting without having to make any concessions. They can listen and propose, knowing that no final decisions are likely to be made until Israel forms a new government in the fall.
If the Palestinian leadership persists in its refusal to sit down and negotiate, they will only have themselves to blame for the lack of statehood. President Abbas himself has bemoaned the failure of Palestinian leadership to accept prior peace proposals. Now he is the leader in charge, at least in theory. He should learn the lessons of the past, come to Bahrain and begin a process of negotiation that may be the only remaining road to Palestinian statehood.
Alan M. Dershowitz is the Felix Frankfurter Professor of Law Emeritus at Harvard Law School and author of The Case Against the Democrats Impeaching Trump, Skyhorse Publishing, 2018. He is a Distinguished Senior Fellow at Gatestone Institute.