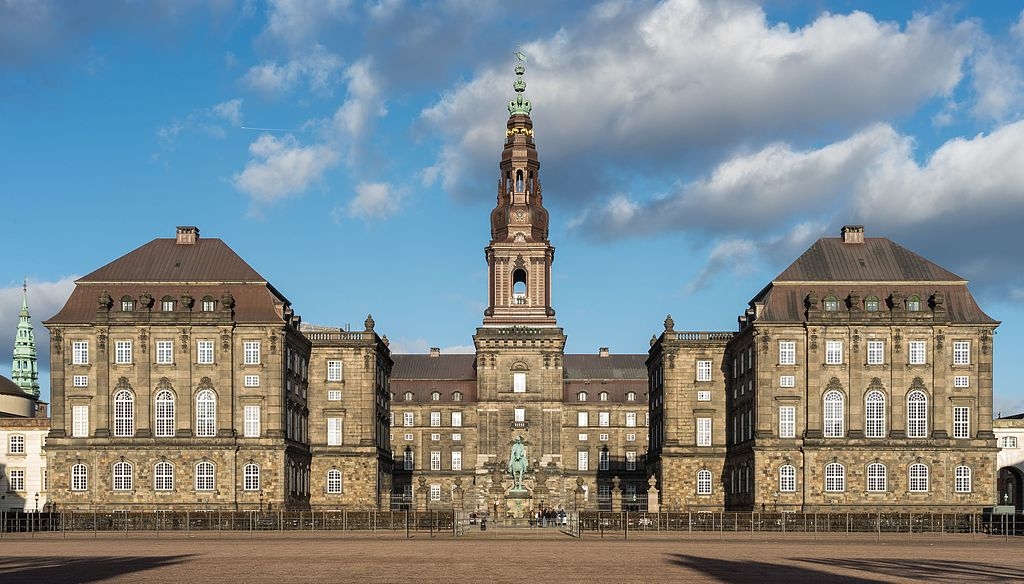 In Denmark's general election on June 5, the Danes gave the center-left and far left parties on the political spectrum 91 seats in parliament, a majority out of the 179 available seats. Pictured: Christiansborg Castle, seat of Denmark's parliament. (Image source: Jebulon/Wikimedia Commons)
In Denmark's general election on June 5, the Danes gave the center-left and far left parties on the political spectrum -- the Social Democratic Party, Det Radikale Venstre (the Danish Social Liberal Party), Socialistisk Folkeparti (the Socialist People's Party), and Enhedslisten (the Red-Green Alliance) -- 91 seats in parliament, a majority out of the 179 available seats. In doing so, the Danes waved goodbye to the current liberal-conservative government. The largest party on the left, the Social Democratic Party with 48 seats, and led by Mette Frederiksen, is currently trying to form a government.
A significant development in this election was that anti-immigration parties generally fared poorly. Dansk Folkeparti, (the Danish People's Party), which had become the second-largest party in the 2015 elections, when it was the only party running on a strict anti-immigration platform and where it received 21% of the votes and 37 seats, was reduced to less than half, receiving only 8.7% of the votes and 16 seats. The new anti-Islamic, anti-immigration party, Stram Kurs, which campaigned on a platform of prohibiting Islam and deporting Muslims from Denmark, did not manage to cross the election threshold of 2%. It received only 1.8 % of the votes. Led by Rasmus Paludan, who became famous for demonstrating across Denmark -- where he frequently featured a "Koran stunt" in which he would either throw a Koran around, burn it or put bacon on it -- the party only managed to qualify to run in the elections a month before they took place. Finally, a new party on the right, Nye Borgerlige (the New Right) won four seats, with 2.4 % of the vote. The party ran on a platform that demanded that no more asylum seekers be allowed into the country, that foreigners must support themselves financially and that foreign criminals be deported after their first sentencing in court. The current Prime Minister, Lars Løkke Rasmussen, said he would not cooperate politically with either Rasmus Paludan or the New Right should they be elected to parliament.
Some Danish analysts, such as the author and commentator Kasper Støvring, estimated that Danes did not vote for the anti-immigration parties this time because, "Many citizens wrongly think that the immigration issue is under control and that it can therefore safely be left to the Left. It is not under control".
"Five years in a row," he added, "The crime rates have gone up among non-Western descendants; we have areas where the rule of law has de facto been suspended; we saw in the election campaign, that there are areas where you cannot gather and speak freely; when you go for a walk you nearly stumble on the concrete blocks [meant to protect terrorist targets] that remind us of the intrusive terror threat. These are very serious problems that do not go away... they will keep popping back because they have not been resolved... and by the year 2050 we will see a doubling of the Muslim population in Denmark... that would not be a problem if we had a solution for how to integrate them, but nowhere in Western Europe has a solution been found".
Another new development was that for the first time, according to a report in Jyllands Posten, Muslim voters were organized, in certain urban areas listed by the government as ghettos. In Gellerup, in western Aarhus, an electoral group was set up, which, in co-operation with a mosque and various other associations, recommended that people vote for the two parties: the center-left Det Radikale Venstre and the far left Enhedslisten. As a result, in Gellerup, Det Radikale Venstre went from receiving 5.1% of the vote in 2015, to 34.2% in 2019. The same trend could be seen in other ghetto-areas, such as Vollsmose, Tingbjerg and in Nørrebro, where Enhedslisten was also popular. Both parties have a pro-immigration stance. Det Radikale Venstre, for instance, wants to make it easier for refugees to gain permanent residence in Denmark. The parties gained 8.6% and 6.9% of the votes respectively, corresponding to 16 and 13 seats.
Immigration policy will be one of the main challenges for the Social Democratic Party, as it attempts to form a government with the seats of Det Radikale Venstre and Enhedslisten, in addition to the Socialist People's Party. In their election campaign, the Social Democrats made it clear that they wanted what they call a 'fair and realistic' immigration policy, with the bulk of their policy focusing on how to reduce and control the influx of refugees and migrants, including the use of reception centers outside of Europe. In addition, their policy included making all stays for refugees in Denmark temporary, and extending border controls and reforming the Schengen cooperation so that individual countries decide when and how long they can control their own borders. Their policy also backs sending rejected asylum seekers home and tightening the laws in order to stop illegal migrants from working in Denmark. Earlier this year, the Social Democrats voted for the liberal-conservative government's stricter immigration policies.
That stance might make it difficult for the Social Democrats to form a government with Det Radikale Venstre, which has said that it wants to ease Denmark's current policies on immigration. Instead of focusing on sending migrants and refugees home, Det Radikale Venstre wishes to focus on better integration. Before the elections, the leader of the Social Democrats, Mette Frederiksen, said that if she won, "The tight immigration policy, which is set by a broad majority in the Folketing [the Danish parliament], is fixed... there will be no easing of the immigration policy and there is no party or party that can make an ultimatum on this".
It now remains to be seen whether Frederiksen will be able to keep her word and still form a government.
John Richardson is a researcher based in the United States.