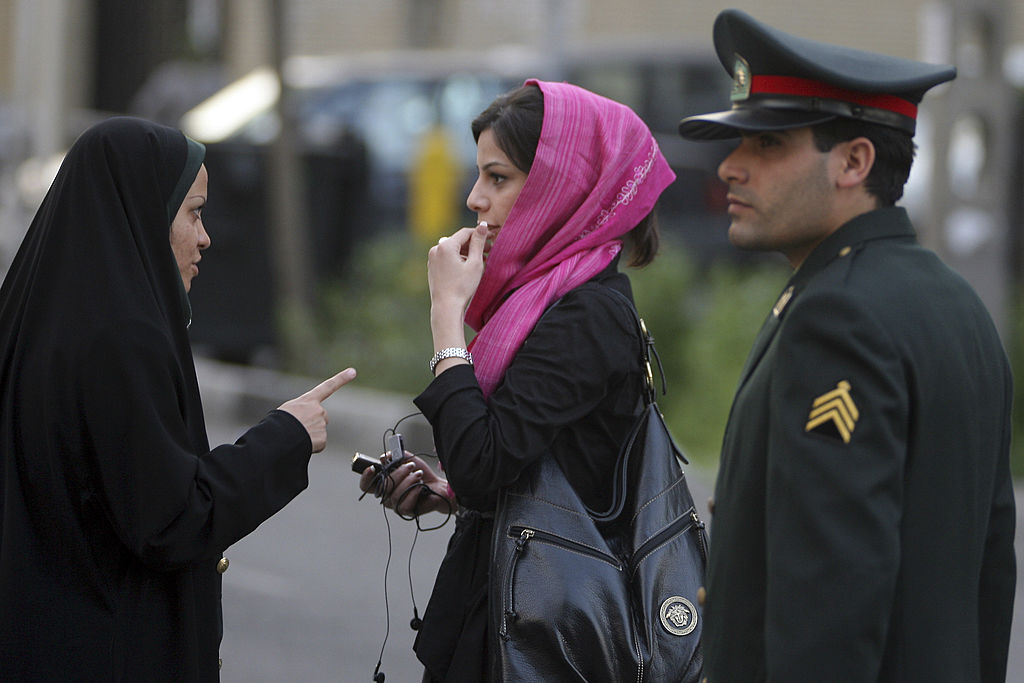 Three Iranian women held in Tehran's notorious Qarchak prison were sentenced recently to what could amount to more than 10 years in prison. Their "crime"? Failing to wear headscarves, thereby defying the country's dress code. Pictured: An Iranian policewoman (left) warns a woman about her clothing and hair during a crackdown to enforce the regime's dress code, on April 22, 2007 in Tehran, Iran. (Photo by Majid Saeedi/Getty Images)
Three Iranian women held in Tehran's notorious Qarchak prison were sentenced recently to what could amount to more than 10 years in prison. Their "crime"? Failing to wear headscarves, thereby defying the country's Islamic dress code.
The women were apprehended after a video they posted online during International Women's Day went viral. In the clip, they are seen walking bear-headed on a Tehran metro and distributing flowers to female passengers.
"The day will come when women are not forced to struggle," one of them is heard saying, while another expresses hope that one day women in hijabs will be able to walk side-by-side with women who choose not to wear them.
The battle on behalf of a woman's right not to cover her head spurred Iranian-American journalist and award-winning activist Masih Alinejad – author, most recently, of The Wind in My Hair: My Fight for Freedom in Modern Iran -- to found a social-media movement called "My Stealthy Freedom."
The movement, as part of its efforts, created the hashtag #WhiteWednesdays, where Iranian women can share photos and videos of themselves appearing in public places without headscarves -- or pictures of themselves wearing symbolic white head coverings and other articles of clothing -- and discuss their views on women's rights.
During the five years since its establishment, My Stealthy Freedom has received thousands of photos and videos and has attracted more than a million followers.
In a recent interview with Gatestone, Alinejad, who lives in "self-exile" in New York, said:
"For 40 years, the Islamic Republic authorities have used coercion, public shaming and violence to crack down on women. What is different now is that the women are pushing back and demanding their rights. I started My Stealthy Freedom campaign against the 'compulsory hijab' in 2014, and since then, it has grown massively, with initiatives such as White Wednesdays giving the regime constant headaches, because women have become braver about challenging the authorities for their civil rights.

"The Islamic Republic authorities say 'compulsory hijab' is the law and must be obeyed. However, bad laws must be challenged and changed. Today, the women fighting against the backward compulsory hijab law are the biggest challenge to the clerical regime in Iran and, like a river that will eventually overcome any obstacle, these women cannot be stopped.

"But we need support of the international community to raise this issue with Iranian authorities and take action."
Alinejad's writings and political advocacy have come at a great cost, however. As she wrote in the New York Times in 2018, she has not been able to visit Iran since 2009 for fear of arrest. Also, her family, who "still lives in the poor village where [she] was raised in northern Iran," has been intimidated by the regime – so much so that her sister publicly disowned her on prime-time Iranian television.
Referring to the two-hour interrogation to which Alinejad's elderly mother was subjected recently, Amnesty International expressed concern "that the authorities may feature statements she gave under duress in future propaganda videos, given their long-standing record of engaging in such abusive practices."
Non-violent human rights activists are often violently targeted by the Iranian regime. Akbar Mohammadi, the brother of the US-based Iranian women's rights activist, Nasrin Mohammadi, for instance, was arrested during the student uprising in 1999. Akbar was tortured and eventually killed after seven years in prison. Nasrin published the book Ideas and Lashes: The Prison Diary of Akbar Mohammadi in 2012, about the torture of her late brother.
"Iran's violent crackdown of women is just another example of oppression that the Iranian people go through every day," Nasrin Mohammadi told Gatestone.
"The basis of this tyranny is the religious law that the government has been enforcing since the 1979 revolution. Women are second-class citizens, and essentially slaves in Iran. The international community needs to have the courage to delegitimize religious law and call it out for its tyrannical nature. Just as the free world delegitimized communism during the Cold War, it should do the same to religious law.

"The international community should also focus on Iran, struggle to end that regime and other similar governments across the world. With Iran, it should also point out the corruption, where religion is used as an excuse to steal money and power from the people."
Another U.S.-based Iranian activist Nasim Basiri -- a teacher's assistant at Oregon State University's Women, Gender and Sexuality Studies department -- told Gatestone that, in spite of the risks involved, the feminist movement is growing in Iran.
Basiri said she believes that "foreign feminists can be allies and serve as a voice for Iranian women and women's rights activists."
She continued:
"Many Iranian feminists believe that Western policies have favored the dictatorship in Iran that resulted in increased cultural and political violence against women. They do not want to experience what Afghan and Iraqi women have experienced because of wars. That does not lead to liberation and gives excuses to authoritarian regimes to silence women in the name of protecting the nation and fighting against 'imperialism.'"
Faranak Rostami, an Iranian refugee in Qatar, told Gatestone:
"Iranian women really want to exchange this regime for a liberal government. We need liberty and gender equality in all sectors. If we don't have that, we should be provided with refugee status abroad."
Uzay Bulut, a Turkish journalist, is a Distinguished Senior Fellow at the Gatestone Institute.