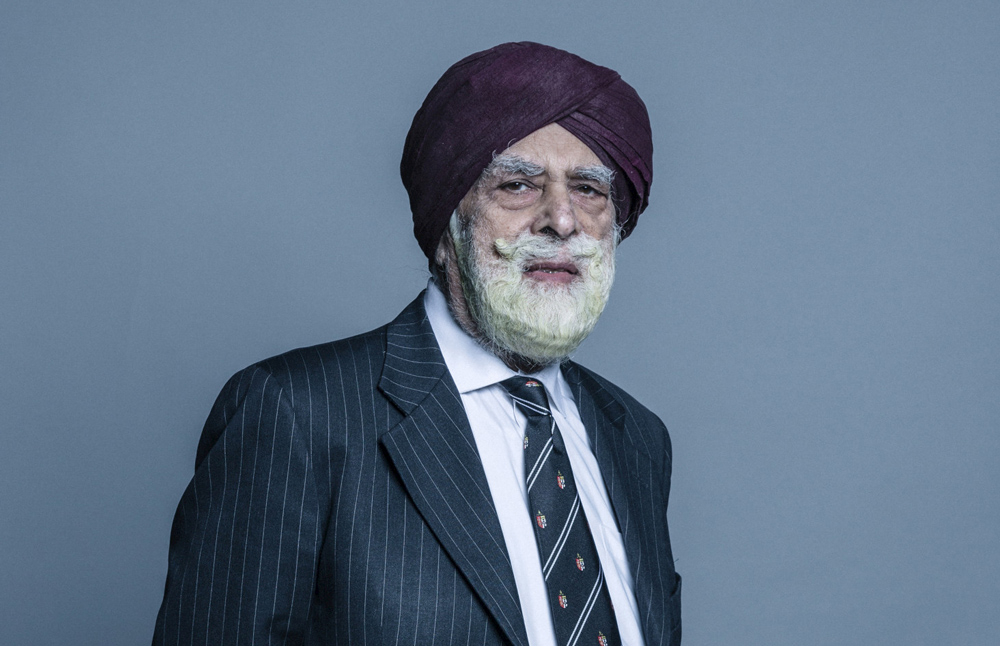 Celebrated interfaith activist Lord Indarjit Singh has sensationally quit BBC Radio 4 after accusing it of behaving like the "thought police". (Image source: UK Parliament)
Celebrated interfaith activist Lord Indarjit Singh has sensationally quit BBC Radio 4 after accusing it of behaving like the "thought police". He alleges that the corporation tried to prevent him discussing a historical Sikh religious figure who stood up to Muslim oppression -- in case it caused offence to Muslims, despite a lack of complaints.
The Sikh peer, who has been a contributor on Radio Four's Thought For The Day programme for more than three decades, is also accusing Radio Four bosses of "prejudice and intolerance" and over-sensitivity in relation to its coverage of Islam, after he says he was "blocked" from discussing the forced conversion of Hindus to Islam, under the Mughal emperors in 17th century India.
The 87-year-old peer's resignation comes as a blow to the show's flagship segment, that has been a part of Radio Four's Today programme since 1970, and has been described by Britain's former chief rabbi, Lord Jonathan Sacks, as "one of the last remaining places in the public square where religious communities are given a voice in Britain."
The segment, originally aired on November 28, 2018 -- and in spite of Singh's script containing no criticism of Islam -- is the latest in a long line of suspect BBC decisions enforced by seemingly over-zealous producers. "It was like saying to a Christian that he or she should not talk about Easter for fear of giving offence to the Jews," Singh said. There were, however, no complaints about the segment reported to OFCOM, the government approved broadcasting watchdog.
According to the Times of India:
After the senior producer's initial objections to the script, Lord Singh said he would rather the slot was left empty "than have Sikh teachings insulted in this way". "The producer in question, reluctantly agreed for the talk to go ahead, rather than have to explain why no one was in the studio that morning," he said... "I can no longer accept prejudiced and intolerant attempts by the BBC to silence key Sikh teachings on tolerance, freedom of belief and the need for us all to make ours a more cohesive and responsible society..."

It also reported that after leaving... Lord Singh complained about his treatment but a review by BBC director of radio James Purnell rejected his complaint.
According to The Times of London:
Lord Singh, a longstanding interfaith activist, said that some contributors to the slot joked among themselves about being subject to the "thought police".

He said: "The need for sensitivity in talking about religious, political or social issues has now been taken to absurd proportions with telephone insistence on trivial textual changes right up to going into the studio, making it difficult to say anything worthwhile. The aim of Thought for the Day has changed from giving an ethical input to social and political issues to the recital of religious platitudes and the avoidance of controversy, with success measured by the absence of complaints. I believe Guru Nanak [the founder of Sikhism] and Jesus Christ, who boldly raised social concerns while stressing tolerance and respect, would not be allowed near Thought for the Day today."

He accused the BBC of "a misplaced sense of political correctness that pushes contributors to bland and unworldly expressions of piety that no one can complain about"...

After the incident last November Lord Singh sent a catalogue of complaints to Mr Purnell, a former culture secretary. The peer said that after the BBC had agreed in 2011 that he could discuss the birthday of Guru Nanak "I was told to scrap it and talk about the forthcoming marriage of Prince William with Kate. I reluctantly agreed to do so, to the upset of many Sikh listeners."

Another time "when I wanted to include the words 'the one God of us all' [central to Sikh teachings], I was told I could not mention this 'because it might offend Muslims' "...
Lord Singh's decision to quit comes after the BBC reversed their own ruling that presenter, Naga Munchetty, breached BBC guidelines in criticising President Donald Trump for "perceived racism".
At the time of the incident, the BBC claimed that Munchetty's comments went "beyond what the guidelines allow for" by taking issue with Trump's statement on Twitter about certain political opponents of his:
"Why don't they go back and help fix the totally broken and crime infested places from which they came."
So here is another thought for the day: Why should the BBC – or the rest of the mainstream media -- rely on journalistic accuracy, when a sensationalist misquote will do?
Andrew Ash is based in the United Kingdom.