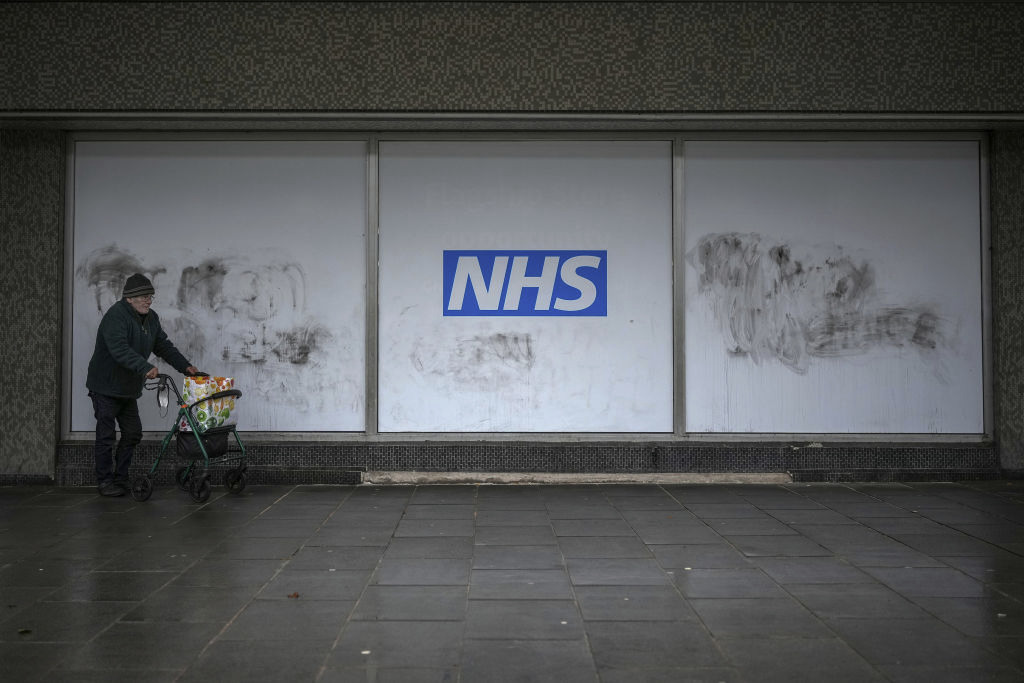 "Since the general civilisation of mankind, I believe there are more instances of the abridgement of the freedom of the people by silent & gradual encroachment of power than by violence & sudden usurpations." — James Madison

"One of the traditional methods of imposing statism or socialism on a people has been by way of medicine." — Ronald Reagan
Winning the hearts and minds of society is arguably easier to achieve by promising hand-outs. Also, especially in the age of rapid communication, emotion sells -- a handy method for sneaking political takeovers through the back door. So, when it comes to something as fraught with emotion as medicine, it is difficult to argue the downsides for fear of appearing heartless.
This may be a least one reason that socialists seem to think they have the monopoly on altruism. Claiming that conservatives are less compassionate because many basic needs are not offered for free can miss the point. Too often what is offered are words; what is actually ends up being delivered may be sorely lacking -- as disillusioned citizens in places such as Venezuela and Cuba have found out the hard way.
However, this type of Santa-Clausian virtue-signalling -- of providing everything for everyone for free -- can be an effective strategy not only to get votes but also to protect the welfare system from the overhaul it so desperately needs but will never get. As often with ostensible compassion, posturing has come to depend on the ignorance or gullibility of the citizenry. Of course, one does not become a "better person" by voting for giveaways that are all too often fraudulent or semi-fraudulent -- a bait-and-switch in which what is delivered ends up being far from what has been promised, if delivered at all. For many people, however, it might satisfy a need to be perceived as being on the side of the "good" -- which social promises always are; why else would a public buy into them?
Even giveaways, however, cannot endlessly provide a stable solution to the problems of our societies. Who, after all, is ultimately paying for them to be given away? In the United States, for instance, a plan to forgive a sizeable portion of student-loan debts looked as if it is coming a-cropper when it became clear that welders and truck drivers would ultimately be paying the college tuition of others when they themselves had never gone to college. That conclusion arrived even before throwing in that their hard work would be funding someone else's studies in fields regarded by some as basically unserious.
For a while, the teacher's union appeared to be lobbying to be on a permanent vacation, and almost entirely to have given up trying to teach reading, writing and arithmetic in favour of racist indoctrination. Good luck trying to go out in the world with an "education" such as that.
Long before state welfare was introduced in the UK or USA, approximately a hundred years ago, it was the domain of church-based charitable organisations that ensured basic necessities were made available to those in need. Religious and philosophical guidelines that have shaped our culture throughout history have since led people to contemplate the emergence of a "fairer" society. Financial aid, hospitals, alms houses, and providing food for the elderly and the poor existed long before state benefits, government funded housing projects or healthcare were introduced.
Over time, as governments began to separate themselves from religion, many responsibilities of the church became transferred to the state. The gradual progression of socialist and Marxist thought, meanwhile, further increased the divide, while at the same time expanding the remit of governmental reach into people's daily lives.
Ever since being rolled out universally in 1945 (1938 in the U.S.), the UK's welfare system, as it has sought to keep up with its burgeoning population, has kept expanding. Now, however, immigration, changes in the workplace, a massive increase in disability payments (along with what constitutes "disability"), the length of time people remain unemployed and an increasingly bloated bureaucracy have all contributed to breaking the back of an outdated system.
The fairly simple premise that instigated the need for welfare -- keeping jobless workers and their families from being tipped into poverty -- has grown out of all proportion, as the volume of its beneficiaries has long since overwhelmed the system. Put bluntly, in the eyes of many, it is an experiment that has failed. It is time to re-evaluate it and perhaps consider whether or not we would be better off with a return to other, more productive, forms of distributing welfare, as well as a revitalised look at work initiative programmes.
Former US President Ronald Reagan, who famously said that "the top 9 most terrifying words in the English language" were, "I'm from the government and I'm here to help", once suggested, regarding free healthcare and other forms of "socialised medicine", that it is easy to disguise a totalitarian programme as a "humanitarian exercise", because people are reluctant to dismiss a project that seems to help those in need of practical compassion.
Reagan also noted that "One of the traditional methods of imposing statism or socialism on a people has been by way of medicine." His observation might explain why the concept of "socialised medicine" has become a key attribute of so many political causes whose ideology draws so heavily from Marxist and neo-Marxist lines of thought. It would also explain the virtuous posturing of both Democrats in the US, and the Labour Party in the UK, who like to promise the moon when it comes to pushing their agenda or career.
First, the myth that socialised medicine is "free" in the United Kingdom is just that -- a myth. Although it is true that you do not have to pay directly to see an NHS doctor, if it is anything urgent, you will have to wait -- sometimes weeks or months -- for an appointment. Even before Covid-19, arranging to see a doctor was fraught with problems caused by ever-growing waiting lists. If your needs are immediate, the struggle for medical care is even more uphill: the NHS is now advising patients to consider private healthcare.
Since March 2020, when face-to-face appointments with doctors were suspended, it has become an increasingly hopeless task even to secure a "phone appointment". Meanwhile, the cost of each item on a prescription has been rising year upon year. From 2010-2019, the cost of a prescription has risen by 26% to £8.80. Since April 2021, the price has risen to £9.35 per item. If you are on a variety of permanent medications, it can be a costly business.
Taking into account the average number of items on a prescription being at £18.7 per head (in 2012) -- and with 2.7 million items dispensed every day (more than 1,900 per minute) -- this "free" healthcare becomes quite expensive.
Then there is dental care. As long ago as 1952, the British state's initial offer of "free" dental work (and visits to the optician) had to be dramatically reined-in: the reality of the economics was not adding up.
Dental practices may offer subsidised treatment "on the NHS", but the reality is that an increasing number of citizens have been "going private", despite their apparent legal right to the supposed "free dental care". The fact is, if you are in pain and cannot wait months to be seen -- which quite often happens -- and because you will anyway be paying out-of-pocket for at least a part of that treatment (such as basic x-rays) -- it often makes more sense to use private dental care than to wait.
The high rate of taxation in Britain, with a top income tax rate of 45% (for those who earn more than £150,000) and an "ordinary" rate of 20%, has many wondering if their "national insurance" deductions could not be better spent on private care when needed. As things stand, the majority of people -- those without chronic medical conditions -- appear to be paying for the few -- the same business model as for private insurance companies.
Adding to the growing consternation are increasingly bad optics. These indicate that the only real "winners", when it comes to welfare, are newcomers to the UK -- refugees or migrants -- and the long term "generationally" unemployed. These are the needy individuals who have never paid into the system. The situation unfortunately does not spread joy and happiness throughout the British Isles. Quite the opposite. Indeed, if ever one desired a plan to stoke societal discontent, Britain's welfare system might be it.
Taking into consideration the challenge of rampant illegal immigration, the divisive nature of "woke" ideology that pits citizens against one another, the criminalisation of speech that constitutes "hate crimes" law, the softly-softly approach to fundamentalist terrorism, as well "transgender" infiltration into women's sports, locker rooms and restrooms, media race-baiting and so on, it seems we have a bit of a problem on our hands.
Muddying the waters still further are the rise of "in work" benefits, which , since the turn of the century, have become a fixture. The availability of "working tax credits", "child tax credits", travel vouchers, and other such schemes, is another cause for scepticism.
Many question whether it is the role of government to subsidise low wages when it could be focussing on why the minimum wage bears no relation to the cost of living in the twenty-first century. It has become almost impossible for most working-class families to avoid being unable to survive on low wages without government aid.
For many claimants, the process of "signing on" and joining the ranks of the unemployed, seems anything but benevolent or charitable. In the UK, they must agree to a set of Orwellian demands that are foisted upon them when claiming benefits, despite the understandable need to prevent fraud. (See Appendix.)
To help keep the state informed, members of the public, including mail carriers and neighbours, are invited to "report" suspicious activity. Every day, it feels less like the UK and more like China or North Korea.
Inevitably, this creates its own problems. Personal disputes or biases, and administrative mistakes will often result in erroneous "reporting" of potential "fraudsters". Thus, perfectly innocent -- and often highly vulnerable -- claimants can spend weeks or months worrying, due to malicious or mistaken "information".
Taking all of the above into account, it is not at all surprising that the suicide rate amongst disability benefit claimants has doubled, along with a monumental increase of mental health issues.
By accepting such restrictions and invasions of privacy for a privilege that falls well short of keeping you afloat, does not aid one's mental health.
With the UK population having grown by almost eight million (13.8%) since 1980, the welfare system has had to expand well beyond the bounds of its original remit.
Of course, a major contribution to population growth has been the influx of immigrants to the British Isles. After the Second World War, fewer than one-in-25 of the population were born outside the country. Today that figure is almost one-in-seven. With my father having been an immigrant, I am in no way against immigration, but you do not have to be a whiz in mathematics to notice how overcrowded the UK's towns and cities have become and who ends up paying for that.
" You cannot simultaneously have free immigration and a welfare state," the economist Milton Friedman famously noted.
Tempted by an "El Dorado" of jobs and welfare benefits, new arrivals are showing up daily on our shores, often courtesy of enriched people-smugglers, despite recent tragedies en route from across the Channel or the US government's crime statistics for "non-citizen" immigration there. So far in attempting to reach the US, "At least 4,000 migrants from Central America trying to reach the U.S. through Mexico in the last four years have gone missing or have died, according to an AP investigation".
That number includes a "record high of 853 over the past 12 months, making fiscal year 2022 the deadliest year for migrants ever", according to CBS News.
A report from the UN's International Organization for Migration notes that "at least 29,000 have died trying to reach Europe since 2014."
That Western governments appear to have lost the will to tackle the problem, means we can only expect more of the same.
Meanwhile, the bitterness brought about by the "bad optics" of an out-of-control immigration system, with all the entitlements that go with it, also appears damaging to society. Competing for finite resources, jostling for position in the housing queue, and even at food-banks, creates an unedifying spectacle. The overloading of the NHS, which would be alarming enough on its own, is merely the icing on a hugely unappetising-looking cake. Indeed, the total cost of providing healthcare to visitors and immigrants alone was estimated at two billion pounds per year -- as far back as 2013.
To compound matters, when exceptions to the rules are made for certain residents – such as allowing men in polygamous marriages to claim for wives that do not even reside in the UK, the bitterness can only grow. To blame the inevitable backlash on "racism" or "xenophobia" might seem to many a ruse to silence dissent.
Year after year, as the population has grown, the inevitable demand for state aid has risen, stretching resources, while breeding bitter rivalry amongst those vying for help -- be it healthcare, social housing or state benefits. The dynamic between altruism and gratitude, has been replaced it with an increasingly authoritarian-looking bureaucracy on the state's part, coupled with what many might regard as a cynical sense of entitlement in those expecting help.
The outcome has become an over-burdened bureaucracy that has not only lost sight of its purpose, but is unable to function adequately. It is a system that has so consistently been abused and taken advantage of as it has grown, that far from seeming like a comforting "safety net", welfare now feels more like a soul crushing method of enslavement by the state. It is no wonder this has led to accusations of "failure" being levelled at successive governments for neglecting to address the situation.
There may well be little doubt that the state has good cause to implement anti-social measures to counteract the anti-social behaviour of some of its dependents, but inevitably such action creates a hostile, suspicious landscape entirely lacking in empathy. In turn, many of its recipients, not at all grateful for the help they receive, might view their benefits with an air of entitlement and believe that they should be getting still more.
The ironic result is that this well-meaning concept has been irreparably degraded by both claimant and provider to such an extent that both sides appear to resent each other's existence. The separate problem of the "generational" long-term claimants -- where claiming benefits has become a lifestyle choice for entire generations of families, often without having paid anything into the system -- can only aggravate an already fraught situation.
Perhaps, that is why there are so many of us who are in need, but who simply do not wish to engage with the benefits system.
While for many the welfare system undoubtedly is better than being left to die on the street, it increasingly feels a lot more like a faceless machine scooping up social need with Big Brother-like measures and pushing it into a corner. With "compliance officers", the perceived "shame of claiming" and a variety of hoops to jump through, it seems like an extremely odd "right".
Sadly, the "safety net" we have in the UK today bears little resemblance to what its benevolent pioneers envisioned.
Perhaps suggestions could be offered how constructively to improve it.
Andrew Ash, born in Great Britain to Anglo-Egyptian, Muslim parents, is based in London, England.
Appendix
In Britain, benefits claimants must accept a number of intrusive provisions, such as the use of government checks and surveillance programmes. They must, among other requirements accept and give permission to the state to search their bank accounts if it so desires to exercise its anti-fraud measures, often triggered by the machine's own incompetence.
Claimants must undertake to inform the government if they plan to take a holiday – abroad or at home, even if only a few days.
They must make themselves available at all times, should they be called in for a "compliance meeting" -- which is merely a polite (if somewhat threatening) term for a fraud investigation.
Single parents must inform the authorities if they develop a romantic relationship with someone, if their new partner spends more than the permitted time on the claimant's premises. Otherwise they can expect to be surveilled and invited to attend a "compliance interview".
It easy to say, "If you have done nothing wrong, you have nothing to worry about", but having been through such an episode, I can attest to how emotionally and financially damaging an "administrative error" can be. As a result, no matter what the circumstances, I hope never to claim a benefit again, despite it being "my right". Apparently I am not alone in this type of thinking in the UK.
If all of the above was not degrading enough, claimants are also obligated to inform the state if they are gifted money, or valuables that they have not previously declared, even a birthday gift.