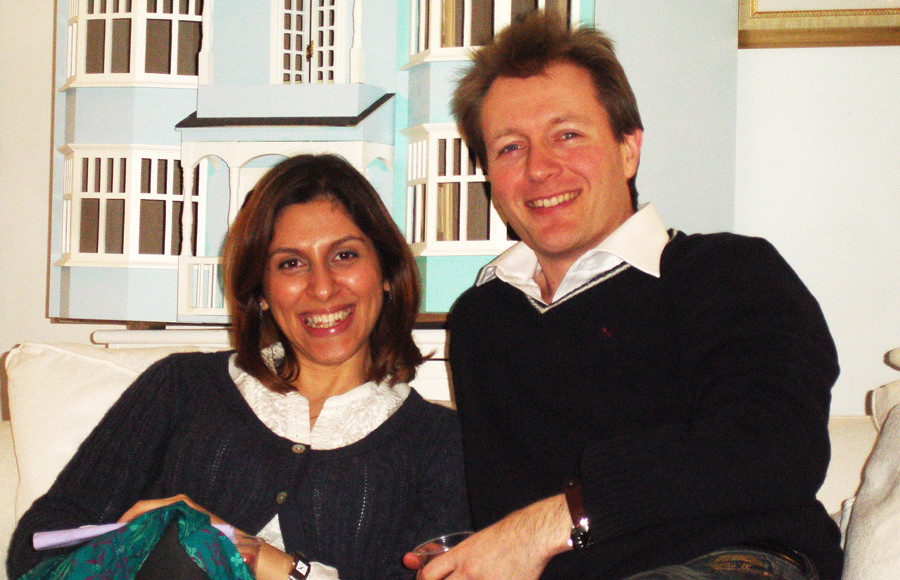 One of the Western hostages that Iran is holding is an innocent British mother, Nazanin Zaghari-Ratcliffe. Her five-year-old daughter, Gabriella, was also being held hostage in Iran until the regime released her last month. Pictured: Nazanin Zaghari-Ratcliffe and her husband Richard Ratcliffe in 2011. (Image source: Wikimedia Commons)
On October 10 this year, when an aeroplane flew from Tehran and arrived late that night in London, among those on board was a five-year-old girl named Gabriella. Despite her name, Gabriella was not Spanish, Portuguese or Italian. Her father, Richard, is English and her mother, Nazanin, is Iranian with British nationality.
Nazanin Zaghari-Ratcliffe is among the best known of the multitude of individuals locked up in Iran's prisons. Her status as a woman with dual nationality, and imprisoned for five years on a charge of espionage without a scrap of evidence, combined with the ongoing campaign for her release by her husband in conjunction with the UK Foreign Office, has given her case repeated publicity in the British press and other media.
A likely reason the Iranian authorities have not responded to the numerous official and unofficial requests for her release, or even an open and fair trial, seems to be a standoff between the UK and Iran over payment of a British debt for £450 million. The debt was incurred when Britain refused to send tanks originally ordered under the late Shah's regime and not delivered for more than 40 years. Senior government sources have said they believe Ms Zaghari-Ratcliffe may be being held as "collateral" to secure the debt repayment.
One source said in November 2017:
Treasury and Foreign Office officials are plotting how the situation can be resolved without breaking UN sanctions on military equipment, overseen by the EU, that would currently halt the payment.

They add that the money is being held by the High Court on behalf of the Government, after the European Court of Arbitration ruled in favour of Iran in 2001.
By the end of 2019, the debt still has not been paid. Richard Ratcliffe's sole hope at present is that the decision to allow his daughter to return to the UK in order to start school there might signal a willingness to let her mother go back there as well.
Even if that unlikely release were to happen, it will take years for Nazanin herself to reach partial recovery from her ordeal. Reports of her untreated health issues, including mental health show that her unjust confinement has marked her for life.
Although Nazanin's plight continues to draw the attention of campaigners and some politicians, the natural focus on it tends to obscure countless other cases of abuse carried out by the ruthless theocratic regime on its own people and some foreigners. Nor is Nazanin's case the only thing that distracts the public from other domestic injustices inside Iran.
This year alone, Iran has been in the news internationally for its aggressive behaviour across the Middle East regarding the United States and the UK. Captures of oil tankers in the Straits of Hormuz, drone attacks claimed by Iran-financed Houthis in Yemen on Saudi oil installations, increased levels of uranium enrichment in a standoff between the US and Europe, continued build-ups of Hezbollah troops in Lebanon and Syria along the border with Israel, who issue bloodcurdling threats to kill all the Jews in the world and destroy the state of Israel, as well as renewed threats to wipe Israel off the map whether the Twelfth Imam returns to earth or not. Much of this, of course, creates the threat of a war between Iran and Israel that may inflame the Middle East yet further:
"Taken all together, the Israeli strikes in Lebanon last month and in Syria and possibly Iraq as well, the attack in Saudi Arabia, and the statements from Iranian and Hezbollah officials form part of a larger pattern in which Israel and Iran are locked in an escalating conflict playing out across the region. In the long term, Iran's land bridge strategy connecting Tehran to the Mediterranean coast through a chain of contiguous client states in Iraq, Syria, and Lebanon, points directly at Israel."
Such threats and activities have drawn the eyes of the world, thus allowing Tehran to continue its excesses at home with only muted rebuke abroad.
Not that these excesses should surprise us. The Iranian regime's 40-year reputation as the country that executes more people per capita than even China, executes more women than any other country, has executed 97 women during the incumbency of "reformist" Prime Minister Rouhani, most recently in September this year.
In general, Iran treats its women harshly. The law of enforced wearing of hijabs has led to many protests, but in August this year, a 20-year-old woman, Saba Kord-Afshari, was sentenced to 24 years in prison for refusing to wear one. According to Tarek Fatah in the Toronto Sun, her trial began on August 19 when she was charged with "spreading corruption and prostitution by taking off her hijab and walking without a veil [hijab]." After a century and more of women's rights achievements in the West, the harshness of this sentence stands out for its cruelty, yet, as Fatah points out:
"As Iranian, Saudi and other Muslim women around the globe struggled for freedom from the hijab, which they consider a political symbol that has nothing to do with piety, the reaction among the liberal circles in the West was confounding. Here an increasing number of feminists, leftists and the liberal media glorified the hijab as some exotic symbol of women's liberation that had to be embraced."
On September 10 this year, Amnesty International stated that Iran is the only country in the world that bans women from attending football matches. It did so as part of a larger announcement condemning the death of a 29-year-old Iranian woman, Sahar Khodayari. Khodayari was a confirmed football fan (like a great many other Iranian women forced to watch games on their televisions or computers) who dressed as a man by wearing a wig and beard and going to matches thus disguised. Last March she attended a match between her favourite team, Esteqlal, and a UAE rival al-'Ayn. Security guards stopped her from entering and identified her as a woman. She was then held for two days in Shar-e Rey or Qarchak prison, the largest women's gaol in the country. Qarchak is described by the Human Rights Activists News Agency as follows:
"The conditions of this prison are unbearable for prisoners... conditions that include the "outbreak of dangerous diseases". These conditions are caused by the geographical location, small space, and high population, shortage of water and sanitation facilities, violence and lack of segregation of prisoners."
According to Amnesty International:
"Khodayari - who had been released on bail - was summoned to a Revolutionary Court in Tehran last week (2 September) to face charges over the stadium incident. She was charged with 'openly committing a sinful act by ... appearing in public without a hijab' and 'insulting officials'. The case was adjourned and, after she left the court, she poured petrol over herself and set herself on fire outside the courthouse. According to hospital officials, she received burns on 90% of her body and died yesterday [9 September]."
Khodayari apparently suffered from bipolar illness, and it seems the thought of being returned to the same prison for six months terrified her and impelled her to take her life in that ghastly way. In a more humane system, her disability would have been cared for.
In the grand scheme of things, the fates of these women may not seem to count for much. Yet they are not accidents or cases of bad luck, insofar as injustices and disproportionate judicial rulings are far from uncommon. It is not women alone who are subject to egregious ill treatment. Writers, artists, film makers are others are often arrested on the grounds that their work challenges the pieties of the regime.
Om October 13, a film maker, writer and satirist, Kiumars Marzban had his prison term of 23 years and 9 months confirmed by an appeal court.
"He was sentenced to 11 years imprisonment for 'cooperating with a hostile state', seven years and six months in prison for blasphemy, a year and half imprisonment for 'propaganda against the state', three years in prison for 'insulting the Supreme Leader and the Founder of the Revolution', and nine months imprisonment for 'insulting authorities.'"
According to Radio Free Europe:
"Marzban is among the recent victims of an intensified state crackdown in Iran that has resulted in unusually harsh prison sentences for journalists, human rights lawyers, women protesting the compulsory hijab rule, labor rights activists, and others."
The same source adds:
"Just within the past month, Human Rights Watch (HRW) has listed the cases of 13 activists who were sentenced to a total of more than 100 years in prison for their peaceful activities. They include journalist and labor activist Sepideh Gholian, who is facing a 19-year prison sentence, and prominent labor rights activist Esmail Bakhshi, who received a 14-year sentence.

"Analysts believe the crackdown and the increased intolerance towards any kind of dissent is Iran's response to perceived internal and external threats, including potential unrest over a deteriorating economy and a campaign of 'maximum pressure' by the administration of U.S. President Donald Trump."
Radio Free Europe is, in fact, being lenient to the point of spinelessness. Domestic injustices ever since the Khomeinist Revolution of 1979, have been far wider than that; to claim that atrocities are committed in response to "perceived threats" is, at best, supine nonsense. In January this year, Amnesty International issued a report on affairs in Iran in 2018, which it described as "a year of shame":
Over the course of the year, more than 7,000 protesters, students, journalists, environmental activists, workers and human rights defenders, including lawyers, women's rights activists, minority rights activists and trade unionists, were arrested, many arbitrarily. Hundreds were sentenced to prison terms or flogging and at least 26 protesters were killed. Nine people arrested in connection with protests died in custody under suspicious circumstances.

"2018 will go down in history as a 'year of shame' for Iran. Throughout the year Iran's authorities sought to stifle any sign of dissent by stepping up their crackdown on the rights to freedom of expression, association and peaceful assembly, and carrying out mass arrests of protesters," said Philip Luther, Amnesty International's Middle East and North Africa Research and Advocacy Director.
Iran's atrocities have apparently become "normalized".
Writing on October 13 in the Financial Times, the Iranian journalist Najmeh Bozorgmehr explains at length that there is also a current crackdown on Iran's political and business elite. The main thrust of her article is that, following a supposed shift towards "reform" under Prime Minister Rouhani, the hardliners are regaining strength and that their anti-graft drive is merely masking "wider goals". The chief one is described by Bozormehr in the following terms:
... for those driving the campaign the benefits outweigh any downside. "Sanctions have created the opportunity for the [Revolutionary] Guards to prepare the ground for an internal metamorphosis in alliance with the judiciary," says one regime insider close to the hardliners. "The Guards are gathering to remove reformists from power."

The ultimate goal for those involved in the power struggle is to influence the succession race to replace Mr Khamenei, the 80-year-old supreme leader.
The anti-corruption campaign is led by none other than the hard-line cleric Ebrahim Raisi, a presidential candidate defeated in 2017 by the incumbent Rouhani, who was made chief of the judiciary in March 2019 and deputy head of the Council of Experts, the body responsible for any appointment of the next Supreme Leader. Raisi himself is widely considered the most likely cleric to succeed to the role of Supreme Leader when Khamenei retires or dies.
But Raisi also carries with him a disturbing reputation for judicial violence. In his early thirties, he was made prosecutor of three provincial towns, but in 1985 named as a deputy prosecutor for the capital, Tehran. Three years after that, he was a member of the four-person "Death Commission" responsible for a series of mass executions, when leftists, dissidents, and members of the opposition Mojahedin-e Khalq were massacred within a matter of weeks. Amnesty International published last year a 201-page report on the executions. Some 30,000 individuals were shot or hanged during that brief period. Tragically, the regime was for a long time successful in imposing a total silence on the affair.
With so much blood on his hands, it is not surprising that Raisi, soon after his elevation to Chief Prosecutor, appointed none other than Ali Al-Qasi Mehr as the new Prosecutor of Tehran. Al-Qasi Mehr's own reputation is that of a hardliner who has long favoured public executions and amputations as a means of maintaining control in both capital and minor cases.
As pressure grows on the often-despairing Iranian public from its own tyrants, the hardest advocates of internal repression to match international expansion and military preparations are reclaiming their right to rule without pity. It is just as important to keep an eye on these internal developments as it is to monitor the comings and goings of the Islamic Revolutionary Guard Corps (IRGC), or Hezbollah or the expanding chaos in Syria.
"Last June", according to Reuters, "Raisi said 'internal threats to the Islamic Republic are more dangerous than external threats', a clear signal that he would not tolerate dissent."
High pressure leads to explosive responses. The crimes against humanity and the pettiness of the regime, whether regarding women's rights, artists' rights, gay rights, or the rights of religious minorities such as the Baha'is, must surely lead to the downfall of this most persistent totalitarian despotism.
Dr. Denis MacEoin (PhD Cambridge) has specialized in Iranian studies for more than 50 years and has a particular knowledge of the Shi'ite form of Islam practised in Iran.