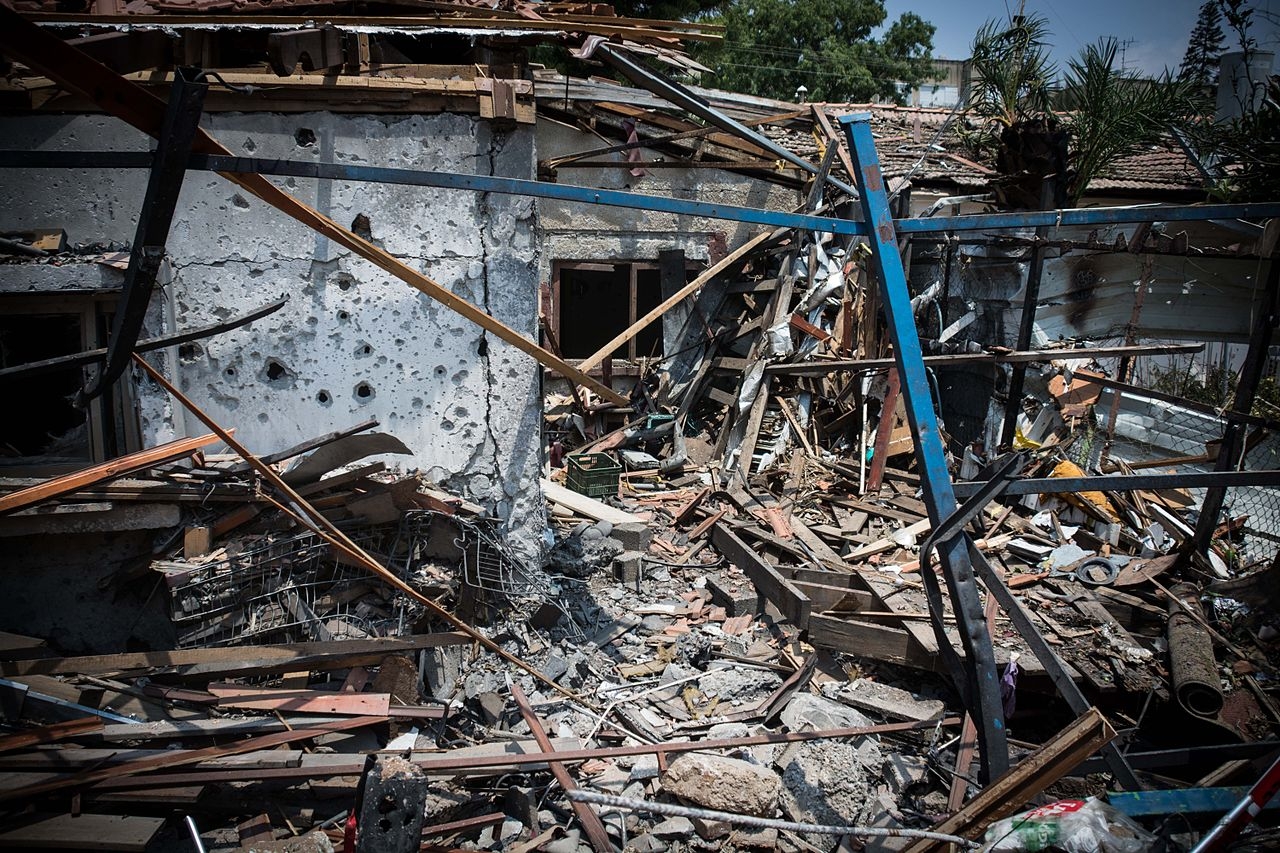 Palestinian Islamic Jihad (PIJ) is reportedly disturbed that Hamas did not join in firing rockets at Israel this month, in retaliation for Israel's assassination of a senior PIJ commander. But at the end of the day, both groups share the same strategy and goals, as well as the same "enemy" – Israel. Pictured: A house in Yehud, Israel that was destroyed by a Hamas rocket launched from Gaza, July 22, 2014. (Image source: IDF/Flickr)
Iran's Palestinian proxies, Hamas and Palestinian Islamic Jihad (PIJ), after last week's round of aggression towards Israel, are said to be at odds with each other. PIJ is reportedly disturbed that Hamas did not join in firing rockets at Israel in retaliation for Israel's assassination of senior PIJ commander Bahaa Abu al-Ata in the Gaza Strip. PIJ, it seems, feels that Hamas left it out in the cold.
The two terror groups may not enjoy a full meeting of minds – as witnessed by Hamas's current failure to bombard Israel with rockets, but these differences are unlikely to escalate into a major confrontation between Hamas and PIJ.
At the end of the day, both groups share the same strategy and goals, as well as the same "enemy" – Israel. They may disagree, but when it comes to waging jihad (holy war) and eliminating Israel, Hamas and PIJ always manage to find common ground.
PIJ's disappointment in Hamas has nothing to do with Hamas's recognizing Israel's right to exist and laying down its weapons: Hamas has done neither. Rather, PIJ and its supporters are disappointed because Hamas chose to refrain, this time, from firing rockets into Israel when PIJ was busy doing just that last week.
Hamas, of course, remains committed to its ideology. Its charter, to which it also remains committed, states:
"There is no solution to the Palestinian problem expect by jihad. Palestine has been an Islamic Waqf throughout the generations and until the Day of Resurrection; no one can renounce it or part of it, or abandon it or part of it."
Hamas's charter also makes it clear that the terrorist group "views the other Islamic movements with respect and appreciation." The charter goes on to explain that even when Hamas "differs from them in one aspect or another on one concept or another, it agrees with them on other points and understandings."
In the past few days, Hamas leaders have been working hard to reassure their friends in PIJ that despite the tensions that erupted between them after the assassination of the PIJ commander, the two groups remain "brothers in blood and weapons." This position is in total keeping with the spirit of its charter, in which Hamas "prays to Allah for guidance and directions for all, and spares no effort to keep the banner of unity raised."
The message Hamas leaders have been sending to their friends in PIJ is, in effect: "Although we may disagree on certain issues, we must remain united in order to achieve our main goal – the destruction of Israel."
PIJ is the second-largest terror group in the Hamas-ruled Gaza Strip.
One PIJ official, Ahmed al-Mudalal, described the tensions between his group and Hamas as a "natural quarrel among brothers."
Al-Mudalal and other PIJ officials predicted that the current tensions with Hamas will soon fade away, paving the road for the two groups to resume their cooperation, particularly in pursuing their jihad against Israel. "What happened between Hamas and Palestinian Islamic Jihad is a passing dark cloud," the officials said.
In the past few days, both Hamas and PIJ leaders, who seem engaged in a PR campaign to demonstrate that they remain best buddies, clearly reiterated this message.
So far, it seems that the campaign has been partially successful: PIJ appears ready to forgive Hamas for its failure to join the most recent attacks against Israel. Indeed, PIJ officials have communicated to Hamas leaders their desire to end the tensions, the better to unite for the big battle against the "Zionist entity."
Last week, PIJ members humiliated and expelled a senior Hamas official who came to offer them his condolences over the death of Bahaa Abu al-Ata. The incident, which took place in the Shajaiyeh neighborhood of Gaza City, could well have triggered civil war between Hamas and PIJ.
It did not take long, however, before PIJ officials realized that throwing rocks at the car of a senior Hamas official and chanting slogans calling for the "death of Hamas" could be, shall we say, counterproductive. Not long after the incident, therefore, PIJ officials rushed to the home of Mahmoud Zahar, the Hamas leader, to apologize and beg for forgiveness.
Hamas had good reasons to stay away from the round of fighting between Israel and PIJ.
First, Hamas leaders apparently do not wish to meet the same fate as the PIJ commander, al-Ata, killed in an Israeli air strike. Instead, Hamas leaders most likely want to continue enjoying the good life in the Gaza Strip and Qatar.
Second, Hamas seems to be worried that another war in the Gaza Strip would undermine its regime and spark a renewed wave of protests against corruption and economic hardship, similar to the protests ones that erupted there in March 2019 and which were quickly and brutally crushed by Hamas.
Third, Hamas appears eager to preserve the ceasefire understandings reached with Israel earlier this year under the auspices of Egypt and the United Nations: the move makes excellent financial sense. Israel, in the context of those unwritten understandings, has allowed Qatar to deliver suitcases stuffed with millions of dollars to the Gaza Strip. Hamas presumably wants that cash to continue coming its way.
The thirst for Qatari money notwithstanding, Hamas is hardly on its way to transforming itself into a non-violent movement that would uphold Israel's right to exist. Its decision to refrain, this time, from pounding Israel with rockets is in no way a sign of moderation or pragmatism. Instead, the terror group needs a break from the fighting in order to prepare better for its main goal: to take down Israel down, once and for all.
Hamas seeks to ensure that it will remain in power, even if that plan sometimes upsets their friends in PIJ and their patrons in Iran. Hamas leaders – like their PIJ counterparts – are motivated for their own well-being; the well-being of the two million Palestinians living in the Gaza Strip is a joke to them. Why else would PIJ endanger their people by forcing Israel to respond to the launching of hundreds of rockets toward Israeli civilian communities?
According to Hamas and PIJ spokesmen, the two terror groups have agreed to lay aside their differences and devote themselves to a unified effort to terrorize Israel into extinction. They are well aware that the Tehran cash cow is unhappy to see its "calves" bickering when they should be working together to bring Israel to its knees.
This is not a good guy/bad guy scenario. Instead, it is a temporary rift between two extremely bad guys, both of whom are wholly committed to destroying Israel, even if that means destroying their own people along the way as well.
Khaled Abu Toameh, an award-winning journalist based in Jerusalem, is a Shillman Journalism Fellow at Gatestone Institute.