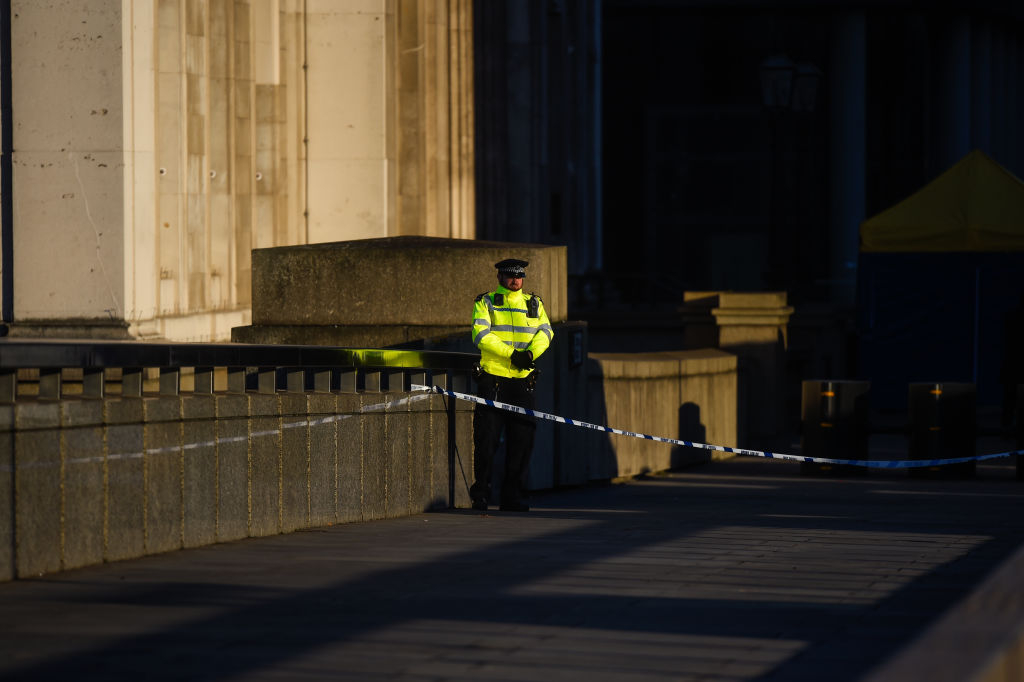 The November 29 attack in London was a lethal mix of religious dissimulation and Western naïveté. It also, one hopes, buries all the British illusions of deradicalizing jihadists. Pictured: A police officer stands next to where Usman Khan was shot at the end of his murderous rampage, on London Bridge. (Photo by Peter Summers/Getty Images)
It was a tragedy of good intentions. "Jack Merritt died in the London Bridge attack. Don't forget what he stood for", Emma Goldberg wrote in The New York Times. Merritt was one of the two victims of Usman Khan, an Islamic terrorist who struck on London Bridge on November 29. The other victim was Saskia Jones, a student at the conference targeted by the jihadist. They both dreamed of working to save and protect their murderer.
London had been hosting the fifth anniversary of Learning Together, an event in which ex-prisoners, staff members, students and criminology experts came from all over the country to celebrate the success of their initiative to deradicalize jihadists. Khan had been present as a model of the recovery program. In 2012, Khan was sentenced to prison for plotting to blow up first the London Stock Exchange, then London's Mayor at the time, Boris Johnson, and then the London Eye ferris wheel. According to the Daily Telegraph, Learning Together used Khan as a "case study" on how reintegration programs in society work. He had even written a poem and a note of thanks to the organizers, on a computer made available to him by his tutors.
Merritt, one of the two victims, had worked with him while Khan was behind bars in Cambridgeshire. The pictures from Fishmongers' Hall a few minutes before the terror attack testify as to all the good will of the rehabilitation program. Merritt was the first person who tried to stop Khan during his killing spree. Moments before he attacked, Khan was pictured sitting quietly through the conference session. Many considered him a kind of "star pupil" of the deradicalization program.
Khan had also been quoted in one of Learning Together's newsletters as saying that the group "has a special place in his heart":
"It is more than just an organisation, helping to provide learning of individual academic subjects. For me it's main benefit is bringing people together, through the means of learning. Learning Together is about opening minds, unlocking doors, and giving voice to those who are shut down, hidden from the rest of us. It helps to include those who are generally excluded. This is what Learning Together means to me".
Khan also gave an interview to the BBC, in which he condemned the stigmatization he was suffering:
"I've been born and bred in England, in Stoke-On-Trent, in Cobridge, and all the community knows me and they will know, if you ask them, they will know like these labels what they're putting on us, like terrorist, this, that, they will know I ain't no terrorist".
The latest attack in London was a lethal mix of religious dissimulation and Western naïveté. It also, one hopes, buries all the British illusions of deradicalizing jihadists. As the Times reported, the Behavioural Insights Team (BIT), the so-called "nudge unit" formerly part of the Cabinet Office, examined 33 deradicalization programs across the UK and found that only two were supposedly successful. The British criminologist Simon Cottee has blamed "liberal professors' deadly delusions about curing terrorists".
France had already tried it out. A bipartisan report in the French Senate had condemned the French deradicalization program as a "total fiasco", in the words of Philippe Bas, a senator from the center-right Republicans party. When Senators Esther Benbassa and Catherine Troendlé, both leading the task force, visited the deradicalization center housed in the Château de Pontourny, they found only one resident at the facility.
France also has suffered through the failure of the monitoring mechanism. Many terror attacks in the last few years have been conducted by jihadists who were already flagged in France's special counter-terrorism database: the attack at Christmas market in Strasbourg, the attack at the church in Normandy and the attack at the supermarket in Trèbes, to recall just a few. Recently, a jihadi attack took place inside Paris police headquarters. The terrorist, Mickaël Harpon, worked, in fact, in the unit tracking terrorists.
All over Europe, none of the deradicalization programs has proven effective. "There are not enough reliable data to reach definitive conclusions about the short-term, let alone the long-term, effectiveness of most existing deradicalization programs," a RAND report concluded. It might be beyond the reach of Western states to deradicalize people who, like the London Bridge terrorist, wore a fake suicide vest to invite being killed by the police and becoming a "martyr".
So what does one do with these jihadists? Trusting them can be deadly, as in London. Leaving them in prison might means keeping them as part of "one of the most important places of radicalization". Europe does not have a Guantanamo Bay, a legal limbo which, after 9/11, was useful for the US war on terror. Gitmo could also be useful now, when Europe is dealing with the return en masse of ISIS's foreign fighters.
According to the annual Europol report, 45% of Britons who travelled to Syria and Iraq to join ISIS, have already come back to their home country. Of 714 prisoners former prisoners who were held at Guantanamo Bay, 124 (16.9%) have returned to terrorist activities, while 94 more are suspected by the Defense Intelligence Agency of having returned to terrorism. Deporting these extremists from Europe is extremely controversial for many European politicians. UK Labour Party leader Jeremy Corbyn was filmed protesting the extradition of British terror suspects, including two aides to Osama bin Laden. The UK fought for years with Europe over the deportation to Jordan of the radical imam Abu Qatada.
So, what is Europe's solution? Closing one's eyes and hoping for the best is probably not affordable. Too many people have already died on Europe's streets.
"Now I am much more mature and want to live my life as a good Muslim and also a good citizen of Britain", Khan had written before killing two young British citizens.
A recent UK government report warned that British imams in 48 Islamic schools have been promoting violence and intolerance. It is British society that must be deradicalized, not the jihadists. Britain's best-known hate preacher, Anjem Choudary, recently was released from prison and now walks the streets of London a free man. Recently, a picture surfaced of London Bridge terrorist Usman Khan with his "personal friend", Anjem Choudary. The imam who allegedly radicalized the terrorist who attacked in Paris police headquarters is based in Gonesse and is still free to preach.
Deradicalization works only if it defies this suicidal Western political correctness by tackling the real causes of this kind of terrorism, which are in the Islamic texts. "Kill the unbelievers wherever you find them", says the Koran (9:5). Usman Khan apparently saw Jack Merritt and Saskia Jones as "unbelievers", not as "rehabilitators". If we do not change our rules of engagement, more of the same will follow.
Giulio Meotti, Cultural Editor for Il Foglio, is an Italian journalist and author.