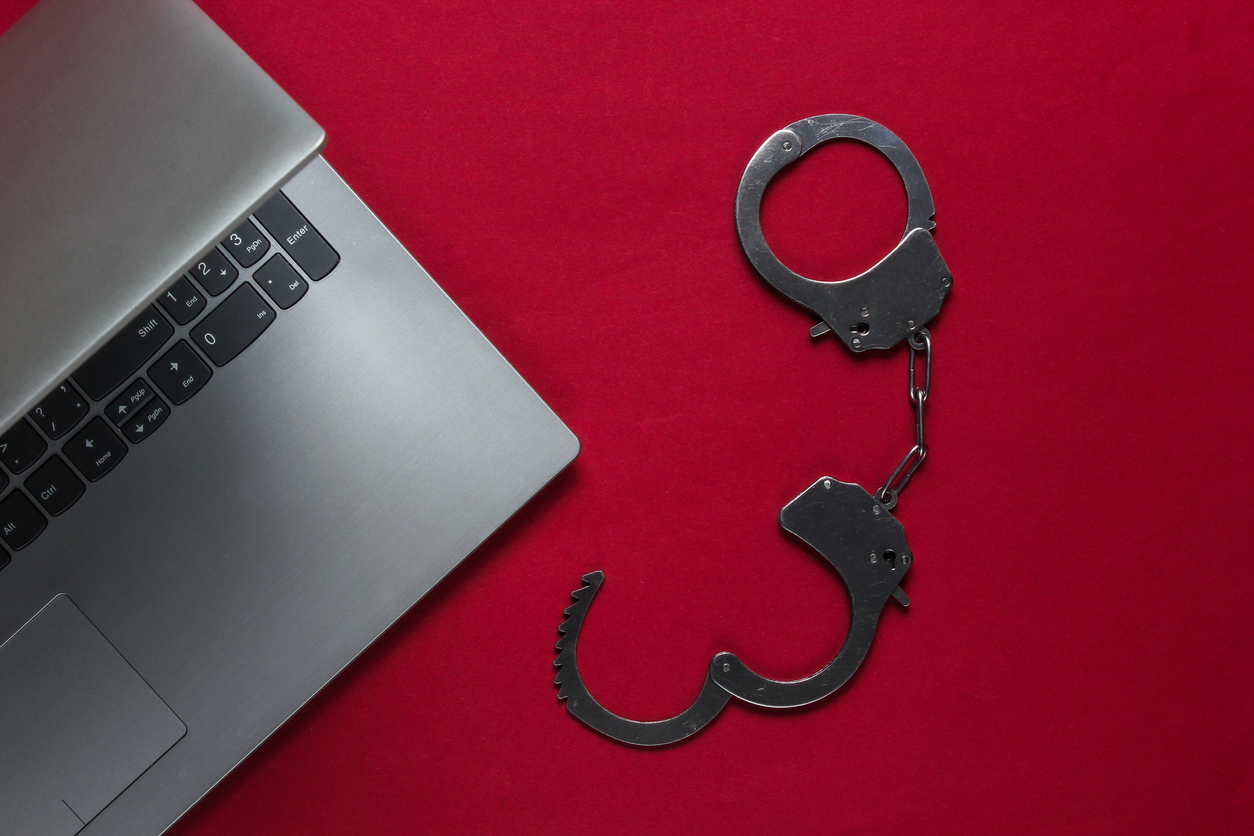 (Image source: iStock)
In Germany, police recently completed their fifth nationwide "Action Day against Hate Postings".
German authorities initiated the action day more than three years ago; since then, it has been held once a year. According to the Federal Police, the number of recorded cases of hate crime linked to the internet has actually fallen -- from 2,458 cases in 2017 to 1,962 in 2018.
Despite the decrease in cases, German authorities nevertheless decided to have not just one, but two action days this year. The first took place on June 6, when German authorities launched coordinated police raids in 13 federal states against suspects who had allegedly posted hate speech online. In a total of 38 cases, homes were searched and suspects interrogated, the Federal Criminal Police Office reported.
The second action day in 2019 took place on November 6, when the Federal Criminal Police Office in Wiesbaden, which coordinated the action, launched police operations in nine federal states -- Hesse, Bavaria, Baden-Württemberg, Berlin, Brandenburg, Bremen, North Rhine-Westphalia, Saarland and Saxony -- against suspects believed to have posted hate speech online. In 21 cases, there were apartment searches or interrogations.
The decrease in online hate speech, however, is no cause for celebration, according to the Federal Police:
"Many criminally relevant posts are not displayed or are not made known to the security authorities as they are expressed in closed forums and discussion groups."
Instead, the Federal Police asked the German public to become informants and notify them about online hate speech:
"Support us and contribute to the fight against hate crime: ... Anyone who encounters hate postings on the net or becomes a victim should report this to the police. Some federal states have internet portals available for this purpose, through which anyone can also report such crimes anonymously. An overview of these online stations can be found at: www.bka.de/DE/KontaktAufnehmen/Strafanzeigen/strafanzeigen_node.html or on the Internet portal of the German police: www.polizei.de".
Regarding hate postings, according to Federal Police, 80% of online hate crimes are "incitement to hate", as well as "insult, coercion and threats".
In view of what Germany faces on the terrorism front, it seems an odd priority for the Federal Police to be hunting down online thought crimes in two nationwide "Action Days against Hate Postings" in one year alone.
In an operation in November, involving more than 170 police officers, German authorities arrested two Turks and one German of Macedonian origin in Offenbach, a city bordering Frankfurt, and charged them with plotting a terrorist attack using explosives.
According to police, the men's intention was to "kill as many people as possible" in the region. The men were well known to the police.
Also in November, German police detained a Syrian man in Berlin. Federal prosecutors said the suspect had begun to procure the "requisite components and chemicals for the construction of an explosive device," also with the intention of killing as many people as possible.
"This was intended for detonation at an unknown point in time and at an unknown location in Germany," they said.
Earlier this year, in March, 11 people were arrested on suspicion of planning a terrorist attack. German police told the media that the goal of the attack was "to kill as many infidels as possible" using firearms and vehicles. In July, police in the cities of Cologne and Düren, carried out raids on six apartments and a building site to prevent a terrorist attack by six Islamic extremists, one of them with connections to a jihadist group in Berlin.
In addition, the Turkish Interior Ministry announced that it would start deportations of 10 captured men, women and children with suspected ties to "Islamic State" back to Germany.
There are 95 German suspected ISIS supporters believed to be in custody in Turkey, Syria, or Iraq. German police have active investigations against 33 of them and in 26 cases, arrest warrants have been issued.
A family of seven German Islamists already arrived in Berlin from Turkey. There are no German arrest warrants for the family and German authorities said they do not believe the family ever joined Islamic State. Armin Schuster, the interior policy spokesman for Angela Merkel's Christian Democratic Union, insisted that the German returnees were not "serious cases," and warned against "media-fueled hysteria" according to a report in Deutsche Welle. "They did not take part in the fighting," he said. "They won't be sent to prison but they have to be kept under surveillance."
If they have to be kept under surveillance, one might argue, then perhaps there is reason for suspicion? It therefore appears odd for a German official to be arguing that a family that might voluntarily have traveled to join ISIS, a racist, supremacist, violent and lethal terrorist organization -- even if they did not succeed in joining it -- is not a serious case. Being concerned would hardly seem "hysterical".
German police, nevertheless, seem keenly aware that Germany is under threat. The Federal Criminal Police Office recently announced that it was setting up a department, "Islamist-motivated terrorism/extremism," in order to "further strengthen the fight against Islamist terrorism together with the other security authorities in the federal and state governments..."
"For despite the military defeat of the self-proclaimed 'Islamic State', the risk of Islamist-motivated attacks in Germany remains high. In addition to the seven attempts and plans that the security authorities have been able to thwart in Germany since 2016, the five-fold increase in the number of dangerous persons and the significant increase in the number of investigations conducted in this area also illustrate the challenges facing the German security authorities" [Emphasis added.].
The new unit will also have to deal with the dangerous issue of ISIS returnees:
"Another important issue is the treatment of returnees from the war zones in Syria and Iraq. These individuals are already the subject of intensive consideration... the dangers they pose should be addressed at an early stage by launching investigations and obtaining arrest warrants".
In between online thought crimes and terrorists, the German police would seem to have their work cut out.
John Richardson is a researcher based in the United States.