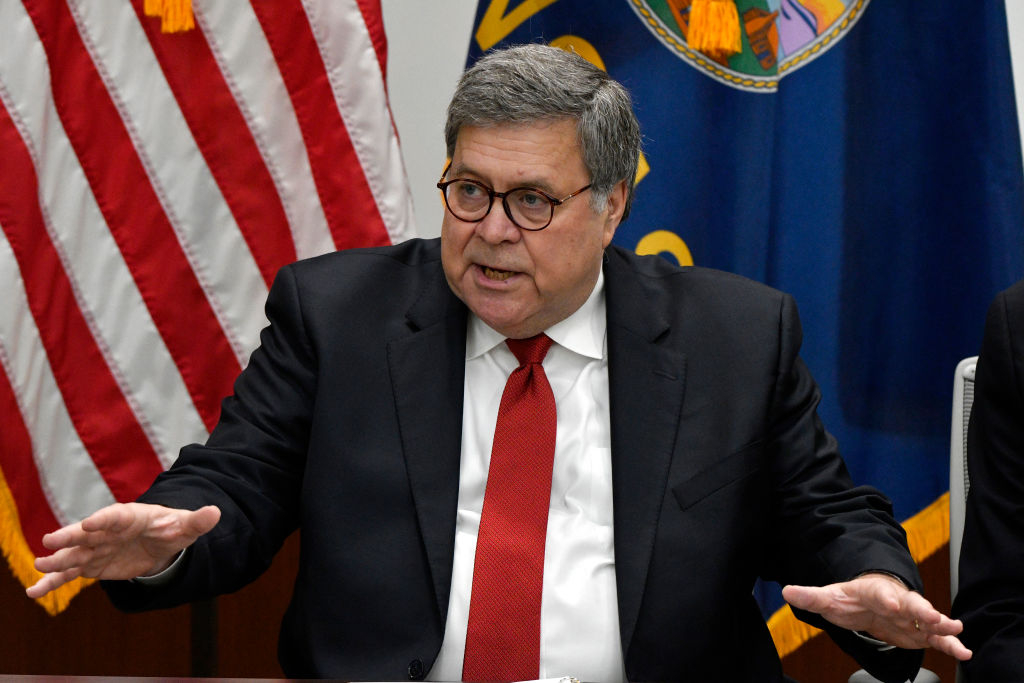 According to U.S. Attorney General William Barr, "an untrusted provider could facilitate espionage (including economic espionage) and disruption of our critical infrastructure at the whim of a foreign power. In sum, their own track record, as well as the practices of the Chinese government, demonstrate that Huawei and ZTE cannot be trusted." (Photo by Ed Zurga/Getty Images)
As the world awaits the details of the Trump Administration's reported "phase one" trade deal with China -- U.S. officials expect it to be executed in January 2020 -- a more fundamental question arises: Should America be doing business with China in strategically significant areas, or even beyond?
In a December 15th interview with Director of the United States National Economic Council, Larry Kudlow, Fox Business anchor Maria Bartiromo indirectly touched on this question. Bartiromo asked Kudlow if the proposed deal accounted for new Chinese regulations that would seemingly threaten the intellectual property (IP) of American firms transacting with Chinese ones. She was likely alluding to China's new Encryption Law, set to take effect on January 1, 2020. Some have suggested that the law would enable the Chinese Communist Party (CCP) to collect all information that traffics on Chinese networks. To the extent the trade deal does not account for this law, the implication is that its provisions relating to IP protections could be rendered moot. Here is the relevant portion of the exchange:
MARIA BARTIROMO: What I really want to know about is the intellectual property [IP] part of this. You say that you've got some promises from the Chinese to actually protect intellectual promises -- property, rather, but isn't it true that they've just instituted their own new cyber security rules that are in place that say that no foreign company may encrypt data so it can't be read by the Chinese central government and the communist party of China? In other words, businesses are required to turn over the encryption keys. Are these new rules that China just put in place basically negating any opportunity for the U.S. to protect its IP?

LARRY KUDLOW: Well, look. We will see. There's a large IP chapter in this deal and there's also a large forced technology transfer chapter in this deal. I don't think we know enough about these new Chinese rules and we'll have to look at that and by the way if they do violate then of course we will take action.
Bartiromo's concern is well-founded, not only given the CCP's historical cheating on such deals, but because of the nature of its rule. Consider, for example, China's 2015 National Security Law, which says that all citizens, firms and organizations have "the responsibility and obligation to maintain state security." Its 2017 National Intelligence Law also obligates such individuals and entities to "support, provide assistance, and cooperate in national intelligence work..." It is not hard to see how China could apply rules even beyond the Encryption Law to justify violations of a deal with the U.S. under the guise of "national security concerns," and the "rule of law."
That Trump Administration officials have emphasized the enforcement mechanism associated with the trade deal; put the burden on the CCP to abide by it, and emphasized that "phase one" is a small step in a years-long process. This approach indicates an acknowledgment of the perils of any such pact, as well as the dangerous nature of transacting with CCP-tied concerns in sensitive industries.
Consider, for instance, the recent decision by the Federal Communications Commission (FCC) to designate leading Chinese telecommunications companies Huawei and ZTE as "national security threat[s]."
According to Federal Communications Commission [FCC] Chairman Ajit Pai, the policy will "prohibit the use of Universal Service Fund [USF] dollars to purchase equipment or services from any company—like Huawei—that poses a national security threat." The FCC is also "initiat[ing] a process to remove and replace such equipment from USF-funded communications networks." Long distance carriers tap the $8.5 billion USF to subsidize their communications services in low-income and high-cost areas, such as remote rural ones.
Attorney General William Barr voiced his support for prohibiting engagement with such companies. The Department of Justice has litigated against both Huawei and ZTE and implicated such companies cumulatively of having engaged in attempts to evade US sanctions on Iran, intellectual property theft, and a raft of additional related crimes, including obstruction of justice -- along with the more fundamental national security concerns. Barr argued that "a willingness to break U.S. law combined with a determination to avoid the consequences by obstructing justice argues against the reliability of a provider." He added:
"... an untrusted provider could facilitate espionage (including economic espionage) and disruption of our critical infrastructure at the whim of a foreign power. In sum, their own track record, as well as the practices of the Chinese government, demonstrate that Huawei and ZTE cannot be trusted."
As Chairman Pai put it:
The concern is that hostile foreign actors could use hidden 'backdoors' to our networks to spy on us, steal from us, harm us with malware and viruses, or otherwise exploit our networks. As a brand-new report on 5G security put it, 'the most severe threats [are] posed by compromised confidentiality, availability and integrity associated with a State or State-backed actor.' And there are mounting reasons to believe that the Chinese firms Huawei and ZTE pose an unacceptable risk to U.S. national security."
Chairman Pai and AG Barr's shared concerns echo those expressed broadly across the intelligence community.
Jack Keane, for instance, a retired four-star general and chairman of the Institute for the Study of War, has called China "the number one stealer of data in the world."
Former National Security Advisor John R. Bolton stated in June 2019, that "China is continuing cyberattacks against government and private sector networks aimed at obtaining intellectual property to support China's military buildup and economic modernization."
His successor, National Security Advisor Robert O'Brien recently suggested an additional threat to the homeland: "What if, for democracies, China knew every single personal, private piece of information about any of us...?"
Until recently, at least, the Trump Administration, with the support of Congress, has been engaged in an underappreciated effort to keep products made by these Chinese companies out of the federal government as well as out of the vital infrastructure of allied countries.
On the domestic front, the executive and legislative branches have also engaged in mutually reinforcing actions. These have included: adding Huawei and dozens of its affiliates to the Commerce Department's Entity List -- reinforced by the forthcoming National Defense Authorization Act -- restricting exports from U.S. concerns to these entities; threatening an executive order that would ban Chinese telecommunications equipment from U.S. wireless networks; an administrative review that ultimately led to the collapse of the Broadcom-Qualcomm merger; Congress's passing of legislation that restricts Huawei-related purchases by executive agencies, and myriad additional drafts of legislation or requests of the Trump Administration to protect the U.S. from Chinese telecommunications companies, including barring Huawei from the US electrical grid.
On the foreign side, America has engaged in a global campaign to dissuade countries from allowing Huawei to build fifth-generation (5G) infrastructure. Sadly, results of this exercise have been decidedly mixed, exposing the dangerous reach of Chinese telecommunications companies, but also of China's grand strategy for global hegemony.
Huawei is not only a microcosm of, but a linchpin in China's overall strategy aimed at -- as Secretary of State Mike Pompeo recently defined it -- "international domination." Essential to that strategy has also been the attempt to dominate strategically significant industries, and using that dominance to gain global footholds through commerce that ultimately serves the CCP's aims, whether in its own national security or its ability further to project its power.
Like many Chinese companies, Huawei might best be thought of as a "dual-use" entity -- as a firm that sells products to civilians, but that can also have military applications for governmental purposes.
Huawei, the world's largest telecommunications equipment manufacturer, is the West's chief competitor in the race for the vital area of 5G technology -- a race that Western companies are currently losing. The consequences are potentially cataclysmic, as Gordon Chang wrote recently for the Gatestone Institute:
With speeds 2,000 times faster than existing 4G networks, 5G will permit near-universal connectivity to homes, vehicles, machines, robots, and everything plugged into the Internet of Things (IoT).

Moreover, with just about everything connected to everything else, China will filch the world's information. [Emphasis added.]
Huawei is not, by any Western definition, a private, free market enterprise.
Its founder, Ren Zhengfei, was a member of the Engineering Corps of the People's Liberation Army (PLA) -- the Communist Party's military -- from 1974 to 1983, where he worked in telecommunications research. He is and has been a longtime outspoken member of the ruling Chinese Communist Party.
Also, according to a 2009 report commissioned by the Congress's US-China Economic and Security Review Commission (USCC), Huawei was among several Chinese technology firms that "originated as state research institutes," allegedly with substantial seed funding from a state-backed bank.
At every turn, Huawei has been showered by the Chinese Communist Party with Chinese People's Liberation Army state support and "sweetheart deals"; being labelled a "national champion" by the Chinese government, under which the state conferred on it a slew of protectionist and other preferential measures designed to ensure its dominance and growth; or its receipt of billions of dollars in loans from Chinese state banks that enabled it to undercut global competitors and dominate market share.
As Ren Zhengfei put it, "If there had been no government policy to protect [Huawei], Huawei would no longer exist."
Most importantly, while Huawei has grown into a $100 billion a year behemoth with 180,000 employees in 170 countries who serve three billion end users, it has done so while strengthening deep ties to China's security apparatus.
A 2005 RAND study asserted that Huawei "maintains deep ties with the Chinese military, which serves... as an important customer... political patron and research and development partner." Most alarmingly, there is evidence Huawei has provided so-called "special network services" to a PLA "elite cyber-warfare unit."
Huawei has also been tied to China's Ministry of State Security (MSS), Beijing's equivalent of the Central Intelligence Agency (CIA).
Finally, according to Chinese law, a Communist Party cell must operate within Huawei. When asked by U.S. investigators what role its Party Committee plays, Huawei dodged the question. Further, as the House Permanent Select Committee on Intelligence noted in 2012, in a claim only bolstered subsequently by the China's 2014 Counter-Espionage Law, and previously referenced 2017 National Intelligence Law:
China may seek cooperation from the leadership of a company like Huawei... Even if the company's leadership refused such a request, Chinese intelligence services need only recruit working-level technicians or managers... Further, it appears that under Chinese law... Huawei would be obligated to cooperate with any request by the Chinese government to use their systems or access them for malicious purposes under the guise of state security.
The fact is that no Chinese company can be assumed to operate without the explicit blessing of the Chinese Communist Party -- especially a company so essential to its broader aims. Indeed, Huawei was identified as a national champion and remains perhaps the most significant company of all to China's global efforts.
In March 2015, for example, China's National Development and Reform Commission (NDRC) released a report on its so-called Belt and Road Initiative (BRI). Its stated intent was to
...promote the economic prosperity of the countries along the Belt and Road and regional economic cooperation... and promote world peace and development... [through] cooperation [that] features mutual respect and trust, mutual benefit and win-win cooperation...
Included in this vision was a call for an "Information Silk Road" or "Digital Silk Road." Here is how the U.S.-China Economic and Security Review Commission describes it in its 2018 USCC annual report:
The "Digital Silk Road" — China's plans for integrating digital sectors like telecommunications, Internet of Things, and e-commerce into its vision for regional connectivity—is a... critically important component of BRI. According to... China's vice minister of industry and information technology, the Digital Silk Road will help "construct a community of common destiny in cyberspace" — a phrase mirroring language China uses to describe its preferred vision for global order aligned to Beijing's liking... As Chinese companies lay fiber optic cable, supply smart city projects, and expand e-commerce offerings, they are expanding China's influence over the global digital economy to align more closely with Beijing's vision of internet governance. [Emphasis added.]
Although China presents the BRI as benign, its official "Blue Book of Non-Traditional Security" should be cause for concern. According to analyst John Lee, the
... annual volume produced by state-sanctioned academics and researchers, states that two of the purposes of the BRI [Belt and Road Initiative] are to mitigate American-led geopolitical machinations and ideas, and... promote a new international discourse and order that enhances China's national power and soft power.
Lee adds that the BRI is meant to cultivate "strategic support states." Such states, per one analysis, are intended to ensure "China has the ability and resources to guide the actions of the country so that they fit into [China's] strategic needs."
The Trump Administration, which has spearheaded bipartisan efforts in Congress, should be commended for recognizing the threat of Chinese aggression, including telecommunications companies, and addressing the long overdue problems posed to U.S. national security. The Trump Administration, after decades of US willful blindness, has indeed engaged in a dogged effort to execute on a whole-of-government strategy to begin to counter Communist China's expansion.
That a single company, however, such as Huawei can present such grave problems necessitating such a broad response illustrates a deeper problem that America is only beginning to acknowledge: How can the U.S. transact with China in any strategically significant area given the communist regime's aims, and its power over every Chinese entity? Might the best answer be simply to decouple? Is the US ultimately trading away its freedom?
Ben Weingarten is a fellow at the Claremont Institute and Senior Contributor to The Federalist. He was selected as a 2019 Robert Novak Journalism Fellow of The Fund for American Studies, under which he is currently working on a book on U.S.-China policy