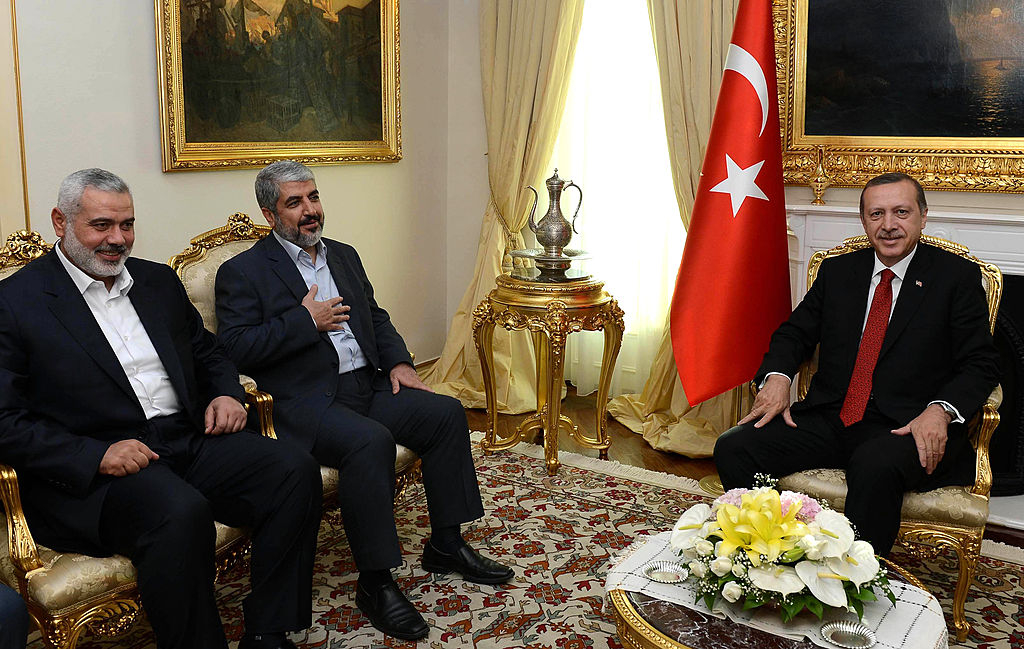 Hamas's support for Turkey's aggression in northern Syria should come as no surprise. Hamas, like Turkey, not only seeks Israel's destruction, but also has close ties with the Erdoğan government. Pictured: Turkey's President Recep Tayyip Erdogan (then serving as prime minister) poses beside Hamas leaders Khaled Mashaal (center) and Ismail Haniyeh (left) during a meeting in Ankara, Turkey on June 18, 2013. (Image source: Turkish Prime Minister Press Office/Yasin Bulbul/AFP via Getty Images)
In mid-October, following US President Donald Trump's announcement of a withdrawal of American troops from northern Syria, Turkish President Recep Tayyip Erdoğan's military invaded the Kurdish-held area.
Ankara views the Kurds in northern Syria as PKK-affiliated terrorists who, for wanting freedom, are regarded as a serious threat to Turkish national security. Eliminating Kurdish autonomy has been a key priority for Erdoğan since the beginning of the Syrian civil war in 2011.
The American pullout from the area, which borders on Turkey, was evidently perceived by Erdoğan as a green light for an invasion, for which he had been waiting for nearly a decade. Although there is no doubt about the devastating effect that this move is having and will continue to have on the Kurds, there is a question about whether and to what extent it will affect Israel, a neighboring country that has been a supporter of Kurdish independence and rightly fears an even greater Iranian power-grab in Syria.
Israel's enemies, unsurprisingly, immediately championed Trump's announced exit and praised Erdoğan's invasion. Take Hamas, the terrorist organization that rules the Gaza Strip, for example.
Hamas, like Turkey, not only seeks Israel's destruction, but also has close ties with the Erdoğan government. Hamas's military wing maintains an office in Istanbul, in spite of international pressure on Turkey to shut it down. During an official visit to London in May 2018, Erdoğan stated:
"...I do not deem Hamas a terrorist organization. Hamas is one of the resistance movements working to liberate the occupied territories of the Palestinians."
Israeli Prime Minister Benjamin Netanyahu responded to the above comments on Twitter, writing:
"Erdogan is among Hamas's biggest supporters and there is no doubt that he well understands terrorism and slaughter. I suggest that he not preach morality to us"
In other words, Turkey's "ideological love affair" with Hamas is no secret.
However, while Turkey, a member of NATO, may be playing a double game with the West -- simultaneously supporting Hamas and engaging in realpolitik diplomacy with Washington and Jerusalem -- Hamas is clear about its radical Islamist agenda. Like its terrorist counterparts across the Middle East, many of which are funded by the Iranian regime, Hamas aims to annihilate Israel not only for being a Jewish state, but for sharing American values of freedom and democracy. In Hamas's eyes, the Kurds are an extension of that Western alliance.
As Gatestone's Khaled Abu Toameh recently wrote:
A statement issued by Hamas on October 14 said that the terror group "understands Turkey's right to protect its border, defend itself and remove threats harmful to its national security against the tampering of the Zionist Mossad in the region, as part of [Israel's] effort to undermine Arab and Islamic national security."

Hamas also praised Erdogan for his "support for the Palestinian cause and the rights of the Palestinian people" and expressed opposition to "the Zionist and US presence in the region."

Sami Abu Zuhri, a Hamas spokesman in the Gaza Strip, voiced support for Turkey. "The Israeli media campaign against Turkey is rude and unacceptable. Israel will remain the enemy and Turkey will remain in the hearts of Muslims," he wrote on Twitter.

Another Hamas leader, Izzar al-Risheq, said that his group is "confident that President Erdogan has no ambitions in Syria and he only wants to preserve the security of his country." The Muslims, he added, need to "end their conflicts so they would have the time to confront the big challenge imposed by the presence of the Zionist enemy."
Hamas's support for Turkish aggression, therefore, should come as no more of a surprise than Erdoğan's campaign against the West and extensive military efforts to achieve regional hegemony.