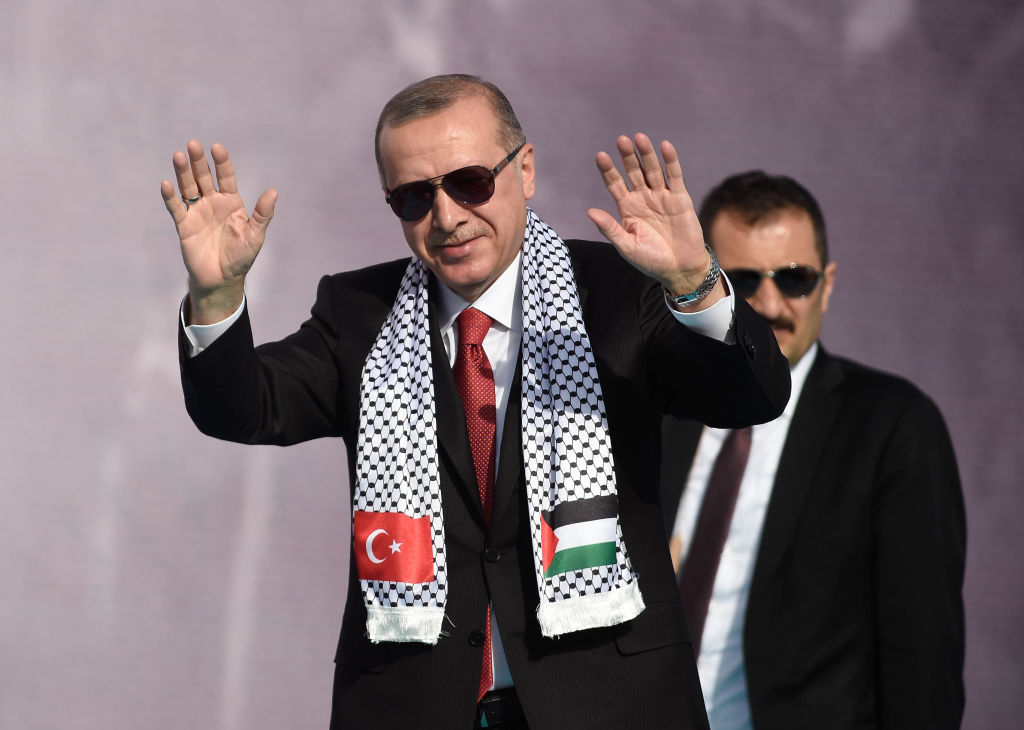 Hamas, the terror group ruling the Gaza Strip, is the only Palestinian party that has come out in support of Turkish President Recep Tayyip Erdogan's war on the Kurds in Syria. Pictured: Erdogan at a rally in support of Hamas, on May 18, 2018 in Istanbul, Turkey. (Photo by Getty Images)
Hamas, the Muslim Brotherhood-affiliated terror group ruling the Gaza Strip since 2007, is the only Palestinian party that has come out in support of Turkish President Recep Tayyip Erdogan's war on the Kurds in Syria.
A statement issued by Hamas on October 14 said that the terror group "understands Turkey's right to protect its border, defend itself and remove threats harmful to its national security against the tampering of the Zionist Mossad in the region, as part of [Israel's] effort to undermine Arab and Islamic national security."
Hamas also praised Erdogan for his "support for the Palestinian cause and the rights of the Palestinian people" and expressed opposition to "the Zionist and US presence in the region."
Sami Abu Zuhri, a Hamas spokesman in the Gaza Strip, voiced support for Turkey. "The Israeli media campaign against Turkey is rude and unacceptable. Israel will remain the enemy and Turkey will remain in the hearts of Muslims," he wrote on Twitter.
Another Hamas leader, Izzar al-Risheq, said that his group is "confident that President Erdogan has no ambitions in Syria and he only wants to preserve the security of his country." The Muslims, he added, need to "end their conflicts so they would have the time to confront the big challenge imposed by the presence of the Zionist enemy."
Hamas's patrons in Qatar, the Gulf country that has long been serving as the Muslim Brotherhood's most hospitable base of operations, have also defended Turkey's war on the Kurds. According to Qatari Foreign Minister Sheikh Mohammed bin Abdulrahman, speaking at the Global Security Forum meeting in Doha:
"Weapons and training provided to Kurdish groups during the war against Daesh represent an imminent threat to the Turkish security... We can't heap the blame on Turkey as Ankara wants to clear its territory and stand up against terrorism. Turkey can't remain silent until terror hits its territory."
Hamas's support for Turkey in its war against the Kurds contradicts its own claim that it does not meddle in the internal affairs of Arab and Islamic countries. In the past few years, several Hamas officials have repeatedly denied charges that their group was meddling in the internal affairs of Egypt, Syria, Libya and Jordan.
The Hamas denials, however, are completely false.
Hamas maintained close ties with Brotherhood's Mohamed Morsi after he was elected as President of Egypt. After he was removed from power, Morsi was formally charged with "collaboration" with Hamas, Hezbollah and Iran's Islamic Revolutionary Guard Corps. In the past few years, the Egyptian authorities have accused Hamas of involvement in a series of terror attacks against Egyptians, including the 2015 assassination of Attorney General Hisham Barakat.
As far as Hamas is concerned, however, collaboration with the Muslim Brotherhood president and involvement in terrorist attacks in Egypt was not intervention in the internal affairs of an Arab country.
The Syrians expelled Hamas leaders and closed their offices in Damascus shortly after the beginning of the civil war in Syria in 2011. The Syrian authorities said they made the decision after it became clear that Hamas was "supporting terrorists in Syria." Hamas, in other words, was caught helping "terrorists" who were fighting against the regime of Bashar Assad. According to Hamas's logic, working with anti-Assad terrorists is not considered intervention in the internal affairs of that Syria.
In the past two years, there has been growing evidence that Hamas has also been meddling in the internal affairs of Libya. According to various reports in the Arab media and statements by Libyan officials, Hamas has been providing military aid to some terrorist groups in Libya. Some Libyan officials have also blamed Qatar for financing terrorist groups belonging to the Muslim Brotherhood and Hamas. Earlier this year, the Libyans announced that they arrested 13 men on suspicion of spying for Hamas.
Jordan is another Arab country that has suffered from Hamas's intervention in the kingdom's internal affairs and Hamas's threats to its national security. In 1999, the Jordanian authorities expelled five Hamas leaders. A few years later, the Jordanians arrested a Hamas cell that was involved in smuggling weapons from Iran into the kingdom. Earlier this month, the Jordanian authorities reportedly arrested two Muslim Brotherhood activists on suspicion that they were linked to Hamas.
Because of its constant meddling in the internal affairs of various countries, Hamas has damaged its relations with most of the Arab and Islamic countries. Recently, reports suggested that the Turkish authorities are revising their relations with Hamas. According to the reports, the Turkish authorities are unhappy with the presence of Hamas operatives in their country, particularly because are using Turkey as a base for planning terrorist attacks and money laundering. The Turks are also reported to be angry with Hamas because of its close ties with Iran and Hezbollah, and Hamas's attempts to mend fences with the Assad regime in Syria.
Hamas's support for Erdogan's war on the Kurds seems to be in the context of its attempt to persuade the Turkish authorities to allow its members to continue using Turkey as a base for masterminding terrorist attacks against Israel.
It is ironic that Hamas, which has launched thousands of rockets at Israel and carried out many terrorist attacks against Israelis, is now saying that "understands Turkey's right to protect its border."
This is the same Hamas that has been condemning Israel for defending its border against terrorist infiltrations from the Gaza Strip. Since March 2018, Hamas has been encouraging Palestinians to demonstrate near the border with Israel, where they have been attacking Israeli soldiers with rocks, firebombs and explosive devices. If, according to Hamas, Turkey has the right to protect its border, why does Israel not have the same right?
There is another reason why Hamas is courting Erdogan. As Hamas said in its statement, it is opposed to the "US and Israeli presence in the region." Hamas seems to be happy that the US abandoned the Kurds and left northern Syria. Hamas does not want the US to play any political or military role in the region because of Washington's "bias" in favor of Israel.
For Hamas, Erdogan is a hero because he succeeded in persuading the Americans to withdraw from Syria. Hamas and its Muslim Brotherhood allies are hoping that the departure of the US would pave the way for them to spread their influence to Syria.
When Hamas talks about the "Zionist Mossad tampering in the region," it is seeking to depict the Kurds as Israeli agents and collaborators. The message Hamas is sending to Arabs and Muslims: These Kurds are traitors working for Israel and the US, and that's why they deserve to be slaughtered. Erdogan has therefore become Hamas's hero because he's waging war on Israeli and US "agents."
Hamas's support for Turkey reflects its "extreme political and Machiavellian opportunism," said Palestinian columnist Rami Abdallah. "Hamas has mastered all the arts of politics and its tricks."
It now remains to be seen how Erdogan will reward Hamas for supporting his war on the Kurds. Hamas, meanwhile, is holding its breath, hoping that Turkey will embrace the group and facilitate its fight against Israel.
Khaled Abu Toameh, an award-winning journalist based in Jerusalem, is a Shillman Journalism Fellow at Gatestone Institute.