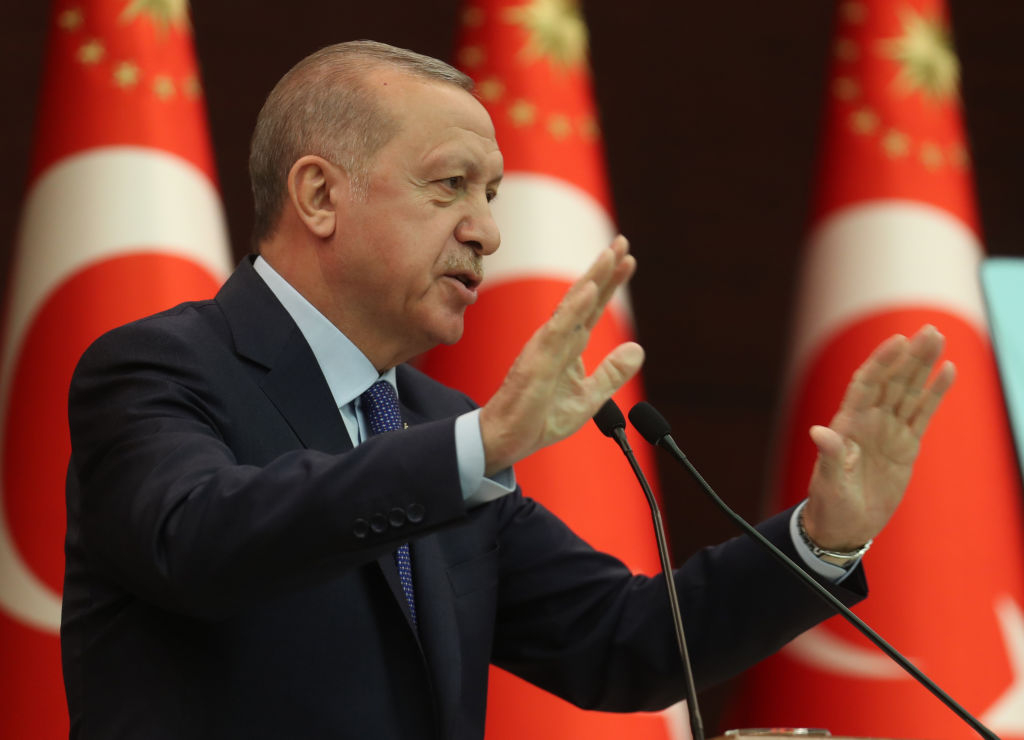 Turkish President Recep Tayyip Erdoğan owes his spectacular election victories, uninterrupted since 2002, in large part to rapid economic growth and the subsequent improvement in the standard of living. A reversal now could end his glittering political career. Pictured: Erdoğan speaks at a press conference addressing the coronavirus crisis in Ankara, Turkey on March 18, 2020. (Photo by Adem Altan/AFP via Getty Images)
We may be months away from Covid-19's global peak but the punishing, global, post-pandemic economic repercussions will vary from one country to another, depending on what economic vulnerabilities the pandemic has caught off-guard. One anticipated outcome is to see bigger post-corona damage to economies that have a large dependence on tourism and on economies with fundamental imbalances. Turkey belongs in both categories.
In the early days of the virus, before the skyrocketing number of cases, Turkey's fragile economy boasted 4.3 million jobless. The official unemployment rate was 13.8%.
That number may double before the end of the year, as tens of thousands of mostly small- and medium-sized businesses are likely to close. Most new jobless people will probably remain without welfare coverage. The temporary state support for the jobless, announced by the government in Ankara, is at a mere TL39.24 per month (approximately $5.85). Turkey could only announce an anemic $15 billion plan to boost the economy, or 1% of its GDP. That compares with stimulus plans at 11% for the United States, 8.4% for Canada, 4.9% for Germany and 3.5% for Brazil.
A national relief program for the poorest, announced passionately by Turkish President Recep Tayyip Erdoğan, collected only €200 million, less than the 2017 annual transfer fee for Brazilian soccer star Neymar da Silva Santos who was signed up from Barcelona to Paris St. Germain for €222 million.
There are other figures that give Erdoğan reason to worry about his political survivability. The assurances of Economy Minister Berat Albayrak (Erdoğan's son-in-law) -- that "with its dynamic structure, the Turkish economy will be among those that will get over this process with minimum damage and in a short time" -- remain unconvincing.
In August 2018, the price of Turkey's credit default swaps (CDS), -- an insurance scheme against debt default -- rose to its all-time high since 2009. In May 2019, the price of Turkey's CDS again rose sharply, as investors started to price in a default. On January 10, Turkey's CDS price was measured at 269 basis points, safer than 566 points in 2018 but far worse than 142 points in 2010.
One lack of a safety net for Ankara is its big foreign exchange liabilities, in an economy not prepared for a sharp slowdown. After an increase of 20% within a year, these liabilities have reached $300 billion. That puts Turkey's net foreign liabilities at $175 billion -- after foreign assets of $125 billion are deducted from total liabilities.
Turkey's reserves do not promise to help against that big stock of foreign liabilities. Mismanagement and a palliative desire to keep the national currency afloat have caused the Central Bank to burn through $65 billion in reserves since January 2019. As a result, the Central Bank's net foreign currency reserves have plunged to a meager $1.5 billion. This is a perfect disaster scenario for an ailing currency and ballooning inflation rates.
Japan's MUFG Bank's forecast for the lira depreciation within a year is 18%, in addition to the currency's fall against major western currencies by 7% since the beginning of the year. That scenario will bring the exchange rate to a record low 8 liras to the dollar at the end of the year, compared with 3 liras to the dollar in September 2016. The lira depreciation and Central Bank's money printing will fuel inflation, which is already above 10%.
A graceful exit from the current account deficit will not be easy with all the pressure on foreign payments balances. In 2019, Turkey earned $34.5 billion in tourism revenue. Before the coronavirus, Turkey hoped its tourism revenues might reach as high as $45 billion this year. But in the first quarter of the year, the number of passengers traveling through Turkish airports fell by 18.8%, and the second quarter does not look promising. Economists estimate that the year-end decline will be even sharper.
All this means that, even if the government miraculously contains the pandemic damage by the end of 2020, the average Turk will suffer severe economic hardships from the second half of 2021 to the end of 2022. This is where alarm bells ring for Erdoğan. Turks are scheduled to go to the ballot box again in 2023 to elect the president and members of parliament.
Erdoğan owes his spectacular election victories, uninterrupted since 2002, in large part to rapid economic growth and the subsequent improvement in the standard of living. A reversal now could end his glittering political career.
In January 2019, PIAR, a Turkish pollster, found that a clear majority of Turks thought unemployment and economic hardships were the country's top problems. In March 2019, a survey by SODEV, a political foundation, revealed that half the Turks who voted for the opposition defined the state of the economy as "bad" or "very bad." It also found that pro-Erdoğan voters, too, thought the economy was the country's biggest problem. In the municipal elections that took place a few weeks later, on March 31, 2019, Erdoğan's Justice and Development Party lost in all three of Turkey's biggest cities, Istanbul, Ankara and Istanbul. The defeat of Islamists in Istanbul and Ankara had come after 25 years in power.
Erdoğan may still be the most popular politician in Turkey. But an ailing national economy could be further eroding his ratings. As voters endure more and more economic hardship, public opinion could again turn sour for Erdoğan, and at a time, ironically, when he was hoping to boost government spending and economic growth to maximize votes in 2023. Erdoğan remains the potential victim of a small virus.
Burak Bekdil, one of Turkey's leading journalists, was recently fired from the country's most noted newspaper after 29 years, for writing in Gatestone what is taking place in Turkey. He is a Fellow at the Middle East Forum.