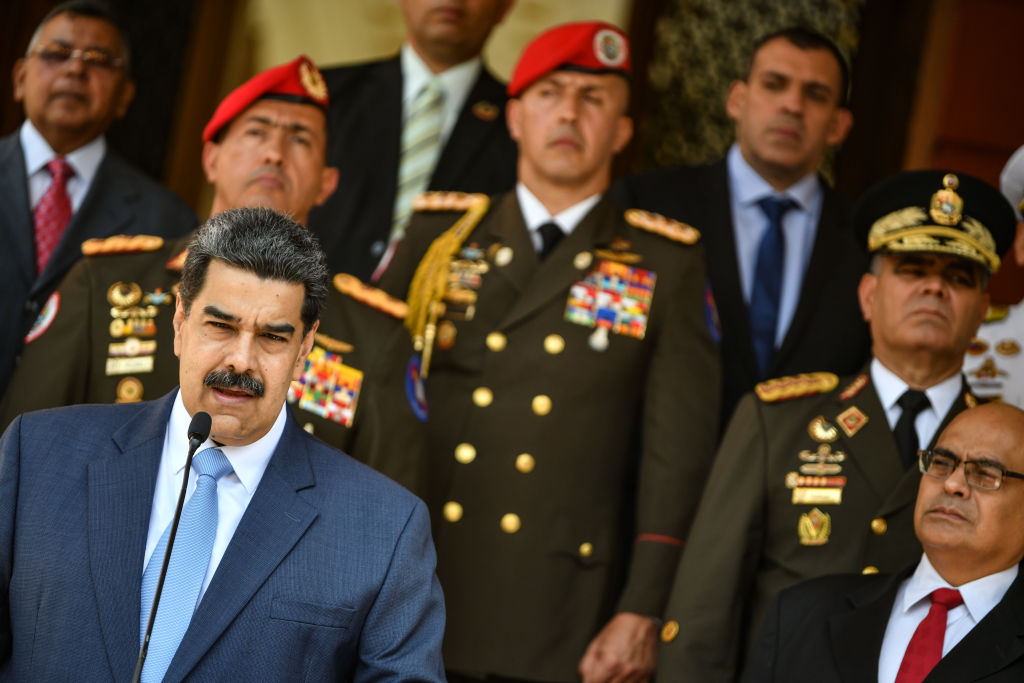 The U.S. Department of Justice accuses Venezuelan dictator Nicolás Maduro of having served as the chief of a narcotics organization called "the Cartel of the Suns." Maduro's drug cartel is further alleged to have helped arm an extremist faction of the Colombia-based Marxist terrorist group, the Revolutionary Armed Forces of Colombia (FARC). Pictured: Maduro speaks during a press conference in Caracas, Venezuela on March 12, 2020. (Photo by Carolina Cabral/Getty Images)
More than fifty countries in the Euro-Atlantic and Hispanic Free World consider the Venezuelan regime led by dictator Nicolás Maduro to be illegitimate. This view also seems to be shared by millions of Venezuelans, more than four million of whom have fled the country's political oppression and economic depression.
The main reason for the charge of illegitimacy stems from the view that Maduro's victory for a second six-year term as president in Venezuela's 2018 national elections was fraudulent. Opposition protests have failed to dislodge the socialist-led regime, which has so far been sustained by Chinese loans, Russian weapons and Cuban troops. The Venezuelan people, disenfranchised and disarmed, have, in addition, been bullied into submission by pro-regime neighborhood revolutionary leftist gangs called "colectivos."
Despite Venezuela's loss of democracy and rule of law, the US Administration of President Donald J. Trump has recently offered Venezuela's citizens a glimmer of hope. On March 26, U.S. Attorney General William Barr, backing a federal investigation -- in which U.S. attorneys in Washington D.C., New York, and Florida are cooperating -- unveiled an indictment of Maduro for drug trafficking, corruption, money laundering and support for terrorists.
The U.S. Department of Justice (DOJ) included in the indictment 14 officials from Maduro's inner circle. The DOJ also announced a bounty of $15 million for information leading to Maduro's arrest. The charges against Maduro and his associates have already prompted a retired Venezuelan General, Cliver Alcala, named in the indictment, to surrender to U.S. authorities. Two nephews of Maduro's wife, Cilia Flores, remain in a U.S. prison for attempting to smuggle cocaine into the United States.
The DOJ accuses Maduro of having served as the chief of a narcotics organization called "the Cartel of the Suns." Maduro's drug cartel is further alleged to have helped arm an extremist faction of the Colombia-based Marxist terrorist group, the Revolutionary Armed Forces of Colombia (FARC), in its decades-long campaign to overthrow Colombia's government. Maduro's cartel has also allegedly worked with FARC to flood the U.S. with cocaine.
President Trump followed up Barr's public indictment of Maduro by announcing his intention to order more U.S. warship deployments off the Venezuelan coast, to strengthen the U.S. Navy's counter-narcotic mission in the Caribbean. The increased anti-drug resources will also include an AWACS surveillance aircraft and the stationing of U.S. Special Forces in the region.
Maduro's response to the DOJ indictment was immediate, personal and vitriolic. The Venezuelan leader called Trump a "racist cowboy" and threatened that any military assault on Venezuela would be met by "the Bolivarian fury of an entire nation that will wipe them all out."
The intensity of Maduro's attack against Trump may indicate a sense of panic at the possibility that the U.S. drug indictment might be setting the stage for some kind of military action against the socialist regime that will oust him from power.
Anxiety might also have contributed to the aggressive action of a Venezuelan navy vessel that opened fire on and rammed a German cruise ship, the Resolute, in international waters on March 30, in an apparent attempt to force the ship to dock in a Venezuelan port. Ironically, the ramming did not sink the cruise ship; instead it sank the Venezuelan navy vessel. It seems that the Resolute, used for touring the Antarctic, had a reinforced hull for ice-breaking.
At the moment, according to US officials, "Cuban military advisors are mainstay of the Maduro regime." One report asserts that there are about 15,000 Cubans in Venezuela. Some are counter-intelligence officers; their job is to purge any Venezuelan Army officers whose loyalty to Maduro is found suspect. Another source claims that Maduro's personal bodyguards are also mostly Cuban.
Venezuela reportedly hosts 4,500 Cuban infantry troops, with the force commanded by two Cuban generals. Havana has reportedly also dispatched to Venezuela doctors, teachers, nurses, and engineers to shore up Cuba's depressed economy. These Cubans are presumably helping to fill the void left by Venezuela's middle class professionals who emigrated abroad.
Russia's role in helping to buttress Maduro's regime includes arms sales, joint army and air force exercises, Russian naval warship visits, and stationing Russian defense advisors inside Venezuela. In turn, Russia receives Venezuelan oil at below market prices.
China's support of the Maduro regime is financial, and has reached a figure of $60 billion. Beijing's investments in Venezuela are largely tied to the country oil industry, reportedly reaching a figure of $250 million. Some of Venezuela's debt is being serviced by deliveries of petroleum to China. As other sectors of Venezuela's economy continue to decline, the Maduro government may be forced to pay back its debts to China by transferring more of his country's sovereign assets to Beijing.
Maduro and his allies are evidently hoping that that the foreign military, intelligence and economic support extended to Venezuela's dictatorship will be enough to keep his clique in power, at least past the U.S. presidential election in November, when many of the world's less empathetic leaders are doubtless hoping to see Trump's back. Short of a U.S.-supported invasion by an international coalition, including free Latin American states, perhaps sometime after the U.S. election, Maduro will continue to wreck the formerly oil-rich country as its people continue to live in misery.
Dr. Lawrence A. Franklin was the Iran Desk Officer for Secretary of Defense Rumsfeld. He also served on active duty with the U.S. Army and as a Colonel in the Air Force Reserve.