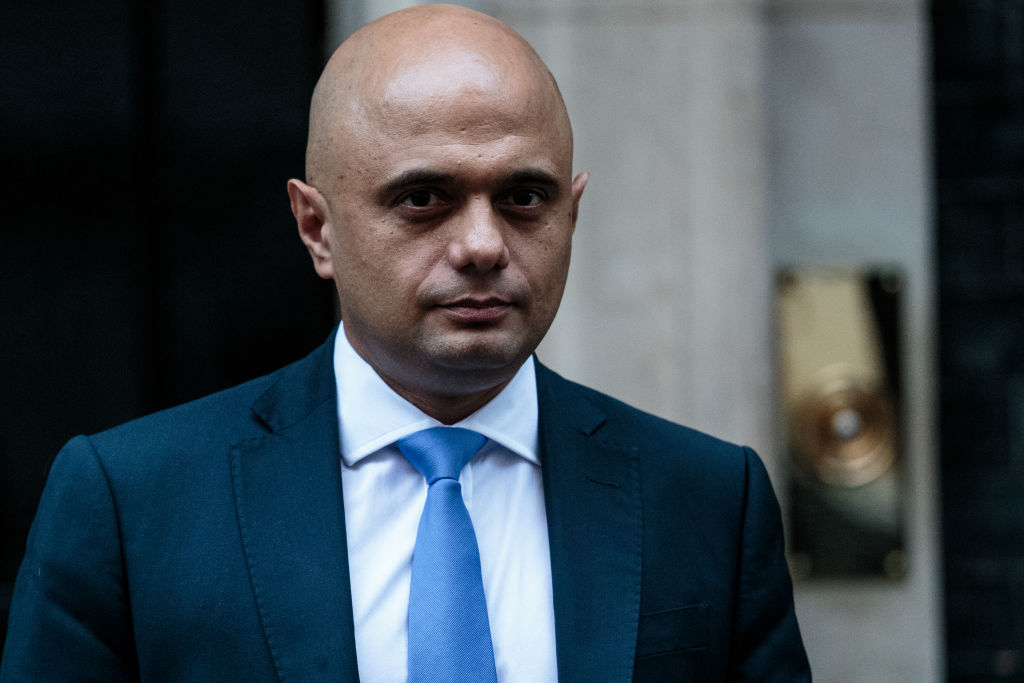 In July 2018, Britain's then Home Secretary Sajid Javid ordered a review into the characteristics of child sexual grooming gangs. "The scandal of child grooming gangs is one of the most shocking state failures that I can remember," he said. Now the UK government is too squeamish publicly to debate the findings of the review. (Photo by Jack Taylor/Getty Images)
In July 2018, Britain's then Home Secretary Sajid Javid ordered a review into the characteristics of child sexual grooming gangs. "The scandal of child grooming gangs is one of the most shocking state failures that I can remember," he said.
"I will not let cultural or political sensitivities get in the way of understanding the problem and doing something about it. It is a statement of fact... that most of the men in recent high profile gang convictions have had Pakistani heritage... I've instructed my officials to look into this unflinchingly."
The review was long overdue, to say the least. In 2015, Prime Minister David Cameron told the BBC that the rape and sexual abuse of underage girls had been "on an industrial scale": "Young girls... being abused over and over again on an industrial scale, being raped, being passed from one bunch of perpetrators to another bunch of perpetrators". According to The Independent:
"The Rotherham child sexual exploitation scandal saw gangs undertake the organised sexual abuse of children from the late 1980s until the 2010s and the failure of local authorities to act. Rotherham Council finally commissioned an independent inquiry led by Professor Alexis Jay, which found in August 2014 that some 1,400 children, most of them white girls, were abused by predominantly British-Pakistani men".
Girls as young as 11 were raped by "large numbers of male perpetrators".
As the charity Parents Against Child Sexual Exploitation (Pace) told the BBC in 2014, the sexual abuse and rape of under-age girls and young women had been taking place for decades in nearly "every town" across the UK. In 2017, to mention one example, 17 older men and one woman were convicted of grooming, raping and sexually abusing under-age girls and young women from 2011-2014 in Newcastle. Those prosecuted, according to The Independent, "were from the Bangladeshi, Pakistani, Indian, Iraqi, Iranian and Turkish communities and mainly British-born..."
The review that Javid ordered was completed late last year and one would therefore expect a public debate about the issue as Javid, even before he ordered the review, insisted that there needed to be an "honest, open debate" about child abuse, "including racial motivation".
Prime Minister Boris Johnson's government, however, has nevertheless refused to publish the review, which it says will "only be used for internal policy-making".
"One of the main purposes of the exemption is to protect the 'safe space' necessary for ministers and officials to consider policy options in private without risk of premature disclosure," officials told The Independent in response to a freedom of information (FOI) request.
"Disclosure would risk pre-empting decisions still to be made by ministers. In addition, the information could be misleading if made public and used out of context.... We recognise that this topic in general and any insight and learning are matters of strong public interest, although it does not necessarily follow that it is in the public interest to disclose any specific information relating to it." [Emphasis added.]
The refusal to make the report public came even as The Independent reported in December 2019 that:
"Almost 19,000 children have been sexually groomed in England in the past year, according to official figures that have prompted warnings of an 'epidemic'. Campaigners say the true figure is far higher and accused the government of failing to tackle child sexual exploitation, despite promises made after high-profile cases in Rotherham and Rochdale. More than 18,700 suspected victims of child sexual exploitation were identified by local authorities in 2018-19, up from 3,300 five years before".
In 2018, police recorded crime showed that in the past five years there had been "a staggering twelve-fold (1,086%) increase in sexual grooming".
It is hardly believable that authorities are seriously proposing that publishing specific information pertaining to a crucial societal issue -- the heinous sexual exploitation of children and the need to protect them from gangs of male sexual predators -- is not in the public interest. This is the kind of semantic acrobatics that are apparently needed to obfuscate the fact that the UK government is terrified of having the "open debate" Sajid Javid insisted was necessary only a few years ago.
Instead, the government has said that it will soon publish a national strategy that will set out a "whole system response to all forms of child sexual abuse" [Emphasis added.]
A parliamentary petition demanding that the government release the review in full currently has more than 120,000 signatures, which means that parliament has to consider the petition for a debate. A debate -- and a different strategy -- is very much needed. Survivors have tried to explain that grooming gangs operate differently than pedophiles in general. Ella Hill, a survivor of the Rotherham grooming gang, wrote in March 2018:
"Grooming gangs are not like paedophile rings; instead, they operate almost exactly like terrorist networks, with all the same strategies...
"As a teenager, I was taken to various houses and flats above takeaways in the north of England, to be beaten, tortured and raped over 100 times. I was called a 'white slag' and 'white c***' as they beat me.

"They made it clear that because I was a non-Muslim, and not a virgin, and because I didn't dress 'modestly', that they believed I deserved to be 'punished'. They said I had to 'obey' or be beaten.

"Fear of being killed, and threats to my parents' lives, made it impossible for me to escape for about a year. The police didn't help me...

"Like terrorists, [groomers] firmly believe that the crimes they carry out are justified by their religious beliefs."
"The government's repeated failure to acknowledge the role of racism and religious bigotry in grooming gang crime has led to inadequate investigation, protection and prosecution," one survivor, who wanted to remain anonymous, told The Independent in December 2019.
In the era of "victimhood culture", in which so many groups vie for the top spot of "most victimized", being an actual victim of sexual abuse apparently has little currency among the social justice elites. Where, for example, are the feminists in all this? Where is the "me too" movement?
As the government is too squeamish publicly to debate the findings of the review, it is bound to be even more terrified of being seen as specifically targeting ethnic rape gangs to stop their crimes -- yet that is what victims such as Ella are asking them to do. Not to mention that basic democratic principles of the public's right to information are being completely disregarded. Ultimately, these kinds of politically correct theatrics can only lead to one thing: Bad policies. A refusal to talk openly and honestly about issues usually does. A generation of exploited children will pay the price, but that, apparently, is not something that bothers the authorities all that much.
John Richardson is a researcher based in the United States.