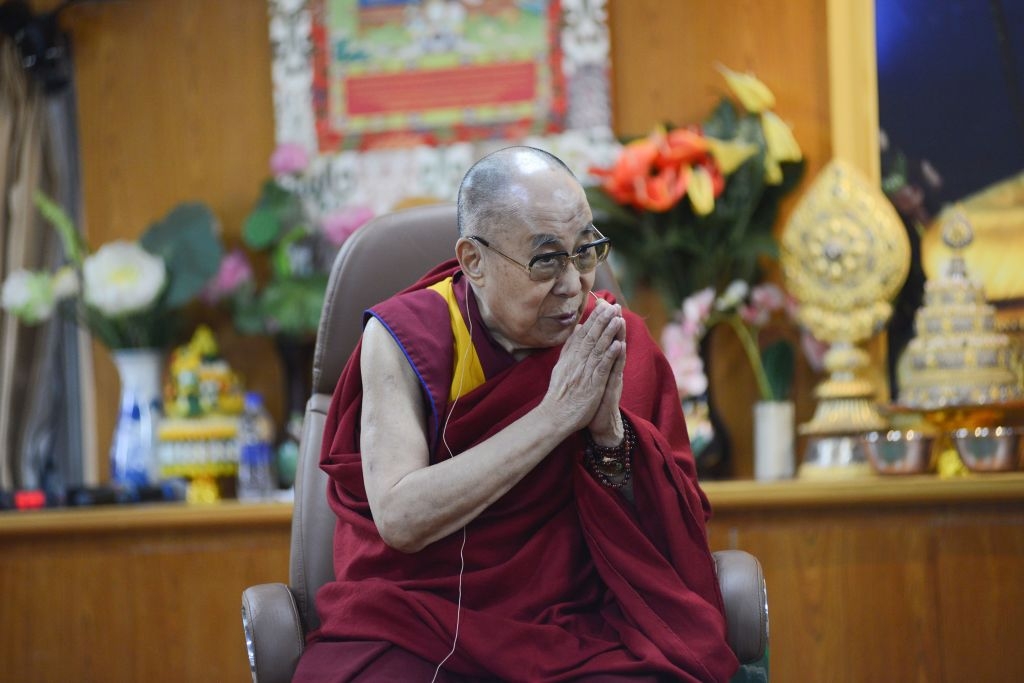 China is seeking to gain more effective control over Tibetan society by taking over the institution of the Dalai Lama. Beijing insists that it had recognized the current Dalai and that, after the 84-year-old spiritual leader dies, it must approve his successor. Pictured: The Dalai Lama (center) on October 25, 2019. (Photo by Lobsang Wangyal/AFP via Getty Images)
Tibet's spiritual leader, the Dalai Lama, apparently hoping to ease the tension that has existed between Lhasa and Beijing since 1949, recently expressed interest in "explor[ing] the same channels of communication" with the Chinese government that he had established in the past. To this end, the 32nd session of the Tibetan Task Force met in Dharamshala on December 11, to "hold an in-depth discussion on the situation inside Tibet, the perceptible shifts in the global political landscape and the overall prospects for the resumption of dialogue between Dharamshala and Beijing to resolve the protracted issue of Tibet."
The Dalai Lama's approach, however, makes little sense.
After China occupied Tibet in 1949, the Dalai Lama downgraded the status of his independent country to that of autonomy within China. He did this through the 17-Point Agreement, signed on May 23, 1951 between Lhasa and Beijing. After escaping to India in 1959, he continued on the same path.
His Strasbourg Proposal -- a five-point peace plan introduced in June 1988 -- sought genuine autonomy for Tibet within the framework of the Constitution of the Communist Party of China. This autonomy framework, also called the "Middle-Way Policy," accepted Chinese jurisdiction over Tibet in matters related to defence, diplomacy, communications and finance.
An earlier Five-Point Peace Plan, which the Dalai Lama introduced in an address to the US Congressional Human Rights Caucus on September 21, 1987, sought to establish Tibet as a zone of non-violence by dismantling China's on-going militarization -- both conventional and nuclear -- in the Qinghai–Tibet Plateau. In an effort to implement the plan, the Dalai Lama's special envoys, Lodi G. Gyari and Kelsang Gyaltsen, beginning in 2002, for a decade led nine rounds of talks with Beijing -- to no avail. Both envoys resigned in 2012 "in frustration" over China's intransigence.
The fact is that rather than ameliorating Tibet's situation, the Dalai Lama's peace policies seem, perhaps coincidentally, to have had the opposite effect. China has persisted in doing inestimable damage to Tibetan identity, language, culture and ecology. Communist China has destroyed more than 6,000 Tibetan monasteries on the Plateau, and Beijing's destructive activities in Tibet continue unabated. Since 2009, at least 156 Tibetans have immolated themselves in protest against Chinese rule.
Now, China is seeking to gain more effective control over Tibetan society by taking over the institution of the Dalai Lama. Beijing insists that it had recognized the current Dalai (the 14th) and that, after the 84-year-old spiritual leader dies, it must approve his successor. Beijing seeks to do so through the Tibetans' second most influential religious figure, the Panchen Lama, whom it kidnapped in 1995, when he was six years old, and replaced with its own chosen personage -- an opponent of the Dalai Lama's.
All of the above should indicate to the Dalai Lama that he would do well to discard his previous and current proposals for limited Tibetan independence and demand full independence from China. Historically, Tibet was never a part of China, which only got its own independence from the imperial Qing dynasty in 1912. Until then, it had been under foreign control.
It is not only the Dalai Lama who needs to push for complete Tibetan independence. All liberal democracies that uphold the value of freedom need to do so, as well.
India, for instance, can and should play a crucial role in this cause. New Delhi has regarded Tibet as an independent nation for centuries. British India had a high commissioner based in Lhasa, and in 1947, India organized the first Asian Relations Conference, at which Tibet was present as an independent country.
Regrettably, India's first Prime Minister, Jawaharlal Nehru, recognized Tibet as "an autonomous region of China," and in 2003, Indian Prime Minister Atal Bihari Vajpayee went even further, recognizing the "Tibetan Autonomous Region as part of the territory of the People's Republic of China."
Today, however, with the current Bharatiya Janata Party government in India, led by Prime Minister Narendra Modi -- whose motto is "Let Truth Prevail" -- there is a great opportunity to reverse New Delhi's stance in favour of an independent Tibet.
New Delhi could take its cue from Washington, in fact: the US Congress recently introduced the Tibetan Policy and Support Act of 2019, which seeks to impose sanctions and a visa ban on any Chinese official who interferes in the selection of a successor to the current Dalai Lama, and which requires the establishment of an American consulate in Lhasa.
As welcome as this move is, given the nature of the communist Chinese regime and its behaviour towards Tibet, the Act is not likely to be sufficient. It is nevertheless a step in the right direction. The next step for the US administration in its negotiations with Beijing should be to insist on total Tibetan independence.
Jagdish N. Singh, a New Delhi-based journalist, has spent much of his career following Tibet. He has interviewed senior Tibetan figures, such as the Dalai Lama, former Prime Minister Samdhong Rinpoche and current President-in-Exile Lobsang Sangay.