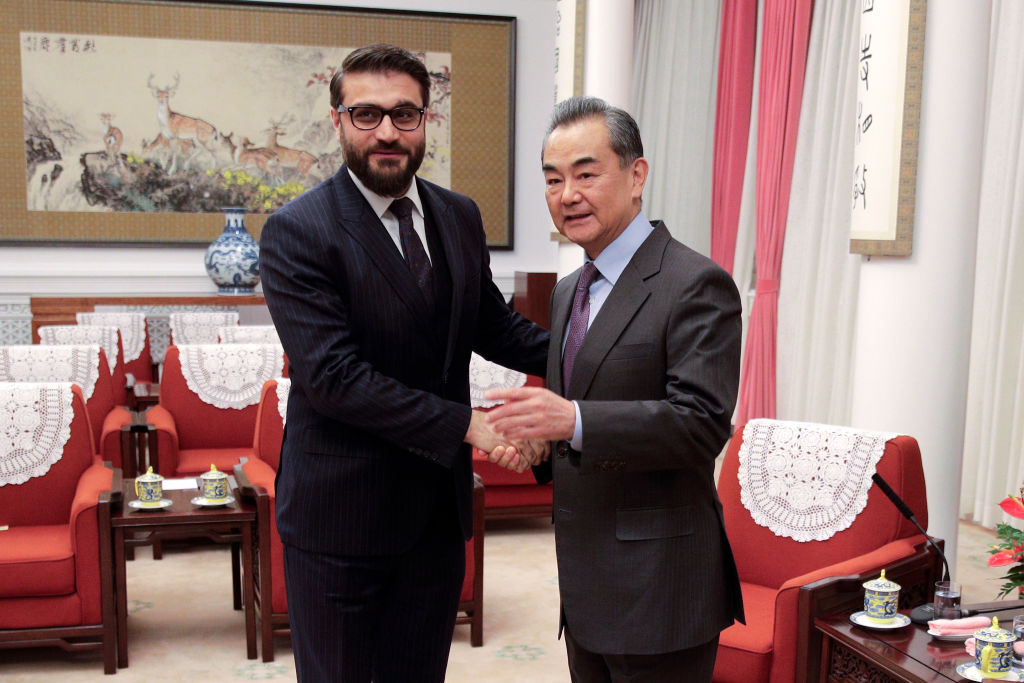 During the tumultuous two decades of American military presence in Afghanistan, China has been quietly increasing its influence there. China is now the foremost foreign source of investment in Afghanistan. Pictured: Afghanistan's National Security Advisor Hamdullah Mohib (left) meets with Chinese Foreign Minister Wang Yi in Beijing on January 10, 2019. (Photo by Andy Wong/AFP via Getty Images)
During the tumultuous two decades of American military presence in Afghanistan, China has been quietly increasing its influence there.
While the Trump Administration is distracted by the coronavirus and its economic fallout, China is now poised to inherit the great power role once played by Britain, Russia and the U.S.
Beijing has deftly maintained low-key but friendly relations with the Taliban since the Islamic movement assumed power in Kabul in 1996. Only China and Pakistan kept their ties with the Taliban when American and Northern Alliance forces drove the terrorist group from power in the autumn of 2001.
China is now the foremost foreign source of investment in Afghanistan. China, for instance, has gained access to three separate oil fields in the Afghan provinces of Sari-i-pul and Faryab and has also invested heavily in extracting copper and iron ore from Afghanistan.
China, however, seems to be hedging its bets. It remains a supplier of weapons to the Taliban through the third-party services of Iran. Both the United Kingdom and the U.S. State Department have complained to China about the free flow of Chinese weapons to Iran, which then wind up with the Taliban. These include surface-to-air missiles, rocket-propelled grenades, artillery shells and land mines. In fact, as early as 2007, British Royal Marines intercepted a ten-ton cache of Chinese weapons left for the Taliban by the Iranians in Herat Province, Afghanistan, which borders on Iran.
China and the U.S. have the same interest in assuring that Afghanistan does not host international Islamic terrorist groups. Nevertheless, Beijing and Washington are driving different bargains with the Taliban. China, supported by pro-Taliban elements in Pakistan, apparently hopes to enlist the Taliban to prevent Uighur and Eastern Turkestan Independence Movement (ETIM) fighters from using Afghanistan to launch attacks on the Chinese Province of Xinjiang. The U.S., for its part, wants the Taliban's assurance that it will oppose Al-Qaeda and Islamic State operations on Afghan soil as a prerequisite for a near-total troop withdrawal from Afghanistan. The question is, just what is the likelihood of that?
China developed early ties to Afghan jihadists by sending them weapons to fight the Russians after the Soviet invasion of Afghanistan in late December 1979. The Chinese Ambassador to Pakistan also established close ties with the Taliban in 2000, during a meeting in Kandahar, Afghanistan with the group's leader, Mullah Omar. The Taliban, in turn, pledged to protect Chinese investment projects in Afghanistan. China's $3 billion copper mine investment at Mes Aynak in Afghanistan's Logar Province remains under the Taliban's protection. Other Chinese corporations that have initiated investment projects in Afghanistan include the Zinjin Mining Company, the Jiangxi Copper Corporation, and China National Petroleum Corporation. China, in addition, is also probably covetous of Afghanistan's estimated $1 trillion dollar stash of unexploited rare earth elements, which include cerium, lithium, neodymium, and lanthanum.
China currently likes to present itself in the role of a regional peacemaker. It has been urging Afghanistan and Beijing's close ally, Pakistan, to improve their bilateral relations by cooperating with Beijing's "One Belt One Road" (OBOR) initiative. This tactic also suits Pakistan's objective of slowing down any plans its adversary, India, might have to expand its influence in Afghanistan. China would also doubtlessly like to tamp down any violence that might obstruct its new Silk Road initiative -- a trade corridor from China across South and Central Asia into Europe, mostly done through infrastructure investments. Chinese diplomats do not fail to mention ancient Afghanistan's partnership with Chinese merchants in the prosperous "Lapis Lazuli" route , which helped transport semi-precious Afghan stones to Russia and the Caucasus. If regional peace were possible, China would likely help finance a high-speed Afghanistan-Iran railway project in a similar manner to its support for the "CASA 1000" initiative, which, when fully operative, would export excess electric power from Kyrgyzstan and Tajikistan to South Asia.
The Trump administration has made clear that it wants to end the forward-positioning of U.S. troops on what it regards as a seemingly endless war in Afghanistan, and the Taliban wholeheartedly agrees. China, in the meantime, continues to profit from its bilateral commerce and investment in the region, and now appears willing to play a future military role in the area. China has already established a military base in Tajikistan near the Chinese border with Afghanistan, along the Wakhan Corridor. It is in Chinese military bases in the Wakhan region that China is planning to train Afghan mountaineer special forces to do battle with Muslim Uighurs.
China has benefited economically from its investment in Afghanistan while simultaneously striking political and military deals with the Taliban. Until now, China has had a free ride. It is doubtless hoping to do more of the same.
Dr. Lawrence A. Franklin was the Iran Desk Officer for Secretary of Defense Rumsfeld. He also served on active duty with the U.S. Army and as a Colonel in the Air Force Reserve.