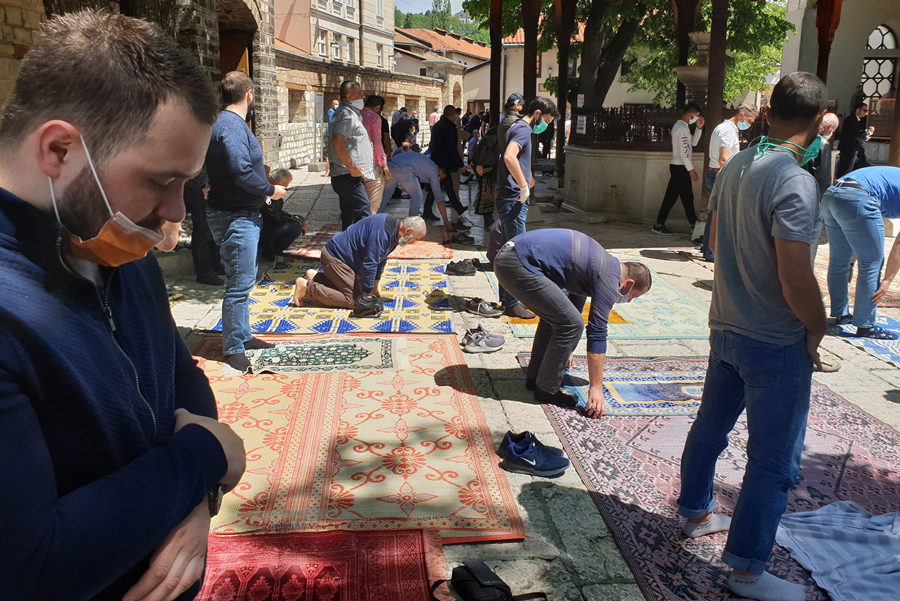 This year's Ramadan is impacted by the worldwide Covid-19 pandemic. Pictured: Worshipers wearing masks gather for Friday prayers at the Old Town Mosque in Sarajevo, Bosnia on May 8, 2020. (Image source: iStock)
It is this year's Ramadan. More than 1.6 billion Muslims worldwide are currently refraining each day from water and food from sunrise to sunset. The day of fasting is usually concluded by "Iftar", a communal breaking of the fasting by eating three dates, followed by a meal. The main focus of the daily Ramadan festivities is on the community, the gathering of family and friends. In recent years, Muslim societies in non-Muslim countries have extended their frequently grand Iftar-festivities to include politicians and other stakeholders. For instance, in 2019, the Islamic Faith Community of Austria organized an interfaith Iftar which included a speech by the mayor of Vienna.
This year's Ramadan is impacted by the worldwide Covid-19 pandemic. As Islam does not have a central authority akin to the Pope in the Catholic faith, there are no central rules for the celebration of Ramadan in 2020. Each community, each Muslim denomination, provides its own interpretation of what faithful are generally to do during the annual month of fasting.
Indonesia, the world's most populous Muslim country, in order to curb the spread of the virus, has banned the country's annual "exodus" called "mudik" which commonly occurs at the end of Ramadan, when people return to their villages across the island country. While mosques in Indonesia's deeply conservative autonomous province of Aceh are packed despite the Covid-19 pandemic, due to a ruling by clerics claiming that Aceh has not been affected by the virus, in other parts of the country, most people are banned from leaving their cities.
In Turkey, Ramadan festivities have been marred by high numbers of Covid-19 deaths. Cities and municipalities have therefore prohibited the erection of public tents for mass Iftar dinners. In addition, drummers are banned from walking down the streets to wake people to break the fast. Thousands of Turkish expatriates are unable to return to their families due to closed borders and grounded airplanes. Students in Istanbul cannot travel to be with their parents in other parts of Turkey.
Iran, one of the most hard-hit countries in the Middle East, has allowed Friday prayers in mosques for the first time in more than two months. Prayers are permitted in more than 180 administrative districts; local television stations aired footage of worshipers wearing masks and keeping more distance than usual on their prayer rugs. In the capital city of Tehran, however, mosques still remained locked.
In neighboring Iraq, the Shiite cleric Ayatollah Ali Sistani has issued a fatwa, or religious opinion, detailing reasons for Muslims to refrain from fasting. For instance, if one can work from home, he or she must fast. On the other hand, if one needs to work, then fasting is waived and copious quantities of water should be drunk as, according to the fatwa, a dry throat will enable the coronavirus to spread in the body. In the end, Sistani concluded the fatwa by saying a person must fast unless he or she has a good reason not to.
Clerics at Cairo's Al-Azhar University, the most important theological institution for Sunni Muslims, have a different view of the obligation of fasting: "Not fasting during Ramadan due to coronavirus is not permissible, and fasting is a duty and a must for Muslims." Other religious authorities even argued that fasting may prevent contracting the coronavirus. Health experts in the United Arab Emirates contended that only an actual illness excuses a Muslim from fasting:
"It is permissible not to fast if the health condition of a coronavirus-infected patient is critical and is advised by his doctor not to fast because he/or she needs to keep drinking water and taking medicine."
Dubai's Islamic Affairs and Charitable Activities Department offers daily "e-Ramadan" religious lessons and seminars in different languages.
The Egyptian government has extended the night-time curfew already in place, but eased the times from 9pm to 6am. This is especially hard on people during Ramadan, when families regularly go out after breaking their fast to purchase more food, candies and other goods. Night-time activities are part of every Ramadan, with numerous outdoor activities and gatherings taking place for old and young. Malls, stores, and restaurants (take-out and delivery only), however, are open for business until 5 pm.
The Covid-19 pandemic has disrupted religious festivities for the month of Ramadan. Very early on in this crisis, in late February 2020, Saudi Arabia halted all travel to Mecca and Medina, thereby effectively banning the annual Hajj pilgrimage.
Ramadan in war-torn Afghanistan is especially hard on the poor who suffer from malnutrition. Lockdown means no work: "If we can't work, we can't buy food and we will be fasting for 24 hours." Ramadan is now a synonym for permanent hunger. There are appeals at mosques to those more fortunate to organize food handouts. Despite government-organized food distribution, and instead of congregating in the mosques, many people, including children, are forced to wander the streets and beg for food.
Muslims in Austria face none of Afghanistan's challenges. From the beginning of the government-imposed lockdown, the Islamic Faith Community of Austria (IGGÖ) instructed their faithful to shelter in place. Mosques were closed by order of IGGÖ, which urged Muslims to turn their homes into mosques, while at the same time lamenting the likely closure of smaller mosques due a lack of Ramadan donations. With the country gradually reopening, IGGÖ has also issued guidelines for restarting mosque operations with public prayers allowed at certain times of the day. However, the breaking of the fast must still take place in private homes, "a large, but necessary sacrifice", says Ümit Vural, the president of IGGÖ.
The chairman of the Central Council of Muslims in Germany, Aiman Mazyek, regrets the challenges posed by the coronavirus, especially the breaking of the fast: "It will only be possible among the closest family. I am afraid this [rule] will still be in effect for the feast at the end of Ramadan." Some mosques preach online, and Muslim youth associations offer their help grocery shopping for the community's elders.
People adapt in times of crisis, and just as Jews and Christians celebrated Passover and Easter, Muslims have been making their feasts meaningful even in these challenging circumstances.
Elisabeth Sabaditsch-Wolff is an Austrian human rights activist fighting for the right to freedom of speech as enshrined in the U.S. First Amendment. In 2009 she as charged for incitement to hatred and later found guilty for denigrating the religious teachings of a legally recognized religion. Her case was later accepted at the European Courts for Human Rights. She is the author of the book, "The Truth is No Defense."