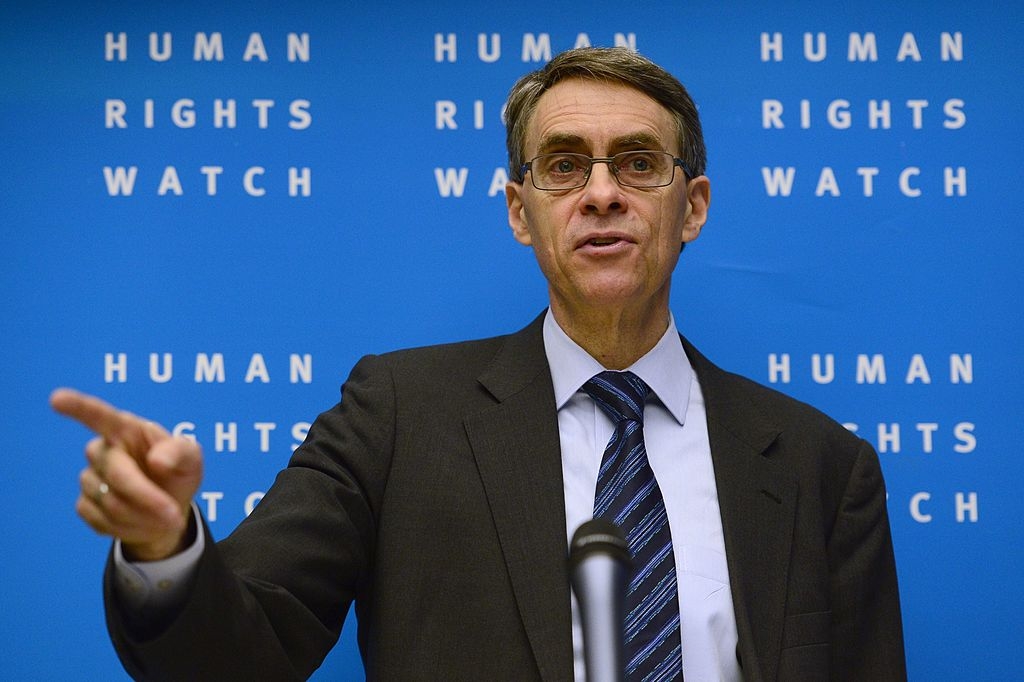 Hamas, the Palestinian terrorist group dedicated to the destruction of Israel, is so pleased with Human Rights Watch (HRW) that this week it issued a statement praising the organization for its systematic and continuous bashing of Israel. Pictured: Kenneth Roth, executive director of Human Rights Watch, speaks at a press conference on January 21, 2014 in Berlin. (Photo by John MacDougall/AFP via Getty Images)
Hamas, the Palestinian terrorist group dedicated to the destruction of Israel, is apparently very pleased with Human Rights Watch (HRW), an international organization headquartered in New York. Hamas is so pleased that this week it issued a statement praising HRW for its systematic and continuous bashing of Israel.
It is rather rare for a radical Islamic terrorist group to heap praise on a Western supposed human rights organization, particularly an American one.
Exceptions exist in all areas, however, and HRW, known for its anti-Israel bias and for peddling anti-Israel hate, stands as an especially blazing one.
What motivated Hamas to express its admiration for HRW? Another anti-Israel report, this time claiming that Arab citizens of Israel are facing a "housing shortage."
The HRW report focuses on only three Arab towns in Israel -- Jisr al-Zarqa, Qalansawa and Ein Mahel, with a total population of 50,000. It deliberately ignores the other two million or so Arab Israelis. Moreover, the report fails to mention that the housing crisis affects not only Arabs, but also Jews.
"We are on the brink of a socio-economic abyss," said Raul Srugo, President of the Israel Builders Association.
"As long as the government doesn't begin strategic planning for the next generation in Israel, we'll find ourselves in the biggest crisis since the state was founded. In 2030, there will be 12 million residents in Israel, and in 2050 there will be 17 million people here. Remember, this is a country where it takes 15 years to approve construction of a single [new] neighborhood."
HRW, however, does not seem inclined to allow a few crucial facts to spoil its efforts to delegitimize Israel by accusing it of "discrimination" against Arab Israelis.
The good news is that Israel has been working hard in recent years to solve the housing crisis -- for both Arabs and Jews.
In 2015, the Israeli government decided to implement the Economic Development Plan, a multi-year plan of about $12.3 billion, targeting issues such as planning, employment, transportation and education in the Arab sector. This groundbreaking plan is the largest and most comprehensive ever advanced to close gaps for Israel's Arab society.
Hamas, meanwhile, has done virtually nothing to solve the debilitating housing crisis of the two million Palestinians living under its rule in the Gaza Strip.
Since its violent takeover of the Gaza Strip in 2007, the terrorist group Hamas has turned the lives of Palestinians into misery, leaving them with no income, electricity or drinking water. Last year Palestinians in the Gaza Strip finally took to the streets to protest economic hardship and Hamas corruption.
Hamas taxes every kind of commodity, steals humanitarian aid, and builds terror tunnels below schools and international aid institutions. In addition, Hamas has been stealing cement that enters the Gaza Strip in order to build terror tunnels through which they hope to kidnap or kill Israelis, rather than construct new houses for Palestinians.
This is the same Hamas that is now using the HRW report to shed crocodile tears over the alleged housing crisis in the Arab sector in Israel.
A terrorist group that has failed its own people on an epic level is pretending that it is worried about where Arabs in Israel will live.
The Israel Planning Administration (IPA) said in response to the HRW report:
"The Planning Administration has been investing a great deal of effort over a number of years in promoting a broad planning strategy to update master planning in Arab communities... Of the 132 Arab communities, 119 have current master plans that have been approved, are in the approval process, or are in preparation. These plans cover some 96% of the total population of these communities. These plans are complex and intricate, given the unique features of Arab communities, which are related to the structure of land ownership; most of the land in these communities is privately owned, with few landowners in possession of a great deal of land (some 20% in possession of some 80% of the land)."
The truth is that Hamas cares nothing for either the Palestinians in the Gaza Strip or the Arabs living in Israel. Hamas has one single concern: advancing its goal of destroying Israel and murdering Jews.
The HRW report, which ignores Hamas's atrocities against the Palestinians in the Gaza Strip, is now being used by the terrorist group as "evidence" of why Israel should be destroyed and replaced with an Islamic state.
"Hamas welcomes the report issued by Human Rights Watch about Israel's racist policies," the terrorist group said in a statement on May 12. "On the eve of the 72nd anniversary of the catastrophe of our people, we affirm that this fascist racist entity [Israel] is doomed to extinction."
Like most Palestinians, Hamas considers Israel's War of Independence in 1948 as a nakba (catastrophe) for all Arabs and Muslims.
Hamas, in its charter, says it is loyal to the words of Prophet Mohammed, who was quoted in the Hadith [the narrative of the sayings and deeds of Mohammad] as saying:
"The last hour would not come unless the Muslims will fight against the Jews and the Muslims would kill them until the Jews would hide themselves behind a stone or a tree and a stone or a tree would say: Muslim, or the servant of Allah, there is a Jew behind me; come and kill him...." [Book 41:6985; Sahih International translation]
Elsewhere in its charter, Hamas states:
"... the land of Palestine has been an Islamic Waqf throughout the generations and until the Day of Resurrection; no one can renounce it or part of it, or abandon it or part of it. For renouncing any part pf Palestine means renouncing part of the religion; the nationalism of [Hamas] is part of its faith, the movement educates its members to adhere to its principles and to raise the banner of Allah over their homeland as they fight their Jihad (holy war)."
Hamas is celebrating the HRW report because it sees it as part of the efforts of Muslim terrorists to replace Israel with an Islamic state. For Hamas, such reports coming from a non-Muslim organization are proof that even the "infidels" in the West share its goal of destroying Israel. Hamas, in other words, sees organizations such as HRW as useful idiots in its war against Israel and Jews.
In 2009, the late Robert Bernstein, the founder of HRW who served as its chairman for 20 years, wrote in an article published in The New York Times that HRW reports "are helping those who wish to turn Israel into a pariah state." Bernstein added:
"The region is populated by authoritarian regimes with appalling human rights records. Yet in recent years Human Rights Watch has written far more condemnations of Israel for violations of international law than any other country in the region."
Hamas and other totalitarian regimes can rest easy knowing that Western human rights organizations such as HRW continue to be obsessed primarily with Israel.
When Hamas resumes its terrorist attacks against Israel, international supposed human rights organizations will again be too busy condemning Israel to notice the Palestinian aggression.
Hamas's war against Israel is waged with rockets and suicide bombings; organizations such as HRW wage war against Israel with propaganda designed to dismantle the state by making it unable to defend itself. Welcome to the unholy alliance between Muslim terrorists and anti-Israel human rights organizations in the West.
Bassam Tawil is a Muslim Arab based in the Middle East.