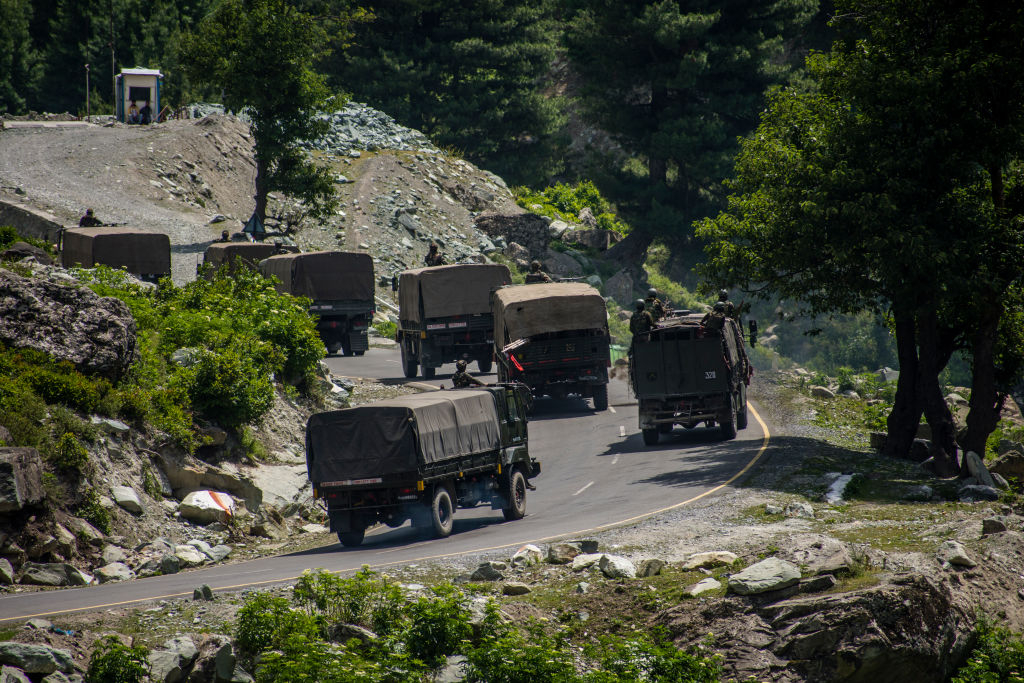 India has been facing its toughest military challenge in nearly six decades after 20 Indian soldiers were reported beaten to death by Chinese troops in a border clash. Pictured: An Indian army convoy drives towards Leh, on a highway bordering China, on June 19, 2020 in Gagangir, India. (Photo by Yawar Nazir/Getty Images)
India has been facing its toughest military challenge in nearly six decades after 20 Indian soldiers were reported killed by Chinese troops in a border clash.
The soldiers were beaten to death with "sticks, fists, rocks and wooden clubs" during a confrontation in the Himalayan region of eastern Ladakh, Indian sources said. In keeping with a 1996 bilateral border agreement between India and China, soldiers are forbidden from firing weapons in the area where the clash occurred.
Chinese troops carried out a "premeditated and planned action that was directly responsible for the resulting violence and casualties", Indian Foreign Minister Subrahmanyam Jaishankar said on June 17.
"Based on what I know, Chinese side also suffered casualties," tweeted the editor-in-chief of the Chinese newspaper Global Times, a Communist Party mouthpiece.
"Indian intercepts reveal that Chinese side suffered 43 casualties including dead and seriously injured in the violent face-off," New Delhi-based Hindustan Times newspaper reported that military sources had said..
Beijing, so far, has not confirmed these figures.
The conflict between the two nuclear-armed powers reignited last month after 12,000 Chinese troops crossed into Indian territory. In May, China's People's Liberation Army invaded the strategic Galwan Valley, located near India's northern tip, and occupied over 23 square miles of territory, Indian media reported. "[T]he capture of Galwan river valley provides the PLA strategic domination over positions overlooking India's Darbuk-Shyok-Daulat Beg Oldi (DSDBO) road, which connects Leh to the Karakoram Pass," the Indian news website Print reported.
In the India-China war of 1962, Chinese troops occupied nearly 15,000 square miles of Indian territory. China still refuses to recognize large parts of its 2,100 mile-long border with India, and has been demanding an additional 35,000 square miles of territory in India's northeastern region.
Faced with an invasion of strategic heights and the brutal deaths of its soldiers, India is under pressure to respond to Chinese aggression. Prime Minister Narendra Modi vowed on June 17 to "firmly protect every inch of the country's land and its self-respect" in face of Chinese incursion. "I want to assure the Nation that the sacrifice made by our soldiers will not go in vain," Modi said. "India's integrity and sovereignty is supreme for us, and no one can stop us from defending it. Nobody should have an iota of doubt about this."
Chinese aggression comes as India is in the grip of the coronavirus pandemic. The country has reported around to 12,000 deaths and 366,946 cases of the virus, which first surfaced in Wuhan, China late last year.
Some western commentators have argued that China's bullying is an attempt to punish Indian for deepening strategic ties with the United States. "Chinese troops pushed over the border into India last month amid border clashes as Beijing looks to slap down Indian Prime Minister Narendra Modi over his ever-closer relationship with the United States," Britain's Daily Telegraph wrote on June 12.
Still other commentators ascribe China's stepped-up predations -- on Hong Kong, the Philippines, Japan, Indonesia, South Korea and Australia -- to a hope that the world is too distracted by the coronavirus pandemic and the economic devastation it unleashed to bother confronting China, let alone stop it.
In 2019, India upgraded its participation in the US-Australia-India-Japan Consultations ("The Quad"). This Indo-Pacific alliance offers a counterweight to China's growing naval and military build-up in the region.
Earlier this month, India and Australia signed a series of defense agreements boosting naval cooperation between the two countries. A military logistics agreement, signed as part of a bilateral "Comprehensive Strategic Partnership", gives the Indian Navy "strategic access deep into the Indo-Pacific region," The Times of India newspaper reported. The agreement signed on June 4 gives "reciprocal access to each nation's respective military bases," Japan's The Nikkei added.
Both India and Australia are threatened by China's military build-up. "We are committed to an open, inclusive, prosperous Indo-Pacific and India's role in that region, our region, will be critical in the years ahead," Australian Prime Minister Scott Morrison said while endorsing the bilateral strategic partnership. "We share an ocean and we share responsibilities for that ocean as well," he added.
China's artificial islands in the South China Sea -- equipped with military bases, naval ports and airfields -- pose a strategic threat to neighboring countries. In 2018, China landed nuclear strike-capable bombers on these artificial islands, sending an alarming message to the U.S. and regional powers.
Beijing's latest military adventure poses a grave threat to world peace. Both China and India possess significant nuclear arsenals. With a combined population of more than 2.7 billion, the Asian powers are home to one third of humanity.
While the U.S. has decreased its nuclear stockpile, China is boosting its arsenal, according to a report released by the Stockholm International Peace Research Institute on June 15. According to the report:
"China is in the middle of a significant modernization of its nuclear arsenal. It is developing a so-called nuclear triad for the first time, made up of new land- and sea-based missiles and nuclear-capable aircraft."
India and Pakistan, China's key regional ally, have also increased "the size and diversity of their nuclear forces," the reported found.
Despite China's military superiority and economic clout, an armed conflict with India would not be a walkover. Apart from the India-China war of 1962, India has not lost a single military conflict.
While India can withstand Chinese military aggression, the Free World, if it wishes to remain free, seriously needs to stand with the world's largest democracy. If China is allowed to succeed in its aggression, it will only embolden the Communists in Beijing to redraw borders, dictate terms to other countries in the region, and press on with its plan to dominate the world.
Vijeta Uniyal, a journalist and news analyst, is based in Germany.