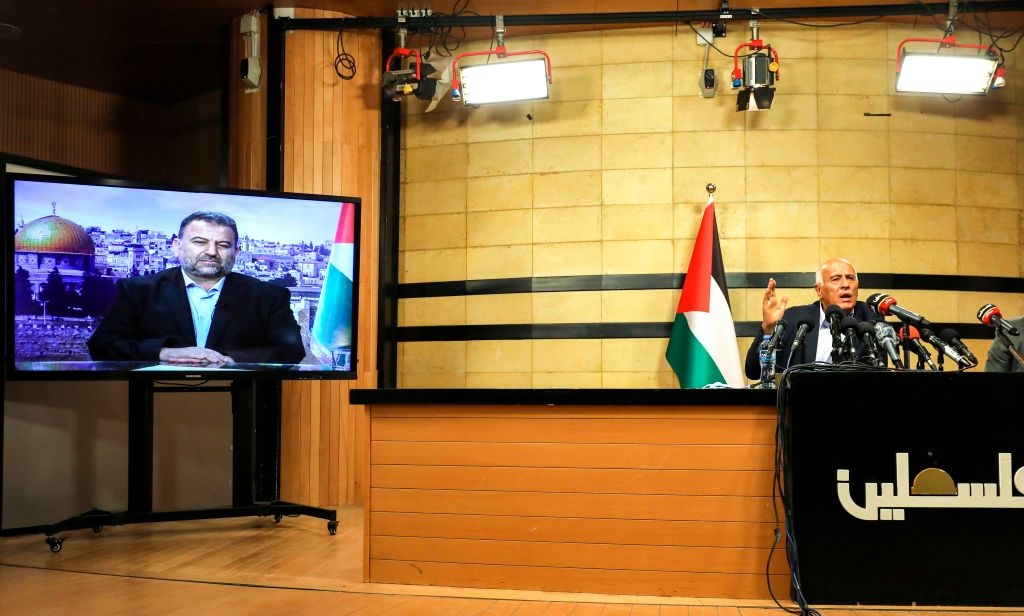 Palestinian Authority President Mahmoud Abbas and his ruling Fatah faction are now cozying up to their rivals in Hamas -- a move that may prove to be counterproductive and pave the way for the resumption of massive anti-Israel violence. Pictured: Senior Fatah official Jibril Rajoub, in Ramallah, attends by video conference a meeting with deputy Hamas chief Saleh Arouri (on screen from Beirut) on July 2, 2020. (Photo by Abbas Momani/AFP via Getty Images)
After renouncing all agreements and understandings with Israel and the United States, including security cooperation, Palestinian Authority President Mahmoud Abbas and his ruling Fatah faction are now cozying up to their rivals in Hamas -- a move that may prove to be counterproductive and pave the way for the resumption of massive anti-Israel violence.
By courting Hamas, Abbas and Fatah are emboldening an Islamist movement that seeks to extend its control from the Gaza Strip to the West Bank. Hamas's declared goal is to replace Israel with an Iranian-style Islamist state.
Abbas may also be using his renewed ties with Hamas as a way of pressuring the international community into providing him with more financial aid. The message he is sending to Western donors is: "If you don't fully support us and exert pressure on Israel, I will throw myself into the arms of Hamas."
The apparent rapprochement between Fatah and Hamas began earlier this month when the two parties held a joint press interview by videoconference, during which they announced their intention to work together to "topple" both Israel's plan to apply its sovereignty to parts of the West Bank and US President Donald Trump's Peace to Prosperity vision for solving the Israeli-Palestinian conflict.
The appearance of Jibril Rajoub, Secretary-General of the Fatah Central Committee, alongside senior Hamas official Saleh Arouri, a founding commander of Hamas's military wing, Izz ad-Din al-Qassam Brigades, was aimed at sending a message to the Palestinians and the rest of the world that when it comes to Israel and the US, the Palestinians are prepared to lay aside their differences and stand united against "conspiracies aiming to liquidate the Palestinian cause and national rights."
Although he holds the title of "Deputy Chairman of Hamas's Political Bureau," Arouri, who is currently based in Lebanon, is anything but a politician.
In 2018, the US Department of State offered a reward of up to $5 million for information that would lead to the identification or location of Arouri and two senior Hezbollah military operatives. In addition to his political activity in recent years, Arouri has played a major role in forming ties between Hamas and Iran and Hezbollah. He also deals with the construction and handling of Hamas terrorist infrastructure in the West Bank, where Rajoub lives and works.
In 2014, Arouri announced Hamas's responsibility for the abduction and murder of three Israeli teenagers in the West Bank, including dual US-Israeli citizen Naftali Fraenkel. Arouri publicly praised the Hamas murders as a "heroic operation."
Until recently, Abbas and Fatah saw Hamas's activities as a threat to their control over parts of the West Bank.
Earlier this year, however, Hamas accused Abbas's Fatah-dominated security forces of arresting 195 of its members in the West Bank. Hamas said that the detainees were "ex-prisoners (released by Israel), former political detainees (held by the PA security forces), and university students from Nablus and Hebron."
According to Hamas, the PA security forces "have been carrying out arrests against Hamas members to obtain information about the movement's activities" in the West Bank.
As Arouri is responsible for handling the Hamas terrorist infrastructure in the West Bank, it is safe to assume that Abbas and Rajoub are well aware of his activities, particularly in light of the PA security crackdown on dozens of Hamas members. One may also assume that during their interrogation, many of the Hamas detainees provided information about Arouri's responsibility for funding and arming terrorist cells in the West Bank.
In the past, Fatah had accused Hamas of planning a military takeover of the West Bank.
According to a Fatah statement already back in 2007, Fatah revealed that several Hamas members detained by the PA security forces admitted to planning the coup in the Gaza Strip. PA security officials said that the detainees' confessions made it clear beyond any doubt that Hamas intended to expand its control to the West Bank, adding that large quantities of weapons and explosives seized from the detainees helped corroborate the confessions.
Abbas would not have ordered his security forces to continue the crackdown on Hamas since then unless he was convinced that the Islamist movement has not abandoned its plan to stage a coup against his regime in the West Bank.
By authorizing one of his senior officials (Rajoub) to hold a joint press conference with Arouri, Abbas is sending a direct message to Hamas that, as of now, it is free to continue with its military activities in the West Bank, including those that endanger his own regime.
There is no question that Hamas members will interpret the appearance of their military commander, Arouri, with a senior Fatah official and close confidant of Abbas as a green light from the PA leadership to launch terrorist attacks against Israel.
Shortly before his appearance with Rajoub, Arouri said that Hamas believes that "the only way to deal with Israel is through a comprehensive resistance."
In an interview with the Hezbollah-affiliated Al-Mayadeen television station, Arouri said he did not rule out the possibility that the "armed struggle" would return to the West Bank and said that that could happen "sooner than some imagine." He also praised Abbas for halting security coordination with Israel, in a move mainly designed to prevent Hamas from staging a coup against the PA regime.
It would be naïve to think that Abbas and his Fatah leaders in the West Bank did not heed Arouri's threat to launch a "comprehensive resistance" against Israel. Arouri deliberately used the term "comprehensive resistance" to counter the PA leadership's call for a "popular peaceful resistance" against Israel.
Arouri, in short, is saying that the Palestinians should resort to all forms of "resistance" against Israel. These would include terrorist attacks such as the 2014 kidnapping and murder of the three Israeli teenagers. These forms of "resistance," moreover, would not be limited only to holding demonstrations and rallies, or hurling rocks and firebombs at Israeli soldiers and Jewish settlers.
Instead of distancing himself from Hamas, Abbas has chosen to forge an alliance with a terrorist group whose charter explicitly calls for Jihad (holy war) and the elimination of Israel. Instead of working with Israel to prevent Hamas from expanding its control to the West Bank, Abbas has chosen to sever all ties with Israel, including the security coordination that keeps him safe and guarantees his continued control over the PA.
Abbas, who is refusing to talk to Israelis and Americans, has now shown that he is happy to speak with Hamas. On July 6, Abbas again demonstrated his determination to continue courting Hamas: he dispatched Rajoub and a Fatah delegation to "congratulate" Amjad Kabaha, a senior Hamas operative released from Israeli prison, for his role in anti-Israel terrorist activities during the Second Intifada.
On July 9, another senior Fatah official, Osama Qawassmeh, announced that contacts and coordination with Hamas were continuing almost "on a daily basis to escalate the popular resistance" against Israel.
Qawassmeh noted that he missed the days when his Fatah faction worked cooperatively with Hamas during the First Intifada, in 1987. "We and Hamas have drawn the conclusions from our previous experiences," he said, referring to the power struggle that erupted between the two parties in 2006 and which reached its peak a year later, when Hamas staged a coup against Fatah, violently seized control of the Gaza Strip, and ousted Abbas.
Hamas evidently wants to use the West Bank as a launching pad for carrying out terrorist attacks against Israel. Hamas -- whose leaders have repeatedly denounced Abbas as a "traitor" because of his purportedly moderate positions toward Israel and security crackdowns on Hamas members in the West Bank -- will undoubtedly use the "comprehensive resistance" not only to kill Jews, but also to undermine Abbas and his Fatah-controlled PA regime.
In 2017, senior Hamas official Marwan Abu Ras called for the execution of Abbas by hanging after accusing him of depriving its Palestinians in the Gaza Strip of international financial aid. "Abbas is the biggest traitor in Palestinian history," Abu Ras said in a statement.
Abbas's recent efforts to appease Hamas may also, then, be aimed at saving himself from facing the death penalty. Hamas, in any event, will not shift its stance on Abbas. Hamas also does not appear to be headed towards recognizing Israel's right to exist. As such, Abbas seems to be handing Hamas the noose that eventually will be tied around his own neck.
Khaled Abu Toameh, an award-winning journalist based in Jerusalem, is a Shillman Journalism Fellow at Gatestone Institute.