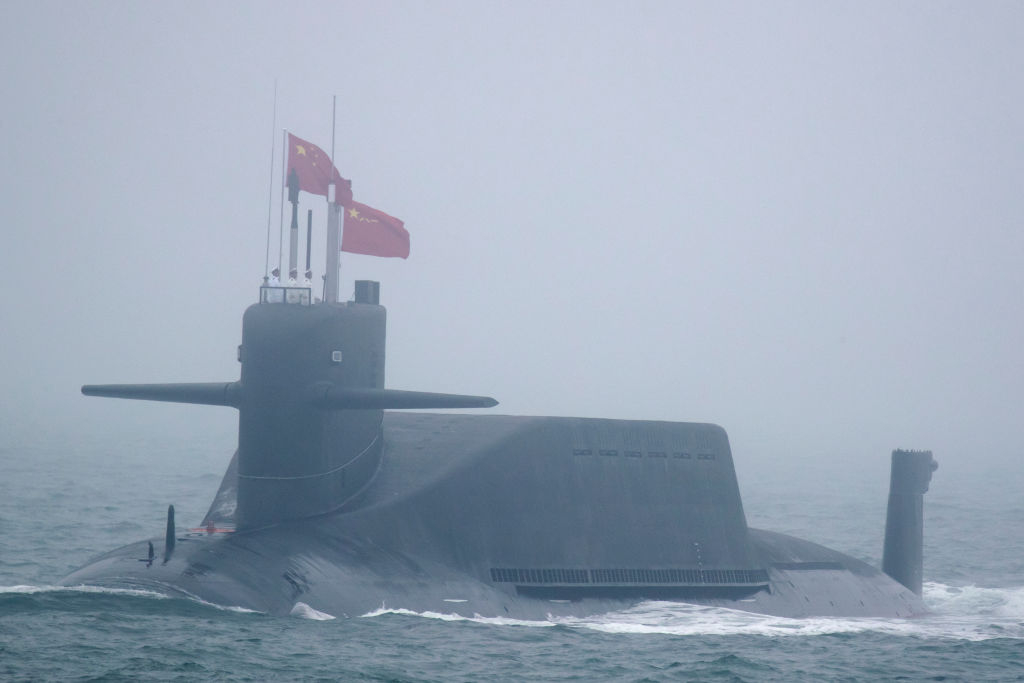 After China's many transgressions over the past 50 years, the military containment of Chinese expansionism and Communist Party Chairman Xi Jinping's stated goal of world domination needs to be the highest foreign policy priority of the Free World. Pictured: China's Long March 10, a new Jin-class nuclear submarine, participates in a naval parade Shandong province on April 23, 2019. (Photo by Mark Schiefelbein/AFP via Getty Images)
After China's many transgressions over the past 50 years -- including the theft of $600 billion of U.S. intellectual property each year; Beijing's malignant cover-up of the Covid-19 virus; the Communist regime's attempts to blind US airmen with lasers; constructing military islands in the South China Sea, and last month sending a massive fleet of 250 Chinese fishing vessels near the Galapagos Islands off the coast of Ecuador, to name but a few -- the military containment of Chinese expansionism and Communist Party Chairman Xi Jinping's stated goal of world domination needs to be the highest foreign policy priority of the Free World.
The ultimate objective of this initiative would be to prevent Communist China's aggression against the independent states of the Indo-Pacific region and beyond.
China's walk-in-the-park takeover of Hong Kong -- an illegal appropriation -- undoubtedly served to whet China's expansionist appetite.
The first military containment of China could encompass a broad and multi-tiered defense perimeter in an arc extending from Japan's coastal waters, southeast to the continent of Australia, and northwest to the Himalayan borderlands between China and India, where China has already been attempting a land invasion. Although China's recent record of malign behavior has drawn the ire of many, China is encouragingly vulnerable. Fourteen states share sections of China's land borders, and the Chinese already have territorial disputes with 18 countries.
The leaders of China's Communist Party have been clear about China's territorial claims, particularly in the South China Sea. China's claim there, if realized, would include about 85% of the waters off China and most of the island archipelagos within the South China Sea. The United States needs to be unambiguously clear that it will physically block any Chinese effort to realize any baseless assertions of Chinese sovereignty. America's determination also needs be transparent so that Chinese leaders do not doubt U.S. resolve, in case China might be tempted to check it by staging a violent incident.
The firm tone of Secretary of State Mike Pompeo's July 13 declaration that the U.S. rejects China's fake claims in the South China Sea as mostly illegal will probably be seen as "just words." The U.S. might need to convince Beijing that America and its allies have the political will to implement this containment. Pompeo also drew a line by asserting that the U.S. will defend the sovereignty of smaller South China Sea states -- a conflict with China's own often-stated claims.
For the U.S. to secure the endorsement of the Archipelago of Southeast Asian states, they first must be certain that the U.S. commitment to defend their sovereignty is unequivocal and permanent.
Many regional countries have been threatened by Chinese military assets and pushed to abandon their sovereign fishing and energy exploratory activities in waters claimed by China. In mid-June, for instance, a Chinese vessel rammed a Vietnamese fishing boat in disputed waters near the Paracel Islands, an archipelago chain claimed by both China and Vietnam. China in 2019-2020 continued to infuriate Indonesia by claiming sovereignty of waters inside Indonesia's 200-mile economic zone, an area that would give Beijing sovereignty over the Indonesian Natuna Islands. In mid-April of this year, Malaysia was apparently shocked into the reality of China's aggressive claims when a Chinese vessel, along with several Chinese Coast Guard vessels, boldly entered Malaysian waters clearly within Malaysia's internationally recognized 200 hundred mile economic zone.
It seems to have been, however, the June 9, 2019 ramming and subsequent sinking of a Philippine fishing boat off Reed Bank in the Philippine Sea that had geopolitical ramifications. The incident happened shortly after Philippine President Rodrigo Duterte reversed himself and decided to keep a military defense pact with the U.S. His turnabout permitted continued U.S. access to Philippine air and naval bases, thus preserving the decades-long defense treaty between the U.S. and the Philippines, an important link in any wall to contain China.
Given the many examples of China's aggressive behavior toward its neighbors, and with Taiwan now being openly threatened as well, another U.S. option, already undertaken, to lend substance to the military wall against China, was to send more U.S. military ships to the region to seriously increase the protection of the South China Sea, the American island of Guam, Ecuador and whatever else might be challenged.
A diplomatic plan might include a request that Australia -- which has not only been unbudgeable despite Chinese pressure, but also has friendly ties with all governments in the area -- host a summit of regional state political and military leaders. Representatives from the U.S., Japan, India, and Taiwan could attend, while permitting the host nation, Australia, to elicit the views and, one hopes, the commitment to contain the threat.
Subsequently, the U.S could dispatch policy and military teams to several regional states to discuss bilateral defense arrangements. These bilateral understandings could, in time, be linked up with already existing multinational defense organizations, such as "The Quad": Japan, Australia, India and the U.S. In September, for the first time, all four members of the Quad will probably participate together in the India-hosted Malabar military exercises. This multinational barrier for containment could be further concretized by continuous regional military exercises, arms sales, military training exchange programs, and operational planning, as well as ports, bases, and airport visitations. Countries could also be enjoined to cancel all commercial activity with China. Why fund one's enemy and make him stronger? This program functioned well in the Free World's "Cold War" with the Soviet Union.
For this multinational initiative to survive and evolve into a formidable edifice to frustrate any Chinese territorial aspirations, the U.S. must lead "from the front" by frequent "Freedom of Navigation" operations through contested straits and other sensitive waterways to reinforce the legitimacy of international law on the high seas. Some of these freedom of navigation operations could be conducted in the Formosa (Taiwan) Strait between Taiwan and China. Another exercise could be in the disputed waters of the Tokara and Miyako Straits near Japan and China.
Another U.S. move, in coordination of member states, would be to extend the existing program of the "Five Eyes" (the U.S., UK, Canada, Australia, and New Zealand) arrangement of intelligence sharing, when it pertains to China, to other allies, perhaps initially India and Japan. The U.S. and its allies should probably be prepared for an attempt by China to initiate provocative action against one or more of the states in the region. In response, they might dispatch combat vessels to confront aggressors or rescue those who might need rescuing.
If China should respond to allied containment activities in a more robust military fashion, the massive naval and air power of the U.S. 7th Fleet, based in Yokouska, Japan, should be sufficient to check any aggressive Chinese moves. The 7th Fleet could also be substantially reinforced by U.S. Indo-Pacific Command, headquartered in Hawaii. Any decision by the U.S. to adopt the military containment of China as a policy must assume that China might retaliate. China's leaders are surely hoping that the current U.S. administration's aversion to war will enable the Communists to pick off new territory with relative ease; the U.S. should not even let them think of such a possibility.
Spokespersons for member states should not hesitate to declare that it is the mandatory duty of free states to oppose the universal ambitions of the totalitarian Party-State of the People's Republic of China and its aim eclipsing the United States. This goal is made abundantly clear in their own publications, such as the May 19, 2019 Chinese Communist Party official organ, People's Daily and the Xinhua News Agency declaring "People's War" on America. The Party's narrative is that the U.S. administration is threatening all the people of China. One Chinese state CCTV anchor added that the "U.S. fights for greed and arrogance," but that "China will fight for a new world." It certainly will -- if we let it.
Dr. Lawrence A. Franklin was the Iran Desk Officer for Secretary of Defense Rumsfeld. He also served on active duty with the U.S. Army and as a Colonel in the Air Force Reserve.