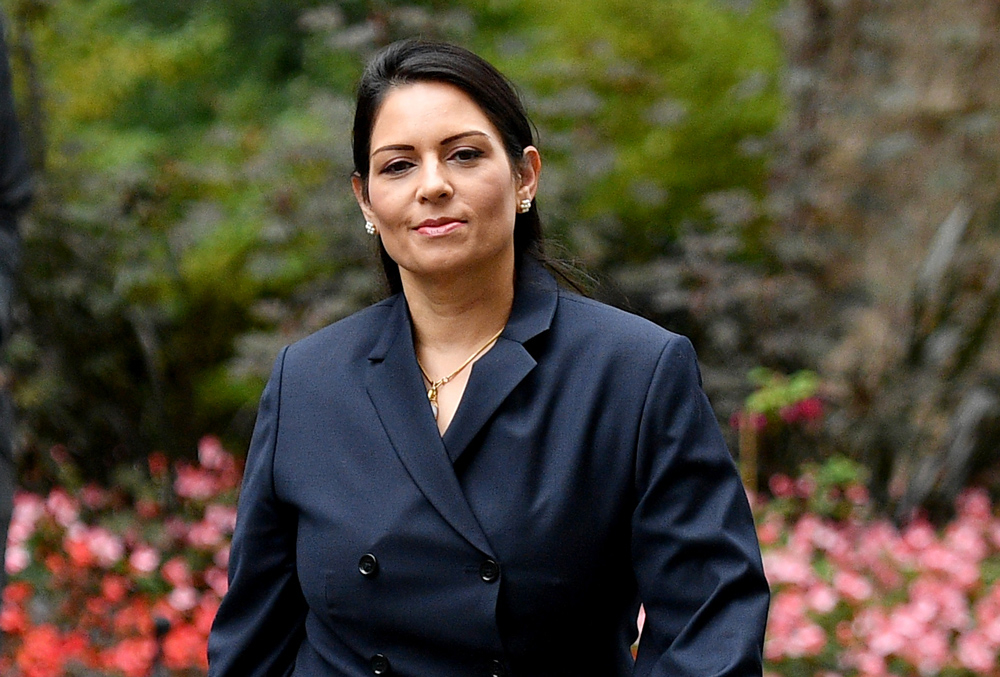 In Britain, the rapper Wiley recently went on a 48-hour anti-Semitic rant on Twitter, spreading conspiracy theories and insults against Jews, and said they should be shot. Despite thousands of complaints, Twitter left most of Wiley's tweets up for six days and only decided to ban him for life after a 48-hour boycott of the platform by thousands of British users, including UK Home Secretary Priti Patel. Pictured: Priti Patel on September 8, 2020 in London. (Photo by Leon Neal/Getty Images)
Jew hatred in the United States has grown more prevalent in recent years.. In 2019, there were 2,107 anti-Semitic incidents, according to a May report by the Anti-Defamation League. It was the highest number in 40 years. The incidents included 61 physical assault cases, 1,127 instances of harassment and 919 acts of vandalism.
Antisemitism is also peaking in several European countries: In 2019, Germany, with 2,032 incidents, saw the highest number of anti-Semitic crimes in nearly two decades. The United Kingdom registered "a record number" of anti-Semitic incidents in 2019 for the fourth year in a row with 1,805 incidents -- "the highest number ever logged in a calendar year and a 7% increase on 2018", according to a report in The Guardian. In France, anti-Semitic attacks surged by 74% in 2018 compared to the previous year and an additional 27% in 2019. One violent attack in 2018 was the brutal murder of Mireille Knoll, an 85-year-old French Jewish Holocaust survivor, who was murdered in her Paris apartment by two men, who shouted "Allahu Akbar" as they stabbed her 11 times and set her apartment on fire.
The growth in anti-Semitism comes a mere 80 years after millions of Jews were rounded up in Europe and subjected to enslavement, mass shootings, "medical experiments", and industrial mass murder in Nazi concentration camps, for no other reason than being Jewish.
In our hypersensitive, hyper-racialized "woke" culture, where speaking obvious truths such as "all lives matter" will get you immediately cancelled, terminated from your job and classified as racist, one would assume that the rise in anti-Semitism would prompt maximum outrage. Promoting anti-Semitism, however, rarely gets anyone -- apart from the occasional white supremacist -- cancelled. This double-standard continues despite hate speech being generally considered completely unacceptable and dangerous, as reflected in the policies against hate speech of the social media and tech giants.
Louis Farrakhan, the leader of the Black Muslim Nation of Islam, and considered by many a professional anti-Semite, has promoted conspiracy theories about Jews. He has called them "satanic" and "termites" and praised Hitler as "a very great man". Celebrities and others who promote Farrakhan rarely ever experience the public excoriation and the accompanying cancellations that normally accompany people who exhibit such racism. His speeches and interviews are freely available on YouTube, which has dubiously declared that it stands "in solidarity against racism and violence". Evidently, that solidarity does not extend to anti-Jewish racism. Instead, YouTube relays the message that, to paraphrase Orwell, some racism is more racist than others.
A new streaming TV channel, Fox Soul TV, "dedicated to the African American viewer" according to its website, was planning to broadcast a speech by Farrakhan on July 4 but changed its programming, presumably because of the push-back the channel experienced on Twitter.
Chelsea Handler, an American comedian, recently promoted a video clip of Farrakhan on her Instagram account, praising Farrakhan for the "strong video" about white people and black power. Several Hollywood celebrities, including Jennifer Aniston, "liked" her post. Handler only took it down after much criticism, and offered a half-baked apology in which she said:
"I still consider this message to be quite powerful... Perhaps Farrakhan's anti-Semitic views took form during his own oppression. We know now that the oppression of one race leads to an oppression of all races."
Nobody cancelled Handler for promoting an anti-Semite.
Several other celebrities have also been promoting Farrakhan's brand of Jew hatred on social media. In early June, the rapper Ice Cube, apparently an admirer of Farrakhan, let loose in a series of tweets, which, according to Kareem Abdul-Jabbar writing in The Hollywood Reporter, "involved some creepy symbols and images ... [and] implied that Jews were responsible for the oppression of blacks". Despite a history of anti-Semitism, Ice Cube's recent tweets caused barely a scratch in his image. As late as July 29, the rapper published an op-ed in The Hill.
Typically, "wrongthinkers" who make the career-crushing mistake of publishing their thoughts on social media receive no mercy and are greeted with instant "cancellation". Apologies that are offered, however groveling, are usually not accepted. Expressing un-woke sentiments on social media is a sin for which there can be no forgiveness, as academics, media personalities and others have learned.
In the rare cases, however, when anti-Semites do experience sustained push-back and even consequences to their careers, there seems to be a strong willingness by those who would usually do the cancelling to forgive and forget. US media personality Nick Cannon, for instance, was recently fired by ViacomCBS after he promoted anti-Semitic conspiracy theories on his podcast; nevertheless Fox did not fire Cannon from his role as host in the network's reality series The Masked Singer. "When we were made aware of Nick Cannon's interview with Richard Griffin on YouTube, we immediately began a dialogue with Nick," Fox said in a statement.
"He is clear and remorseful that his words were wrong and lacked both understanding and context, and inadvertently promoted hate... Fox condemns all forms of hate directed toward any community and we will combat bigotry of any kind."
Twitter itself plays a significant role in promoting antisemitism. In the UK, the rapper Wiley recently went on a 48-hour anti-Semitic rant on Twitter; he not only spread a number of conspiracy theories and insults against Jews, but also said that they should be shot and that he was coming to "sit with" them in Golders Green, a Jewish neighborhood in London. Despite thousands of complaints, Twitter left most of the rapper's tweets up for six days and only decided to ban him for life after a 48-hour boycott of the platform by thousands of British users, including Home Secretary Priti Patel.
Twitter has even tried to claim that the genocidal variety of Jew hatred, the kind at which Iranian leaders excel, does not violate its rules. When asked recently by Israel's Knesset Committee for Immigration, Absorption and Diaspora Affairs why Iranian leader Ayatollah Ali Khamenei, who has called to "eliminate" the Jewish state on Twitter, remains free to tweet while President Donald Trump's tweets were flagged for violating Twitter policies on hate speech, Twitter's Head of Public Policy, Government & Philanthropy for the Nordics & Israel, Ylwa Pettersson, responded:
"We have an approach to world leaders that presently says direct interactions with public figures, comments on political issues of the day or foreign policy saber-rattling on military and economic issues are generally not in violation of twitter rules".
Pettersson was then asked, whether "Calling for genocide is OK, but commenting on political situations is not?" She replied:
"If a world leader violates our rules, but if there is a clear interest in keeping that on the service, we may place it behind a notice that provides some more context about the violation and allows people to click if they wish to see that type of content. That is what happened for the Trump tweet. That tweet was violating our policies regarding the glorification of violence, based on the historical context of the last line of that tweet, and the risk that it could possibly inspire harm and similar actions".
For those who need reminding of just how little it actually takes to be banned for life from Twitter (when the offending issue is not anti-Semitism) last year the platform removed Meghan Murphy, a Canadian feminist who had committed the speech crime of not calling a transgender person by their preferred pronoun.
It appears that the self-righteous outrage of the wokerati is absent when the person at the receiving end of racism is a Jew.
John Richardson is a researcher based in the United States.