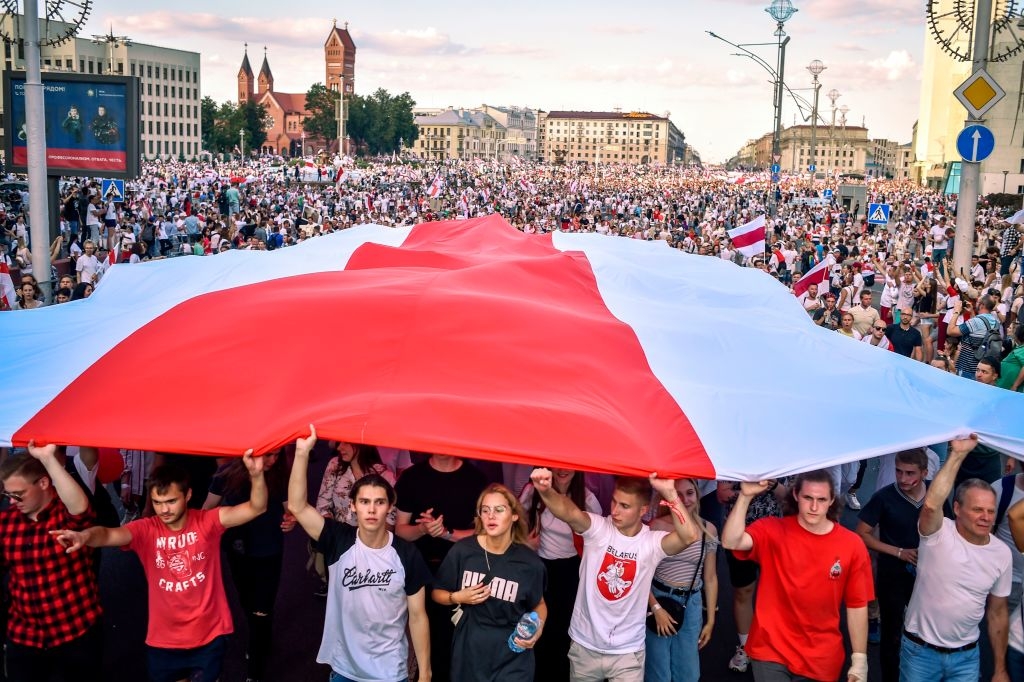 Belarus President Alexander Lukashenko's crackdown on protests has been severe: Some 6,700 have been detained since protests erupted on August 9, at least two people have died and many more have been wounded. Pictured: Opposition supporters demonstrate in Minsk, Belarus on August 16, 2020. (Photo by Sergei Gapon / AFP via Getty Images)
President Alexander Lukashenko, who has ruled Belarus with an iron grip since 1994, "won" his sixth presidential election on August 9 with a remarkable 80% of the vote. Both the US and the EU have described the election -- much like the previous elections there -- as neither free nor fair.
"Belarus is an authoritarian police state in which elections are openly rigged and civil liberties are curtailed," Freedom House wrote in its 2019 report about Belarus.
Lukashenko is said to have treated Belarus as his personal fiefdom, while pretending that the Soviet Union never really went away. Prior to his political career, Lukashenko was the director of a state collective farm and, after the collapse of the Soviet Union was for a time perceived as a savior of Belarus, but he quickly went back to his old Communist ways.
Lukashenko's authoritarian regime has retained many of the key elements of Soviet rule: a Soviet-style economy -- which relies heavily on discounted Russian oil, gas and loans -- unfree elections, a censored media and widespread repression of political dissent.
Prior to the presidential election, Lukashenko arrested several of his political opponents, such as the popular blogger Sergei Tikhanovsky. He described opposition groups as "bands of criminals". During the latest mass protests in Minsk on August 16, he called opponents "rats". Lukashenko's only serious challenger in the presidential elections was Sergei Tikhanovsky's wife, Svetlana Tikhanovskaya, a former English teacher, who got 9.9% of the vote. Tikhanovskaya has said that where votes were properly counted, she won support ranging from 60% to 70%. She was detained for several hours after contesting the election. Upon her release, she fled to Lithuania.
Voters have now apparently had enough. In what has been described as some of the largest demonstrations in Belarus, hundreds of thousands of protesters have gathered in Minsk and other Belarussian cities to protest the election results and show their dissatisfaction with "Europe's last dictator", as Lukashenko was dubbed by President George W. Bush in 2005. Lukashenko's crackdown on the protests has been particularly severe: Some 6,700 have been detained since protests erupted in the evening of August 9, at least two people have died and many more have been wounded. Riot police have used rubber bullets, tear gas and stun grenades to disperse thousands of peaceful demonstrators. According to Amnesty International:
"Amnesty International and local human rights groups have collected horrifying testimonies from protesters in Belarus who describe being tortured or subjected to other ill-treatment in detention centres, including being stripped naked, beaten, and threatened with rape. Crowds outside a detention centre in Minsk say the screams of torture victims are audible from outside, and video footage corroborates this. The evidence points to a campaign of widespread torture and other ill-treatment by the Belarusian authorities who are intent on crushing peaceful protests by any means".
"Former detainees told us that detention centres have become torture chambers, where protesters are forced to lie in the dirt while police kick and beat them with truncheons," said Marie Struthers, Amnesty International's Director for Eastern Europe and Central Asia.
"They described being stripped naked and subjected to sadistic beatings while listening to the screams of other victims. These are people whose only 'crime' was to take to the streets in peaceful protest. What we are seeing in Belarus is a human rights catastrophe that demands urgent action."
Belarus has seen protests before. In 2017, continuous demonstrations against Lukashenko's regime went on for months. The authorities, however, cracked down hard, using some of the same methods of beatings and arrests they are using today. Smaller protests also occurred in 2018 and 2019.
Unlike the murder of George Floyd in the US, the horrifying police brutality against thousands of peaceful demonstrators in Belarus has not caught the attention of Western activists, none of whom has taken to the streets in solidarity with innocent Belarussians.
On August 17, Lukashenko hinted that a redistribution of power might be possible but that it should be done "through a constitutional process and not through street protests" according to Russian news agency TASS. "You speak about unfair elections and want fair ones?" the president asked workers at a tractor plant. "I have an answer for you. We had the elections. Unless you kill me, there will be no other elections."
The people of Belarus probably need a strong Western response, not just to counter Lukashenko and the rigged elections, but also to show Russia's President Vladimir Putin, who has been pushing for ever-closer "integration" with Belarus for many years, that Belarus will not be abandoned by the West. As late as December 2019, protests also broke out in Belarus against what was perceived by Belarussians as a Russian push to have Belarus integrate more closely with Russia to have the Russian Bear swallow it up completely.
This year, the EU decided on August 14, after the violent crackdowns on protesters, to prepare a list of Belarusian officials "responsible for violence, repression and the falsification of election results". The US is apparently still weighing whether sanctions are the right response. The question is whether such sanctions will push Lukashenko even further into Putin's arms, and how Putin will respond to the new situation. According to the BBC, Putin told Lukashenko Russia was ready to assist Belarus "in accordance with the collective military pact if necessary".
Ukraine, Poland, Latvia and Lithuania, all of which border Belarus, will be following developments closely. The West really needs to do the same: supporting Belarussian civil society, while deterring Russia's designs on it.
John Richardson is a researcher based in the United States.