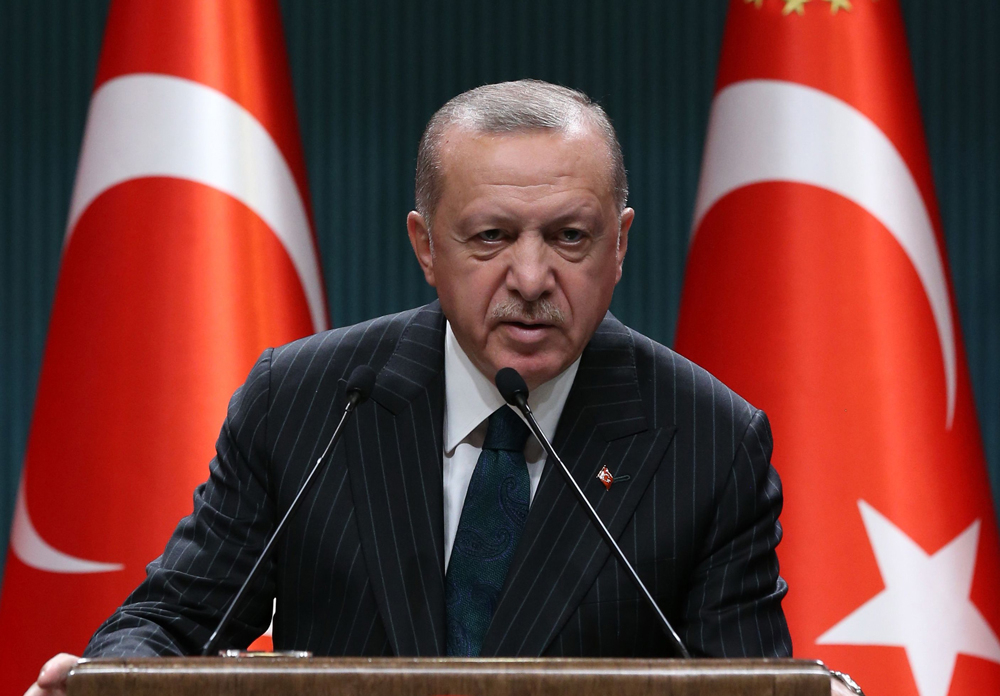 Turkey's President Recep Tayyip Erdogan has threatened to suspend diplomatic ties with the United Arab Emirates, in response to the UAE's agreement to establish normal relations with Israel. Judging from the broader Arab response to Erdogan's threat, the Turkish leader, rather than being perceived as any kind of Caliph, is perceived as a demented demagogue and a sponsor of terrorism. (Photo by Adem Altan/AFP via Getty Images)
In a statement that has raised many eyebrows in the Arab world, Turkey's President Recep Tayyip Erdogan said on August 14 that he is considering suspending diplomatic ties with the United Arab Emirates (UAE) and withdrawing the Turkish ambassador from Abu Dhabi.
Erdogan's threat came in response to the agreement ("Abraham Accord") between the UAE and Israel to establish normal relations between the two countries.
A joint statement issued by US President Donald Trump, Israeli Prime Minister Benjamin Netanyahu and UAE Crown Prince Mohammed Ben Zayed read:
"This historic diplomatic breakthrough will advance peace in the Middle East region and is a testament to the bold diplomacy and vision of the three leaders and the courage of the United Arab Emirates and Israel to chart a new path that will unlock the great potential in the region."
Erdogan, in response, told reporters that the Israel-UAE deal is problematic and that Turkey stands in solidarity with the Palestinian people. "The move against Palestine is not a step that can be stomached," Erdogan said.
"I have given the necessary instructions to my foreign minister. I told him we may also take a step in the direction of suspending diplomatic ties with the Abu Dhabi leadership or pull back our ambassador."
The Turkish Foreign Ministry also condemned the UAE-Israel deal for betraying the Palestinian cause. The ministry said that history will never forgive the UAE. "History and the collective conscience of the region will not forget and never forgive this hypocritical behavior of the UAE," the ministry said.
Many Arabs, particularly citizens of the Gulf states, scoffed at Erdogan for his threats to sever ties with the UAE after its agreement with Israel.
They reminded Erdogan that Turkey was the first Muslim-majority country to recognize the State of Israel. They also reminded him of his official visit to Israel in 2005 and the decades of military, strategic and diplomatic cooperation between Turkey and Israel.
Egyptian columnist Abeer al-Adawi pointed out that Erdogan, who is now denouncing the Israel-UAE agreement, had previously spoken in favor of normalization between Turkey and Israel. "Erdogan has double standards," she said.
Noura al-Moteari, a Jordanian writer, asked:
"Does Erdogan have a mental illness and a dual personality, or does he know for sure that his followers from the oppressed Turkish people and the Muslim Brotherhood follow him with blind loyalty and do not see beyond the end of their noses? How does Erdogan threaten to withdraw his ambassador from Abu Dhabi because of the historic peace agreement with Israel, while the Israeli embassy in Turkey is active?"
Echoing the same concern about Erdogan's mental status, Saudi political activist Monther al-Sheikh Mubarak wrote:
"I am sure Erdogan needs a psychiatrist. It has been reported that Turkey will serve Israel by transporting Israelis to the UAE at a time when Erdogan is objecting to normalization [with Israel]. There is no cure for stupidity."
In another post on Twitter, Mubarak stated:
"This is not a joke. Erdogan says he will withdraw his ambassador from the United Arab Emirates in response to its decision to establish relations with Israel. Those who have no shame feel that they can do whatever they want. Erdogan's wakaha (effrontery) has no limits."
Dr. Ahmad al-Farraj, a Saudi academic and commentator on political affairs, wrote that Erdogan has "reached unprecedented stages of underestimating the Arabs." Addressing the Arabs, al-Farraj said:
"How do you allow anyone to manipulate you and underestimate your minds? Where is the dignity of the Arabs? I am not angry at Erdogan, but at you, Arabs, because you have turned off your minds."
Abdullah al-Bander, a Saudi political activist, said in a video he posted on social media that Erdogan is known for his words more than his actions. "What's funny is that Erdogan was also the first Muslim leader to visit the grave of [Zionism founder Theodor] Herzl in Israel and meet with [then Israeli Prime Minister Ariel] Sharon," al-Bander remarked. "Erdogan is trading in the Palestinian cause. Turkey has had relations with Israel for more than 70 years, but it has done nothing good for the Palestinians all these years."
Mohammed al-Zaabi, a political activist from the UAE, wrote that the decision made by his country was none of Erdogan's business. "This is a purely sovereign decision taken by the United Arab Emirates," al-Zaabi argued. "It is time for the crazy mouths to shut up."
Saudi writer Rawaf al-Soain also posted a video on social media platforms in which he mocked Erdogan for threatening to cut Turkey's relations with the UAE. "I have just learned that Erdogan is considering withdrawing his ambassador from the UAE in protest of the normalization agreement with Israel," al-Soain said.
"But Erdogan's Turkey has been normalizing its relations with Israel since the establishment of Israel. Instead of protesting against the United Arab Emirates, why don't you protest against yourself? Why don't you withdraw your ambassador from Tel Aviv and expel the Israeli ambassador in Turkey so that we can call you a hero and supporter of the Palestinian cause? By accusing the United Arab Emirates, Erdogan is being silly and despicable."
Egyptian columnist Adel al-Sanhoury wrote that, at first, he could not believe that Erdogan had threatened to cut diplomatic relations with the UAE in response to its normalization agreement with Israel. "The news is true, and the statement was actually issued by Erdogan, the official sponsor of terrorist groups in the region," al-Sanhoury said.
"He uses these groups to destabilize the Arab countries, including Syria, Iraq, Libya, and Egypt. It seems that Erdogan is suffering from schizophrenia that surprises and confuses even his supporters."
The Egyptian columnist derided Erdogan's apparent ambition to present himself as the Caliph of Muslims while he is known for his empty talk and lies. "Only the terrorist groups see him as the Emir of the Faithful and Caliph of Muslims and believe his lies and double standards," al-Sanhoury explained.
"Where is his support for the Palestinian cause when he directs all his support to Hamas and ignores the Palestinian Authority? He hosts wanted terrorists in Ankara and allows them to establish radio and television stations to preach the Muslim Brotherhood ideology."
Commenting on Erdogan's opposition to the Israel-UAE deal, the Saudi newspaper Okaz editorialized:
"Erdogan's regime does not miss an opportunity to trade in the Palestinian issue and deceive everyone. Despite Erdogan's hypocrisy, which has become exposed to Arab and Islamic public opinion, his regime continues to play on the feelings of Muslims. The Turkish president appears to be applying double standards by ignoring the presence of his ambassador in Tel Aviv."
The strong reactions of many Arabs to Erdogan's threat is a sign that they understand that he is a conniving opportunist playing the Arab and Muslim card in an attempt to revive an Islamic caliphate under his rule.
"It is no secret that he [Erdogan] sees himself as the rightful heir of Ottoman rulers, and as such, intends to extend anew Turkey's influence over countries and territories formerly part of the Ottoman Empire," noted Zvi Mazel, a veteran Israeli diplomat who specializes in Arab and Islamic affairs.
Judging from the broader Arab response to Erdogan's threat, the Turkish leader, rather than being perceived as any kind of Caliph, is perceived as a demented demagogue and a sponsor of terrorism.
Khaled Abu Toameh, an award-winning journalist based in Jerusalem, is a Shillman Journalism Fellow at Gatestone Institute.