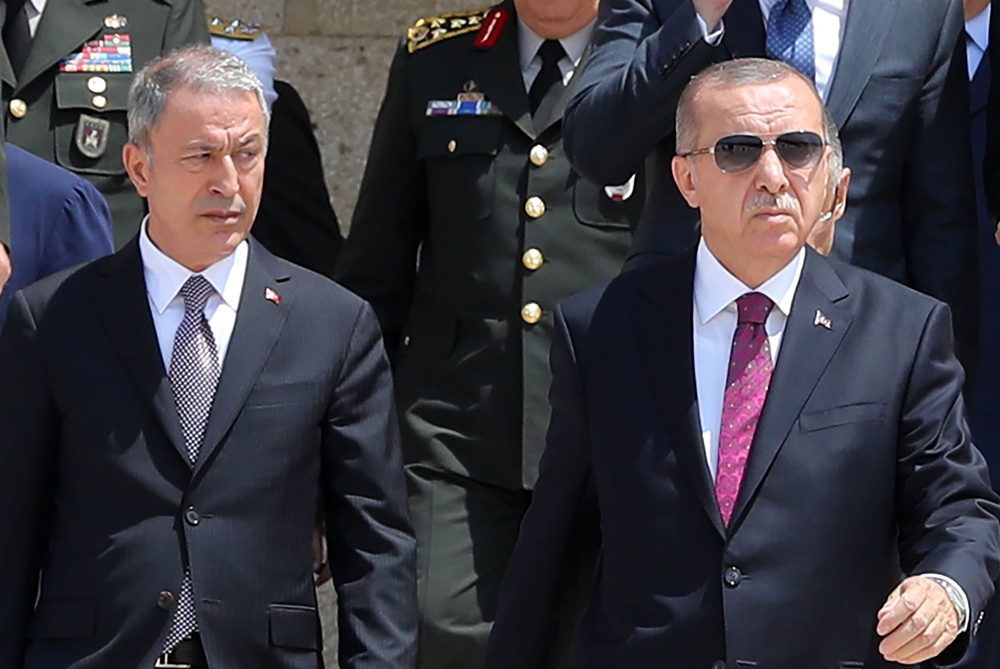 A Turkish court has censored news reports about a visit by Defense Minister Hulusi Akar (pictured at left) to the grave of a convicted terrorist who was the founder of an illegal Islamist group, the Great Eastern Islamic Raiders' Front (IBDA-C). (Photo by Adem Altan/AFP via Getty Images)
In its early years (2002-2010), many Western leaders generously hailed Turkish President Recep Tayyip Erdogan's governance with biased euphemisms such as "post-modern Islamism" or "moderate Islamism." In this view, Turkish Islamism and Erdoğan deserved every support Western nations could give. Turkey would be the role model in which Islam and democracy could co-habit, a model that would inspire less-democratic Arab nations. Palestinians, Iraqis, Egyptians, Jordanians and other Muslims in the Maghreb would supposedly wish to become more moderate and less violent. This bizarre political experience has sadly ended with the opposite result: Turks have become less moderate and more violent.
This summer, for example, there were press reports that Defense Minister Hulusi Akar, formerly chief of the Turkish military, had visited the grave of the founder of an illegal Islamist group. A court order censored news reports about Akar's visit to the graves of the poet Necip Fazıl Kısakürek and the religious ideologue Izzet Berdiş, better known as Salih Mirzabeyoğlu, the founder of the Great Eastern Islamic Raiders' Front (IBDA-C). IBDA-C was an early-day Turkish version of Islamic State (ISIS), known for its horrific methods of torture and killing. Kısakürek is Erdoğan's favorite poet and IBDA-C was founded on his ideas featuring Islamic supremacy.
Berdiş was arrested in 1998 and convicted to life in prison on charges of terrorism. He spent more than 15 years incarcerated, but was released in 2014 following a retrial ordered by Erdoğan's government. He met with Erdogan shortly after his release.
IBDA-C's resume is hardly philanthropic enough for a presidential welcome. One of its better-known attacks was the firebombing of a hotel in the eastern city of Sivas, an event that killed 19 people. In February 2000, the group claimed responsibility for a quadruple bomb attack in Istanbul. Its other attacks included an attempt to assassinate a Jewish businessman and an attack on the Greek Orthodox Church in Istanbul in 1994. IBDA-C's targets typically were newspapers, secular journalists, banks, bars, tobacco shops and tradesmen.
Few IBDA-C terrorists could imagine that a Turkish defense minister would one day say prayers by the grave of their leader. Defense Minister Akar, a prominent Erdoğan confidante, arguably Turkey's first military chief with an Islamist ideology, was widely criticized when he visited Kadir Mısıroğlu, a pro-sharia campaigner and a self-declared enemy of the Turkish Republic. Mısıroğlu famously wrote: "I wish the Greeks had won the war [for Turkey's independence]. Then the [Ottoman] caliphate would not be dissolved and there would be sharia."
Akar's courtesy visits to controversial Islamist figures also included the pro-sharia poet Nuri Pakdil. In a 2017 interview Pakdil said: "It is not surprising that the graduates of secular schools are admirers of the West, they are enemies of [the Islamic] religion and conspirators of imperialists."
Yilmaz Özdil, Turkey's most widely read columnist and a fierce critic of Erdoğan and Islamism, recently concluded an op-ed with: "God forbid, I wouldn't even go out for fun with Akar, let alone to war." At a November 16 hearing, a court ruled that Özdil's comments were "insulting and deriding actions that directed towards damaging the subordinate-superior relations and destroying the confidence in chiefs or commanders," and sentenced him to five months in prison.
This seems to be Turkey's new normal. In November, Turkish intelligence and police officers, in a joint operation, raided and caught W.A.Y., an Iraqi national and suspected member of ISIS. The man testified to the prosecutor and was immediately released, leaving behind one question: Why had the intelligence and security officials run surveillance on the jihadist and bothered to arrest him in the first place?
Then there is Turkish Hezbollah, a Sunni violent organization that aims to found a Kurdish-Islamic state based on sharia. Although Turkish Hezbollah is not to be confused with Lebanese Hezbollah, it too has links with the Shia regime in Iran. In the 1990s, Turkish Hezbollah ran a violent terror campaign in Turkey's overwhelmingly Kurdish southeast. The invasion included the assassination of Gaffan Okkar, security chief in Diyarbakır, the largest Kurdish city in the region.
In the 2000s, Turkish Hezbollah evolved into politics when it launched the Free Cause Party (Hüda-Par), the third-biggest party in the southeast region and an ally of Erdoğan's Justice and Development Party.
Journalist Ismail Saymaz detailed in his column on how the Free Cause Party has infiltrated into scores of schools in Diyarbakır for wider future influence in the Kurdish provinces. Saymaz notes that the Free Cause network has spread around Turkey so successfully that the movement now runs a television station and publishes a daily newspaper.
"The movement is rising all around Turkey as an Islamic political power with roots in violence, especially in state bureaucracy," Saymaz says.
With democratic voting since 2002, Turkey has evolved from a secular state that had strong institutional bonds with the West to a religious, fundamentalist state hostile to the Western civilization and Israel. The next two decades may see even Turkey's non-violent religious institutions evolving into violent ones.
Burak Bekdil, one of Turkey's leading journalists, was recently fired from the country's most noted newspaper after 29 years, for writing in Gatestone what is taking place in Turkey. He is a Fellow at the Middle East Forum.