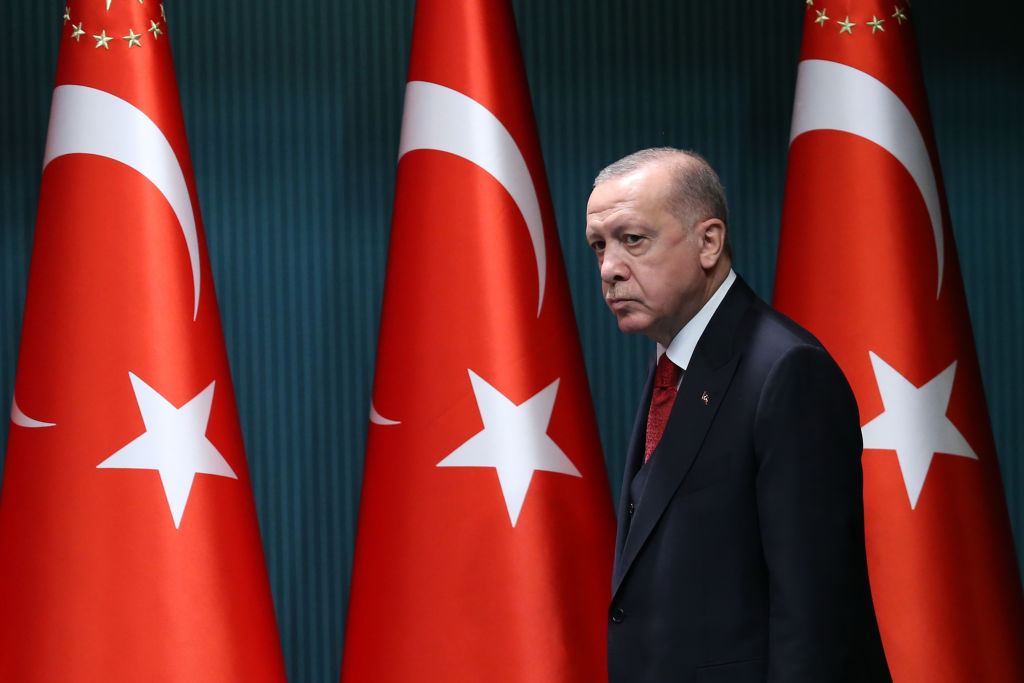 Turkish President Recep Tayyip Erdoğan has a serious predicament: He wants his country to keep suffering as a third world democracy while he hopes to lure foreign investment at the same amounts and terms as a Western democracy. That will not happen. (Photo by Adem Altan/AFP via Getty Images)
It is his favorite cycle: President Recep Tayyip Erdoğan recklessly widens Turkey's democratic deficit, weakens institutions, refuses to acknowledge democratic checks and balances. He isolates Turkey mostly from its Western alliances and follows an irredentist foreign policy of trying to reclaim supposedly "lost" land. Turkey is at odds with both the United States and Europe.
Inevitably, political isolation causes economic isolation. The economy is on a downfall. Investors flee the country. Voters start to complain about the double-digit inflation and interest rates; the lira falls and falls; unemployment rises sharply. Erdogan rediscovers his reformist self and promises to democratize -- presumably hoping, in vain, that he can reverse the economic downfall.
At the end of October, Erdoğan challenged the U.S. to impose sanctions against his country while he also launched a second personal attack -- on French President Emmanuel Macron. "Whatever your sanctions are, don't be late," he addressed Washington. To Macron, he said: "The person in charge of France has lost his way," only a day after he suggested the French president needed mental health treatment because of his views on radical Muslims. To European leaders, he said: "You are fascists in the true meaning of the world. You are veritably the link in the Nazi chain." To the Netherlands, at the end of October, he revived his rant of three years ago: "You are Nazi remnants and fascists."
As the economy gave even worse signals of a free-fall, with the national currency this year losing third of its value against the U.S. dollar, a major balance of payments crisis looked imminent. As of November 3, the lira was the world's biggest loser for 2020.
Erdoğan dramatically began by firing Central Bank Governor Murat Uysal on November 6. Two days later, Erdoğan sacked his own son-in-law, the Economy and Finance Minister, Berat Albayrak. On November 13, Erdoğan launched what he called a new and comprehensive program for economic and judicial reforms. This would be, in the words of Erdoğan's spokesman, Ibrahim Kalın, "a new drive to increase the standards of democratic rights and freedoms." Justice Minister Abdülhamit Gül joined the chorus of bogus reformers: "Let justice be served even if all hell breaks loose."
Any PR campaign designed to constrain the damage would be incomplete without prettier language about the West, or "Nazis," according to Erdoğan. "We don't see ourselves elsewhere but in Europe," Erdoğan said on November 21. "We envisage building our future together with Europe." Two days later, Defense Minister Hulusi Akar described NATO as the "cornerstone of our defense and security policy" and said that Turkey was looking forward to cooperating with the presumptive incoming administration under Joe Biden in the United States.
Erdoğan is not talking about reforms because he wants to reform his country's notoriously ailing democracy. His latest charm offensive, as in previous years, targets foreign investment at a time when Turkey's economy is ringing loud alarm bells.
According to official figures, a total of 63,014 people were indicted for insulting Erdoğan between 2014 and 2019. Of those, 9,554 were sentenced. Recent research by Artı Bir has shown that only 1.7% of Turks had confidence in their country's judicial system (and 1.2% in parliament). Even Erdoğan's former justice minister, Cemil Çiçek, presently a member of the Presidential board of consultation, expressed his outright pessimism about reform: "The word 'reform' has been worn off a lot. No one should expect anything (from the new effort)."
Erdoğan's new reform pledge came at a time when a former leader of a pro-Kurdish party, along with dozens of others, remains in jail for the past years. Almost all the elected Kurdish mayors have been replaced by government-appointed administrators. Hundreds of journalists, politicians and intellectuals spend jail time on absurdly flimsy charges. Pro-government judges announce rulings in defiance of rulings from superior Turkish courts, including the Constitutional Court, and from the European Court of Human Rights. Those judges who dare make "undesirable verdicts" are probed and often get disciplinary punishments.
It is not a coincidence that Freedom House has put Turkey in its "not free" list of countries in its 2020 assessment. Some of the other countries in Turkey's grouping include Afghanistan, Angola, Belarus, Brunei, Chad, Djibouti, Eritrea, Gabon, Iran, Iraq, Libya, Myanmar, North Korea, Nicaragua, Qatar, Rwanda, Somalia, Sudan and Yemen. According to the World Justice Project, Turkey ranks 107 out of 128 countries on rule of law. In addition, according to Reporters Without Borders' press freedom ranking, Turkey is at the 154th place out of 180 countries, scoring worse than Pakistan, Congo and Bangladesh.
Erdoğan's new charm offensive is deeply problematic. It is not genuine. It is "too little too late." Just a few days after he launched his reform campaign, he refused calls for the release of a jailed Kurdish politician and a civil rights activist. "Erdoğan's reform program survived only nine days," said Bekir Ağırdır, a prominent political analyst and director of the research company KONDA.
Erdoğan has a serious predicament: He wants his country to keep suffering as a third world democracy while he hopes to lure foreign investment at the same amounts and terms as a Western democracy. That will not happen.
Burak Bekdil, one of Turkey's leading journalists, was recently fired from the country's most noted newspaper after 29 years, for writing in Gatestone what is taking place in Turkey. He is a Fellow at the Middle East Forum.