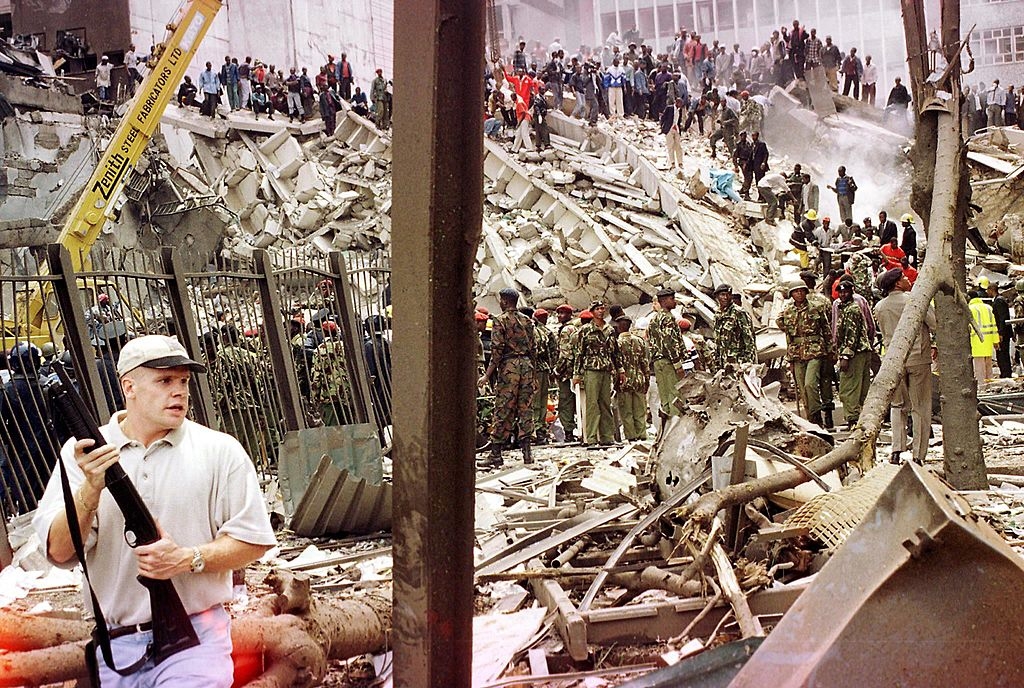 Al-Qaeda's second-in-command, Abdullah Ahmed Abdullah, also known as Abu Mohammed Al-Masri, was reported assassinated in Tehran, Iran on August 7. Al-Masri was accused of taking part in the bombings of two US embassies in Africa on August 7, 1998. Pictured: Rescue workers search for survivors of the bombing of the US embassy in Nairobi, Kenya. (Photo by AFP via Getty Images)
While the presumptive President-Elect Joe Biden is advocating for pursuing appeasement policies with Iran's ruling mullahs as did his former boss, President Barack Obama, it should be noted he will be assisting a regime that has close ties not only to Shia militia groups but also to the terrorist group Al Qaeda.
Some people might attempt to convince you that Iran and Al Qaeda are enemies because the Iranian government is Shia and Al Qaeda is Sunni, but evidence shows strong collaboration between the two.
Based on a recent report by The New York Times, which cited information from intelligence officials, Al-Qaeda's second-in-command, Abdullah Ahmed Abdullah, also known as Abu Mohammed Al-Masri, was killed on August 7. He was reportedly gunned down, at the behest of the US, by two Israeli operatives in the streets of Tehran along with his daughter, the widow of former Al-Qaeda chief Osama bin Laden's son, Hamza.
Al-Masri, who would most likely have been the successor to Al-Qaeda's current leader, Ayman Al-Zawahiri, was accused of taking part in the bombings of two US embassies in Africa in 1998. At first, Iranian authorities attempted to cover up his death, apparently because they would have preferred it not to be known that they have any links to Al-Qaeda. The theocratic Iranian establishment may well have provided Al-Masri with the resources to carry out his campaigns against the US.
Further evidence has come from the former spokesman for the IRGC, Saeed Qasemi (Ghasemi), who shared a surprising revelation. He stated that the Iranian government sent agents to Bosnia and Herzegovina to train Al-Qaeda members and that Tehran's operatives had hiden their identity by posing as humanitarian workers for Iran's Red Crescent.
Another Iranian official, Hossein Allahkaram, believed to be one of the operatives sent to Bosnia and Herzegovina, confirmed this account. "There used to be an Al-Qaeda branch in Bosnia and Herzegovina..." he said. "They were connected to us in a number of ways. Even though they were training within their own base, when they engaged in weapons training they joined us in various activities."
In addition, a trove of 470,000 documents, released by the CIA in late 2017, point to close ties between the Iranian regime and Al-Qaeda. The terror group's former leader, Osama bin Laden, advised his followers to respect the Iranian government and wrote that Iran was the organization's "main artery for funds, personnel and communication." For more sophisticated training, Al-Qaeda members traveled to Lebanon. According to the documents, Iran also provided Al Qaeda with "money and arms and everything they need, and offered them training in Hezbollah camps in Lebanon, in return for striking American interests in Saudi Arabia."
Iran was also implicated in the 9/11 terrorist attacks in 2001, before which Tehran allowed Al-Qaeda operatives to travel through the country without passports or visas. Robust evidence, including a US federal court ruling, suggests that "Iran furnished material and direct support for the 9/11 terrorists." Eight of the hijackers passed through Iran before coming to the US. Tehran provided funding, logistical support and ammunition to Al-Qaeda leaders, and sheltered several of them in exchange for attacks on US interests.
Iran and Al-Qaeda are allies due to the fact that they both view the US as their main enemy; the group has carried out several successful terrorist attacks against the US. Al-Qaeda is also a threat to Gulf states, which Iran views as regional rivals.
In addition, Al-Qaeda's modus operandi is anchored in efforts to destabilize the region and create chaos, a ripe environment that the Iranian regime, the Islamic Revolutionary Guard Corps (IRGC) and its proxies and militia groups can exploit, and from which they can prosper.
The US government has targeted the IRGC with sanctions and designated it as a foreign terrorist organization in April 2019. "The IRGC actively participates in, finances and promotes terrorism as a tool of statecraft," stated US President Donald Trump. "The IRGC is the Iranian government's primary means of directing and implementing its global terrorist campaign."
The alliance between Iran and Al Qaeda is probably why the terrorist group has carried out attacks in many countries but has never targeted the Iranian regime.
Biden's policy towards the Iranian regime is anchored in the idea that the only informed and effective policy that will deal with Iran's clerical establishment is rooted in enticing them in from the cold: in other words, appeasement. The argument goes that if the mullahs are appeased, then they will change their malign behavior and support for terror groups such as Al Qaeda. During Biden's Vice Presidency, however, for eight years, the US government initiated and expanded appeasement policies during the administration of President Barack Obama. Throughout this time, the Obama administration made unprecedented concessions in an attempt to appease Iran's ruling mullahs. The Obama-Biden administration met the Iranian leaders with generosity and flexibility at every step. What was the outcome?
As sanctions against Iran were lifted during the Obama administration, it quickly became clear that those actions, instead, gave Iran's brutality to its own people and its adventurism abroad a global legitimacy in the eyes of the international community. This newfound legitimacy and the lifting of sanctions generated billions of dollars for Iran's military institution, the Islamic Revolutionary Guard Corps, as well as for Iran's militia and terror groups. Tehran used those revenues to expand its influence throughout the region, including in Syria, Iraq, Yemen and Lebanon. The expansion campaign proved to be immensely successful.
In conclusion, If Biden becomes the next US president and if he pursues the same policies towards Iran as former President Barack Obama, he will not only embolden this predatory regime, but also empower its allies, as well as terror groups such as Al Qaeda.
Dr. Majid Rafizadeh is a business strategist and advisor, Harvard-educated scholar, political scientist, board member of Harvard International Review, and president of the International American Council on the Middle East. He has authored several books on Islam and US foreign policy. He can be reached at Dr.Rafizadeh@Post.Harvard.Edu