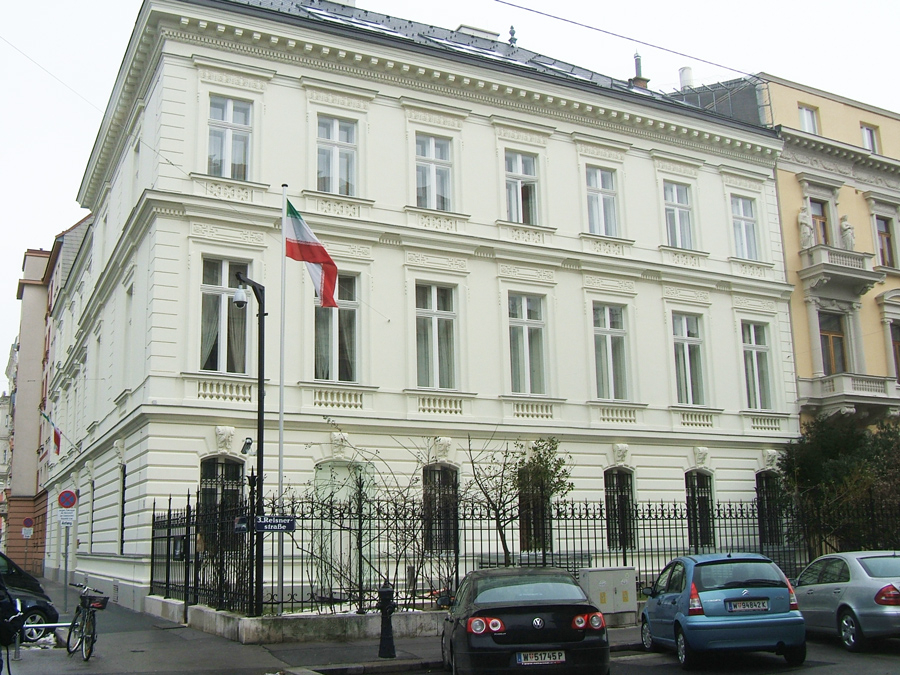 Assadollah Assadi is on trial in Belgium, accused of delivering explosives and a detonator to two agents in a bid to blow up a Free Iran rally in Paris in 2018. Assadi, serving at the Iranian embassy in Vienna, was also a senior officer for Iran's Ministry of Intelligence and Security. Pictured: Iran's embassy in Vienna, Austria. (Image source: Erich Schmid/Wikimedia Commons)
While the European Union appears excited that Joe Biden will be the next US President and then they can immediately rejoin the nuclear deal and lift sanctions against the mullahs, Tehran continues its terrorism on the European soil.
As the High Representative of the EU for Foreign Affairs and Security Policy, Josep Borrell, is urging the US to rejoin the JCPOA, one of Iran's active diplomats in Belgium is currently on trial, accused of orchestrating a terrorist operation in Europe in 2018. French officials foiled a planned bomb attack in Paris against a large "Free Iran" convention attended by tens of thousands of people, including many high-level speakers such as former US House of Representatives Speaker Newt Gingrich, former New York City Mayor Rudy Giuliani, and Canada's former Prime Minister Stephen Harper and former Foreign Minister John Baird.
If the terrorist plot were successful, it would have possibly been one of the largest terrorist acts sponsored by the Iranian regime. Where is the EU foreign policy chief, Josep Borrell, on this issue? Completely silent.
In the terrorist plot, an Iranian diplomat at the time, Assadollah Assadi, is accused of delivering explosives and a detonator to two agents in a bid to blow up a Free Iran rally. Assadi, serving at the Iranian embassy in Vienna, was also a senior officer for Iran's Ministry of Intelligence and Security. The prosecutors have asked the court to sentence Assadi to the maximum 20 years; to sentence two of his accomplices to 18 years, and another defendant to 15 years in prison as well as strip them of their Belgian citizenship.
The Iranian leaders have demanded that the EU release Assadi on the ground of "diplomatic immunity". Assadi, under an order from the Iranian Foreign Minister Javad Zarif, did not show up for the first day of trial. He also seems emboldened to such an extent that he has threatened the EU authorities that if he gets convicted, Iran's proxies will take revenge. According to the newspaper Le Monde:
"During his preventive detention, Assadolah Assadi refused to collaborate with the Belgian justice, but he threatened reprisals. On March 9, 2019, he informed the director of Beveren prison that he wished to meet with an investigator. He told him that if he was convicted, 'armed groups' were ready to act against police officers, witnesses, or the PMOI supporters."
The EU would do itself a big favor to realize that Assadi was most likely not acting alone. High-level Iranian leaders and diplomats most probably instructed him to carry out the terrorist operation. It is highly unlikely to go ahead with such a large plot without having the blessing of the Supreme Leader Ayatollah Ali Khamenei, the Iranian President Hassan Rouhani, his Foreign Minister, Javad Zarif, and Iran's Ministry of Intelligence.
The EU by now also doubtless realizes that the Iranian regime uses its embassies and consulates in foreign countries as cells to promote extremism and support militias and proxies. An Iranian ambassador and 14 other diplomats, for instance, were expelled from Kuwait in 2017 over links to a spy and terror cell, and Iran's cultural and military missions were also ordered to shut down. Iran, it should come as no surprise, does not respect international standards of diplomacy. Instead it exploits the trust of other governments to advance its revolutionary and hegemonic ambitions.
The mullahs can give anyone they desire a diplomatic position to allow that person freely to travel across the Western world. It was because of his diplomatic position that Assadi was reportedly capable of bringing the explosives from Tehran to Vienna without being caught. In other word, Iranian diplomats are key enablers of Khamenei's fundamentalist agenda abroad. The EU must not give Iranian officials a free pass because they are "diplomats", officials or employees of the Foreign Service.
The incident of this terror plot on the European soil is not an isolated case. Iran's regime has also been murdering dissidents on European soil. Ahmad Mola Nissi, a Dutch citizen of Iranian origin and a critic of the Iranian regime, was gunned down at his front door in November 2017. The Dutch authorities publicly acknowledged that it had "strong indications" that the Iranian government had commissioned the murder. Another of Tehran's political opponents, Mohammad Reza Kolahi Samadi, was killed in similar circumstances in Amsterdam in 2015. He had apparently been targeted for his opposition to the Iranian government since the 1980s.
Unless or until Iran's mullahs stop their terror activities, the EU would do itself and the Free World another big favor by cutting off its diplomatic ties with a regime that is murdering European citizens and carrying out terror plots on European soil. How many more European citizens need to be killed and terror acts to be carried out by the Iranian regime on European soil for the EU to act?
Dr. Majid Rafizadeh is a business strategist and advisor, Harvard-educated scholar, political scientist, board member of Harvard International Review, and president of the International American Council on the Middle East. He has authored several books on Islam and US foreign policy. He can be reached at Dr.Rafizadeh@Post.Harvard.Edu