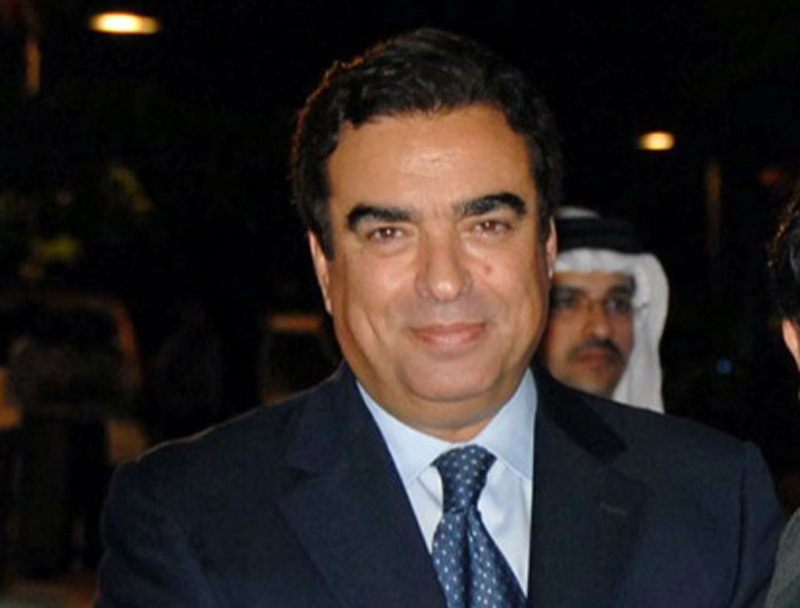 When someone with the weight and stature of George Kurdahi, one of the Arab world's most influential TV presenters, openly states that it is up to the Arab countries to decide whether they want to make peace with Israel, this sends a message to millions of Arabs that the idea of establishing relations with Israel may not be a bad one after all. (Image source: Yahya Al Qahtani/Flickr/CC by 2.0)
George Kurdahi is one of the Arab world's most influential TV presenters. On December 26, 2020, he surprised many of his fans by stating that Arab countries are entitled to normalize their relations with Israel.
The Lebanese-born Kurdahi, ex-host of the Arabic version of the game show "Who Wants to Be a Millionaire?" also angered many Arabs and Muslims by criticizing the Iran-backed Hezbollah terrorist organization and the Palestinians. Until recently, Kurdahi was considered a supporter of Hezbollah and an opponent of relations with Israel.
Kurdahi's statements, during an interview with Lebanon's Sawt Beirut International TV, reflect the views of a growing number of Lebanese and Arabs regarding the issues of normalization with Israel, Hezbollah's destructive policies and actions, and widespread disillusionment with the Palestinians residing in Arab countries.
In the past few days, Kurdahi has been denounced by several Arabs, who said that the mask has finally fallen off his face and accused him of treason and of being on the payroll of the wealthy Gulf states.
Kurdahi's statements are of great significance because of his huge popularity and influence in the Arab world, and because it was the first time that he spoke out clearly on these sensitive subjects.
When someone with his weight and stature openly states that it is up to the Arab countries to decide whether they want to make peace with Israel, this sends a message to millions of Arabs that the idea of establishing relations with Israel may not be a bad one after all.
Kurdahi did not endorse the notorious slogan that normalization with Israel is an act of treason, or a sin or a crime.
He did not follow suit with many Lebanese, Palestinian and Arab media personalities who condemned the recent normalization agreements between Israel, the United Arab Emirates, Bahrain, Sudan and Morocco as a "betrayal of the Palestinians and a stab in their back." This, needless to say, is a refreshing change, especially because it is coming from a country such as Lebanon, which is effectively ruled by Hezbollah and the mullahs in Iran.
What did Kurdahi exactly say to stir such controversy and alienate many Arabs?
Asked about the possibility that Lebanon would one day make peace with Israel, Kurdahi replied with one sentence: "I'm with normalization once the Palestinians achieve their rights."
That he did not entirely dismiss the possibility of a peace agreement between Israel and Lebanon was sufficient to raise many eyebrows in Lebanon and some Arab countries.
In response to a question about his opinion regarding the normalization agreements between Israel and the four Arab countries, Kurdahi said:
"In principle, I'm against the normalization as long as the Palestinians are not given an independent state and as long as they don't achieve their rights. But there is a certain reality now. For the past 74 years, the Arab countries have been supporting the Palestinian issue. The Arab countries, especially the Gulf states, were always supporting the Palestinian cause and the Palestinian people. After 74 years, however, we see that the Palestinians are divided. They can't agree among themselves. They are unable to speak in one voice. We have been telling the Palestinians that they must be united, and not have Hamas, the PLO, Fatah, Islamic Jihad and others.

"As far as I'm concerned, the Arab states are sovereign countries. Egypt and Jordan, likewise, are sovereign countries that have established relations with Israel. The Gulf states are sovereign countries. If the United Arab Emirates normalizes with Israel, that is its business. I don't want to intervene in the internal affairs of these countries."
Regarding the issue of Hezbollah that has long been functioning as a state-within-a-state in Lebanon, Kurdahi said that it was time for the terrorist organization to reconsider its policies and actions. "The time has come for the Hezbollah leadership and its secretary-general, Hassan Narsallah, to revise their policies," Kurdahi remarked.
"We [Lebanese] want to know where we are headed. Can Lebanon continue with its current situation? If the weapons [of Hezbollah] undermine the State of Lebanon and are an obstacle to the return of many Arabs to Lebanon, then there needs to be re-examination of the situation. Hezbollah must reconsider its positions so that we can ensure a prosperous future for Lebanon."
Kurdahi's statements about Hezbollah come as the terrorist organization is facing increased criticism over its possible responsibility for the August 4, 2020 explosion at the Port of Beirut, which killed 204 civilians, injured thousands and resulted in a great number of internally displaced families. The explosion was caused by a cache of 2,750 metric tons of ammonium nitrate precariously stored in the port. Some Lebanese have accused Hezbollah of storing weapons at the port, a claim the terrorist organization denies.
"George Kurdahi shocks his audience and stirs controversy," wrote Kamal Khalaf, a Beirut-based correspondent for the Rai Al-Youm online newspaper.
"His statements sparked widespread controversy among social media users in Lebanon, where many people saw his remarks as a coup against the discourse in the Lebanese media."
Kurdahi may have "shocked" his audience by speaking out in favor of peace with Israel and by criticizing the Palestinians and Hezbollah. His words, however, hardly surprised those who read and listen to what many Arabs in the Gulf have been saying about the Palestinians and Hezbollah, as well as peace with Israel.
These Arabs have come out in full support of peace with Israel and have denounced the Palestinians as an "ungrateful" people who, after receiving hundreds of millions of dollars in handouts from the Arab countries, are now spitting in the well from which they have long guzzled, by condemning the Arab states for normalizing their relations with Israel.
These Arabs also have a clear and powerful opinion of Hezbollah: a manipulative and murderous terrorist group that serves as proxy for the mullahs in Iran and poses a real threat not only to Israel, but to Lebanon and other Arab countries as well.
It now remains to be seen whether the Arabs who have come out in support of Kurdahi will increase their numbers -- or whether the voices of the Arab extremists will yet again prevail, drowning out anyone who dares to mention peace with Israel or condemn the Palestinians and Hezbollah for their intransigence and deadly extremism.
Khaled Abu Toameh, an award-winning journalist based in Jerusalem, is a Shillman Journalism Fellow at Gatestone Institute.