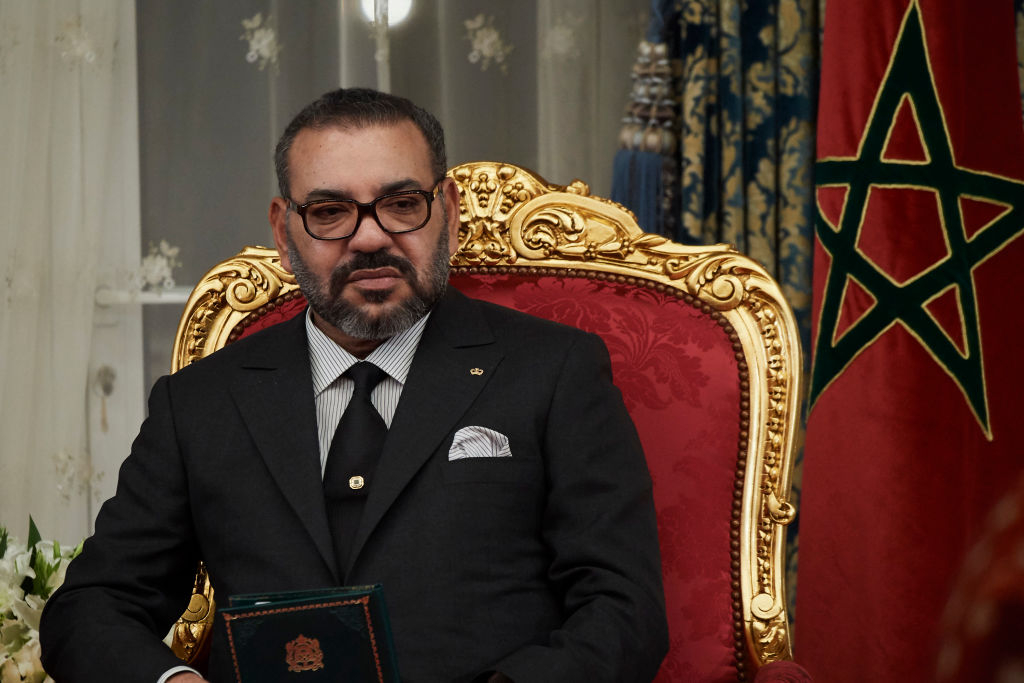 The agreement to normalize relations with Israel, forged by Morocco's King Mohammed VI and the United States, is a feat of great statesmanship -- a firm diplomatic triumph for peace in the Middle East. (Photo by Carlos Alvarez/Getty Images)
In December 2020, Morocco became the fourth Arab-Muslim country -- after the United Arab Emirates, Bahrain and Sudan -- to announce the normalization of relations with Israel, including direct flights from Tel Aviv to Rabat.
The relationship between the two countries has long been rooted the large number of Jews who had lived in Morocco before and after the creation of the State of Israel in 1948. Moroccans who immigrated to Israel in the two decades following its establishment became one of the most important components of the new state's population. Today, they and their descendants comprise nearly one million people, whom Morocco's King Mohammad VI can consider distant supportive sympathizers.
Unlike Algeria and Tunisia, whose successive governments have never considered opening negotiations leading to the recognition of Israel, Morocco, under the aegis of its sovereigns, is the only Arab country whose constitution formally recognizes Judaism as a referent of identity, alongside Muslims and Christians.
Many Moroccans consider both King Mohammad VI and his late father, King Hassan II, as "commanders of the believers", direct descendants of the Prophet of Islam, even before being kings. Royalty in Morocco is divine in nature, meaning that its authority is supreme, recognized, and accepted. The Moroccan people, as a whole, revere their ruler.
This set of facts -- far removed from Algeria's Marxist revolutionary spirit with an Islamist tendency and the purely anti-Zionist tradition of the Tunisian rulers -- has, since the rebirth of Israel, led Morocco to adopt a moderate attitude toward the Jewish state. Mohammed VI, like Hassan II, has long maintained a pragmatic approach, far from a conflict that only indirectly involved his country.
"Israel has always rendered enormous services to the Moroccan kingdom," said Hasni Abidi, director of the Center for Studies and Research on the Arab and Mediterranean World (CERMAM) in Geneva, "and Morocco has also been present when Israel asked for it."
Although officially Morocco claimed to be at war with Israel since 1948, the late King Hassan II, a pragmatic sympathizer, in 1965 "passed recordings to Israel of a key meeting between Arab leaders" from an Arab League conference in Casablanca. The intelligence helped Israel to measure the extent of the danger represented by the war preparations of Egypt, Jordan and Syria. Even before the 1967 "Six Day War," the outcome of which was a debacle for Arab armies, King Hassan II had also developed a relationship of reciprocity with the Israeli intelligence services.
In 1975, the claim to Western Sahara by the Polisario Front -- a political and military organization formed mainly by Sahrawis in Mauritania in 1973, but housed, supported and armed by Algeria ever since -- prompted Morocco to seek secret aid from the Israeli military. The Israelis reportedly helped to reorganize the Royal Moroccan Armed Forces.
During the 1980s, Hassan II tried to break the deadlock over his country's recognition of Israel's right to exist by meeting in 1986 with then-Israeli Prime Minister Shimon Peres, and later, in 2007, by supporting "six decades of secret ties," including an encounter in Paris of both countries' foreign ministers.
That meeting eventually led to the opening in 1994 of Liaison Offices, kinds of discreet embassies, in Tel Aviv and Rabat. More recently, due to the growing threat in the region of an expansionist Iran, Morocco and Israel sought to strengthen their secret ties, possibly in the hope of making them public. In February 2019, both countries participated in the U.S.-led Warsaw Conference on Iran's terrorist threats, an event followed by protests orchestrated by the Muslim Brotherhood. In January 2020, Morocco received three Israeli drones as part of a $48 million arms deal.
Most recently, on December 10, 2020, President Donald Trump announced that Israel and Morocco had agreed to establish full diplomatic relations. "It is not a recognition of Israel," said a senior Moroccan diplomat, "Morocco recognized Israel in 1994."
For King Mohammad VI, the agreement not only amounts to formalizing a secret relationship, the existence of which is favorable to the economy and security of both countries; it can also lead to a deepened cooperation and security throughout the region, especially in the face of Iran's increasingly hegemonic threat.
King Mohammed VI also announced that the United States was recognizing Morocco's claim to the Western Sahara – an area about the size of Great Britain, along the Atlantic, with Morocco at its north and Mauritania at its south -- disputed for more than 30 years by the Polisario Front.
America's recognition, in line with President Trump's diplomatic doctrine aimed at reducing conflicts, had the immediate consequence of announcing the opening of consulates in Dakhla, a major fishing port in Western Sahara, by Congo, Bahrain and Haiti. "This opening embodies a logic of solidarity and defense of Moroccan territorial integrity," said Nasser Bourita, Morocco's Minister of Foreign Affairs and International Cooperation.
Beyond America's recognition, an autonomy plan for Western Sahara under Moroccan sovereignty is taking shape, applauded by U.S. President Donald Trump. "Morocco's serious, credible, and realistic autonomy proposal is the ONLY basis for a just and lasting solution for enduring peace and prosperity!", Trump wrote on Twitter.
This plan, with American aid, provides for an economic revival that should ultimately strengthen relations between Moroccans and the Sahrawis, who had hoped to have the Western Sahara as an independent state.
The peaceful and constructive pragmatism of King Mohammad VI, whose courage has just been expressed once again by the acceptance of this agreement did not, however, elicit only positive reactions.
The Polisario Front protested, followed by Russia. "What the Americans have done is a unilateral decision that totally breaks the boundaries of the international law," said Russian Deputy Foreign Minister Mikhail Bogdanov.
"There are foreign maneuvers aimed at destabilizing Algeria," declared Algerian Prime Minister Abdelaziz Djerad.
The United Nations also rebelled, through its Secretary-General Antonio Guterres. "[T]he Secretary‑General has a position, unchanged, which he believes it... the solution to the question can still be found based on Security Council resolutions," according to Stéphane Dujarric, Spokesman for the Secretary-General. However, as one observer, Sami Gailani, noted, "30 years is long enough to place ballot boxes."
"There is no Sahrawi people as there is a French, American or Moroccan people," stated the political scientist Alexandre Greenberg. "[T]he only institution that claims to represent the Sahrawi people is the Polisario Front, a Marxist guerrilla group armed by Algeria."
Through these agreements, stemming from the Trump doctrine, which redrew the map of an Arab world more united in the face of Iranian threats and Turkish ambitions, a modern myth is shattering -- that of "international law" represented by the false omnipotence of the United Nations. For King Mohammad VI, as for the Israeli government, the unenforceable resolutions of the "thing," as Charles De Gaulle called it, no longer matter.
The agreement forged by His Majesty King Mohammed VI and the United States is a feat of great statesmanship -- a firm diplomatic triumph for peace in the Middle East.
Pierre Rehov, born and raised in North Africa, is a reporter, author and the director of "Hostages of Hatred" and "Silent Exodus", documentary films about Palestinian and Jewish refugees.