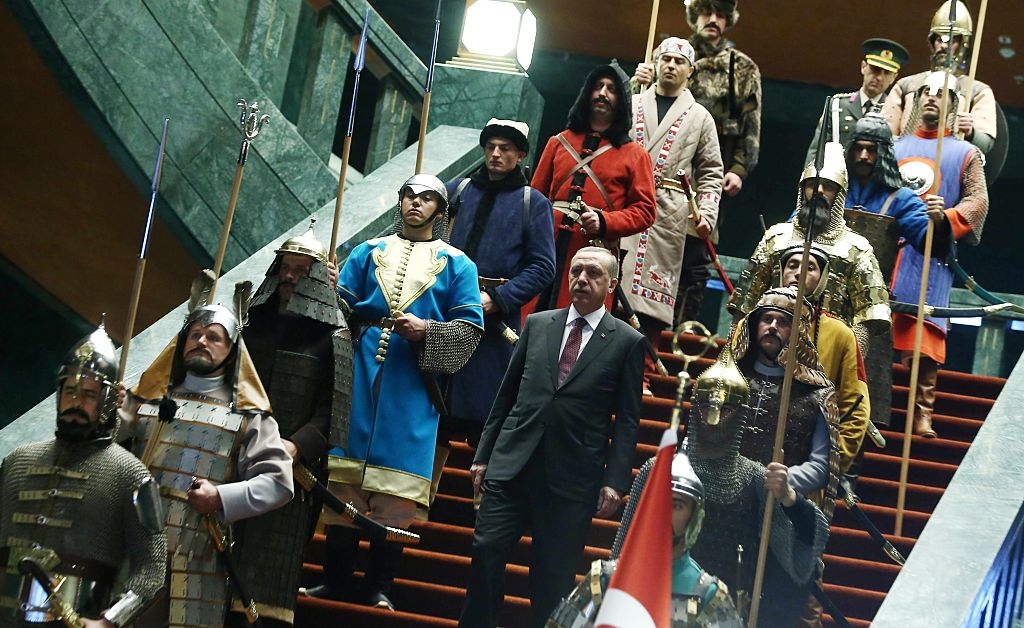 The Turks' political journey toward the West began a century and a half ago, but Turkey now remains as distant from universal democratic values as the Ottoman Empire was at its collapse. Pictured: Turkish President Tayyip Erdogan is surrounded by a ceremonial palace guard in Ankara on January 12, 2015. (Photo by Adem Altan/AFP via Getty Images)
The Turks' political journey toward the West began a century and a half ago, but Turkey now remains as distant from universal democratic values as the Ottoman Empire was at its collapse. The parallels between failed Ottoman and Turkish reforms are worth a look.
During that 150-year period, in addition to building railway systems on imperial soil, systems for registering the population and control over the press were established, along with the first local modern law school in 1898. The most far-reaching reforms occurred in education: many professional schools were established for fields including the law, arts, trades, civil engineering, veterinary medicine, customs, farming and linguistics.
It was Sultan Abdulhamid II who was under Western pressure to reform his ailing empire. On December 23, 1876 the Ottoman constitution was solemnly promulgated with the aim of winning the hearts and minds of the Great Powers of Europe, only to be suspended when external pressure abated, and its author sent to exile. At the beginning of the 20th century, another constitutionalist reformer group, the Committee of Union and Progress, threatened the sultan with a coup d'état, ending Abdulhamid's reign.
Modern Turkey's darkest years came between 1976 and 1980, when a campaign of political violence, wrought by a multitude of far-left and far-right urban guerilla groups, killed more than 5,000 people. That era only came to an end when the military took over the country in a completed coup d'état and the violence subsided. Twenty years later, a militant Islamist, Recep Tayyip Erdoğan, pledged radically to reform Turkish democracy and make it an inseparable part of Europe -- via full membership in the European Union. Two decades after that pledge Turkey's democracy remains as remote from Europe's civil liberties, democratic culture and checks and balances as Abdulhamid's empire was in 1876.
Cornered by the threat of EU sanctions, Erdoğan tactically said in November that "Turkey's future was in Europe" and that "democratic and economic reforms would follow quickly." On January 10, he repeated that Turkey wants to "turn a new page in its relations with the EU in the new year." Turkey claimed that it was once again back at its reform agenda.
Meanwhile, Utku Çakırözer, an opposition member of parliament, said that five journalists were physically attacked in the first 15 days of 2021. "This shameful track record on impunity regarding physical attacks should come to an end," he said.
Three of the attacks were particularly indicative. During the first incident, Selçuk Özdağ, deputy chairman of an opposition party, Future, was attacked by a gang of five men in front of his home. The attackers were armed and used sticks to hit Özdağ on the head. He was rushed to an emergency room for surgery. "This is political terror," said Future's chairman and former prime minister Ahmet Davutoğlu. Apparently, Özdağ had angered supporters of Erdoğan's ultra-nationalist coalition partner, MHP. An MHP official "congratulated" the attackers.
Ultra-nationalists also attacked journalist Orhan Uğuroğlu and television anchorman Afşin Hatipoğlu, whose anti-Erdoğan reporting had angered MHP loyalists. In his column on January 13, Uguroğlu had interviewed Future's Özdağ.
Ankara's police directorate tweeted that three suspects in the attack had been taken into custody, and that the police were searching for a fourth. Before the fourth attacker was caught, the others were released. The police were hardly convincing, given the Erdoğan government's track record of totally failing to punish crimes against his opponents.
In a Februry 2020 report, the Committee to Protect Journalists (CPJ) said that the violence comes after years of authorities harassing and jailing journalists who are critical of the ruling party or its political allies. The CPJ noted:
"While no clear motive has been established in the attacks last year, local journalist associations have speculated that the general climate of hostility has made journalism riskier. In May, local journalist unions told the Turkish service of the BBC the violence was in part due to a climate of impunity, with authorities not effectively investigating violence and the government targeting journalists and not publicly condemning attacks."
After recounting recent examples of how Turkish courts unconstitutionally refused to comply with rulings handed down by supreme courts such as the Turkish Constitutional Court and the European Court of Human Rights (ECtHR), columnist Mehmet Ocaktan wrote: "If this is your understanding of reforming... there is nothing more to say." His column's sarcastic title was "We are begging you; do not reform!" -- as all of that repression and violence are happening after Erdogan pledged democratic reforms, do not reform, do not make things worse.
A December 29 report from Expression Interrupted gloomily noted:
"Of all 47 members of the Council of Europe, Turkey has the most violations of freedom of expression under Article 10 of the Convention. Of the 845 judgments ECtHR delivered between 1959 and 2019, 356 were against Turkey — almost five times as many as against the distant runner-up, Russia."
It went on to note: "Turkey also tops the list of rights violations pertaining to all articles of the constitution. "Between 1959 and 2019, 3,645 of the 22,535 judgments delivered by the Court were against Turkey, making it the country against which the ECtHR has delivered the most judgments." Out of 5,231 cases currently pending execution by signatory parties, 689 of them are against Turkey."
A century and a half after Ottoman efforts to reform and more than 15 years since EU accession talks began, Turkey is further away from joining the rich club than ever.
Burak Bekdil, one of Turkey's leading journalists, was recently fired from the country's most noted newspaper after 29 years, for writing in Gatestone what is taking place in Turkey. He is a Fellow at the Middle East Forum.