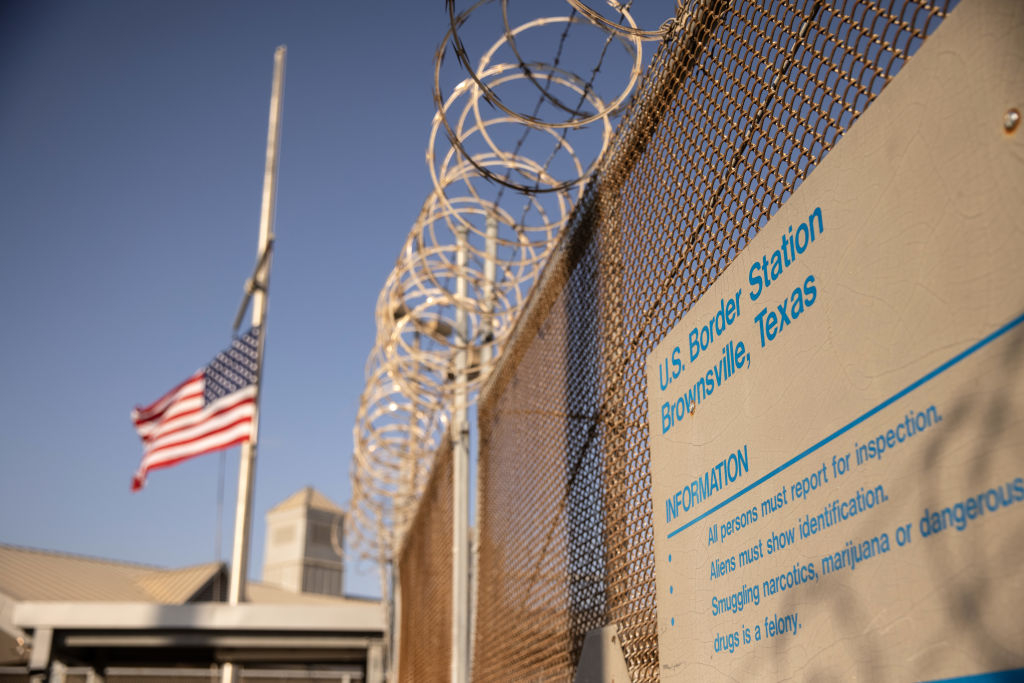 President Joe Biden has reversed and cancelled the national emergency declared by President Donald Trump concerning the border security, humanitarian and COVID-19 crisis at the southern border of the United States. Pictured: The US Border Station at Brownsville, Texas, on the border with Mexico, on February 24, 2021. (Photo by John Moore/Getty Images)
President Joe Biden has reversed and cancelled the national emergency declared by President Donald Trump concerning the border security, humanitarian and COVID-19 crisis at the southern border of the United States. Nothing to see here. Move along.
In fact, on his very first day in office, Biden terminated that emergency, which he said had been a mistake from the get-go. Ironically, Biden has re-opened the exact same Texas facility the Trump administration used in order to detain the overflow of illegal aliens at the border. Representative Alexandria Ocasio-Cortez has criticized Biden the same way she criticized Trump. At least she is consistent. Perhaps you remember the claims of children in cages and drinking from toilets? That must have all been a terrible misunderstanding.
Biden wrote in his February 10 Presidential Communication:
"I have determined that the declaration of a national emergency at our southern border was unwarranted. I have also announced that it shall be the policy of my Administration that no more American taxpayer dollars be diverted to construct a border wall, and that I am directing a careful review of all resources appropriated or redirected to that end."
Now that Biden has things all straightened out along the Mexican border, you will clearly understand the grave national threat to our existence as a republic posed by Burma. Burma?
Yes, Burma. Biden declared a new national emergency based on the February 1 military coup in Burma. The situation in that country poses an "unusual and extraordinary threat to the national security and foreign policy of the United States," according to Biden.
Having tackled Burma, Biden was keen to renew the 2011 declaration of national emergency concerning Libya. "We need to protect against the diversion of assets or other abuse by persons hindering Libyan national reconciliation," he wrote on February 11. Remember: with Mexico, everything -- cartels, "coyotes," smugglers, drugs, traffickers, sexual violence -- is A-OK. Mexico = good. Libya = bad.
None of this "national emergency" stuff is new, of course. In fact, there are 38 "national emergencies" currently in effect, according to a recently updated report from the Congressional Research Service (CRS) on all of our assorted emergencies.
The CRS report is worth reading to understand the history, law and practice of precisely what a "national emergency" means. They describe the president's powers, Congressional oversight and the law governing what can and cannot be done. Often, the emergency is declared as a means of blocking targeted persons and governments from moving money, contraband, and/or property.
Most Americans probably have no idea that the United States is in the midst of ongoing "national emergencies" over matters in Nicaragua, Burundi, or the Central African Republic -- but we are.
We are increasingly being subject to rule-by-decree. The Biden administration has issued 41 Executive Orders. That is more than any other president -- ever. Then there are the "emergencies" we have discussed above. Some are obscure and arcane. Others are profound and result in huge shifts in national policy that bear heavily on our security, economy and -- especially -- public health. However, the health issue on the border is largely ignored by the mainstream news media and the social media giants manipulating the public's news feed.
Rule-by-decree is not a matter of policy "tweaks" or administrative rule changes. Biden just declared that the decades-long crisis on the Mexican border is not a problem. No debate, no vote, no ratification -- just the stroke of a pen. Who objected? Any protests or marches? If organizations were to protest or march, would they be called "white supremacists" or "insurrectionists?"
If you are against a Biden policy, does that mean you are against the government? Does that make you suspect in some way? How many Americans are worried about that?
A new administration and a record number of new executive orders. Some "emergency" decrees dropped down the Memory Hole, others manufactured, seemingly, from thin air. All of these developments require our close consideration and careful tracking.
Chris Farrell is a former counterintelligence case officer. For the past 20 years, he has served as the Director of Investigations & Research for Judicial Watch. The views expressed are the author's alone, and not necessarily those of Judicial Watch.