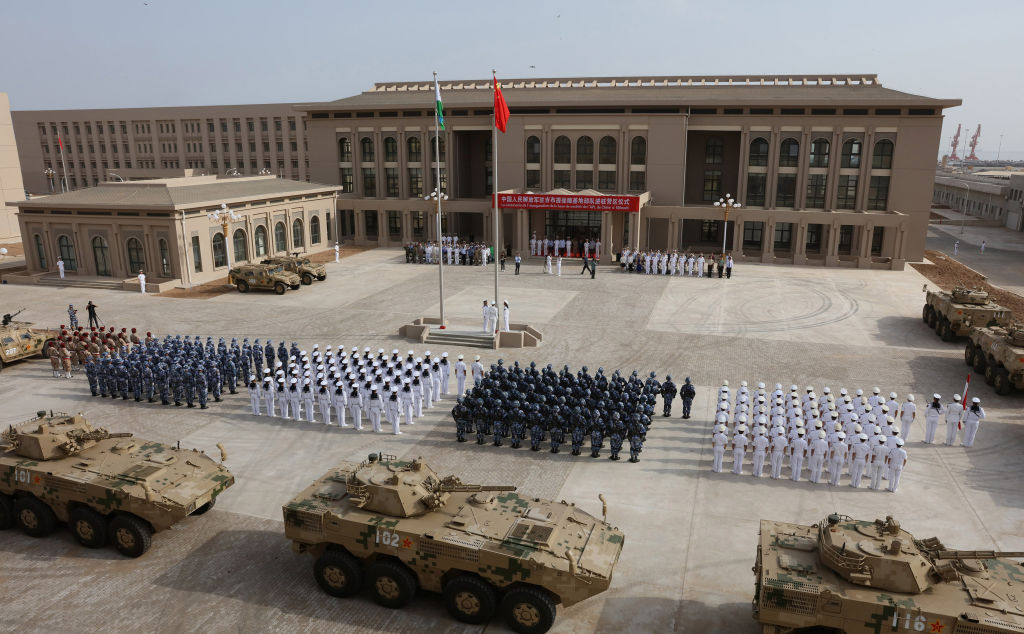 One particularly aggressive and obvious indicator of Chinese hostile military intent occurred in the East African country of Djibouti, where both the U.S. and China have military facilities. Two U.S. Air Force pilots flying a C-130 transport sustained injuries from a laser originating in the Chinese People's Liberation Army Support Base at the Port of Doraleh. Pictured: Soldiers of the Chinese PLA at the opening ceremony of China's military base in Djibouti, on August 1, 2017. (Photo by STR/AFP via Getty Images)
China's pattern of hostile acts against U.S. interests seems indicative of a deep-seated antipathy for American values, including its democratic form of government, rule of law, and respect for human rights. While the U.S. and China could, theoretically, cooperate on areas of common interest, the enduring norm seems to have been, at least on China's part, one of fierce confrontation, similar to the Cold War with the Soviet Union.
China has been waging an asymmetric war against the U.S. for years. One frequent weapon against used by China against U.S. interests is the cyber attack. The People's Liberation Army (PLA) possesses a sophisticated and predatory cyber infrastructure consisting of several distinct sections of the General Staff.[1] One attack orchestrated by China on the U.S. involved hacking into terminals which contained digital personnel records of millions U.S. federal employees. China's hacking operations, however, are usually not disruptive, as opposed to Russian, Iranian and North Korean attacks. The clear objective of Chinese cyber assaults has been the theft of intellectual property and trade secrets. Mike Rogers former Director of the U.S. National Security Agency, has delineated China's thieving attacks to have been collection missions covering most of the key sectors of the U.S. economy.
Several PLA officers as early as 2014 boasted in a military doctrine periodical that China will win the "Cyber Network War" against the U.S.[2] The scope of China's cyber offensive against America is massive, frequent, and comprehensive, covering the entire spectrum of critical technologies. China acknowledges the existence of a PLA cyber warfare unit, entitled "The Science of Military Strategy." One source suggests that this unit may employ as many as 100,000 personnel.
China, as early as 2006, carried out laser attacks against U.S. imaging satellites during passes over China. The Chinese military has lasered U.S. naval personnel on ships in Chinese-claimed waters in the South China Sea. These aggressions by China also have occurred when U.S. assets were operating near the Japanese-owned but Chinese-claimed Senkaku Islands (called "Diaoyu Islands" by China).
One particularly aggressive and obvious indicator of Chinese hostile military intent occurred in the East African country of Djibouti, where both the U.S. and China have military facilities. After a U.S. C-130 transport took off from Camp Lemonier in early June 2018, both American pilots sustained injuries from a laser originating in the Chinese People's Liberation Army Support Base at the Port of Doraleh. The Chinese attack prompted the Federal Aviation Administration to issue an official "Notice to Airmen" warning all pilots in the region. These assaults are occurring despite the fact that China is a signatory of the 1995 Protocol on Blinding Laser Weapons. One 2013 PLA publication laid out China's plans to deploy space-based laser weapons systems.[3] China claims that it has developed four different military and portable lasers,. One of the hand-held models is designed to be employed against, presumably, U.S. drones.[4]
The most blatant example of China's hostility toward the United States is the dangerous, irresponsible and aggressive actions of Chinese naval and air assets in and above the South and East China Seas. There has been a pattern of such incidents dating back to at least 2001, when a Chinese fighter jet and a U.S. surveillance aircraft collided over the East China Sea, killing one of the Chinese pilots. One incident occurred in August 2014, when a Chinese fighter jet intercepted an U.S. P8 surveillance aircraft off southeastern China's coast. The Chinese jet performed a complete rollover of the U.S. aircraft, coming within 20 feet of the P8. Another close encounter occurred in May 2017, when two Chinese SU-30 fighter jets approached dangerously near an U.S. WC-130 surveillance aircraft.
China began an effort to intimidate America's Southeast Asian allies as early as 2010. One by one, regional states such as Indonesia, Vietnam and the Philippines were subject to similar Chinese bullying tactics. China has established a pattern of bilateral confrontation with each of these states in an attempt to isolate and thus get them to cave in to Beijing's pressure. China's ultimate objective, by employing these bullying tactics, is to diminish U.S. influence in Mainland and Archipelago Southeast Asia, forcing the American air and naval assets out of the Western Pacific. So far China has had only made limited progress toward this goal.
When China's Foreign Ministry recently challenged Indonesia's claim that the sea near the island of Nantua is within Indonesia's traditional fishing waters, anti-China sentiment in Indonesia rose to a fever pitch. Indonesia, in response to the Chinese warning, now has named a portion of the southwestern region of the South China Sea the "North Nantua Sea."
Neither does Vietnam, which disputes China's claim to the Paracel Island chain in the South China Sea, appear to be intimidated by Beijing. Hanoi boldly seized the diplomatic initiative by calling upon the Association of Southeast Asian Nations (ASEAN) member states to agree to a resolution declaring illegal any future Chinese construction of artificial islands, establishment of naval blockades and deployment of offensive weapons systems in the South China Sea.
Vietnam's resistance to Chinese military pressure is in marked contrast to how the Philippines is responding to China's power play in East Asian waters. Philippine President Rodrigo Duterte, fearing conflict with China, has notified the United States that Manila is considering canceling its agreement with the U.S. that permits visits by American military ships and aircraft to the archipelago country's ports and airfields. This development follows China's virtual occupation of Philippine's isle of Thitu and its nearby Subi Reef last April, when approximately 200 Chinese fishing boats flooded the area.
The most ominous display of raw Chinese military power took place during a military exercise near Taiwan in mid-February. China's Eastern Military Command dispatched ships as well as bombers and fighter aircraft through the Miyako Strait near the Japanese Ryukyu Islands, which is the egress route to the Western Pacific Ocean. Upon their return to China, the bombers circled around Taiwan. This was a clear message from Beijing to Washington and Taipei that China, which considers Taiwan to be part of China, will use military force to prevent the island from formally declaring its independence.
If there was one act that most clearly characterizes China's ill-intent towards the U.S., it was an event which took place high above the earth on the morning of January 11, 2007. It was a "Sputnik" moment that sent shock waves throughout the Pentagon's five rings and ten corridors. China successfully deployed an anti-satellite weapon, its SC-19 missile, destroying a defunct Chinese weather satellite 22,000 miles above the earth. This Chinese test was clearly a signal to the U.S. that China had the capability to knock out American surveillance and early warning satellites. China's ambitious space effort includes few cooperative programs with other nations and appears to be primarily military in nature. The Trump administration, recognizing this Chinese challenge to U.S primacy in space, established a new branch of the armed forces, the U.S. Space Force.
This pattern of offensive activities by China is not just an indicator of ill-intent against the Free World, but a sign of self-confidence by China's Communist Party and military leadership that the balance of power is irrevocably shifting in China's favor. This aggressive posture may suggest that China believes its own myths, such as that the 21st century will see China emerge as the premier world power, as foretold in Liu Ming Fu's The China Dream. [5] Other similar writings by Chinese nationalist military and civilian theorists suggest that with the applications of "lessons learned" from China's ancient history would prove effective against the U.S. One such historical record is the nine-volume set Strategic Lessons from China's Ancient Past, which covers China's "Warring States Period," (c.480-400 BC). These works are not merely doctrinal documents that sustain Beijing's ambition to overcome the Free World's military advantage; they form the blueprint of a new world order led by China.
Dr. Lawrence A. Franklin was the Iran Desk Officer for Secretary of Defense Rumsfeld. He also served on active duty with the U.S. Army and as a Colonel in the Air Force Reserve.
---
[1] Deceiving The Sky: Inside Communist China's Drive for Global Supremacy" by Bill Gertz. Encounter Books: New York, 2019. P.65.
[2] Ibid P.65.
[3] Ibid PP.60-61.
[4] Ibid P.185.
[5] "The China Dream by Liu Ming FU. CN Times Books: New York, 2015. P.15.