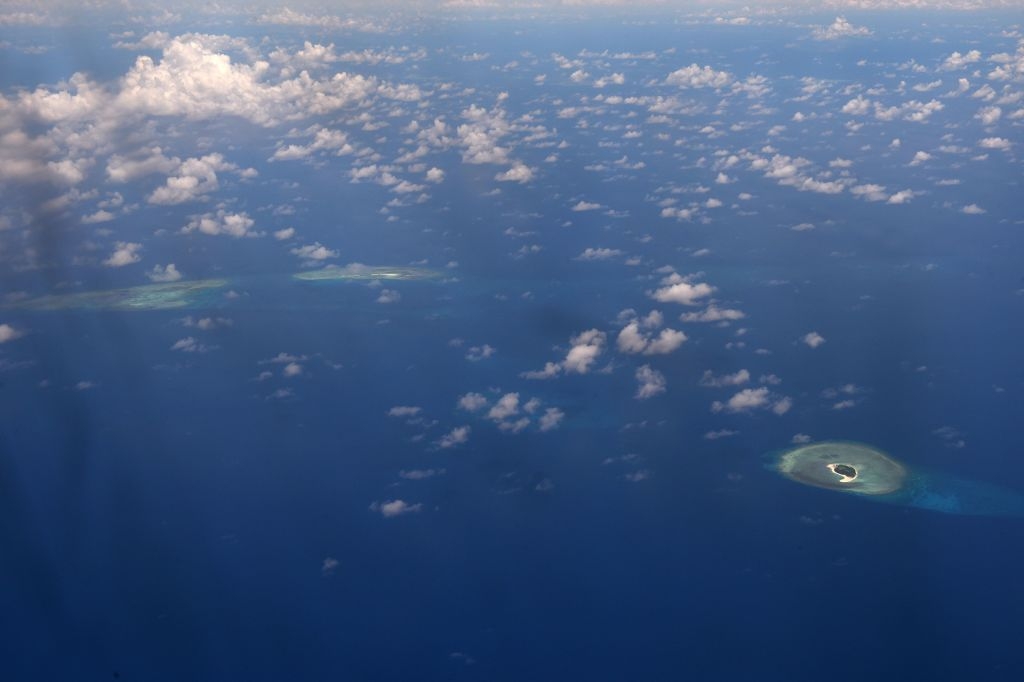 About 220 Chinese fishing vessels, almost certainly part of China's maritime militia, are now crowding around Whitsun Reef in the Spratly chain in the South China Sea in another attempt to break apart the Philippines. Pictured: An aerial view of part of the Spratly chain, on April 21, 2017. (Photo by Ted Aljibe/AFP via Getty Images)
About 220 Chinese fishing vessels, almost certainly part of China's maritime militia, are now crowding around Whitsun Reef in the Spratly chain in the South China Sea in another attempt to break apart the Philippines.
Whitsun is where the United States and the region should confront an increasingly expansionist China. The failure of the Obama administration to defend the Philippines in early 2012, in a confrontation similar to today's, emboldened China's regime to adopt an even more aggressive posture in its peripheral waters.
Whitsun Reef is inside China's infamous nine-dash line. The line on official maps defines an area informally known as the "cow's tongue," which includes about 85 percent of the South China Sea. Beijing maintains it has sovereignty over every feature there, including Whitsun, which Beijing has named Niue Jiao.
China claims all the waters inside the dashes are sovereign as well, terming them "blue national soil." There is no legal basis for an assertion of sovereignty of this sort.
Whitsun, which Manila calls Julian Felipe Reef, is 175 nautical miles from Palawan, an island of the Philippines. The feature is within the Philippine "exclusive economic zone" (EEZ), the band of international water 12 to 200 nautical miles from a country's shoreline.
Since December, large Chinese trawlers have lashed themselves together and parked in formations near Whitsun. Vessels come and go, but the numbers have gone up over time. They have not been engaged in fishing.
Beijing says the boats near Whitsun are sheltering from the weather, but they have not left in periods of sunny skies and calm seas.
Near Whitsun, retired U.S. Navy Capt. James Fanell tells Gatestone, China is building "two concentric rings of new artificial island bases." The outer ring is defined by Fiery Cross, Subi, and Mischief Reefs. The inside one is defined by Gaven, Johnson, and Hughes Reefs. Whitsun, 10 nautical miles east of Hughes Reef, is inside China's South China Sea fortress.
Beijing is employing the "Scarborough Model," says Fanell, a former director of Intelligence and Information Operations at the U.S. Pacific Fleet. President Biden should be no stranger to Scarborough Shoal, also inside the "cow's tongue."
Chinese vessels swarmed Scarborough after the Philippines detained Chinese poachers in early 2012. The shoal, just rocks above the high-tide waterline, is strategic because it guards the approaches to Manila and Subic Bays. It is only 124 nautical miles from the main Philippine island of Luzon and about 550 nautical miles from China's Hainan Island.
That spring, Washington brokered an agreement for both sides to withdraw their craft, but only Manila complied. Beijing has been in firm control of Scarborough Shoal ever since.
The Obama administration, despite the brazen Chinese seizure, decided not to enforce the agreement it had just arranged. As a "senior U.S. military official" told the Washington Post at the time, "I don't think that we'd allow the U.S. to get dragged into a conflict over fish or over a rock."
More than fish and rocks, however, were at stake. As an initial matter, the Philippine establishment was justifiably unnerved by the Obama administration's failure to declare that the U.S.-Philippines mutual defense treaty covered Scarborough. When Rodrigo Duterte took office as president in 2016, relations between the two allies turned sour. Duterte, due to the feeble U.S. response, had good reason to indulge his anti-Americanism and cozy up to Beijing.
Worse, by doing nothing to hold China accountable for deception and aggression at Scarborough, Washington empowered the most belligerent elements in the Chinese political system by showing everybody else in Beijing that aggression worked.
Within months of taking Scarborough, Beijing rapidly stepped up incursions around the Senkaku Islands in the East China Sea. The Senkakus are claimed by Beijing but under the control of Japan. Moreover, Chinese vessels have continued pressure in the South China Sea, especially at Second Thomas Shoal, also thought to be part of the Philippines, as well as other Philippine-controlled features.
Furthermore, Beijing began to turn features near Whitsun into military outposts, building China's "great wall of sand."
In short, China after Scarborough went out and made the problem for the Obama administration—and the region—bigger.
"Many on the Biden team failed to act in 2012," Fanell noted. "They now have a very rare opportunity to get another chance to do the right thing. Let's hope they will."
Chinese Communist Party General Secretary Xi Jinping is counting Biden will not. In any event, Xi will never be satisfied. During his rule, Beijing has demanded even more territory from South China Sea neighbors, and that has led to his increasingly belligerent actions in waters surrounding China.
Is this the seizure of the Sudetenland in slow motion?
James Holmes, who holds the J. C. Wylie Chair of Maritime Strategy at the U.S. Naval War College, told Gatestone that China's current actions at Whitsun are "an offensive that looks like conquest by increments." Fanell maintains that not opposing China's actions at Whitsun will soon put both Taiwan and the Senkakus at risk.
The lesson of Scarborough Shoal, like that of the 1938 Munich Pact, is that agreements with aggressors do not work. Aggressors do not stop until they are stopped.
America failed at Scarborough in 2012, and Xi must now be thinking it will fail again at Whitsun. As Holmes says, "The pattern is clear."
Gordon G. Chang is the author of The Coming Collapse of China, a Gatestone Institute distinguished senior fellow, and a member of its Advisory Board.