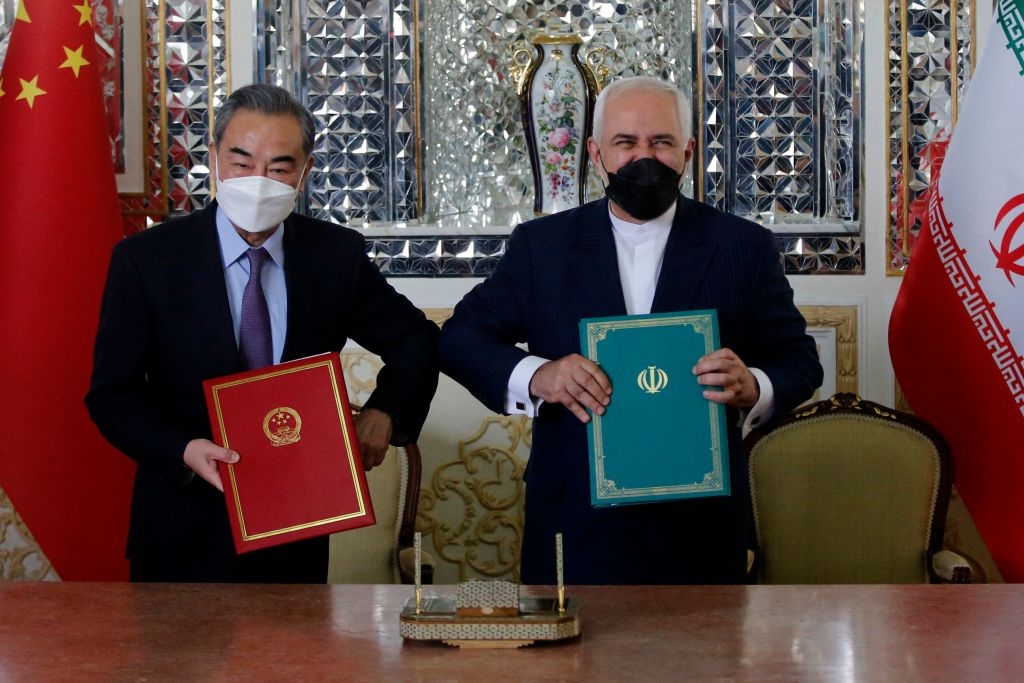 Pictured: Iran's Foreign Minister Mohammad Javad Zarif (right) and China's Foreign Minister Wang Yi at the signing of the China-Iran comprehensive strategic 25-year partnership agreement on economic and security cooperation, in Tehran, Iran on March 27, 2021. (Photo by AFP via Getty Images)
On March 27, China and Iran signed a comprehensive strategic 25-year partnership agreement on economic and security cooperation. The agreement was signed in Tehran, where China's Foreign Minister Wang Yi was visiting as part of his tour of the Middle East.
Details of the agreement were not immediately published. The Iranian Foreign Ministry communicated that it was a "roadmap for cooperation" and that no "contracts" were included in it. "Prospects for cooperation, whether economic, political, cultural or strategic, have not been quantified, therefore it does not include numbers on investment or financial and monetary resources," a statement of the Iranian Foreign Ministry reported.
The agreement has been underway for five years, ever since Chinese President Xi Jinping visited Iran in January 2016, when establishing a "comprehensive strategic partnership" was agreed. At that meeting, according to China's Ministry of Foreign Affairs, "Xi Jinping stressed that China will enhance all-round practical cooperation with Iran within the 'Belt and Road' framework". At the time, the two countries also signed a Memorandum of Understanding "on jointly advancing construction of the Silk Road Economic Belt and the 21st Century Maritime Silk Road" as well as "multiple bilateral cooperation documents covering energy, production capacity, finance, investment, communications, culture, justice, science, technology, news, customs, climate change and human resources". China and Iran also agreed then to "strengthen exchanges between think-tanks, colleges and universities and youths, [and] jointly ensure the successful operation of the Confucius Institutes" to "tell China's story well" and shape the narrative about China in Iran.
According to a leaked draft of the comprehensive strategic partnership agreement, circulated last year, Iran will receive $400 billion dollars in Chinese investments over the next 25 years in key Iranian economic sectors, including energy, telecommunications, defense, infrastructure, banking, petrochemicals, railways and ports. According to the leaked draft, there will be also an expansion of military assistance, training and intelligence-sharing. Nearly 100 projects are cited in the draft. In return, Iran will commit to providing regular and heavily discounted oil, gas and possibly other natural resources to China. China, as the world's top importer of both oil and gas, is obsessive about energy security for its growing economy.
The agreement reportedly also formalizes the Belt and Road Initiative (BRI) in Iran. Iran participates in China's so-called Digital Silk Road, the Silk Road of Innovation and the "Green" Silk Road. The Digital Silk Road represents the Chinese Communist Party's (CCP's) ambition, among other things, to shape the course of 5G technology in the world, whereas the Silk Road of Innovation is about technology transfers. The "Green" Silk Road is about transitioning to renewable energy sources. "China is the largest foreign investor in the... Middle East region", according to Dr. Mordechai Chaziz, author of China's Middle East Diplomacy: The Belt and Road Strategic Partnership.
"Strategically, the BRI is how China is seeking to collapse Western-American dominance in the region peacefully. The connection between the BRI and the strategic partnerships it creates in the region... allows it to gradually take over the region without creating tensions with the U.S. or the West. In other words, the BRI is a sophisticated Chinese plan to transfer hegemony from the West and the U.S. to China without war or conflict".
The question is why, after five years, the two countries decided to sign the agreement now. Last year, Iran rejected media reports that talks about the recently signed comprehensive agreement were suspended until the outcome of the US presidential election. However, the timing seems hardly a coincidence, but rather an outcome of the Biden administration's appeasing overtures to Iran with its formal offer of restarting nuclear talks. The signing of the agreement itself can be seen as a Chinese-Iranian act of defiance against the US, undercutting sanctions against Iran by supplying the regime with an economic lifeline, while showing China off as an active global power that is able and willing to stand up to the US. The more so, as the signing came just one week after the Chinese foreign minister's unprecedented lecturing of his US counterpart at their March 19 meeting in Alaska.
The signing of the agreement comes at a time when China is already defying US sanctions on Iran in other ways -- such as by reportedly importing record volumes of crude oil. "Iran moved about 17.8 million tonnes (306,000 barrels per day) of crude into China during the past 14 months, with volumes reaching record levels in January and February" Reuters reported. In March, according to some estimates, China has been taking in some 856,000 barrels per day of Iranian crude oil, a 129% surge compared to February.
"If it sells 1 million barrels a day at current prices, Iran has no incentive to negotiate," said Sara Vakhshouri, an expert on Iran's oil industry. "The informal Chinese purchases" one U.S. official said, "have reduced the need [for Tehran] to negotiate on oil sanctions", the Wall Street Journal noted.
As China is Iran's largest trading partner, the agreement, in addition to providing Iran with modern technology, would help its economy to grow. China, among other countries, helped Iran with its nuclear development several decades ago and has been regularly championing a return to the Iran nuclear deal or the JCPOA. For China, Iran is a welcome counterbalance to US influence in the region, as the only large regional power that is not aligned with the US, in addition to having enormous oil and natural gas resources and providing a large market of more than 80 million citizens for Chinese goods. The two countries, despite their marked ideological differences, share an authoritarian, anti-Western outlook, making each attractive to the other. According to a recent report by risk consultancy firm Verisk Maplecroft:
"China is pivoting towards more autocratic regimes that represent greater stability for its supply lines than democracies that are, or may become, hostile to Beijing".
China has even helped Iran crack down on dissidents by exporting its digital authoritarianism in the form of surveillance equipment.
How much of a lifeline the Chinese will ultimately be able to give the Iranians -- and the extent to which they will be able to chip away at US leverage over Iran in the process -- now depends on how the US responds to the comprehensive agreement. The Biden administration still seems intent on pursuing a strategy of accommodating Iran. According to the Wall Street Journal, "A senior Biden administration official said the U.S. is open to taking a step that would relax sanctions even before meeting Iranian officials".
"We've made clear that withdrawing from the JCPOA was a mistake, that maximum pressure was a failure," the official said. "But this needs to be part of a process in which Iran also takes steps to reverse its nuclear decisions."
John Richardson is a researcher based in the United States.