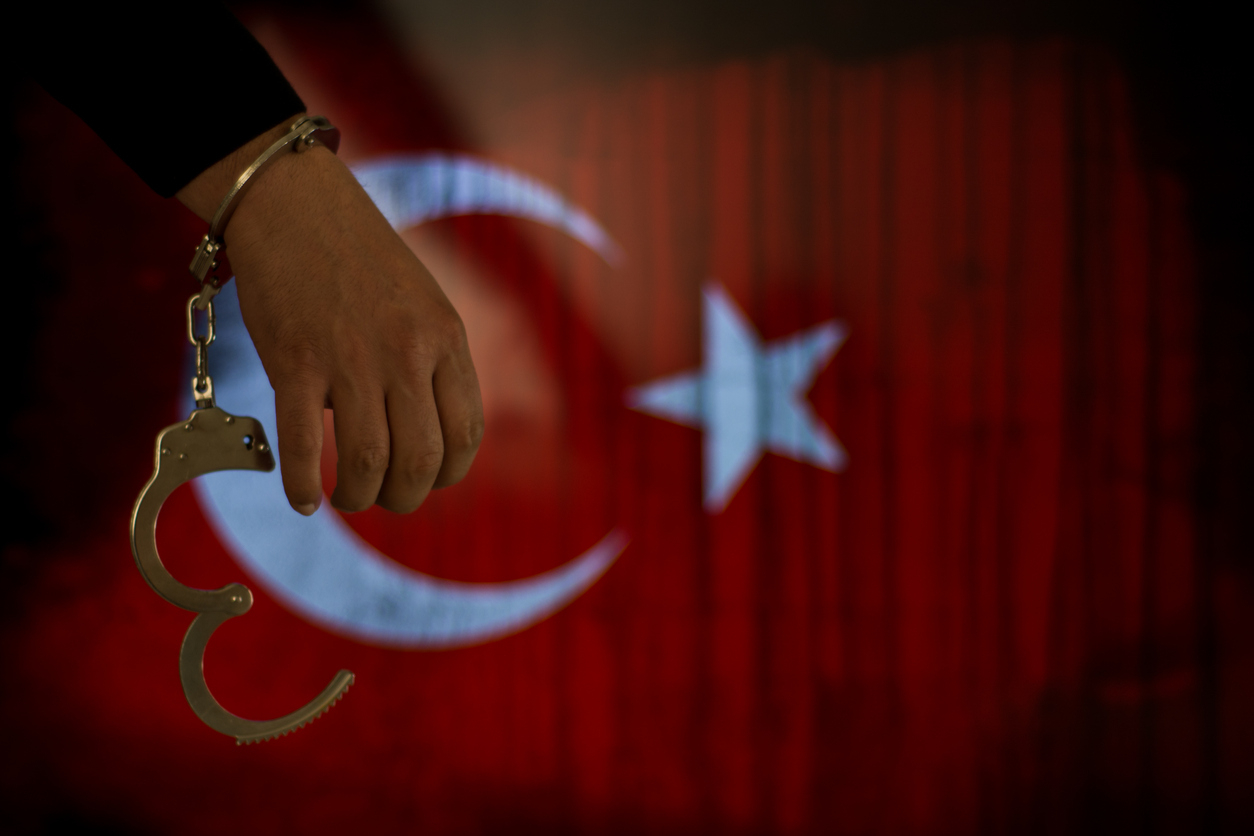 (Image source: iStock)
An Iranian Kurdish political refugee, Afshin Sohrabzadeh, 31, who suffers from cancer and lives in Turkey, has been held in administrative detention for deportation -- for allegedly "threatening Turkey's security". He is currently being held in a removal center, and, if returned to Iran, he may well face the death penalty.
Sohrabzadeh, a political activist, was arrested and jailed in Iran in 2010, His lawyer, Mahmut Kacan, told Gatestone:
"Sohrabzadeh was arrested by Iranian authorities for joining demonstrations protesting the controversial 2009 Iranian presidential elections in which Mahmoud Ahmadinejad won. Sohrabzadeh was then charged with being a member of the Kurdish Komala organization, with being 'an enemy of Allah' and with 'threatening Iranian national security.'"
While serving his 25-year prison sentence, his health deteriorated; eventually he was diagnosed with cancer. Much of the deterioration in his health, according to Amnesty International, was directly related to the conditions of his detention. In 2016, the organization announced an "urgent action" plan "calling on the Iranian authorities to ensure that Sohrabzadeh is immediately provided with the specialized medical treatment he requires, outside prison and free of charge, in line with international standards." Amnesty continued:
"Sohrabzadeh was arrested on 8 June 2010, and held incommunicado for several weeks in a Ministry of Intelligence detention centre in Kamyaran, Kurdistan Province, where he said he was tortured: this included severe beatings that apparently fractured his nose and led to a hernia of the abdomen. In addition to his gastrointestinal illness, he is also believed to suffer from respiratory, renal and urinary tract health problems, which he says were caused by his torture, and have worsened due to conditions in prison."
On May 30, 2016, the Human Rights Activists News Agency reported:
"Afshin Sohrab Zadeh, exiled political prisoner in Minab prison, who suffers from cancer, following deterioration of his condition collapsed while vomiting blood. He was transferred urgently to the medical centre outside the prison and after couple of hours was returned to prison while he was still unconscious. Mr. Sohrab Zadeh had been unconscious for 17 hours after his condition had deteriorated."
When the Iranian regime finally let Sohrabzadeh receive medical treatment outside of prison the same year, 2016, he fled to Turkey and applied for refugee status. This was granted by the UN High Commissioner for Refugees (UNHCR) about a year later. His wife eventually joined him; they now have a 2-year-old child.
Refugees recognized by the UN in Turkey are required to stay in only one city. To travel to another city inside Turkey, they need to receive "travel permission" from immigration authorities.
Since entering Turkey in 2016, Sohrabzadeh has lived in the city of Eskisehir. On April 5, he visited the Eskisehir Immigration Office to get permission to visit a friend in Ankara. Instead, he was held in administrative detention and a decision was made by the authorities to deport him back to Iran. He was first taken to the removal center in the city of Kayseri, then to the city of Mugla, where apparently he is to remain until his deportation.
"We opened lawsuits to protect Sohrabzadeh's refugee and human rights," Kacan said.
"One lawsuit we launched requested his release from the removal center but has been rejected. The other two lawsuits – one to cancel the decision of the deportation and another to cancel the false accusation that he 'threatens Turkish security' – are ongoing. According to the laws of this country, Turkish authorities have to wait for the rulings for these cases before they deport Sohrabzadeh. If these two courts make a judgment against him, we will then lodge an appeal with the Constitutional Court.

"Another option that will save Sohrabzadeh is that the UNCHR will step in and announce that he will be resettled in a third and safe country – other than Turkey or Iran."
Sohrabzadeh is accused by the Iranian regime of "being a member of a terrorist organization", "waging war against God" (otherwise known as Moharebeh), and "creating disruption against national security." These offences are punishable by death or imprisonment, usually for life, which means that if Sohrabzadeh is deported, he could be executed.
The situation of other Iranian political refugees in Turkey is also alarming, according to an April 30, 2020 report from Reporters Without Borders . "Twelve Iranian journalists and citizen-journalists who fled Iran to escape violence and arbitrary arrest and imprisonment are currently in an extremely difficult situation in Turkey."
"As Turkey neighbours Iran, these refugees and their families continue to be exposed to the possibility of persecution by the Iranian intelligence agencies. At the same time, the Turkish immigration services are extremely reluctant to provide them with the administrative cooperation they need to complete their applications for asylum and resettlement in safer countries."
Other Iranian refugees in Turkey also face deportation. Turkish media reported on April 11 that a lawsuit was filed against the deportation decision towards four Iranian refugees. The decision was made because of the refugees' participation in demonstrations that protested the Turkish government's withdrawal from the Istanbul Convention that protects women's rights. The refugees stated that their lives will be in danger if they are deported to Iran. According to Turkey, the deportation decision was based on the allegation that they were "disturbing public order." They are being kept under administrative detention at the Aydın Removal Center and their lawyer filed a lawsuit with the Denizli Administrative Court to stop the deportations.
Turkey is bound by international law not to deport UN-recognized refugees, Kacan, the lawyer, told Gatestone:
"Sohrabzadeh is a UN-recognized refugee and he is under international protection. If Turkey deports him, it will violate the 1951 UN Convention and Protocol Relating to the Status of Refugees, of which Turkey is a signatory. But as Turkey currently has very little legal certainty or predictability, we think that Sohrabzadeh could be deported before the Turkish courts make a judgement."
Sohrabzadeh and other similar cases demonstrate an escalating trend in Turkey that endangers the safety of political refugees. The UNCHR, the international media, and all human rights groups need to work to save Sohrabzadeh from arrest, torture and virtually certain death in Iran.
Uzay Bulut, a Turkish journalist, is a Distinguished Senior Fellow at the Gatestone Institute.