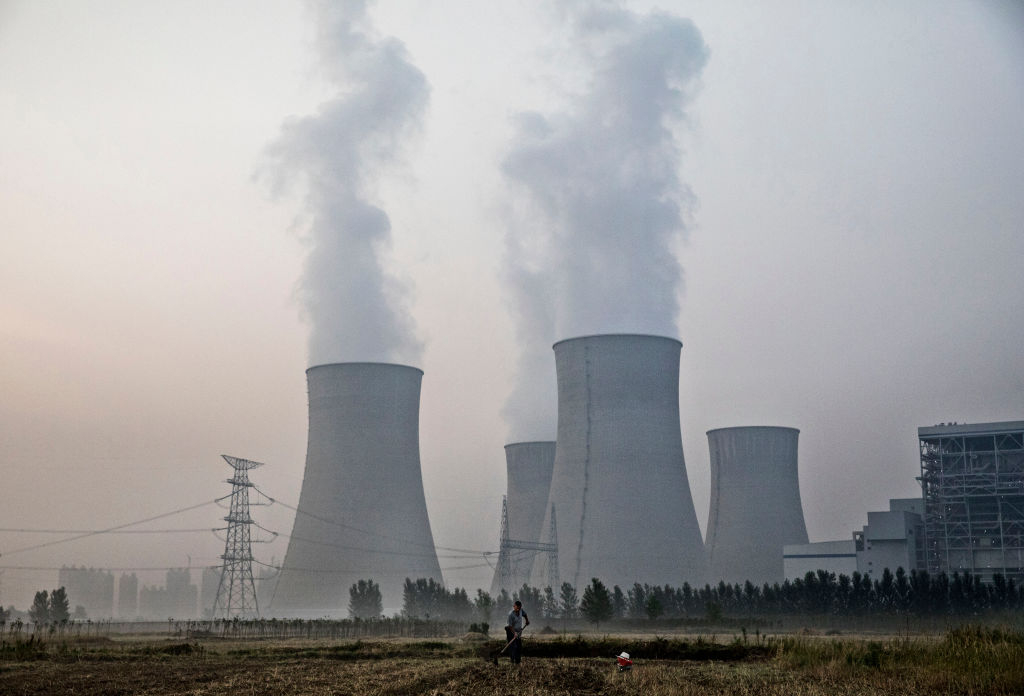 Communist China, in 2020, built over three times as much new coal power capacity as all other countries in the world combined -- the equivalent of more than one large coal plant per week, according to a report by Global Energy Monitor. Pictured: A state-owned coal-fired power plant in Huainan, Anhui province, China. (Photo by Kevin Frayer/Getty Images)
Communist China, in 2020, built over three times as much new coal power capacity as all other countries in the world combined -- the equivalent of more than one large coal plant per week, according to a report released in April by Global Energy Monitor.
Also in 2020, China's CO2 emissions rose by 1.5% while those of most other countries fell. Although, in 2020, the world retreated from coal, these retirements were eclipsed by China's new coal plants.
Even before China built those new plants, it was already the world's biggest emitter of fossil fuel carbon dioxide (CO2): In 2019, China was responsible for almost 30% of CO2 emissions -- roughly twice the amount emitted by the US, then the second largest emitter. China, the planet's primary coal consumer, already has the largest concentration of coal plants globally; in 2020, it produced 3.84 billion tons of coal, its highest output since 2015. In addition, China, in 2020, imported 304 million tons of coal, up 4 million tons from 2019.
According to the International Energy Agency, "79.7 percent of China's emissions came from coal in 2018 compared to 70.6 percent in India, 25.8 percent in the United States, and 27.9 percent in the European Union" and "Since 2011, China has consumed more coal than the rest of the world combined."
Despite being the world's reigning climate polluter, China keeps virtue signaling, falsely marketing itself as the champion of the environment. "We should protect nature and preserve the environment like we protect our eyes, and endeavor to foster a new relationship where man and nature can both prosper and live in harmony," said Xi Jinping at the recent Leaders Summit on Climate hosted by U.S. President Joe Biden.
In reality, however, the Chinese Communist Party (CCP) has done the exact opposite of preserving the environment. In an article published by the Yale School of Environment in 2017, Professor William Laurance wrote:
"I've never seen a nation have such an overwhelming impact on the earth as China does now.

"Across the globe, on nearly every continent, China is involved in a dizzying variety of resource extraction, energy, agricultural, and infrastructure projects — roads, railroads, hydropower dams, mines — that are wreaking unprecedented damage to ecosystems and biodiversity."
The article cited a World Bank analysis of nearly 3,000 projects, according to which:
"Chinese foreign investors and companies often predominate in poorer nations with weak environmental regulations and controls, causing those nations to become 'pollution havens' for Chinese enterprises."
In addition, Laurance wrote:
"China has long been a black hole for the illegal wildlife trade, the biggest global consumer of everything from pangolins, to tiger parts, to shark fins and rhino horn... China is a heavy consumer of illegal timber, despite belatedly taking steps to staunch the flow into its markets. In western Africa, rosewood forests are being illegally denuded, almost exclusively to feed high demand in China. The impacts are even heavier across the Asia-Pacific region, where native forests from Siberia to the Solomon Islands are being overexploited to feed Chinese timber markets."
Nevertheless, at the summit, Xi made it sound as if China had just been waiting for the United States to return to the Paris Agreement. "China welcomes the United States' return to the multilateral climate governance process", he said, adding:
"Developed countries need to increase climate ambition and action... they need to make concrete efforts to help developing countries strengthen the capacity and resilience against climate change, support them in financing, technology, and capacity building... so as to help developing countries accelerate the transition to green and low-carbon development."
The Chinese government, it appears, seeks to avoid shouldering its own emission responsibilities by continuing to define itself squarely as a developing economy -- "needing help" -- although China is currently the world's second-largest economy after the United States.
Every country that signed up to the Paris Agreement has submitted a target -- a nationally determined contribution (NDC) -- for reducing carbon emissions by 2030. China, on the other hand, got a pass to increase emissions until 2030, when they are supposed to peak. This peak, however, would still mean that the country was "generating huge quantities [of] CO2 — 12.9 billion to 14.7 billion tons of carbon dioxide annually for the next decade, or as much as 15 percent per year above 2015 levels".
At the summit, Xi repeated an earlier promise to achieve carbon neutrality before 2060 and to "strictly limit the increase in coal consumption over the 14th Five-Year Plan period [2021-2025] and phase it down in the 15th Five-Year Plan period". Notably, Xi did not mention decreasing coal consumption at all in the next five years; he was merely talking about limiting its increase.
If China were serious about reducing emissions, that intent would have been evident from its new five-year plan for the years 2021-2025, released in March. This plan, however, has been described as containing "little more than vague commitments to tackle carbon dioxide emissions."
"Under the plan, China's emissions will continue to increase", said Dr. Zhang Shuwei, chief economist at the Draworld Environment Research Center.
"Overall, the plan doesn't contain enough details on how China plans to accelerate the economy's decarbonisation, nor does it offer much strategic guidance on how to peak carbon before 2030 and reach carbon neutrality by 2060."
By contrast, the US, under former President Barack Obama, had pledged to reduce CO2 emissions from 26% to 28% below 2005 levels by 2025. President Biden, who in one of his first executive orders after taking office in January, rejoined the Paris Agreement, pledged at the recent summit, that the US would reduce CO2 emissions by at least 50% by 2030.
As the Wall Street Journal wrote in an editorial in February, initiatives like this explain why "Beijing loves Biden and Paris". They allow China, in the words of the editorial, to get "a free carbon ride" -- meaning unfettered economic growth at a time when China is looking to become the dominant economic and technological power in the world.
It is extremely unlikely that China will deliver on its climate commitments and there are enough precedents to show that the CCP's pledges cannot be trusted. In 1984, China pledged that Hong Kong's autonomy, including its rights and freedoms, would remain unchanged for 50 years under the principle of "one country, two systems" after the 1997 return to Chinese sovereignty. By June 2020, however, when China introduced its iron-fisted national security law in Hong Kong, China had reneged on its pledge, and the CCP continues to crush Hong Kong.
China also broke its 2015 commitment not to militarize artificial islands that Beijing has been building in the Spratly Islands chain in the South China Sea and it has never honored at least nine of the commitments it made when it joined the World Trade Organization, to name just a few instances.
The list of broken pledges does not even include the lies that China told the world about the supposed non-transmissibility of the Coronavirus, which originated in Wuhan and has so far taken more than three million lives and ravaged countless economies.
According to a study commissioned by the American Council for Capital Formation with support from the U.S. Chamber of Commerce Institute for 21st Century Energy in 2017, fulfilling Obama's Paris climate accord pledges could have "cost the U.S. economy $3 trillion and 6.5 million industrial sector jobs by 2040". The model used in the study included "calculated benefits from the building and operating of renewable energy projects. However, in the model, these economic benefits were outweighed by increased costs." How much will fulfilling President Biden's climate pledges actually cost and for what actual benefit to whom, and how much of a further edge will it actually give China?
At a time when China is so obviously saying one thing and doing another, and clearly not fulfilling its share of the world's commitments to reducing CO2 emissions -- as the world's second-largest economy should -- increasing America's climate pledges sends all the wrong signals. What China and others see is that no matter what it does -- even if it deceives the world and continues its predatory behavior -- the US is willing to reduce its own competitiveness, leaving China a thick red carpet to become the world's dominant superpower, the very role to which it aspires.
John Richardson is a researcher based in the United States.