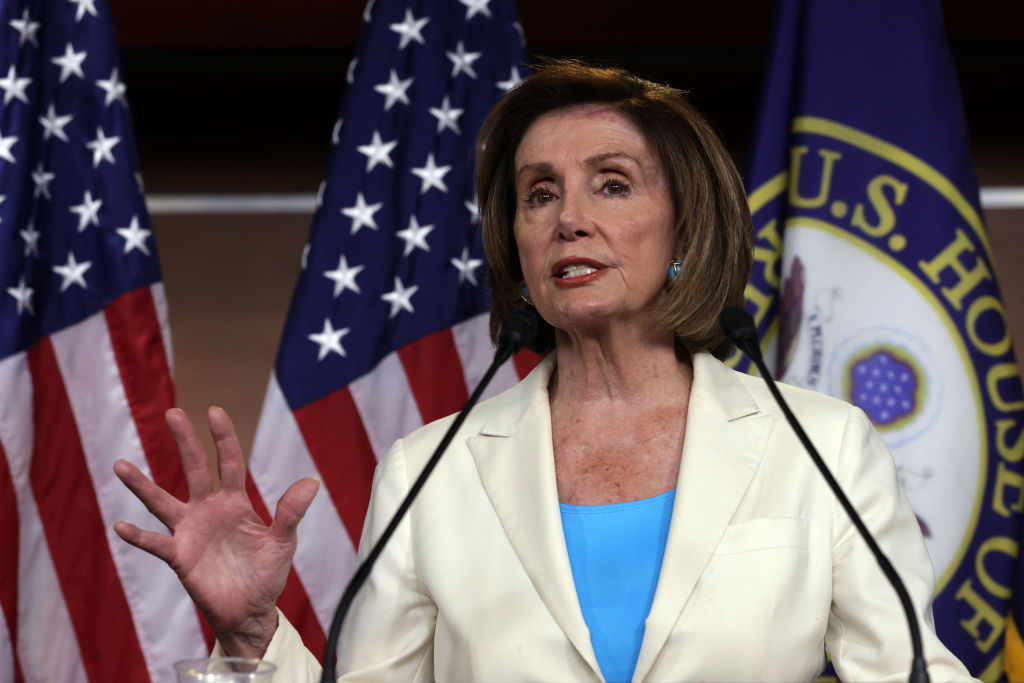 Pictured: U.S. Speaker of the House Nancy Pelosi at a press conference on July 1, 2021, where she announced her appointments of House Democratic members to the select committee to investigate the events of January 6 at the U.S. Capitol. (Photo by Alex Wong/Getty Images)
The House of Representatives just voted to create a select committee to investigate the unrest on Capitol Hill on January 6, 2021. And -- surprise, surprise -- Representatives Liz Cheney and Adam Kinzinger crossed over to vote with the Democrats in support of their select committee. Cheney found herself appointed to the select committee by House Speaker Nancy Pelosi. She says she is "honored to serve." Cheney's Republican primary opponent(s) must be overjoyed.
Pelosi advanced the creation of the select committee when an earlier effort at a so-called joint "independent" commission failed after Senate Republicans blocked the initiative.
Pelosi's committee has absolutely nothing to do with the investigation of facts concerning what happened on January 6. It is a transparent political ploy to sensationalize and criminalize all things and persons related to President Donald Trump and political conservatism.
There will be much discussion of "root causes" -- a shibboleth expression favored by the Left to attack "systemic" errors and enemies. Expect "white privilege", "white rage", anti-Semitism, Islamophobia, and a variety of other critical theory subjects to be deployed in deconstructing and destroying anyone and/or anything to the right of something President Bill Clinton might have advocated in 1996.
Keep in mind, this is Pelosi and company's fifth "bite at the apple" going after Trump. Three impeachment efforts failed utterly and embarrassingly, and the so-called "independent commission" was defeated in the Senate.
How about some facts and documents on the "Capitol breach probe," as the Justice Department calls it?
Well, Judicial Watch has several lawsuits seeking government records regarding January 6. Congress and the Capitol Police are not subject to the federal Freedom of Information Act (FOIA) law -- the open records law – so creativity was required to get to the sought records obliquely.
Judicial Watch recently sued the Pentagon and the U.S. Park Police for information on deployment of troops and warnings about the January 6 disturbance.
Pressure from a March 2021 Judicial Watch lawsuit helped lead to the disclosure that Capitol Police officer Brian Sicknick died of natural causes. For weeks, Sicknick's death had been falsely characterized as a cynical lie by members of Congress and their lapdog reporter buddies for political advantage.
Judicial Watch has sued to obtain records about the U.S. Capitol Police shooting death of unarmed civilian Ashli Babbitt, a U.S. Air Force veteran, in the Capitol Building on January 6.
In February 2021, Judicial Watch filed a lawsuit against the Capitol Police for emails and video related to the January 6 protests. After all -- if everyone is interested in the truth, then release all of the video and let's all see what really happened.
If the government were truly interested in the full disclosure of all the facts and circumstances around the Capitol breach, why would they stonewall Judicial Watch requests? Why force the matter into slow and lengthy litigation? Slow and lengthy? Oh, that's why!
Speaking of a criminal conspiracy to obstruct justice -- there's Pelosi's phone call to General Mark Milley, Chairman of the Joint Chiefs of Staff. In March 2021, Judicial Watch filed suit against the Department of Defense for records about Pelosi's January 8, 2021, telephone call with Milley. You'll remember that call was purportedly when Pelosi told Milley not to obey President Trump's orders. We can all look forward to reading the transcript of that call.
There is a lot to question concerning law enforcement involvement on January 6. The official narrative keeps changing. For example, claims concerning the number of people that died were wrong. Only Babbitt, an unarmed protestor, died that day by Capitol Police gunshot from a still unidentified officer. Protestors supposedly caused $30 million in damage -- they did not. There are several other points to question.
If you are interested in more information concerning January 6, articles written by American Greatness columnist Julie Kelly raise a number of important questions and legal issues that demand answers.
Here is what you need to consider: Judicial Watch is suing the government to force them to release information on the events of January 6. The government is fighting tooth-and-nail not to make the information public. The release of all these records and videos is discretionary -- some of the same people calling for investigation are actively blocking release. Virtually no one, certainly not "Big Media," is calling those persons on their hypocrisy. It is left to a journalist from an online publication to expose and discuss. Read stories about some of the protestors -- how they are being treated and prosecuted -- some are still in solitary confinement, others are being "reprogrammed," and it seems that most are being specifically targeted for their political beliefs.
As we celebrate the 245th birthday of the United States, it is fitting and right to examine and consider what happened on January 6, how the government is responding, and what the real objectives of the new House select committee might truly be.
Chris Farrell is Director of Investigations at Judicial Watch and Distinguished Senior Fellow at Gatestone Institute.