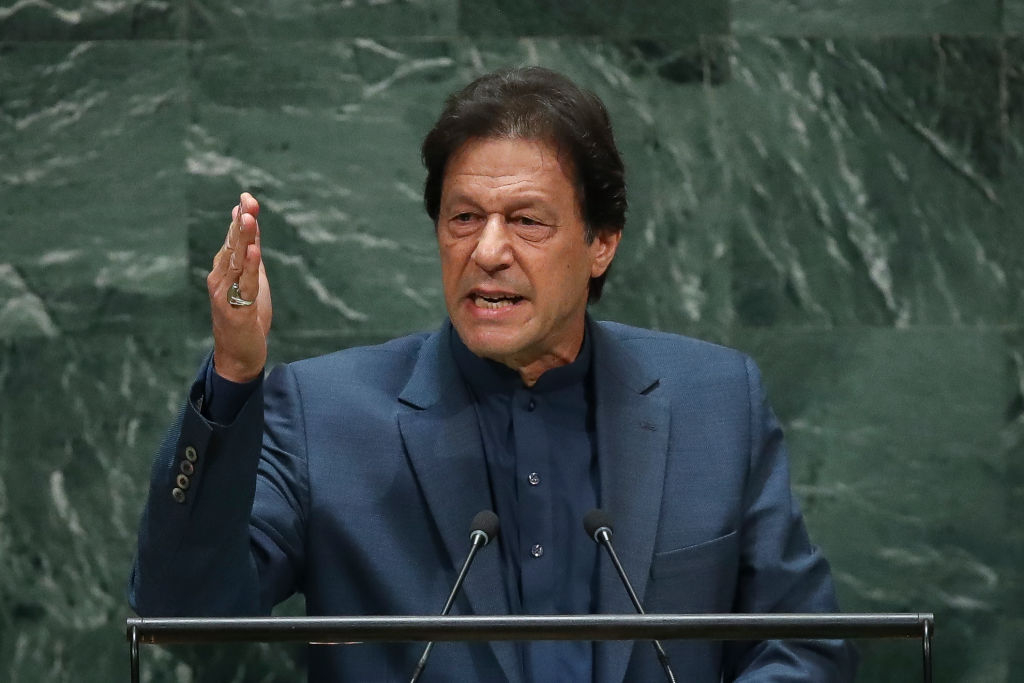 Pakistan, once presumed an ally of the US, has been willfully responsible for the slaughter of many US and NATO troops by having massively assisted enemy jihadists in Afghanistan. And in an interview aired in June, Pakistani Prime Minister Imran Khan announced that Pakistan will deny US use of its territory for "over-the-horizon" surveillance of possible terrorist activity in Afghanistan. Pictured: Khan in 2019. (Photo by Drew Angerer/Getty Images)
Pakistan, once presumed an ally of the US, has been willfully responsible for the slaughter of many US and NATO troops by having massively assisted enemy jihadists in Afghanistan. Throughout the 20-year presence of US forces in Afghanistan, Pakistani intelligence operations have included the recruiting, training and arming of the largely ethnic Pashtun Taliban.
Now that the Taliban have returned to power in Kabul, it appears that US-Pakistan diplomatic ties are worsening. The Pakistani government rejects any alleged US effort to shift the blame to Pakistan for the failure of US policy in Afghanistan. Islamabad has denounced an initiative drafted by 22 US Republican Senators to sanction Pakistan for its long-term assistance to the Taliban. US diplomats first want to see if the Taliban respects its promises to establish a tolerant and inclusive regime. Recent talks between US and Pakistani officials in Islamabad revealed other points of disagreement. The Pakistani Ministry of Foreign Affairs is urging the US to release Afghanistan's billions of dollars of frozen assets to the Taliban regime while Washington wants Pakistan to press its Taliban contacts to construct a more ethnically and gender diverse governmental leadership. In an interview aired in the US in June 2021, Pakistani Prime Minister Imran Khan announced that Pakistan will deny US use of its territory for "over-the-horizon" surveillance of possible terrorist activity in Afghanistan. Now, there are negotiations for the US to use Pakistan's airspace for military operations in Afghanistan, but is this really an ally on which the United States can count?
There are in Pakistan 14 million Pashtuns, ethnically indistinguishable from the millions of Pashtuns who make up about 42% of Afghanistan's population. Significantly, the Pashtun in Pakistan are contiguous to the eastern provinces of Afghanistan. Although the two countries are separated by mountains, familiar passes serve as corridors for the Pashtun and facilitate cross-border migration for purposes both military and economic. These are the same passes that had a negative impact upon US and NATO troops in their pursuit of Taliban and Al-Qaeda fighters, who crossed national borders to flee, rest, rearm, and return again to resume their fight.
The Pakistani regime's close ties to the Afghan Taliban, as well as the network of ethnic kinship between the overwhelmingly ethnic Pashtun population on both sides of the border, has rendered the US and NATO mission difficult from the start. Pakistan helped bankroll and arm the largely Pashtun Taliban terrorist movement, and Pakistani anti-personnel and anti-vehicle landmines have been prevalent in Afghanistan. Taliban fighters were often extended refuge.
Despite misleading US diplomatic rhetoric counting Pakistan as an ally, apparently three-quarters of Pakistanis look upon the US unfavorably, purportedly a consequence of Washington's tilt toward Pakistan's hated arch-rival, India.
The Taliban and several other Afghanistan-based jihadi groups are also linked to Pakistan through their Islamist political party counterparts there. Many Afghan Taliban have also long maintained direct links to Pakistan's largest religious party, Jamiat-e-Islami. In addition, Pakistan's religious political parties had previously maintained ties with anti-Soviet Afghan mujahedin groups during Moscow's occupation of the country from 1980 to 1988.
It was in this period of Soviet occupation that the CIA and the ISI coordinated the Afghan mujahedeen's resistance against Soviet troops. It was the CIA's work with Pakistan's ISI in this war of anti-Soviet resistance that helped to develop the ISI into the formidable Pakistani intelligence outfit it is at present.
After the Al-Qaeda/Taliban terror bombing of US embassies in Kenya and Tanzania in 1998, however, a serious cleavage in intelligence cooperation between the US and Pakistan followed. The attacks prompted President Bill Clinton to launch scores of Cruise Missiles at eight Al-Qaeda/Taliban training camps in Afghanistan, where the ISI was sponsoring terrorist groups in Kashmir who were fighting to "liberate" the Muslims there from Indian rule. After the Soviet Union's withdrawal from Afghanistan, Pakistani intelligence officers oversaw a massive program of military assistance from Pakistan's army to the Taliban.
Pakistani assistance and Arab Gulf State financial aid were also invaluable in helping the Taliban to launch their military campaigns in Afghanistan in 1994, until they were able to come to power in Kabul in 1996. During these years, only three states extended diplomatic recognition to the Taliban regime: Pakistan, Saudi Arabia, and the United Arab Emirates (UAE).
The ISI's principal objective behind its pro-Taliban policy initiative has evidently been to ensure that Afghanistan remained in Pakistan's sphere of influence. Pakistani military leaders still appear to view Afghanistan as a deep territorial reserve -- further "strategic depth" -- in the eventuality of a war with India. Alternatively, Taliban terrorists were employed by Pakistan's ISI to target any investment projects by New Delhi in Afghanistan. To that end, the ISI created a small terrorist organization, Harkat al-Ansar, specifically to execute terrorist missions against Indian targets, such as an Indian commercial jet A300 airbus jet that was hijacked in 1999 and flown to the Taliban-controlled city of Kandahar. US intelligence agencies were, it appears, fully aware of the ISI's training and military aid to other Kashmir-based terrorist groups such as Harakat Mujahedeen and Harakat-Jehad-Islami.
Three of Pakistan's Army generals who successfully staged a coup against Prime Minister Nawaz Sharif in 1999, thereby installing the regime of Pervez Musharraf, apparently all had deep ties to the ISI and were zealous supporters of the Afghan Taliban. One of the coup-plotters, General Mahmoud Ahmad, was subsequently named ISI director. Another leader of the coup, General Mohammad Aziz, became a (now former) ISI director. The third, General Muzaffar Osmani, also appears, to have been a key supporter of a future Taliban-controlled Afghanistan. At times, it seemed as if Musharraf was Pakistan's face for the Americans, while other generals continued supporting Islamic terrorist groups in Afghanistan and Pakistan. Their support included Pakistan's grant of sanctuary to the top circle of Taliban leaders in the capital city of the Pakistani province of Baluchistan, Quetta, and the protected residence of the Taliban's supreme commander Mullah Omar.
The ISI appears to be more influential in determining Pakistan's foreign policy in Afghanistan than any other institution in Pakistan's government including the Ministry of Foreign Affairs.
Pakistan, as it is home to many Central Asian Islamic terrorist groups, also plays a role in supporting Jihadist militancy in Central Asia. After the USSR's disintegration, the ISI began fomenting rebellions in the newly independent states of Central Asia, particularly in Uzbekistan. The ISI generously endowed the Islamic Movement of Uzbekistan (IMU) while extending protection to the now-deceased IMU chief Tahir Yuldashev in Peshawar, Pakistan. The ISI especially targeted Uzbekistan's Fergana Valley region while assisting Central Asia Jihadi groups. The Fergana Valley would be an important prize for Pakistani-based terrorist groups due to its proximity to the other Central Asian states of Kyrgyzstan and Tajikistan. Recognizing this geopolitical reality, Presidents Clinton and George W. Bush authorized counter-terrorist training of Uzbek soldiers in this area by the Fifth US Special Forces Group of Green Berets.
In the months before 9/11, it became clear that US counterterrorist policy was focused on the eventual takedown of the Taliban's and Al Qaeda's ever-widening support for jihadi terrorists. It was then that the ISI cold-shouldered Washington by sponsoring huge pro-Taliban rallies in Pakistan's main cities of Peshawar and Lahore. Even then, it proved difficult for CIA field officers and Station Chiefs to fully shut down their ties to their old ISI counterparts. Reportedly, the CIA Station Chief in Islamabad caustically objected to the US decision to assist anti-Taliban Northern Alliance forces in Afghanistan, because, the officer stated, it would infuriate the ISI.
The most lethal anti-US terrorist group supported by Pakistan's ISI is the infamous North Waziristan-based Haqqani network. The ISI originally forged its close ties to the Haqqanis during the anti-Soviet war of resistance when the network's chief, Jalaluddin Haqqani, was the senior Eastern Pashtun Commander with the Taliban. The Haqqani group, now led by Jalaluddin's son, Sarajuddin Haqqani, is now the Taliban government's Minister of Interior and leading the hunt for any Afghans who cooperated with Western forces there. He is also partially responsible for protecting and expanding Pakistan's interests in Afghanistan. The Haqqani gang for decades has conducted suicide attacks against US and Indian targets. Consequently, the US placed a $5 million bounty on Sarajuddin Haqqani's head. Thanks to protection provided by Pakistani intelligence agents, neither Haqqani, father or son, has ever been apprehended.
While the ISI acts with impunity, it is important to note that some wealthy Pakistanis, private individuals, also contribute large sums of money to the Taliban. As early as the Autumn of 2001, Pakistan's current Prime Minister Imran Khan was an open supporter of the Taliban as well as an anti-US provocateur. After the Taliban's seizure of power in Afghanistan praised in early August, Khan, consistent with his pro-Taliban stance, publicly praised the Taliban for its victory.
Pakistan ultimately may pay dearly for enabling Afghanistan's Taliban. The group consists of diverse movements, such as the so-called Pakistani Taliban (Tehrek-e-Taliban) , a coalition of at least ten terrorist organizations dedicated to overthrowing Pakistan's regime. Its recruits include former Taliban members from Afghanistan who had assessed that their former organization was too indulgent of infidels. After the Taliban took over Afghanistan, Prime Minister Khan, perhaps worried that he had helped produce a "Frankenstein monster," met with Pakistan's Tehrek-e-Taliban representatives in an apparent attempt to establish amicable relations.
Pakistan has not really been an ally of the West for decades. It was Islamabad that gave Osama bin Laden asylum until he was brought to justice by US Special Operations forces in 2011. Now, the Pakistan's government seems to have positioned the country into China's sphere of influence. As the journalist Caroline Glick noted, after 9/11, as the Taliban was the brainchild of Pakistani ISI Jihadists, "Pakistan should have been the first domino to fall."
Dr. Lawrence A. Franklin was the Iran Desk Officer for Secretary of Defense Rumsfeld. He also served on active duty with the U.S. Army and as a Colonel in the Air Force Reserve.