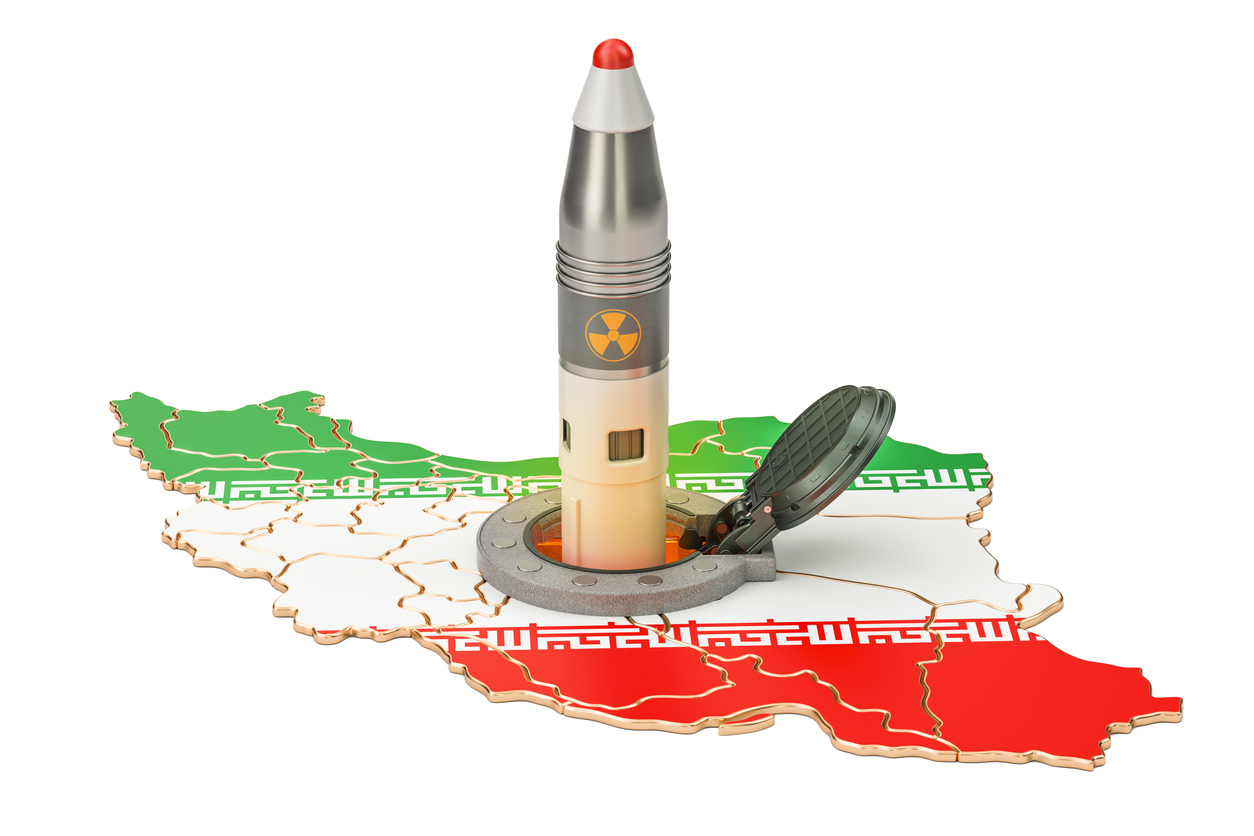 On the eve of the resumption of the Iran nuclear talks in Vienna, Arabs have again warned the Biden administration against being duped by the mullahs of Tehran. (Image source: iStock)
On the eve of the resumption of the Iran nuclear talks in Vienna, Arabs have again warned the Biden administration against being duped by the mullahs of Tehran.
The Arabs, who share Israel's concern over Iran's accelerated efforts (and deceptive tactics) to achieve nuclear weapons, also warned the Biden administration against reaching a temporary deal that would give Iran more time to proceed with its disastrous and dangerous plans.
"Undoubtedly, a temporary nuclear agreement, if it is implemented, reflects the failure of the policy of President Biden's administration, which announced that it would seek a wider, stronger and more comprehensive agreement," wrote Saudi writer and political analyst Yahya Talidi.
Talidi pointed out that the US administration seems confused because of its changing policy priorities and objectives in the Middle East, "which reflects a lack of interest in strengthening and factors of stability and security in the region." The previous nuclear agreement in 2015, he added, was a failure.
"The failure has logical and realistic causes, most notably that it was limited to a specific time period (it expires in 2025) and did not address the ambitions of hegemony and expansion of the Iranian regime and its ballistic missiles.

"This failure may be repeated today in Vienna. A temporary agreement could become permanent, allowing Iran to maintain its nuclear infrastructure and supply it with uranium, with which it has doubled its stockpile, and then the region will become mired in an uncontrollable nuclear arms race."
Tariq Alhomayed, a Saudi journalist and former editor-in-chief of the Arabic-language newspaper Asharq Al-Awsat, warned the Biden administration that Iran was only trying to buy more time by returning to the negotiations with the US and other world powers:
"The Vienna negotiations aimed at reaching a final agreement on the Iranian nuclear file are supposed to resume next week, and all indications are that we are facing time-wasting negotiations...

"It is clear that the Iranian [leaders] are not seeking to seriously revive these negotiations, and therefore are not keen on the completion of the agreement, especially since the achievement of the agreement may weaken them at home."
Alhomayed pointed out that Iran has been insisting on its conditions and demands, including that Washington and the Western powers release frozen Iranian funds before reaching an agreement. He added that Iran was refusing to discuss ballistic missiles, drones and its terrorist militias in the Middle East as the mullahs continue their alarming rate of uranium enrichment.
"Iran is doing all of this to take advantage of the time factor... If a nuclear agreement is not achieved, Tehran will have reached levels of enrichment that would allow it to implement its nuclear project by imposing a fait accompli and declaring victory."
According to Alhomayed, the Biden administration has failed to send a tough message to Iran ahead of the resumption of the Vienna talks.
"It is evident that Washington has been begging Iran to return to the negotiating table... Washington did not threaten Iran with the use of force. It is true that we hear statements from Washington about impatience, but they are neither serious nor real. The Americans did not convey any serious message to the Iranians."
Iraqi writer Ali Alsarraf expressed concern that Biden might commit with Iran the same "sin" he committed with Afghanistan.
Iran, he said, cannot make any concessions on its demands because other parties, including Russia, are encouraging the mullahs to endorse a hardline approach in its dealings with the Biden administration:
"The current situation is that Iran and Russia are speaking with one voice, saying that there is no way to reach an agreement unless the original agreement is preserved without any additions to it...

"This position says, in other words, that all the previous six rounds were meaningless. Iran also wants all sanctions to be lifted at once, and on top of that, it wants guarantees that the US will not reimpose sanctions after the full return of the agreement. Returning to the original version of the nuclear agreement means refraining from adding any issues related to Iran's destabilizing activities in the region, including the activities of its terrorist militias in Iraq, Lebanon and Yemen."
Alsarraf believes that by seeking guarantees that the US will not reimpose sanctions on Iran in the future, the mullahs in Tehran are hoping that they will become immune from anything that their militias do in the Middle East, including striking American bases and forcing them to leave Iraq and Syria.
"With Iran's recent announcement that it has produced 25 kilograms of 60% enriched uranium, postponing the talks for an unknown period does not appear to be an acceptable option... Because 90% of the enrichment required to produce a nuclear weapon is very close. There is no doubt that Iran is using this for blackmail purposes."
Baria Alamuddin, an award-winning Lebanese journalist and broadcaster in the Middle East, said she supported the use of military force to stop Iran from gaining nuclear weapons.
Iran's attainment of nuclear capacity, Alamuddin wrote, has immediate implications for global security.
"As with North Korea, the world would be forced to grapple with Iranian aggression very cautiously because of the likelihood that it could rain down ballistic and nuclear weapons upon neighbors... Unlike North Korea, Iran has proxy forces deployed throughout the region which henceforth could act with impunity, shielded by Iran's nuclear umbrella."
She pointed out that despite spectacular Israeli acts of sabotage, Iranian scientists have gone to extraordinary lengths to rebuild and keep nuclear development on schedule, even at a time when thousands of impoverished citizens are dying from never-ending COVID-19 outbreaks and much of the country is running out of water.
"According to intelligence officials, Tehran replaced damaged equipment with new technology that operates faster and at higher volumes... Hence, reliance on cyberattacks and pin-prick sabotage has only made Iran double down on its efforts. The US dilemma is simple: If Iran is hellbent on developing nuclear weapons, and the world is serious about stopping Iran, then ultimately there may be no alternative to some form of military force, such as surgical strikes for permanently eliminating nuclear sites. There is no sugaring this pill. The ayatollahs must be under no illusion that they can stealthily filibuster their way toward nuclear breakout capacity".
Alamuddin warned that Western ambivalence and naivety have only made matters worse: "Iran must be bluntly and forcefully told: If you proceed down this path, we will stop you!"
Rafik Khoury, another Lebanese writer and political analyst, also expressed concern over the Biden administration's soft approach towards Iran.
"Washington seems to be begging Tehran to return to the indirect negotiations," Khoury noted.
"The men of the first row in the Biden administration were the men of the second row in the administration of President Barack Obama. Biden's men learned the lesson of driving from the back seat, despite Biden's statement that 'America is back in command.'"
Khoury advised the Biden administration to avoid making the same mistake Obama did by relying on empty and false promises by Iran.
He noted that Biden, Secretary of State Antony Blinken, and National Security Adviser Jake Sullivan initially insisted on a broader and more permanent agreement that would be linked to a halt to missile development and "destabilizing" activities by Tehran in the Middle East.
"When Tehran refused to discuss any issue outside of returning to the nuclear agreement and the lifting of sanctions, the US administration backed down," Khoury added.
The views expressed by these Arab writers and journalists are not uncommon in the Arab world, where many continue to regard Iran as a major threat to security and stability in the Middle East.
It is impressive to see that a growing number of Arabs, especially those living in the Gulf states or those whose countries are occupied by Iranian-backed militias, share Israeli fears of the mullahs' evil plans.
The message these Arabs are sending to the Biden administration: take a tough stance towards Iran before it is too late. Far from being a danger to Israel alone, Iran is terrorizing Arab countries and threatening world peace and security.
Khaled Abu Toameh is an award-winning journalist based in Jerusalem.