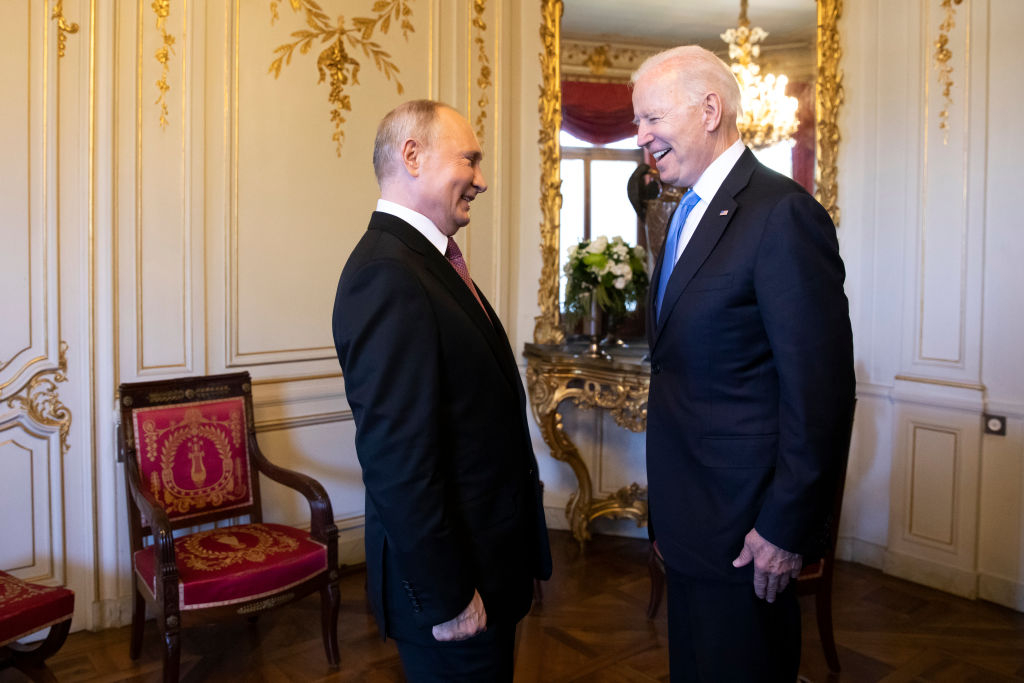 US President Joe Biden's willingness to appease Russia over its aggressive conduct towards Ukraine is threatening to create deep divisions within the NATO alliance -- a result that would doubtless delight Russian President Vladimir Putin. Pictured: Biden and Putin share a laugh in Geneva, Switzerland, on June 16, 2021. (Photo by Peter Klaunzer/Pool/Keystone via Getty Images)
US President Joe Biden's willingness to appease Russia over its aggressive conduct towards Ukraine is threatening to create deep divisions within the NATO alliance -- a result that would doubtless delight Russian President Vladimir Putin. NATO was created specifically as a collective defense against potential Russian aggression.
With an estimated 100,000 Russian troops massed on the Ukrainian border, Western leaders have sought to present a united front to dissuade Russian President Vladimir Putin from invading Ukraine.
There is mounting concern among Western intelligence services, which is also shared by the Ukrainian government, that the presence of a well-armed Russian battlegroup close to the Ukrainian border indicates that Moscow could launch a full-scale invasion as soon as next month.
CIA Director William Burns is on record as saying he believes Mr Putin "is putting the Russian military, the Russian security services in a place where they could act in a pretty sweeping way", while Ukraine's defence minister, Oleksiy Reznikov, is predicting that "the most likely time to reach readiness for escalation will be the end of January."
To prevent such a disastrous outcome, Western leaders are keen to adopt a unified position against Mr Putin's latest act of unprovoked aggression against a neighbouring country.
At the recent meeting of G7 foreign ministers in Liverpool hosted by Liz Truss, Britain's recently-appointed Foreign Secretary, Russia was warned it would pay a severe cost if it went ahead with the invasion, with Western leaders warning of crippling economic sanctions being imposed against Moscow.
"We have been clear that any incursion by Russia into Ukraine would have massive consequences for which there would be a severe cost," Ms Truss said, adding that the countries "need to make the positive case for individual humanity and dignity which lies at the heart of our democratic free societies".
In the joint statement, the countries said that Russia must "de-escalate, pursue diplomatic channels, and abide by its international commitments on transparency of military activities".
Western efforts to curb Mr Putin's threatening behavior, though, are being undermined by the Biden administration's reluctance to confront Mr Putin.
Mr Biden's disinclination to act was clearly evident following his two-hour video conference with the Russian leader earlier this month when the US leader made it clear that no military options were being considered on Ukraine. "The idea that the United States is going to unilaterally use force to confront Russia invading Ukraine is not in the cards right now," he said.
Coming after the Biden administration's disastrous handling of the withdrawal from Afghanistan earlier this year, the fact that the White House has no interest in protecting Ukraine's sovereign integrity will come as no surprise to the Kremlin.
Indeed, it could be argued that the Biden administration's inherent weakness has been a determining factor in encouraging Mr Putin to adopt a more confrontational attitude towards the West on issues like Ukraine.
Mr Biden's evident unwillingness to defend America's interests has even prompted the Kremlin to threaten deploying intermediate-range nuclear missiles in Europe to threaten NATO.
The American president's deep-seated aversion to military confrontation also explains China's recent adoption of a more confrontational attitude on the issue of Taiwan, with Taiwanese leaders warning that Beijing could be ready to mount a full-scale invasion of Taiwan by 2025.
Nor is Beijing likely to de-escalate tensions with Taipei when all the indications suggest that Mr Biden is preparing to appease the Kremlin with regard to Ukraine.
Russia's military build-up on the Ukrainian border is widely seen as a blatant attempt to bully the Western powers into giving a commitment that Kiev will not be allowed to become a member of the NATO alliance.
Ukraine currently enjoys partner status with NATO, and Ukrainian President Volodymyr Zelensky has expressed interest in becoming a full NATO member, a move which would commit the alliance to protecting Ukraine's sovereign integrity.
Yet, while Ukraine is well within its rights to apply for NATO membership, Mr Putin, who regards Ukraine as historically falling within Moscow's sphere of influence, is bitterly opposed to the move, and is seeking to pressure the West into making a binding commitment not to grant Ukraine membership.
Moreover, in a clear sign that Mr Biden is more-than-willing to appease Moscow on the issue of Ukraine's NATO membership, the American president is reported to have offered to convene a joint meeting of NATO and Russian leaders to resolve the Ukraine crisis.
In seeking to appease Moscow, Mr Biden appears to be overlooking Washington's commitment to the 1994 Budapest Memorandum, which commits the US, as well as other allies such as the UK and France, to safeguard Ukraine's territorial integrity in return for dismantling its Soviet-era nuclear weapons arsenal. Any failure by the Biden administration to honor this solemn undertaking would further erode Washington's already tarnished credibility on the world stage.
The suggestion that Mr Biden is preparing to sell out Ukraine has enraged Washington's NATO allies in eastern Europe, who are currently bearing the brunt of Russian aggression and believe, with some justification, that Mr Biden is preparing to make unacceptable concessions to Moscow, such as providing political guarantees that will curb NATO's freedom of movement and its ability to operate effectively against Russian aggression.
Certainly, after the Biden administration's wanton capitulation in Afghanistan, European leaders are right to express concern that the US leader is willing to inflict similar damage on the credibility of the NATO alliance.
Such a blatant act of appeasement towards the Kremlin would simply serve to encourage adversaries such as China and Russia that they can carry on with their bully-boy antics against the likes of Taiwan and Ukraine.
Con Coughlin is the Telegraph's Defence and Foreign Affairs Editor and a Shillman Journalism Fellow at Gatestone Institute.