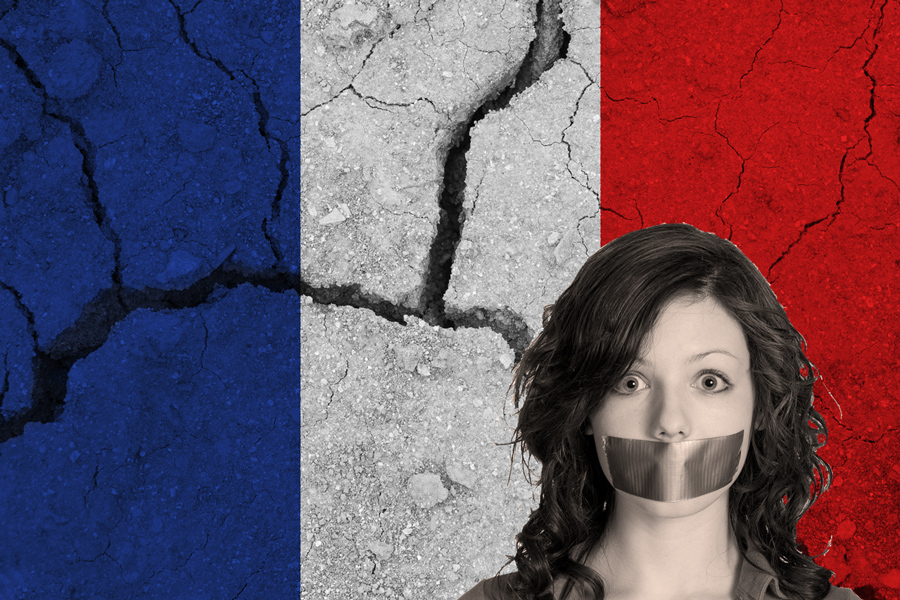 The threats and attempts to intimidate prove the danger presented by those committed to creating a new society by force and terror: If you criticize me, I will kill you -- behead you or slit your throat. Fear works. No one wants to see their name on an internet hit list, or falsely be called racist. Journalists studiously look the other way and are nowhere to be found. (Images source: iStock)
"What else do you need to wake up and understand that we have to defend ourselves?", asked the late Italian journalist Oriana Fallaci.
We should be worried about Europe. It is the cradle of European culture, especially France. Henry James, in The Ambassadors, writes about France as the epitome of civilization, as the "eldest daughter of the Church". Now, however, France's churches are being burned, demolished and abandoned, and its adherents sacrificed on the altar of political correctness. France's Jews, "the canaries in the coalmine", are being physically attacked and leaving their country. Since 2000, more than 60,000 have fled.
In the face of this massive assault on freedom and culture, an army of "useful idiots" is siding with the enemies of civilization. Professor Robert Redeker was forced into hiding after criticizing radical Islam and now has to be protected by police.
Mohamed Sifaoui's mobile phone contains 853 numbers of police and security officers: all assigned to protect him. Some have retired, others have been transferred, many are still active. His driver began his career with him. "It will be nineteen years in April," Sifaoui told Le Point. "I met him young and we grew old together". This journalist, a specialist in terrorism and radical Islam, holds a record: since 2003, he has intermittently been living under the eyes of the police. "I happened to have up to six bodyguards, with men posted in front of my building, long guns in hand. When I couldn't take it anymore, I went on assignments abroad to get away from it all".
Forced to change his address regularly, Sifaoui has paid a high price for being "protected by the Republic".
"For relatives, it is an unbearable pressure. Planning your schedule around that of your policeman is hellish, even if you end up getting used to no longer going to the terrace, frequenting certain neighborhoods and experiencing any unforeseen events. You get used to it, like an amputee can get used to living with one limb missing..."
Thirty-five persons in France are now living under police protection for criticizing Islam. Women include Zineb el Rhazoui; Marika Bret; Claire Koc; Christine Kelly, a star of the CNews channel and longtime studio partner of Éric Zemmour, threatened with beheading by Islamic fundamentalists, also lives under guard; Fatiha Agag-Boudjahlat, a teacher and author who had reproached a few students for not respecting the minute of silence during the homage to Samuel Paty, and most recently Ophélie Meunier.
Meunier is a reporter ofr the TV program Zone Interdite, who filmed a documentary, "The Islamization of Roubaix", broadcast on prime time television. She is the third French citizen in a single week to go under police protection. A high school science teacher in Trappes and Amine Elbahi, a lawyer who appeared in the film, were both threatened with beheading.
Meunier showed what is happening in France: men who will not shake hands with women, restaurants with curtained cubicles reserved for women "so that the women can neither see out or be seen", and toys and children's books without faces, as in Islam, depiction of images is forbidden (Hadith, Sahih Muslim, 818-875).
Dozens of people in France have been thrown into a parallel universe of fear, threats, insidious noises, prying eyes, policemen who follow them everywhere and death lists. This is all taking place not in Pakistan, Iran, Saudi Arabia or Somalia, but in the capital of Enlightenment and European culture.
It is not just about politicians such as Marine Le Pen or judges such as Albert Lévy. The whole country now lives in fear of Islam. Anyone who dares to speak about it in a straightforward way can expect alarms, armored doors, "safe rooms", metal detectors, automatic weapons, precautions, movements coordinated with the police. Meanwhile, two churches a day are vandalized, and in 2021, ten Jews a day emigrated from France.
Imams such as Hassen Chalghoumi also live under guard. After he supported the law banning the burqa in public, Islamists besieged his mosque and entered the prayer room. One of the Islamists exclaimed: "Aiqtalah aiqtala! Let's kill him! Let's kill him!" He now travels in armored vehicles, is protected by six policemen and never sleeps two nights in the same place. Terrorists have placed a bounty of 150,000 euros ($172,000) on his head.
A high school student, Mila, has been removed from a military school where she took refuge after receiving 50,000 death threats after, at the age of 16, criticizing Islam on Instagram.
A feminist, Peggy Sastre, wrote in Le Point that feminists who had turned out to protest a potential award for the filmmaker Roman Polanski had failed to show up on for Mila's first hearing on June 3:
"Why so much disaffection on the part of feminists? It is perhaps because, in Mila's case, rising up against the most violent and retrograde manifestations of the Muslim religion requires taking real risks and can lead to far more real consequences than we would expect when we leave a movie theater and are careful to hold up our evening dresses not to fall down the stairs".
Listening to what Mila said in a Paris court, one understands why these flaccid multiculturalists deserted the trial. Mila said what none of them wants to hear.
"If every time we are shocked, we were to pronounce death sentences, what would become of us? What kind of society would we live in?" she asked.
"I am sure that if I had formulated my criticism of Islam without vulgarity, without profanity, they would have reacted exactly the same way, with other arguments. Because their goal is, first of all, to prevent any criticism of Islam. But I'm not giving up".
Mila then replied to those who told her that it is better to leave social media:
"I no longer go to school, I have no social life, I have lost everything, and what's more, do I have to let myself be forgotten? Do I have to disappear completely? Should a woman who has been raped not go out on the street to avoid being raped again? I say no! I would be psychically dead, destroyed, if I had let all these people trample me".
"Mila... knows she cannot have a future," her mother testified in court. "Beyond the risk of an attack, what future can we imagine with such deadly pressure? We resist because, otherwise, they will have won".
"Islamism is gaining ground on our soil", wrote 60 French MPs in Le Journal du dimanche. "Islamism is poisoning France, rotting many minds and many neighborhoods that are now lost territories for the Republic".
Éric Zemmour, a candidate in the upcoming presidential elections who has been called "the most endangered man in France", the prominent French novelist, Michel Houellebecq, and a dozen teachers and professors, from Trappes to Grenoble, also live under guard. Many have seen their careers, lives and names destroyed.
The entire editorial staff of the satiric magazine Charlie Hebdo -- after a massacre on January 7, 2015, in which 17 people lost their lives -- still live protected behind 85 police officers and 6 armored doors. The house of its former director, Philippe Val, has bulletproof windows and an armored "safe room" with a direct telephone line for rescue, if needed. One morning at the Ministry of the Interior, Val learned that Al Qaeda had issued a death sentence on him. The poster showed his photograph, stained in blood.
A former journalist of Charlie Hebdo, Zineb El Rhazoui, spoke with police about her daily life:
"Do you see the confinement? Well, I've been confined since 2015. I kept fighting against something that kept getting stronger. The fate that the Islamists want to reserve for me is unacceptable, but I want to bury the hatchet".
The French newspapers call her "the woman in danger" and "the most protected woman in France". El Rhazoui, originally form Casablanca, Morocco, has, for security, moved from home to home in Paris over the years, and has more bodyguards than most ministers. Walking down the street or taking the subway is unthinkable. Social media are filled with ways to kill her -- bullets, explosives, crushing her head, slitting her throat or setting her on fire. "Zineb El Rhazoui must be killed to avenge the Prophet", ordered a fatwa after the attacks. "I arrived at a moment of my journey," El Rhazoui said to Le Point, "when I feel the urgent need to get out of the fight". That this courageous woman and journalist, after five years of countering death threats, wants to get out of this fight is understandable, but it means that we are losing the fight.
These threats and attempts to intimidate demonstrate the danger presented by those committed to Islamizing the society and creating a new one by terror or force: If you criticize me, I will kill you -- behead you or slit your throat.
Meanwhile, the state and the judicial institutions prove to be paper tigers. Fear works. No one wants to see their name on an internet hit list, or falsely be called racist. Journalists studiously look the other way and are nowhere to be found.
"This is what happens when you show the French people the Islamization of our country," wrote Éric Zemmour, one of the few to speak the truth.
This is France 2022. In April, the country will vote. The next day, it will be possible to tell what direction the country -- and with it, Europe -- will take. Will it submit -- or not?
Giulio Meotti, Cultural Editor for Il Foglio, is an Italian journalist and author.