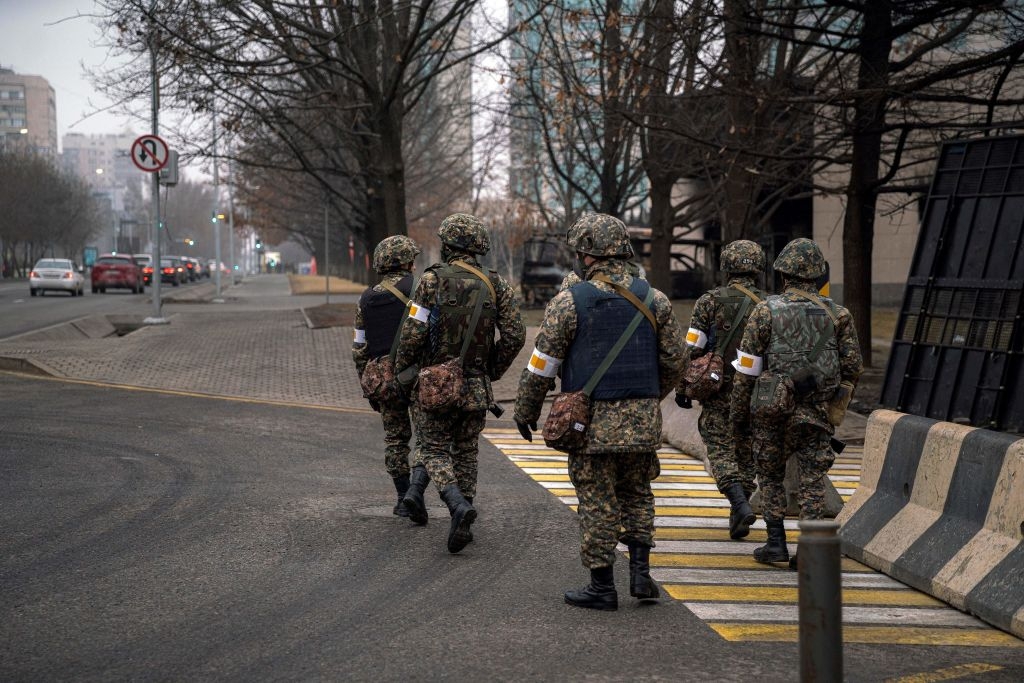 The widespread violent unrest in Kazakhstan and subsequent arrival of mostly Russian troops who helped restore order last month exposed a further contest of rivals for power there between its ostensibly friendly neighbors, Russia and China. Pictured: Kazakh soldiers patrol on a street in Almaty on January 10, 2022. (Photo by Alexandr Bogdanov/AFP via Getty Images)
What can one believe about the recent events in Kazakhstan? According to the autocratic post-Soviet regime in Kazakhstan, peaceful protests by Kazakh citizens purportedly demonstrating against steep fuel price hikes implemented on New Year's Day were transformed into violent riots by foreign-trained terrorists. There is no indication, however, from the many thousands of arrested protestors that any of them were foreigners.
While the fuel price hike was the immediate cause of people taking to the streets of Kazakhstan's major cities, there also appears to be deep-seated anger over the wealth disparity between elites of the former Communist regime and the rest of the populace. By way of response, Kazakhstan's President Kassym-Jobart Tokayev, in an apparent attempt to reduce anti-regime anger, fired his cabinet and canceled the fuel price hike.
Tokayev, the hand-picked successor by the still powerful "retired" president and former Communist Party leader of Kazakhstan, Nur Sultan Nazarbayev, now claims that the unrest was a meticulously planned attempted coup that had internal support. Lending credence to Tokayev's accusation, while the rioting was at its peak, the president removed his unpopular predecessor, Nazarbayev, from his post as chairman of Kazakhstan's National Security Council. This move was followed on January 6 by the arrest on charges of treason of the country's former counterintelligence chief, Karim Massimov, just one day after he was fired by the president.
Unable to control the nationwide violence, Tokayev then activated the defense clause of the Russian-led Collective Security Organization (CSTO). Five days after the demonstrations began, troops from Russia and other signatories of the 1992 CSTO treaty, "flooded" Kazakhstan's Almaty airport and quickly helped restore order in the country's largest city.
One also might wonder if Russia was taking advantage of the crisis of the large Russian troop presence deployed along the Ukrainian border to divert the West's attention from Putin's objective of also eventually reabsorbing Kazakhstan into the Kremlin's orbit.
Russia's President Vladimir Putin, who once bemoaned the 1991 collapse of the Soviet Union "as the greatest geopolitical catastrophe of the century, is also quoted as belittling Kazakhstan's sovereignty by remarking in August 2014 that "Kazakhs never had a state." Putin's prime directive appears to be a desire to dominate the territorial space of the former Soviet empire which now consists of independent states. Russian troops already occupy portions of several former Soviet republics, including Georgia, the Ukraine, and Moldova -- "uninvited." Russia also deploys elements of the former 201st Motorized Rifle Division on its base in Tajikistan, another former Soviet republic.
Russia's most valued enterprise in Kazakhstan is the Baikonur launch site for Russian space missions. Russian soldiers, after entering Kazakhstan, quickly moved to protect it. The Kremlin might also believe that it has some responsibility for the welfare of Kazakhstan's 3.5 million ethnic Russians, most of whom live in the northern half of Kazakhstan.
China's primary interest in Kazakhstan seems to be that it serves as the Chinese Communist Party's Belt and Road Initiative (BRI) overland thoroughfare for export of Chinese goods to Europe and the Middle East. Kazakhstan, the world's ninth-largest country, is home to 15% of the world's supply of uranium -- necessary for nuclear weaponry as well as nuclear power plants. Most of Kazakhstan's 17 uranium mines are in the southeastern section of the country near its border with China. Kazakhstan -- the world's largest producer of uranium and now the main supplier to China's Nuclear Power Corporation -- sends more than half its annual uranium exports to China.
Kazakhstan is also blessed with huge oil fields at Tengiz and Karachaganak in the northwestern part of the country. China has investments in Kazakhstan's oil and gas reserves that give the Chinese about 24% and 13% control of these energy resources. As early as late 2019, the Kazakh regime announced that China had invested in 55 separate projects in Kazakhstan.
There is, apparently, another story behind Tokayev's request of the Kremlin-dominated CSTO security forces. Kazakhstan also is a member state of the Chinese-led Central Asian security pact, called the Shanghai Cooperation Organization (SCO) established in 2001. Only after Russian soldiers from the CSTO arrived in the Kazakh capital, did China make noise about assisting Kazakhstan to restore peace and security in the Central Asian country.
China's vocal but belated support for Kazakhstan appears politically paltry beside Moscow's quick response. The competition between these historical rivals for power and influence in Central Asia, it seems, is still being sorted out.
While both Russia and China have major investments in Kazakhstan, it is clear that Putin stole a march on Beijing by responding more rapidly to the Kazakh regime's request for security assistance. While reports indicate that CSTO units, including Russian troops are now exiting Kazakhstan, it is likely that the Kremlin will leave behind souvenirs, including military advisors, internal security officers, and logistical support technicians -- hinting at yet greater influence inside still another portion of the former Soviet empire.
Dr. Lawrence A. Franklin was the Iran Desk Officer for Secretary of Defense Rumsfeld. He also served on active duty with the U.S. Army and as a Colonel in the Air Force Reserve.