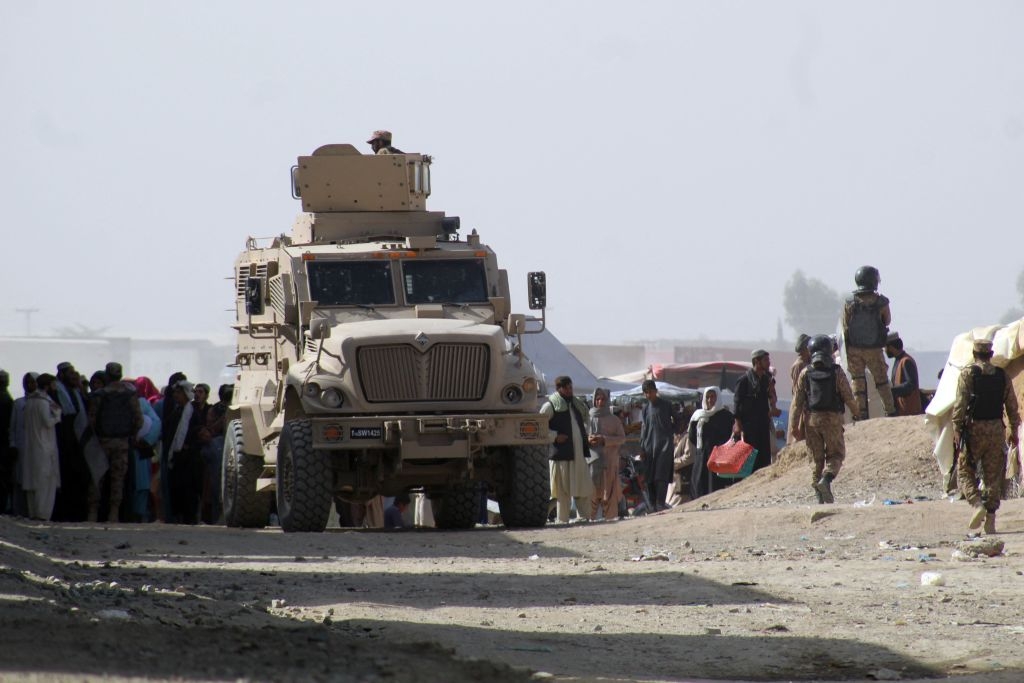 Pakistan has been facing an ongoing internal threat to its sovereignty from its Pakistani Taliban. The confrontation has greatly increased since the victory of Afghanistan's Taliban over the United States last August. Pictured: Pakistani soldiers stand guard next to an armored vehicle on the border with Afghanistan in Chaman on October 5, 2021. (Photo by AFP via Getty Images)
Pakistan's Taliban movement, led by its most vicious and largest group, Tehrik-e-Taliban Pakistan (TTP) and apparently buoyed by the recent triumph of their ethnic Pashtun cousins in Afghanistan, is revitalizing its strategy either for regional autonomy or to overthrow Pakistan's government and replace it with an Islamic Emirate of Pakistan -- a Pashtunistan made up of Pashtuns, an ethnic group in central Asia -- under Sharia law.
Pakistan has been facing an ongoing internal threat to its sovereignty from its Pakistani Taliban. The confrontation has greatly increased since the victory of Afghanistan's Taliban over the United States last August.
The TTP, according to the Carnegie Council, "is the largest militant organization fighting against the state in Pakistan. According to the UN, the TTP also boasts several thousand fighters in Afghanistan, with strongholds on both sides of the Afghanistan-Pakistan border."
The conflict had already reached a crisis point last month when the principal spokesman for the Pakistani Taliban, Khalid Balti, a.k.a. Mohammad Khurasani, was assassinated in eastern Afghanistan.
The murders on February 2 of five Pakistani Army Frontier Corps soldiers by TTP gunfire from inside Afghanistan represented yet another attack by the TTP after the breakdown of negotiations between the Pakistani Taliban and Pakistan's government led by Prime Minister Imran Khan.[1]
Pakistani Prime Minister Imran Khan, in an apparent effort to head off an attempt by Pakistan's Taliban to energize a Pashtun nationalist movement that would either secede from Pakistan or join with Afghanistan's Taliban to create an independent Pashtunistan, met with the TTP officials a few weeks after the victory last August by the Taliban across the border in Afghanistan.
When the talks between Khan and his Pakistani Taliban's negotiators stalled, Pakistan's Inter-Services Intelligence (ISI) prevailed upon their allies in Afghanistan's cabinet to serve as mediators between the government of Pakistan and the TTP.
The talks succeeded in getting Pakistan's groups to agree to a month-long ceasefire from November 9 to December 8, 2021. During this period, Khan's administration agreed to release Taliban prisoners in Pakistan in exchange for the terrorist group's pledge not to attack Pakistani governmental positions. The Pakistani government then released roughly 100 Tehrik-e-Taliban prisoners. However, after the ceasefire was over, Pakistan's Taliban leader, Wali Mehsud, refused to renew it. Islamabad, he claimed, had not held up its end of the bargain. Mehsud's refusal may have triggered Imran Khan's ISI's operatives to kill Khurasani, reportedly a brutal "crime boss."
The TTP claimed that the Afghan Taliban were "a role model to the group's fighters" and argued "that perseverance in the war against the Pakistani state will guarantee a similar victory to what the Taliban achieved in Afghanistan." The TTP has made progress toward reuniting most of the Pakistani Taliban's splinter groups, under the leadership of Wali Mehsud.
Pakistan's Taliban has since revised its principal propaganda theme from urging a universal Islamist jihad to a Pashtun nationalist focus.[2] The altered messaging is apparently designed to attract the support of the tens of millions of ethnic Pashtuns in both Pakistan and Afghanistan.[3] Neither country, as one might expect, accepts the former British Empire's artificial Durand Line boundary drawn in 1893 which divides the Pashtuns between Pakistan and Afghanistan.
Pakistan's Taliban is strongest in the country's Khyber Pakhtunkhwa Province that is divided into North and South Waziristan and also includes the ethnic Pashtun-dominant populations of the seven Federally Administered Tribal Areas (FATA).[4] The Wazir clan of the Pashtun people, who also reside in this region, are historically formidable fighters. Many of these Wazir Pashtuns, while not traditionally hostile to Pakistan's central government in Islamabad, now no longer trust Imran Khan's administration after the failure of the Pakistani Army to protect them from Pushtun groups that evidently are even more radical, as they had been promised.
In the past, the Tehrik-e-Taliban, operating under the umbrella terrorist alliance of the Pakistani Taliban, has scored some spectacular but intermittent triumphs against the Pakistani Army. When the Pakistani Army launched an offensive in early 2004 in Wana, South Waziristan, major elements of the army either defected to the Pashtun fighters or simply refused to fight.[5] Following this failed offensive, hundreds of Muslim mullahs declared as "martyrs" those Pashtuns killed in the Pakistani Army's offensive.[6]
The depth of conservative Islamic opposition to Khan's administration is another worrisome factor in Islamabad's calculus of the Pakistani Taliban's threat to Pakistan's sovereign unity. Islamic solidarity with the Pakistani Taliban was a major factor in the temporary takeover of large segments of the Swat Valley, a mere 90 miles from Islamabad, in November 2007.[7] This anti-government operation was spurred by the Tehrik-e-Nafaz-e-Shariat-e-Muhammad ("Movement for the Enforcement of Islamic Laws"), one of the most conservative legal Islamic political organizations in Pakistan. That was followed by a massacre perpetrated by the Pakistani Taliban on an Army-run school in Peshawar in mid-December 2014, in which 150 people were killed, most of whom were the children of Pakistani Army officers. The late Mohammad Khurasani, after the attack, taunted the Pakistani military by crowing that the attack was a "gift" to those who thought they had finished them.
Still another new trend increasing the Pakistani Taliban's threat to the current government is the ability of the militants to attract other separatist movements in Pakistan to their banner. Ethnic Baluchi irredentists who populate Pakistan's province of Baluchistan are now giving Pakistani Taliban elements sanctuary.[8]
Under the leadership of Mullah Wali Mehsud, the tempo of terrorist attacks by Pakistan's Taliban against government forces has increased. In early May 2021, four Pakistani soldiers were killed in the Baluchistan region on the Afghan-Pakistan border.
Pakistan's ISI will likely try to influence its former apprentices in Afghanistan's Taliban, some of whom now serve in Afghanistan's cabinet, to discourage any effort to unite with the Pakistani Taliban to destabilize Pakistan.
At present, however, Pakistan's government appears entangled in a struggle to preserve its sovereignty against an energized and relentless Islamic insurgency.
Dr. Lawrence A. Franklin was the Iran Desk Officer for Secretary of Defense Rumsfeld. He also served on active duty with the U.S. Army and as a Colonel in the Air Force Reserve.
---
[1] "Tehreek-e-Taliban Pakistan's Discursive Shift From Global Jihadist Rhetoric to Pashtun-Centric Narratives" by Abdul Basit. Terrorism Monitor Volume 19 Issue 18. 24 September 2021. P.1.
[2] "Tehreek-e-Taliban: Jihadist Ethno-Separatism" Terrorism Monitor 24 September 2021 p. 2.
[3] Ibid. pp.2-3.
[4] "Increasing Talibanization in Pakistan's Seven Tribal Agencies" by Hasan Abbas. Terrorism Monitor 27 September 2007. Pp. 137-145.
[5] "Troop Defections Threaten Pakistan's Operations in Tribal Areas" by Tarique Niazi. Terrorism Focus: Tribal Agencies. 6 March 2007. Pp. 134-136.
[6] Ibid. p. 135.
[7] "Pakistan Loses Swat to Local Taliban" by Christine Fair. Pakistan's Troubled Frontier: Terrorism Focus. 13 November 2007. Pp. 219-222.
[8] "Baluch Nationalist-Separatist Militant Alliance Threatens Pakistani Security Forces" by Farhan Zahid. P.7.