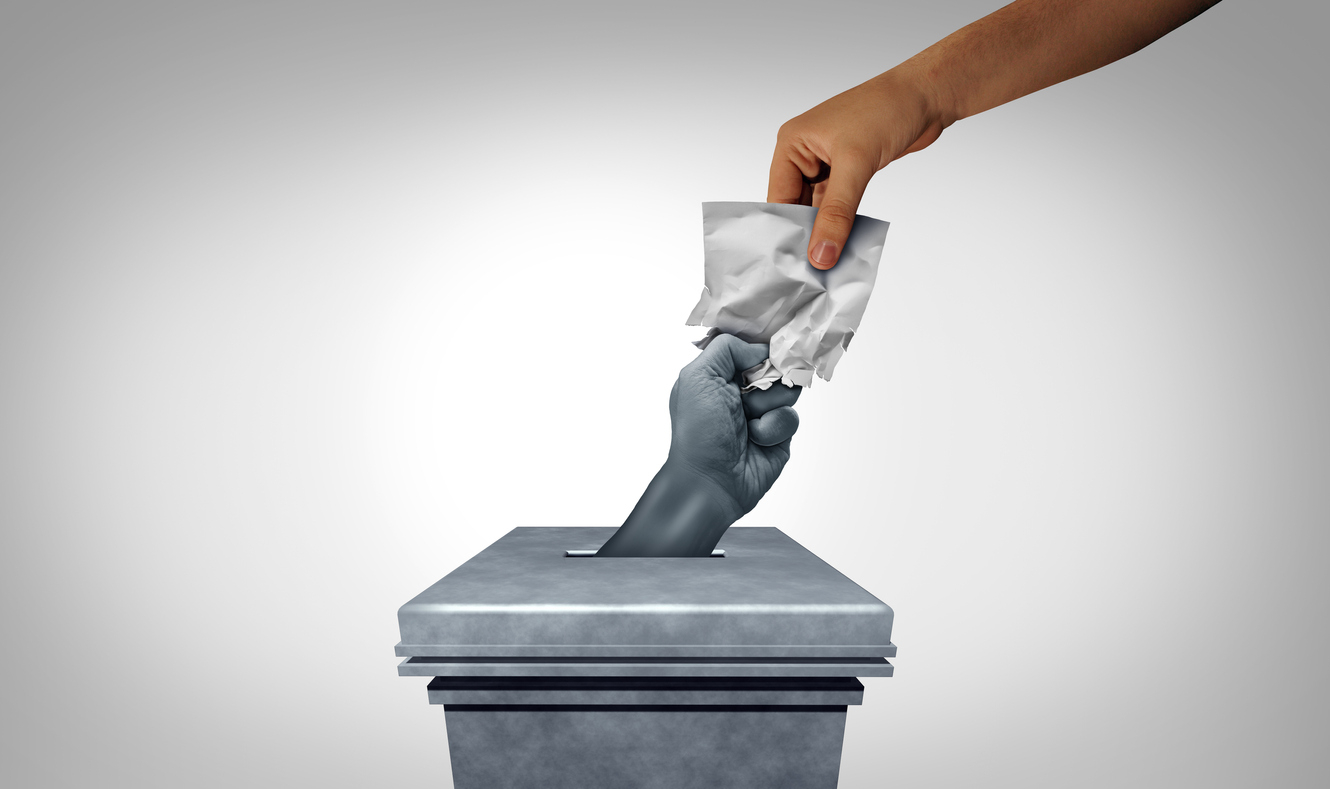 (Image source: iStock)
Here are some tips for navigating life – and politics.
You don't play poker with strangers, as they may be professional card sharks.
You don't get into a boxing ring if you view it as a sport and the other guy views it as a profession.
And you don't hand your absentee ballot over to someone who "just wants to be helpful."
As the War in Ukraine is reminding us daily, democracy is a most precious gift. There are many who have given their lives – and who continue to give their lives – for the right to select our leaders. Our national cemeteries are filled with the names of American men and women who gave us that sacred right. And now the Ukrainian cities of Mariupol, Dnipro, and Kyiv will become forever enshrined in places where democracy stood its ground and at great cost.
So when someone comes to your door and says, "I can help protect your vote by ensuring your absentee ballot gets there..." close the door, bolt the lock, and hunt for your copy of the Constitution because you are being targeted by a ballot harvester intent on robbing you and our democracy.
In California these paid professionals are reportedly getting paid to collect absentee ballots by political forces that have enormous money to spend in directing the outcome of national elections. And they are doing it without any rigorous oversight that would report these expenditures. The practice has brought warnings from members of Congress because they too recognize the enormous threat to our democracy.
When these ballot harvesters come to your door they have already checked out your voter registration. This means they know whether you are likely to vote for their client's chosen candidate or their opponent. Against this professional you are the amateur in the ring with the only question being "when do you hit the canvas?"
You can imagine what might happen to your ballot on the way to the Board of Elections. Depending on your political registration it can either end up being counted on Election Day or it can become so much ash in a fire pit. In some reported cases, signatures on absentee ballots have been forged by ballot harvest professionals in order to achieve their quotas. A number of states have sought to create safeguards to prevent fraud but as the professional card player or "pro"-boxer will tell you – in their line of work, that is often taken as just a "suggestion."
There are people dying in Ukraine today because Putin seeks to extinguish democracy in that proud country. When it's over, and the Ukrainians have defeated Russian tanks, bombs, and missiles do you think any of their citizens will hand their ballot over to someone "who just wants to be helpful?"
Your right to vote.
Guard it with your life.
As others do.
Lawrence Kadish serves on the Board of Governors of Gatestone Institute.