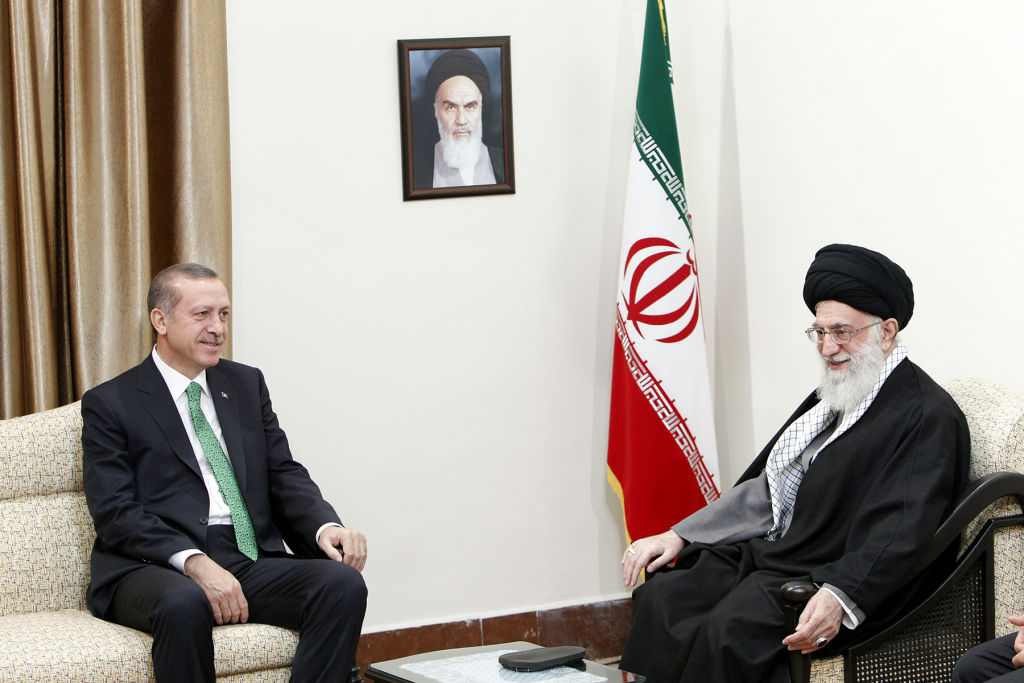 Turkey and Iran, rogue states, are still plotting acts of terror on NATO soil. What more do they have to do for the international community to hold them to account? The lesson for governments is: Ignore Turkish President Recep Tayyip Erdoğan's threats. Do not keep overestimating him or Turkey's clout. Keep isolating him to keep him from doing further harm. Pictured: Erdoğan meets with Iranian Supreme Leader Ayatollah Ali Khamenei in Tehran on January 29, 2014. (Image source: Iranian Supreme Leader's website/AFP via Getty Images)
Yair Geller, 75, an Israeli businessman who owns an advanced technologies and engineering company in Turkey, CNC İleri Teknoloji, did not know that his residence in Istanbul was long under surveillance by a cell of assassins operated by the Iranian regime. The assassins did not know that they were long under surveillance by MIT, Turkey's national intelligence agency.
This double cat-and-mouse game went on until the assassins decided that the time was ripe to act and murder Geller. Turkish intelligence, however, decided that the time was ripe to share this information with Israel's Mossad intelligence agency. At a meeting in Ankara, MIT and Mossad concluded that the planned assassination of Geller was supposed to be Iran's retaliation for the November 2020 killing, allegedly by Israel, of Mohsen Fakhrizadeh, Iran's leading nuclear scientist. Before they could act, nine suspects were detained.
According to Israel's Channel 12 News, the Mossad has helped foil to 12 plots to carry out terror attacks on Israelis in Turkey over the past two years.
Iran's covert operations on Turkish soil are not just sorties of the present. Even before the Geller case, the mullahs in Tehran sent were hunting down Iranians in Turkey who opposed the mullahs' regime in Tehran [see appendix below].
Iran has been continuously accused of supporting radical Islamist organizations and terrorist groups to destabilize and weaken Turkey's then-secular regime. Turkey's official establishment has often accused Iran of trying to "export its theocratic regime to Turkey." Ironically, the Iranians did not need to worry too much about Islamizing Turkey. The Turks could do it themselves.
In 2002, Turks, by popular vote, brought to power Recep Tayyip Erdoğan, an avowed Islamist, and Iranian subversive activity in Turkey gradually faded away, Erdoğan has since proven invincible at the ballot box, and has successfully implemented a stealth plan to advance political Islam in the only Muslim member of NATO.
Turkey's Islamist rulers quietly supported Iranian expansionism for several years based on dictum of "the enemy (Iran) of my enemy (Israel) is my friend."
What, then, revived Iran's covert operations in Turkey? For Iran, the "good Turkey" was the one in constant bickering with the West and Israel. The "bad" one is the one now claiming to seek reconciliation with Israel, the Gulf states and Egypt. The "bad Turkey" is even proposing to buy Israeli natural gas for its own consumption and transport it to Europe.
It was not a coincidence that Turkey had to order gas-fuelled power plants this year to slash gas use by 40% after Iran cut gas exports flows to Turkey for 10 days due to a "technical failure" in the middle of an exceptionally cold January.
Since then, Iran's Islamic Revolutionary Guard Corps (IRGC) has taken responsibility for this month's ballistic missile attacks on Iraq's Kurdish regional capital of Erbil. Iran said on March 13 that it was targeting an Israeli "strategic center" in Iraq. "Any repetition of attacks by Israel will be met with a harsh, decisive and destructive response," an IRGC statement said, referring to the alleged recent killing of two of its members in Syria.
Iran's mullahs are notoriously good at poisoning peace and stability, at home and in their own neighborhood as well as in distant lands, such as Cuba and Venezuela. After a short pause, the long arm of the mullahs is back in Turkey. Twelve (foiled) plots in such a short time is a "message." Iran is trying to sabotage the Abraham Accords and their positive transformations in the region by means of subversion in Turkey against Israeli nationals. The Iranians are also vehemently trying to discourage Turkey from reconciling with the Gulf states, Egypt and Israel; they have used even their natural gas card by cutting flows to Turkey.
Turkey in recent years has been in a cold war with the Gulf states, except for Qatar. When the UAE moved to normalize relations with Israel, Turkey threatened to downgrade diplomatic ties with Abu Dhabi, and Turkey has been at odds with Egypt since 2013. These frictions have placed Turkey on the side of Hamas and the Muslim Brotherhood, while on the other side are the Gulf states, Israel and Egypt.
Totally isolated and facing a punishing economic crisis, Erdoğan apparently decided to look as if he were changing course and reconcile with Israel and the Gulf states. The effort shows that Erdoğan was on the wrong course to begin with: He apparently thought Turkey's enemies were Israel and Sunni Arabs while now he should see that the real enemy is Shia Islam, in the form of Iran's theocracy.
Erdoğan, despite all his fake peace efforts, is now lost and alone, even among his Sunni (Arab) and Shia (Iranian) fellow Muslims. He thought the Iranians, just because they are Muslim, were his friends. He was wrong. Those "friends" targeted Turkey 12 times in two years and cut the gas supply in the middle of winter.
Fortunately, all the other state actors know very well that Erdoğan cannot be trusted. They can see that he feels squeezed and is faking peace. This view is not about changing him or his intentions. It is about telling him that hostilities in the Mediterranean region are too big for him to bite; that he should stay chained to his fake peace and not create new frictions; that there is a stick hanging over his head; that even his "Muslim friends" hate him, and that he is the bête noire in the neighborhood.
Finally, there is a lesson to Westerners who seem blind to Turkey and Iran. These rogue states are still plotting acts of terror on NATO soil. What more do they have to do for the international community to hold them to account?
The lesson for governments is: Ignore Erdoğan's threats. Do not keep overestimating him or Turkey's clout. Keep isolating him to keep him from doing further harm. Isolate him to soften his rigidity on refusing the EastMed pipeline. In other words, if you want to avoid more Turkish damage in the neighborhood, do more to isolate Turkey than you have done in the past decade. And one more thing: The Mediterranean alliance should remain monolithic and, above all, ignore Erdoğan's threats.
Burak Bekdil, one of Turkey's leading journalists, was recently fired from the country's most noted newspaper after 29 years, for writing in Gatestone what is taking place in Turkey. He is a Fellow at the Middle East Forum.
Appendix
In the 1990s, after a series of assassinations against well-known secular Turkish intellectuals, including Bahriye Üçok, Çetin Emeç, Turan Dursun and Uğur Mumcu, the Turkish security elite hinted at Iranian involvement in these attacks. Confessions of the perpetrators of some terror attacks arguably revealed political and logistical connections between Iran and the militants.
Recently, the Iranians sent Ali Ghahramanihajtabad to hunt down opponents of Iran's regime who resided in Turkey. The Ghahramanihajtabad cell successfully kidnapped an Iranian national in western Anatolia and delivered him to Iranian agents, who took promptly carted back to Iran.
A second target was Shahnam Golshani, an Iranian opponent of Iran's regime who lived in Zonguldak, a port on the Black Sea. The kidnapping had been tasked to a team of Turkish police and non-commissioned military officers.
During the drive there, the Iranian agent was tipped off by an unknown caller; a last-minute abort order failed, and Turkish security forces detained 11 people including the Turkish prosecutor.
In addition, on September 24, 2021, Turkish intelligence and security forces also detained two Iranian agents and their six Turkish operators while the team was about to kidnap a former Iranian military officer, referred to as M.A.