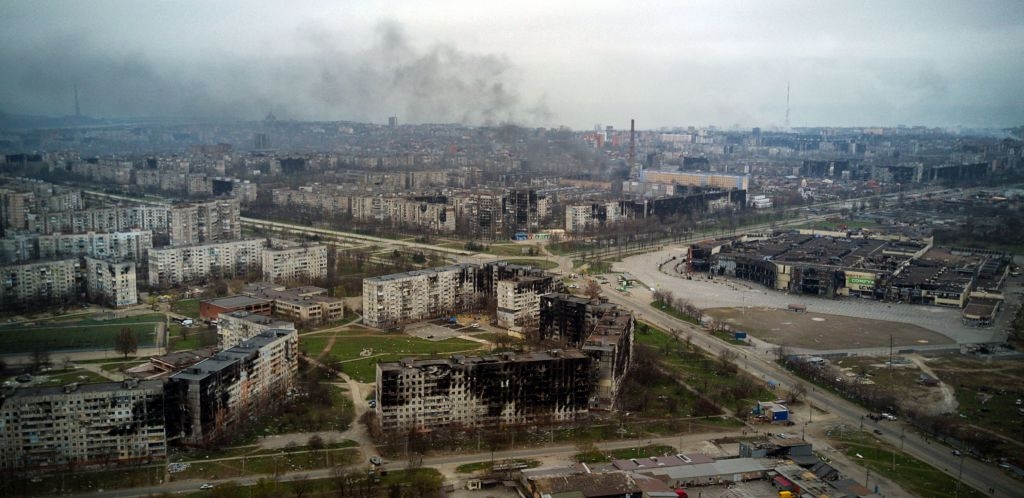 A small contingent of Ukrainian soldiers is still heroically resisting Russian forces in what remains of the destroyed city of Mariupol. Is anyone coming to their rescue? Pictured: An aerial view of Mariupol, Ukraine, taken on April 12, 2022, showing the widespread destruction of residential buildings. (Photo by Andrey Borodulin/AFP via Getty Images)
Last month, Russian army tanks entered Mariupol, a peaceful city of 431,000 inhabitants, which has since been bombarded for weeks. Tens of thousands of people left the city; those still there have taken refuge in cellars, often with no food, water or electricity. No one knows how many civilians are still alive in the city.
Russian President Vladimir Putin called in Chechen militias, accused of crimes against humanity, and sent by Ramzan Kadyrov, head of the Russian Federation's Chechen Republic. Putin seems to be about to deliver an even more brutal assault. Schools, hospitals, supermarkets, retirement homes -- Russia has spared nothing. A theater where children were gathered -- and the Ukrainians had written the word "children", hoping that the Russian soldiers would at least spare them -- was reduced to ashes. Ukrainian officials estimated that 300 people were killed there. People trying to rescue them also were shelled. A small contingent of Ukrainian soldiers is still heroically resisting Russian forces in what remains of the destroyed city. Is anyone coming to their rescue?
The war Putin started against Ukraine on February 24 keeps increasing in carnage.
Britain's Defence Secretary Ben Wallace said that Putin believed that the Ukrainians would welcome the Russians as "liberators." Instead, Ukrainians regarded the Russian invaders as invaders, even in areas where Russian is spoken. Ukrainian soldiers, instead of surrendering, fought with breathtaking courage and are continuing to fight. According to American officials, when the US government offered to evacuate Ukraine's President Volodymyr Zelensky, his answer was, "I need ammunition, not a ride".
The Russian troops were evidently not equipped for an action lasting more than three or four days. There was a lack of food and fuel; tanks broke down, military columns were immobilized for miles. Russian soldiers were apparently told they were just going on a training exercise, and were on Russian territory. According to Ukrainian officials, some Russian prisoners of war said in interviews that they were reluctant to invade Ukraine and kill Ukrainians. Some deserted. Some reportedly shot themselves in the leg not to fight. Some surrendered to Ukrainian soldiers. According to one report, Ukrainian journalist Roman Tsimbalyuk wrote in a Facebook post that one Russian tank driver ran over the Colonel commanding his unit because he blamed him for the deaths of his friends.
The Ukrainian army not only fought; it obstructed the advance of the Russian army, soon stalled in mud, and even managed to push the Russians back.
Putin's dreamed of conquering Ukraine's capital, Kyiv, did not take place.
The weapons the United States eventually provided to Ukraine, though woefully insufficient, have helped. The weapons Ukraine needs, which could have been pre-positioned months ago, are not arriving fast enough and in a quantity that is sufficient. US aid has had trouble arriving. The Russians stole 14 tons of humanitarian aid on its way to Mariupol. According to Reuters, Zelensky claimed that Russian forces have suffered 20,000 killed. One report says that at least 18 senior Russian officers have been killed. The figures are equivalent to double the losses suffered by the Russian military in Afghanistan over ten years. Some Western media outlets report that the Russians have brought mobile crematoria, apparently to hide form the Russian public the number of their dead.
Putin, on March 16, described the need for the "self-purification" of Russia from "scum and traitors", a sign that he is confronted with opponents within his regime. Russia has fired "about eight" generals and placed the head of the FSB's foreign intelligence branch, Sergey Beseda, in prison.
Putin likely fears that if he loses this war, he will be overthrown, and that he has no choice but to persist. What Putin is doing now resembles what he did in Grozny, Chechnya, in 1999 and Aleppo, Syria, in 2016.
The Russian military is now committing, in cities such as Bucha, war crimes as gruesome as that of Mariupol, not sparing homes or the civilian population. Russia has reportedly used cluster bombs and thermobaric weapons, despite a ban on their use. Russian forced have fired at a nuclear facility and used a hypersonic missile.
On March 25, an official Russian statement was issued saying that the Russian forces had "attained their main objectives" in the rest of the country and were going to "redirect" their action and limit it to the Donbass region. The statement was immediately questioned as a ruse; the bombardments continued. On April 19, Russia launched a major assault in eastern Ukraine.
General Jack Keane, former Vice Chief of Staff of the United States Army, keeps repeating that Russia is on the verge of defeat: "Ukrainian President Volodymyr Zelensky wants to stop the atrocities by driving them [the Russians] out. He wants a victory, and he can get it".
Others still say that Putin should be offered an "off-ramp" as a face-saving device. Putin does not want an off-ramp. Putin wants Ukraine -- as much of it as he can get. Putin getting any of it simply sets a precedent for other predators. Putin should not be rewarded with land. He should be rewarded with a war crimes tribunal, perhaps similar to the International Criminal Tribunals for the former Yugoslavia and Rwanda or, as former US National Security Advisor John R. Bolton recommended, by Russians or Ukrainian tribunals -- just not by the "illegitimate" and "lawless" International Criminal Court (ICC). But that would be later.
Negotiations were used by Putin for buying time to keep shelling Ukrainians. Putin's demands have not changed: he wants the recognition by Ukraine of the Crimea as Russian territory and of the self-declared republics of Luhansk and Donetsk as independent states; a broad disarmament of the Ukrainian military; the transformation of Ukraine into a "neutral" state (therefore a passage of Ukraine to a status of "limited sovereignty" similar to the status of the countries of Central Europe at the time of Soviet Union), and the recognition of Russian as an official language of Ukraine. He seems to have given up on demanding Zelensky's departure, but that is not certain. Putin reportedly has sent multiple squads to try to kill Zelensky, and has possibly tried to poison a negotiating team.
Zelensky refused on March 7 to give in unconditionally to Russia's demands. He has renounced ​​asking for Ukraine's entry into NATO, and has said that he was ready to negotiate the status of Crimea and the two self-proclaimed republics of Donbass. On March 27, he held an interview with Russian journalists. "Security guarantees and neutrality, non-nuclear status of our state, we are ready to go for it", he said. He added that Ukraine would not try to retake Crimea by force and that a peace deal with Russia would have to be put to a referendum.
The offer apparently did not satisfy Putin, who said on April 12 that negotiations had hit a dead end. The war goes on.
Arming Ukraine, providing it with means to defeat Russia's unprovoked aggression and drive the Russians out of Ukraine, should be seen as a way to force Putin, and other potential predators, to understand that the costs for aggression are astronomical. So far, although the Biden administration has been generous, many Americans find that it has not given Ukraine many of the weapons it desperately needs, or given them fast enough. Hopefully, this is changing.
Does the Biden administration secretly want Putin to win? The former chess grand champion and Russian dissident Garry Kasparov has suggested that Putin is "the devil you know." The US seems naively to have considered Russia an ally to negotiate a new "nuclear deal" with Iran and as a partner for "climate change". For Russia, climate change concerns in the US means Russia can sell more oil to a country that has shut down its own gargantuan energy supply. So far, as Russia and Iran plan how to evade US sanctions on Russia and enrich themselves, America's interests appear the last concern of Russia's negotiators in the Iran nuclear talks.
There seems to be a current Washington fantasy about Russia: that Putin and Russian officials are people "you can do business with." The business has, in fact, been done: according to the New York Post, a "[US Senate] report says, Hunter Biden profited from a 'financial relationship' that he and associate Devon Archer had with Russia's richest woman, Elena Baturina, former wife of the late Moscow Mayor Yuri Luzhkov."
The Biden administration appears to have gambled that if they were nice to Russia, Russia would be nice to them. They began their term by giving Putin the two things he wanted most. They extended the New START Treaty so that Russia could continue making tactical nuclear weapons, and they gave Putin the Nord Stream 2 pipeline to ensure that he would be able to supply Europe and Germany with natural gas in winter (while bypassing Ukraine) -- or shut the gas off. The US also allowed Russia's negotiators in the talks to revive the 2015 JCPOA "nuclear deal" with Iran in Vienna, Austria – where the US was not allowed in the same room with Iranians -- to have Russia's lead negotiator, Mikhail Ulyanov, represent the US. Not surprisingly, Ulyanov emerged from the talks saying that "Iran got much more than it expected."
Before the Russian invasion of Ukraine, US President Joe Biden hinted that if Putin were to carry out just a "minor incursion," that it might be acceptable. When the Biden administration then said it would not use its military, Putin saw it as a "green light". The administration is apparently under the illusion that, down the road, Russia will actually be helping the US with "climate change" and is presently advocating for US interests in negotiating a new "nuclear deal" with Iran. Russia is not; Russia is helping Russia -- and Iran.
For weeks, Putin has been methodically turning Ukraine into scorched earth, with relatively few negative consequences to himself. He seems to be trying to landlock Ukraine, preventing commerce by closing off access to the Black Sea. Ukraine wants more surface-to-air missile systems, tanks, anti-ship missiles and fighter jets to protect what is left of its seacoast, as well as to drive the Russians back.
The Biden administration, meanwhile, has been dragging its feet on delivering requested and promised items. Secretary of State Antony Blinken protests that "What we're trying to do is end this war in Ukraine, not start a larger one."
The way to end the war, of course, is to defeat Putin -- and send a message to other aggressors waiting in the wings that they should not even think about taking on the United States.
Putin would likely not even have started this war if Biden and his administration had not deeply damaged one of the major assets that the United States had under previously: deterrence.
During Trump administration, Putin did not lift a finger. Trump, an experienced businessman, spoke nicely to and about Putin -- but delivered nothing. Putin, however, especially after the woebegone US surrender to the Taliban in Afghanistan, quickly took the measure of Biden and his administration. If they had wanted Putin to go to war, they seemed to do everything they could to bring one about.
The day of his inauguration, Biden blocked the Keystone XL pipeline project, then quickly led the United States from energy independence to energy dependence. Since then -- as all commerce, manufacturing and transportation depend on energy -- prices for everything in America, especially staples items such as food, gasoline and heating, have skyrocketed, bringing with them a crushing inflation. Meanwhile, higher global prices for Russia's oil and gas exports allowed Putin to immediately began raking extra billions, enabling him to finance his war.
On March 8, the Biden administration decided to ban US imports of Russian oil, natural gas and coal: too little, too late. European countries continue to buy gas and Russian oil at their new higher prices, thereby financing Russia's war against Ukraine.
To Russia, Biden's decision to lift sanctions on Russia's Nord Stream 2 gas pipeline in May 2021 showed only extreme weakness. Pretending to reinstate sanctions on Russian oil that do not begin until June 24, when the weather is warm, showed even greater weakness. "Let's have a conversation in another month or so to see if they're working," President Biden said in February with a straight face about US sanctions on Russia. In an asymmetrical war, a month means untold thousands captured, tortured, or dead.
In Brussels for a meeting of NATO heads of state, Biden said that "sanctions never deter" -- contradicting what Kamala Harris, Jake Sullivan and Antony Blinken had been saying for weeks.
Sanctions, Matthew Continetti wrote, "are punitive... They may constrain an autocrat. They rarely stop him. Why? Because money matters less to tyrants than power".
Europe, not the United States, has been leading the way to help Ukraine, but does not seem likely to do more than it is doing, Putin is counting on that. Europe, mainly through the massive missteps of Germany's elites, is energy-dependent on Russia, industrially dependent on China and militarily dependent on the United States. Even though the leaders of the European Union seem to have received a wake-up call, they have a long tradition of generally appeasing their enemies. French President Emmanuel Macron, although he has obtained absolutely nothing, apparently wants to maintain his dialogue with Putin and appears reluctant to see that it is useless.
The Biden administration apparently has no dialogue with Russian officials, and according to the Washington Post, top Russian military leaders have declined to take calls from their American counterparts.
The Biden administration does not even appear to feel humiliated, and has blandly been accepting more humiliations: Iranian negotiators have refused to meet with the American negotiators in talks, now hopefully dead, to revive the 2015 JCPOA deal. The United States evidently would like to delist as a terrorist group the world's foremost terrorist organization, Iran's Islamic Revolutionary Guard Corps (IRGC), as if were not actually a terrorist group, but at least for the moment has mercifully shelved that idea.
Biden, who is supposed to be the leader of the free world, has been doing almost nothing to stop the war. And he also seems ready to let other authoritarian powers, in particular the Chinese Communist Party, use force to get their way.
On March 26, in a speech in Poland, Biden, referring to Putin, said, "this man cannot remain in power." It was likely the most constructive sentence he has ever said.
Within minutes, a communiqué from the White House tried to "clarify" what he said:
"The President's point was that Putin cannot be allowed to exercise power over his neighbors or the region. He was not discussing Putin's power in Russia, or regime change."
It was the third time in less than three days that the White House rushed to "clarify" something Biden said.
The 1994 Budapest Memorandum on Security Assurances states:
"The Russian Federation, the United Kingdom of Great Britain and Northern Ireland and the United States of America reaffirm their commitment to Ukraine, in accordance with the principles of the Final Act of the Conference on Security and Cooperation in Europe, to respect the independence and sovereignty and the existing borders of Ukraine"
Putin could be on the verge of defeat -- if the West, which has everything to lose, would just enable Ukraine to defeat him. Allowing Putin to win would not only be a betrayal of that international commitment to Ukraine; it would also broadcast to the world that any country can commit all the war crimes it wants without suffering any consequences. It would signal the defeat of all the values​​ Western world leaders claim to defend. The geopolitical implications could well be devastating.
According to Garry Kasparov:
"How does Putin fall? A million Russians in Red Square? A palace coup of military or security? An oligarch's rebellion? All of the above. It must be apparent that Putin is an obstacle to their goals, whether of power, liberty, or prosperity.... Don't give off-ramps to Putin. Give off-ramps to Russia after Putin, to Russians who will abandon him for the good of the nation and world."
Let us let Putin fall. It would be doing the world a great favor. How many people are we going to allow him to slaughter before we make him stop?
Dr. Guy Millière, a professor at the University of Paris, is the author of 27 books on France and Europe.